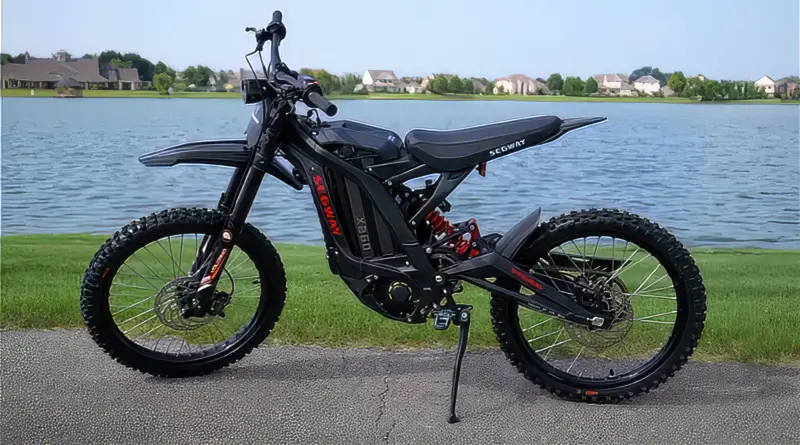 How We Score Electric Dirt Bikes for Adults
A good list starts with a nifty ranking scorecard. We cover everything from design and technology, to customer service. We've also grouped these factors into eight sections:
1. Build Quality
We note materials, components, and durability. We provide plus points for high-end components, as well as reliability and ease of repair.
2. Responsiveness
This criteria covers each bike's throttle and brake response, as well as handling. We also add points for bikes with single-gear transmissions and instant acceleration.
3. Aesthetics
This factor consists of the bikes' design and originality. We also take note of unique details and add extra points for bikes with great details.
4. Cool Factor
Like with aesthetics, we also lay out points based on how visually appealing the bike looks or if it has references to pop culture (such as an electric dirt bike that looks like something out of Mad Max).
5. Speed
We provide points based on standing torque and top speed, and also the duration in which the bike reaches peak speed.
6. Range
We take note of the bike's battery level or operation time as well as range distance. We score bikes higher for having special features such as brake regen and extra reserve power packs.
7. Weight
Lighter bikes get more points, and vice-versa. The last thing we want is a 900lbs off-roader.
8. After-Sales Support
We take into account the range of services a dealer or manufacturer provides and the responsiveness they can offer a customer after purchase. Additional points for reliable services, warranty support, quick-replies to inquiries, and visitable locations.
Our 11 Best Electric Dirt Bikes and Motorcycles for Adults this Year: Quick Review
Best Electric Dirt Bike for Adults — Zero DSR/BF
Score: 84/100
The Zero DSR/BF is a full-size electric supermoto made for long rides across both on and off road routes. If you prefer relaxed cruises over great distances, then this bike is for you.
A successor to Zero's previous DSR model, the Zero DSR/BF electric motorcycle comes with adventure bike features which provide greater convenience and safety for riders. These features include solid aluminum side panniers and top box, an adjustable touring windscreen, and full body crash guards.
Click to Read Our Zero DSR/BF Review
Runner-up — Segway X260: A Stark Contrast to the Sur Ron X?
The Segway X260 is a medium electric dirt bike meant for narrow off road trails and tracks. The bike's 31.1-inch adjustable seat height allows both teens and adults to safely operate the bike. 
The Segway X260 light electric dirt bike features a dual drive system which uses both a belt and a chain to propel the bike. This increases the torque at the wheels to provide stronger acceleration.
Click to Read Our Segway X260 Review
3rd — Luna Cycle Sur Ron Storm Bee
Score: 83/100
The Sur Ron Storm Bee is a full size electric motocross dirt bike built for adult professionals and beginner riders. The Sur Ron Storm Bee is also Sur Ron's second production dirt bike — right after the Sur Ron X. The Sur Ron Storm Bee sports an authentic dirt bike look (or close enough).
Click to Read Our Sur Ron Storm Bee Review
Judging from the details on the table, the Luna Cycle Sur Ron Storm Bee performs pretty well when it comes to power and range. It's 260-lb weight isn't bad for a pedalled bike. I guess all you gotta watch out for is the price tag.
Enduro eBikes 12000W
The Enduro eBikes 12000W electric dirt bike is a medium size trail/enduro ebike for both adults and teens. Its rugged design and tough build makes the 12000W a great option for aggressive off road riding.
The Enduro E Bikes 12000W features a Sine Wave controller which provides smooth power delivery depending on throttle input. This is the same controller used by the Stealth B-52 "Bomber" and other Stealth electric dirt bikes as well.
Click to Read Our Enduro eBikes 12000W Review
Segway X160
The Segway X160 is a medium light electric dirt bike intended for shallow dirt tracks or the local trails. The bike's size and seat height suggests both teens and adults can operate it, despite Segway's recommendation for adults. The bike's features include: smartphone connectivity and configurability, built-in headlights, adjustable and flexible frame length & seat height, and a modular frame.
High-Power Cycles Typhoon Pro
Score: 81.3/100
The HPC Typhoon Pro is a large hybrid e dirt bike built for the trails and dirt tracks. Featuring an aggressive black gold steampunk look, and scrambleresque styling, the HPC Typhoon Pro is a great option for stylish riders.
Click to Read Our HPC Typhoon Pro Review
Zero DSR Electric Motorcycle
Score: 75.8/100
The Zero DSR is a large electric adventure dirt bike known for its sleek and aggressive design, as well as convenient features. It is Zero's base bike in their adventure lineup preceding the Zero DSR/BF which is a beefed up version of the DSR with built-in utility boxes.
Click to Read Our Zero DSR Review
Like all of Zero's bikes, the DSR boasts a high tech arsenal of convenient features. One of these features is performance configurability with Zero's mobile app using a connected mobile phone. Another is the ability to switch batteries on the fly (provided you bought the power tank accessory provided by Zero).
KTM Freeride E-XC
Score: 75.63/100
The KTM Freeride E-XC is a full-sized electric dirt bike in KTM's off-roader lineup. The KTM Freeride electric dirt bike shares the same aggressive profile with its petrol-powered counterpart, the KTM EXC.
Click to Read Our KTM Freeride E-XC Review
It also features a 5/8 x 1/4″ drive chain for stable off-road riding, a liquid-cooling system, and a regenerative braking system for additional range.
Delfast Prime 2.0
Score: 75.62/100
The Delfast Prime 2.0 is a hybrid electric dirt bike made for traversing all terrain. It's got an adjustable seat height that varies between 29 and 36 inches so riders of all sizes should be able to set the bike's seat height up based on their preference.
Click to Read Our Delfast Prime 2.0 Review
The Delfast Prime 2.0's best feature is its 236-mile range on Eco mode. The Prime 2.0 holds the record for an electric dirt bike with the longest range.
The bike also features street legal accessories. So you can ride to your favorite track or trail using main city roads. Just don't forget to gear up.
Zero FXS
Score: 75.3/100
If you want a lightweight adult electric dirt bike that can keep up with the big boys, then it's time to meet the Zero FXS. With a curb weight of just 250 pounds and a powerful motor capable of reaching 70 mph in seconds, this electric motocross bike will get you where you need to go—fast. 
In terms of power, the Zero FXS delivers. Its high-torque Z-Force motor is driven by lithium ion batteries that are almost twice as powerful as standard batteries found on other electric bikes. What's more, the battery charge lasts for longer than most competitors' offerings so you can ride for longer without needing to recharge. 
On the down side, however, the Zero FXS is also one of the most expensive electric dirt bikes on the market. Its steep price tag means it might be out of reach for some riders, and its lack of traditional features like a throttle or clutch mean you won't get an authentic motocross experience when riding it. 
Overall, though, the Zero FXS is an impressive electric dirt bike that should have no problem keeping up with more traditional models. If you can afford its hefty price tag, then this could be the ideal option for you.
Click to Read Our Zero FXS Review
Zero FX
Score: 75/100
The Zero FX motorcycle is another large-size electric dirt bike by Zero Motorcycles with several top of the line features.
Click to Read Our Zero FX Review
These features include an onboard charger, which simplifies recharging by allowing riders to park right next to a power outlet and start charging. There's also an option to add a second battery which can then switched to on the fly without taking out the power pack.
The Zero FX motorcycle also features connectivity and configurability with mobile phones through the use of Zero Motorcycles' mobile app which is a perfect feature given that the FX is a dual-sport bike and performance flexibility is a must.
Other Good Electric Dirt Bike Offerings This Year
Stealth H-52
If you're in the market for an electric dirt bike, the Stealth H-52 is a great choice. It's powerful and lightweight – weighing just around 70 lbs – making it easy to maneuver on any terrain. Plus, its price tag won't break the bank; you can buy one for under $2,000. 
The Stealth H-52 has plenty of features that make it stand out from other electric dirt bikes on the market. Its advanced lithium battery technology provides a longer riding time and faster charging speed than most others available. 
It also has exceptional pedaling efficiency so you can go farther with less effort. And, if you're looking for some extra kick, it comes with an optional turbo boost mode that will let you accelerate quickly and reach top speeds faster. 
Overall, the Stealth H-52 is a great electric dirt bike option. It provides speed, power and plenty of features to make it an attractive choice for riders looking to get some good off-road action without breaking the bank. 
If you're on gear patrol for a reliable electric dirt bike, we highly recommend checking out our buying guides for this model and seeing if it meets your needs.
Click to Read Our Stealth H-52 Review
For modern MX fans, the Stealth H-52 should be interesting. The H-52 performs exceptionally in all kinds of terrain. This is thanks to an info-dense LED display, great suspension, long rear shock travel, and a pure, custom-built cockpit. 
Kuberg Freerider Street: Wake Up the Kid in You
The Kuberg Freerider Street is an electric dirt bike perfect for both younger and older riders alike. With a few hours purchase, you can be sure to hit the trails in no time! This model is one of the leading electric models on the market, offering powerful performance without compromising safety. 
At just 28 pounds, it's also lightweight enough to take anywhere. Plus, the charge time couldn't be better – just two hours and you're ready to go! Plus, this model comes with a braking system that's smooth yet responsive so you know your ride will be safe at all times. 
Overall, the Kuberg Freerider Street electric dirt bike offers great power and convenience in one small package. 
With its lightweight design and fast charge time, you're sure to be hitting the trails in no time! It may not be for everyone, but those who are looking for a fun and exciting ride won't be disappointed.
Click to Read Our Kuberg Freerider Street Review
Like the base model, the Kuberg Freerider Street electric dirt bike features wi-fi app connectivity and wireless performance configuration. You can also view your bike's current status (such as odometer and battery level) through the app in your mobile phone.
Stealth F-37
For those looking for a bike view with plenty of power and speed, the Stealth F-37 Electric Dirtbike is the way to go. 
Whether you're looking to race or just enjoy a casual ride in the park, this electric dirt bike from Stealth — a direct competitor of the popular Stark Varg —  offers you all that and more. It's sleek design and powerful motor make it an ideal choice for any rider. 
So what makes this particular electric dirt bike stand out? Let's take a look at some of its main features. 
First off, the bike comes equipped with fat tires that give it great traction on different terrains; it also has front shocks that absorb impact for comfortable riding. 
Plus, thanks to its built-in LCD display screen located at the center of the handlebars, you can get a great view of your speed and battery life.
The Stealth F-37 also offers plenty of power, with a 500W brushless motor that allows for speeds up to 25 mph. 
The bike runs on 48V lithium ion batteries that provide an impressive range of 22 miles when fully charged. Even better, it takes just 4-5 hours to charge the battery completely.
Click to Read Our Stealth F-37 Review
Kuberg Freerider
The Kuberg Freerider is a lightweight electric dirt bike built for short rides across dirt trails and small hills. It is one of two Freerider variants, the other being the Freerider Street which is street legal.
Click to Read Our Kuberg Freerider Review
Luna Cycle Sur Ron X
The Sur Ron X is a highly engineered monster electric dirt bike with highly sophisticated styling, and top of the line parts and performance. The Sur Ron X was awarded the German Red Dot Award in 2018.
Click to Read Our Luna Cycle Sur Ron X Review
Electric Motion Epure
The Epure is a full-size electric trials dirt bike made for both professional and beginner trial riders. It's one of the three latest models released by Electric Motion in 2020, along with the Escape (a trail dirt bike) and the Etrek (a bigger motocross dirt bike).
Click to Read Our Electric Motion Epure Review
The Epure is unique in that it's a low-rider. Meaning, it's got pegs that are closer to the ground and has a low center of gravity. This provides more balance and control. The bike also features higher handlebars which make riding the Electric Motion Epure feel like riding a scooter.
Cake Kalk OR
When it comes to buying an electric dirt bike, the Cake Kalk OR is a style-conscious rider's dream come true. 
With its clean lines and sleek design, this eco-friendly model stands out from the crowd and will turn heads when you hit the trails. 
But that's not all – the Kalk OR offers plenty of features to get excited about, too! It has a long range battery life, adjustable suspension settings for improved agility on challenging terrain, and fast shipping times if you need your ride in a hurry. 
However, one thing to consider before taking the plunge is that this bike isn't suitable for riders under 16 years old.
Click to Read Our Cake Kalk OR Review
This electric bike also features an onboard charger. This is a fairly uncommon characteristic among electric bikes in the market. It simplifies the charging process and allows you to park & charge at any outlet without having to pull out your battery or carry an external charger.
Cake Kalk&
The Kalk& is Cake's second dirt bike in the Kalk series, right after the Kalk OR. The Cake Kalk& is street legal, meaning you can use it on the main road without getting fined.
Click to Read Our Cake Calk& Review
As a street legal bike, the Kalk& comes with accessories required by city laws when driving on city streets. These include side mirrors, headlight, tail-light, light reflectors, and a plate holder. The Kalk&'s performance matches the Kalk OR.
Stealth B-52 "Bomber"
The Stealth B-52 is one of Stealth's most advanced electric dirt bikes sporting flagship features, parts, and performance.
The Stealth B-52, with its sleek design, state of the art electronic and mechanical parts, and peak performance is a technological marvel.
Click to Read Our Stealth B-52 "Bomber" Review
The Stealth B-52 looks different from its peers due to its elongated swing arm and rear hub mounted motor. The ebike's frame lives up to the name, comprised of aircraft alloy.
Upcoming Electric Dirt Bikes
Yamaha TY-E Electric Trials Dirt Bike
The Yamaha TY-E Electric Trials Dirt Bike is a dirt rocket with some noteworthy features. 
It has an electric motor for propulsion, paired with a manual gearbox so you can go full throttle on your ride. With the help of its adjustable suspension, the bike's handling is said to be great and it is lightweight enough for easy maneuverability. 
Additionally, this Yamaha model comes with a guide that will provide helpful instruction about getting started on electric dirt bikes, and electric scooters and riding safely. 
On the other hand, some users have reported that the battery range proves to be short when using all available power – making it less than ideal for long-distance trips or extended rides. 
Nonetheless, if you're looking for something small and nimble that can take on a variety of terrain, the Yamaha TY-E might be for you. 
With its adjustable suspension and powerful motor, this dirt rocket is sure to thrill.
Click to Read Our Yamaha TY-E Preview
Kalashnikov UM-1 Electric Adventure Bike
Whenever you hear the word "Kalashnikov", the first thing on your mind would probably be guns. That's not the only thing they make apparently. Kalashnikov also makes electric off road motorcycles and this big beauty is one example.
The Kalashnikov UM-1 is going to be an electric adventure bike capable of long range travel (longer than those of Zero Motorcycles' adventure bikes according to how Kalashnikov promotes it). The gun manufacturer originally planned the UM-1 for military use, but it stole so many biker's hearts that they simply had to develop a civilian version.
Though the lack of development updates from Kalashnikov on the UM-1 is pretty disheartening, we can only hope that this badass beauty gets released before this year ends. Besides, the bike has been in the development phase for over 2 years now. It won't be long before we can finally see it in person.
Click to Read Our Kalashnikov UM-1 Preview
Honda Mugen E-Rex
The collaboration of motorsport giant Honda and world class custom ride specialist Mugen brought us this little badass. The Honda Mugen E-Rex sports the ultimate in off road motorcycle styling — the prehistoric concept.
The Honda Mugen E-Rex features a rugged, but unique design that will probably net a lot of biker hearts when it gets released. No updates yet from Honda, but we're pretty sure it'll come out soon enough. Big disappointment for Honda if it doesn't.
Click to Read Our Honda Mugen E-Rex Preview
Conclusion
We hope you enjoyed reading our nifty list of the best electric dirt bikes for adults and that you are much closer to making a choice. Have fun bombing trails over the weekend or sliding through traffic on your way to work with one of these awesome electric dirt bikes for adults.
People Also Ask
Are electric dirt bikes any good?
Yes, electric dirt bikes offer a great riding experience with the advantage of being more environmentally friendly than traditional gas-powered dirt bikes. 
They are also quieter and have less maintenance in comparison to gas-powered models. Electric dirt bikes come in various sizes which makes them suitable for all ages and skill levels, making them a great option for recreational riders or even professional racers.
How fast is an electric dirt bike?
Generally, an electric dirt bike can reach speeds of up to 40 mph, but a select few electric dirt bikes go even faster at more than 80 mph.
What is the fastest electric dirt bike?
The fastest electric dirt bike is the Zero Motorcycles FX, which has a top speed of 85 mph and can accelerate from 0 to 60 mph in under 3.5 seconds.
What is the best brand for an electric dirt bike?
Choosing the best electric dirt bike brand depends on your budget and needs. 
Popular brands like Razor, Segway, Super Soco, and SUR-RON offer a wide range of features to suit various needs and price points. 
Be sure to research the different models available before making your purchase.