The great thing about riding a Super73 is getting something special for it… like a Super73 battery upgrade for example.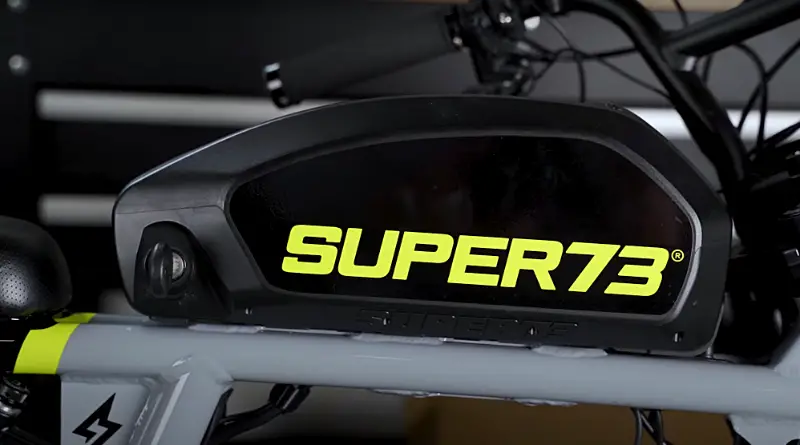 You've just got yourself a beautiful new Super73 e bike, it's everything you've always wanted, but now it's time to personalize it. In this guide to the best Super73 battery upgrades, we'll jump into all the little range extenders that make a Super73 bike run a long way.
It doesn't matter if it's an entry-level Z1 or an ultra-high-end RX. There's nothing perfect out of the box, and that's part of the fun. So keep reading for some of the best Super73 battery upgrades and Super 73 battery replacements for your riding experience.
Super73 Battery Upgrade
Why upgrade?
Your Super 73 bike battery is designed to power many functions, including the lights, display, motor, and the controller. If your battery isn't producing sufficient power for your needs, there are a few tell-tale signs that indicate it's time to upgrade.
For instance, when your lights begin to dim while riding, especially when going uphill, then maybe it's time to get a better battery. Corrosion may also build up around the connection point, or the acceleration may be slower than usual.
One of the easiest ways to get more power is to replace your stock Super73 battery with something bigger.
How long does the Super 73 battery last?
The Super73 battery lasts 20 to 75 miles of range, depending on your model.
Super 73 battery life
Super73 batteries, like all other ebike batteries, generally have up to 2 years of battery life if maintained properly.
Super73 Battery Replacement
What battery does Super73 use?
Super73 makes their own batteries, called Newport batteries, for their bikes. They're pretty much like any other ebike battery, except they're shaped like a gas tank to make their bikes look like petrol bikes!
If you ever need a Super 73 replacement battery, the Newport battery is your best bet without losing your warranty.
Overview of the performance of the stock batteries in general
To give you a better idea and compare each Super73 bike series and their battery specs, check out this table?
| | | | | | |
| --- | --- | --- | --- | --- | --- |
| Series | Super73 Z | Series | Super73 S | Series | Super73 R |
| Voltage | 36v | Voltage | 48V | Voltage | 960 watt-hours |
| Capacity | 20Ah | Capacity | 8.8Ah / 14.5Ah | Capacity | 35Ah |
| Range | 20 miles | Range | 35 miles | Range | 60+ miles |
According to the table above, the Super73 bikes have three series – Z for the lowest tier, S for the mid tier, and R for the top tier. In addition, each series has submodels, but they all use the same batteries in their respective series.
Why replace rather than upgrade?
To be honest, if I had a new Super73 bike, I'd replace my battery rather than upgrade. Upgrading your battery is cool, but it also voids your warranty with Super73. Apart from that, most aftermarket batteries aren't as compatible with the bike as they claim. So I wouldn't risk it.
Key Battery Upgrade Consideration: The Super73 Battery Mount
Super73 battery upgrades are pretty much made to fit the specs of each bike. They should work straight out of the box. 
However, there are other battery upgrades which are quite bigger or smaller than what the mount allows. Thankfully, Super73's battery mount is easy to remove with a few screws. 
You should be able to change the battery mount easily if your battery upgrade doesn't fit the stock mount.
Your Super73 Upgrade Options
Since all Super73 bikes in their respective series all use the same batteries, we've put up three categories of battery upgrades for each Super73 series. 
We have the Cheap option – which is highly affordable but not quite significant in features, the Middle option – which has both affordability and great features, Then there's also the Best option – which is pretty pricey, but offers high end features.
Here's a table which shows you an overview of the battery upgrades we have on this article – along with the Super73 series they're meant for:
Super73 Z Series
Cheap Option: Brick Lithium 48V 15Ah Tesla 
Our cheapest option is a Brick Lithium 48V 15 Ah battery "Tesla" that you can get for about $200 USD on Facebook. 
It's a pretty neat Super73 Z1 battery upgrade since it adds about 15 to 20 more miles of range compared to stock. It also comes with a battery management system which helps regulate battery temperature and power consumption.
You can even check out a video on how to install this Super73 Z1 48V battery upgrade here.
Middle Option: LiteSpeed Bikes 48V 17.5Ah
Our mid option is LiteSpeed Bikes' 48V 17.5Ah underseat Super73 ZG battery or Super 73 ZX battery that you can get at their website for $635 USD.
The price is several cuts above our cheapest option, but I can personally vouch for the reliability of the brand. They also make battery upgrades for other electric bikes such as Sur Rons and Zeros. 
Unlike most Super 73 Z1 battery upgrades, this one goes under the seat instead of on the tank. That means you can have both the stock battery on the tank and this one under the seat. The LiteSpeed battery basically lets you set up a dual battery mod, but you may have to make a few extra modifications. 
Luckily, this battery upgrade comes with its own mount. So it's plug and play otherwise.
LiteSpeed's under seat battery adds 18 to 23 miles to your Super73 Z's range.
Best Option: Super73 Newport Battery
I would personally recommend getting Super73 battery upgrades for your Super73 bike – especially if it's new. 
Aside from making sure it works perfectly, you also avoid throwing your warranty out the window. It's pretty pricey at $1,195 USD, but that can save you from spending extra on broken parts in the long run.
The Super73 Newport battery comes with Super73's latest battery management system, and fitted with a quick-replace system which allows you to quickly swap out batteries when they're empty. It's basically stock so you won't get a noticeable range increase.
Super73 S Series
Cheap Option: Luna Cycle 48v Panasonic 13.5ah Shark
This would probably be the best option since it's both cheap and it's made by a reliable company. However, let's let it stay here since it's just $459.95 USD – much cheaper than most Super73 S batteries.
The Luna Cycle Shark is a slim-type Super73 S2 battery upgrade which adds about 20 miles of range to your Super73 S. It comes with Luna Cycle's advanced battery management system and maintains a life span of 400-1000 charges. So you can expect about a year before you replace it.
It also comes with fiberglass wire wraps instead of silicone for better water protection.

Although the it says that it's for the S2, you can definitely use it as a Super73 S1 battery upgrade as well.
Middle Option: EM3ev 48V (13S5P) Jumbo Shark
Our next and mid option comes from EM3ev called the Jumbo Shark.
No, it's not a bigger version of the Luna Cycle Shark, it actually offers the same voltage and capacity. But the Jumbo Shark uses a high tech, fully programmable Smart BMS. It's a pretty rare feature to be able to fully program your battery management system.
Because of its small size and relatively high capacity, the Jumbo Shark is a popular choice among Super73 custom builders. With a sleek profile, it fits into most frames and still looks good.
You can get the Jumbo Shark from EM3ev's shop for just $509 USD.
Best Option: Voltes 48V 8.8Ah / 14.5Ah
Our best battery upgrade option for the Super73 S series is the Voltes 48V battery. 
This battery upgrade comes in the stock size and fitting so it's pretty much plug and play. Furthermore, it comes with two capacity options which have different ranges. The 8.8Ah option increases range up to 24 miles and the 14.5Ah option increases range up to 43 miles.
The Voltes 48V battery comes at $661 USD (converted from Euros at €599).
Super73 R Series
Cheap Option: Maven Powered Dual Super73 R Battery Kit
Our cheapest battery upgrade option for the Super73 R series isn't quite a bigger battery like most of the options on this list.
Rather, it's a dual battery modification kit that allows you to slap a Super73 extra battery on your Super73 R and double its range. It's a pretty sound option (although Super73 doesn't recommend it since it may overwhelm the Super73 stock controller).
Better yet, it starts at just $130 USD and comes with two capacity options – 19.2ah increases your by 100%, and 24ah increases range by 120%. The whole kit includes the mounting bracket, charger, hardware and dual battery splitter. It's got detailed instructions too so you can pretty much set it up in minutes.
This can not only be used as a Super73 RX extra battery, you can also use it to set up a Super73 Z1 dual battery mod. Pretty cool.
Middle Option: Super73 RX Newport Battery
Our mid option – although it costs a lot at $1,195 USD is a Super73 RX battery called "Newport". 
It's pretty much a battery replacement, but it replaces the technology as well. Such as the battery management system.
It also wouldn't void your warranty since it's a Super73 product. Plus, it's plug & play so you don't have to drill new holes on your bike.
Best Option: Chi Battery Systems Ranger
The Chi Battery Systems Ranger is a plug & play Super 73 extra battery for the S2, R, & RX. The Ranger doubles your range, so you don't get range anxiety.
It's easy to install and uninstall. Your stock battery and the Ranger work together–they charge, and they drain, together. Because The Ranger uses the stock battery connector and charger, you don't need a new one.
This is a great option if you're planning to set up a dual battery mod for your Super73 R or RX (maybe even your S2). It comes at just $799 USD at Chi Battery Systems' shop.
Super73 Replacement Battery Handling Rules
Now, I know you're pretty excited to get out and get your Super 73 RX battery upgrade or Super 73 S2 battery upgrade, but let's check out some of the do's and don'ts when it comes to your new batteries.
Charging your Super 73 Replacement Battery
Connect the charger to a regular wall outlet. 
Plug in the charging cable. 
Flip the switch. 
Make sure it's in "I". 
The battery won't charge unless it's on.

When the battery is on, don't plug in the charger. 
Chargers shouldn't be used if they've sustained damage or if they've been stored incorrectly.
 In case the charger has been exposed to improper storage conditions, like submersion in water, make sure you store and dispose of it safely. And don't use your battery.
Charging Tip
Charge the battery for 6-8 hours on the first charge. This will help the lithium-ion cells perform better. 
There's no need for a full charge; it'll work with a partial charge.
Charge it for no more than 48 hours. 
Don't leave the charger plugged in for longer than 48 hours.
Discharging your Super73 Removable Battery
Keep your bike ready to go by recharging it after each ride. Make sure you ride it at least once every 90 days.
An empty battery shouldn't be left on the bike for more than 24 hours. This keeps the battery from going deep into discharge, which can be permanent.
Prolonging Super73 Battery Life
Battery should be charged at room temperature (20°C, 68°F).
Keep it between 23°F and 104°F (-5°C and 40°C).
Don't store above 14°F or below 104°F (-10°C or 40°C). Store at room temperature to maximize shelf life
Don't leave your battery in direct sunlight or high temperatures for long periods of time (for instance, on the back of a car).
Keep your battery away from water; if it gets wet, safely store it and throw it away.
Super 73 Battery Disposal Tip
Call2Recycle, Inc recycles lithium-ion batteries or you can use their Drop-off site locator by calling 1-877-273-2925.
You can drop them off at:
Batteries PlusHome DepotLowesRadio ShackSearsStaples
You can also take them to your local collection event. You can find a complete list of HHW collection events on the Household Hazardous Waste Collection Program web page
Don't throw the battery in the trash. Hazardous materials are not only bad for the planet, they're also dangerous for you and anyone who may come in contact with them.
Transporting your Super73 Battery
Transportation of lithium-ion batteries requires DOT certification.
No self-shipping! Lithium batteries are hazardous/dangerous goods, and they can ignite under certain conditions. You might also be breaking the law by self-shipping a lithium battery.
Now that you have your best options for Super73 battery upgrades, why not have a look at some of our related articles like What's the super 73 s2's range?