With this amazing year now officially underway, now is a great time to start looking for the best bike rack for Jeep Wranglers.
Jeep Wrangler bike racks are an essential tool for Wrangler owners who are also cyclists, regardless of whether you need a bike hauler for your next camping trip or a bike hauler for your next group ride. 
Of course, transporting bikes in your Wrangler comes with a unique challenge: the spare tire mounted on the tailgate. Unless you're getting a roof-mounted bike rack for Jeep Wrangler, that spare tire will get in the way, and you'll need a bike rack that fits either your tailgate or your hitch receiver to allow for enough clearance.
But we'd rather look at the Jeep's rear-mounted spare as an opportunity, not an obstacle. In fact, Jeep Wrangler spare tire bike racks are available that mount to the spare tire and use it as a mounting point.
Our guide covers both hitch- and spare tire-mounted bike racks, as well as roof-mounted options for Jeep Wranglers.
Best Bike Rack for Jeep Wrangler JL: Our Top 11 Picks
I spent a solid afternoon and came up with the following list of what is generally accepted as the Best Jeep Wrangler JL Bike Racks. 
Below is a best-to-worst list of the best bike racks for the Jeep Wrangler JL based on my search of the various Jeep Wrangler forums, mountain bike forums, online magazine reviews, and personal blogs.
That's a pretty big number, huh? They're not all there just yet, but they're the best so far. How did we find out they're the best? Read on and find out below.
How We Select The Best Bike Racks for Jeep Wrangler JL
There are several factors to consider when choosing a high-quality bike rack. Here are some things we considered when we chose our best Jeep bike racks for this year:
Bike Attachment – You can usually put bike racks into two categories – hanging racks and tray-style racks. Bike frames are held in place by hanging racks that mount to the back of vehicles. Tray-style bike racks attach to the spare wheel of the Jeep, either on the roof or behind.
Number of Bikes – How many bikes are you hauling? You'll need an appropriate rack for your needs, as different racks hold different numbers of bikes.
Locking Mechanism – It's worth considering if the bike rack has a lock because bikes can be expensive. Are there any built-in locks, or do you have to supply one? Make sure the rack you choose fits your needs.
Build Quality and Material – Obviously, quality varies from one product to another. Invest in a bike rack that will last for years and protect your bikes.
Brand Reputation – Some people say brands are just names and don't really affect the quality of the products they make. They're lying. There's a history behind each flagship Jeep Wrangler JL bike rack brand, with top-performing bike racks that are recognized by bicycle enthusiasts and professionals.
Customer Reviews Over a Multitude of Sites – There's no one else better to get product feedback from than people who actually bought and tried out Jeep Wrangler JL bike racks. 
Can you put a bike rack on a Jeep Wrangler?
Can you put a bike rack on a Jeep Wrangler? Yes, you can put a bike rack on a Jeep Wrangler.
Generally, spare tire bike racks fit any vehicle with a spare tire. That means you can get a spare tire bike rack for your Jeep Wrangler or other SUV!
Best Bike Rack for Jeep Wrangler with Backup Camera: Editor's Choices
Jeep Wranglers have awesome backup cameras that make parking rear-first a breeze. It's awful to have to remove them just so you can put a bike rack on. However, thanks to some Jeep Wrangler bike racks, you can use your backup camera. Let's take a look at the best.
Pros
Load capacity of 75 lbs
Bikes are protected on the rack with a locking cable and knob
Cons
Quite pricey
Holds bikes very close together, which can lead to scratching
This bike rack gets great reviews on Amazon from buyers. The fact that Thule offers high-quality products makes it no surprise that many buyers were impressed by how well this rack held up.
My favorite thing about this bike rack is how much ground clearance it has. You can still access your Jeep's rear hitch when it's loaded with bikes since it sits higher than most rear tire bike racks. Campers and boaters need the ability to haul while carrying their bikes, so this is a must-have feature.
With Thule, you get what you pay for, even though it's a little on the pricey side.
The Thule rear tire bike rack might be worth investing in if you own an expensive bike and want to keep it safe and stable during travel. Even though it's a little expensive, the quality is great.
If you wanna stick with this option, click the button below to check the price.
If you prefer an option with better value for money, check the next item below.
Pros
There's room for spare tires up to 12 inches wide on the rack
Mounts side mountain bike tires with support arms
Cons
Load capacity isn't great
A top tube adapter may be needed for some bikes
Here's a bike rack you can install without removing your backup camera or spare tire. 
Installs perfectly on tires up to 12 inches wide. It works for cars with cameras too. 
Racks come pre-assembled, so you don't need to spend time assembling them. The rack also holds side mountain bike tires well since the support arms are centered. 
Despite its well-thought-out design, this thing can't handle much. It only holds 35 lbs per arm. That's not going to work for e-bikes. There's a chance you'll need an extra top tube adapter if you have kids' bikes or mountain bikes. On the whole, the rack works well, even on long trips.
If you want to stick with this option you can click the button below to check the price on Amazon.
If that's not what you're looking for, or if you wanna look at a cheaper option, check out the next item below.
Pros
Easily accommodate 2 bikes with a load of 70 lbs each
Narrow carry arms for the easiest & quickest loading
Cons
Not fully assembled upon arrival
The buckle and strap locking mechanism may scratch the paint
The Allen Sports Deluxe 2-Bike Spare Tire Rack is everything a bike rack for Jeep Wrangler should be: strong, durable, lightweight, and supremely affordable. 
For less than $100, you get a steel bike carrier that tips the scale at just 10 pounds or so, with 15"-long carrying arms providing space enough to transport two bikes securely. 
It has a total rated weight capacity of 70 pounds – 35 pounds per bike – and its extra-wide bottom supports brace against the spare tire sidewall, not the wheel, so you can rest easy knowing you're not risking damage to your spare. 
Two different versions of this Jeep Wrangler spare tire bike rack exist one specifically to fit the current JL Wrangler and one that fits earlier models.
To check the price on Amazon, click the button below.
The Jeep Wrangler JL market is loaded with bike racks, but we've compiled the best price points for each category so you don't have to. This time of year, bike racks are bound to be on sale, so click the link on the one you want to see the price.
We showed you our top 3 options, but there are more. Check out the sections below if you want to pick bike racks according to brand and bike capacity.
Thule Jeep Wrangler Bike Racks: Straight from Sweden
Thule bike racks are expertly designed to make it safe and easy to transport your bike. Whether you have a passion for road cycling or family bike vacations – Thule has a bike rack for every cyclist.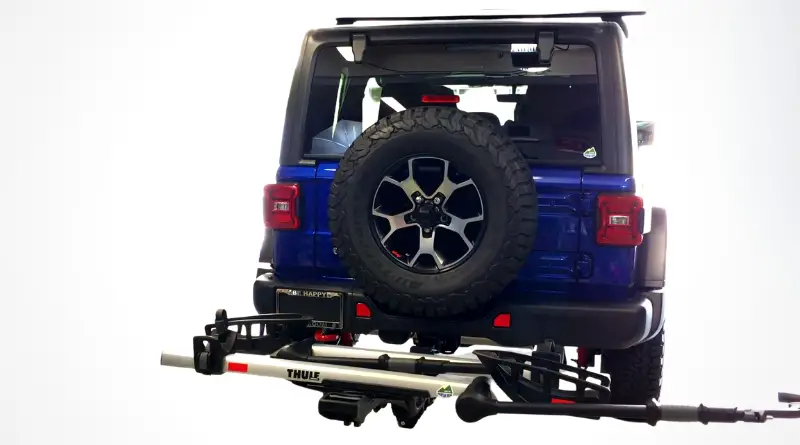 Pros
Easy tilt release function
fat bike friendly
Cons
Thule T2 Pro XTR is the industry standard for tray-style racks. 
As the best hitch rack on the market, the T2 Pro XTR maintains its position despite the aggressive influx of new models from competitors. 
Thule's user-friendly design includes an easy-to-reach tilt release handle and a tool-free vehicle mounting system. The T2 Pro XTR's design isn't perfect, but it executes the design principle superbly, all the features work, and the result is a hassle-free rack that works with nearly any bike out there.
Interested? Click the button below to check the price.
Not a fan of hitch racks? Your Wrangler JL's spare wheel can also hold a bike rack. Take a look at the next option.
Is a Thule bike rack worth it?
Is a Thule bike rack worth it? Yes. Thule bike racks are notoriously expensive, ranging from $400 to $700. The good news is that with all that financial strain comes great quality and long-lasting durability.
Your Best Budget Option: Allen Sports Jeep Wrangler Bike Rack
You can haul bikes around town easily and affordably with Allen Sports Bike Racks, whether you're looking for an affordable bike rack or a non-hitch bike rack for your Jeep Wrangler JL. 
It's no wonder these racks are Amazon's best-selling products: they're car compatible, bike compatible, and affordable.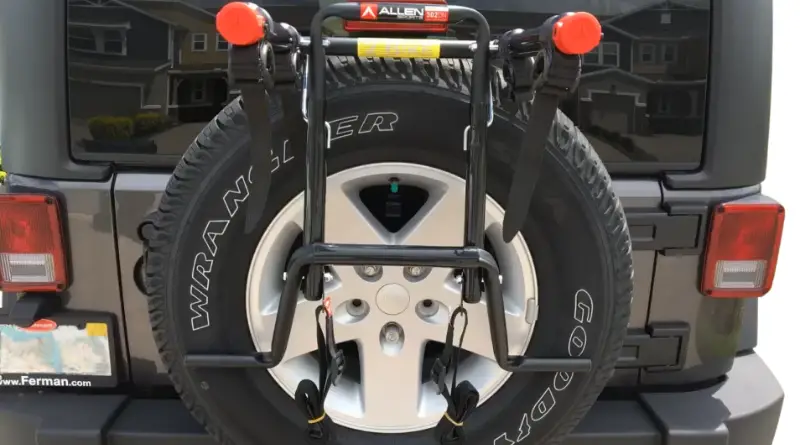 Pros
Compatible with other vehicles, not just Jeep Wranglers
Accommodates any spare tire size
Cons
No adjustable or collapsible arms
This Allen Deluxe 2 rack uses your bicycle frame as the primary attachment point. 
Compared to the higher-end competition, this very inexpensive model is pretty basic, but it can hold two bikes and fits on Jeep Wranglers. 
One of the least expensive options for bike transport, it lacks security features and has limited adjustability. If you're an infrequent user looking for a convenient, storable rack that won't break the bank, this rack is for you.
Get this bike rack right now by clicking the link below.
Want a different brand? Check the next item below.
Hollywood Jeep Wrangler Bike Rack: Like the Namesake, They've Got Great Racks!
Hollywood is a big name in the entertainment industry. Luckily for us bikers, it's also a big name in the bike scene. That heading isn't lying just for the pun. Hollywood really does make great racks, especially for Jeep Wranglers. I'll show you in a bit.
Pros
Fits up to 2 35lb bikes
Quick and easy installation, comes fully assembled
Cons
Does not come with an integrated locking system
Can be difficult to fit on larger tires and does not fit all tire sizes
I like how inconspicuous this rack is.
With the SR1 Spare Tire Rack, Hollywood Racks did it right. You can mount it bolt-on or strap-on. It fits two bikes that weigh 35 pounds each. If you mount your tires on the side, the arms will adjust too.
Best of all, the Hollywood Racks fold down when you're not using them, so you don't have to take them off. Your bikes will still be there when you get back regardless of whether you're driving through town or off-road.
Hollywood Racks stands out because of its mid-range price point.
It's still a smart idea to keep your bikes off the rack when you're not around. Your bikes can be stolen since there's no locking system.
Check out the Hollywood SR1 spare tire bike rack's price by clicking the button below.
You can also get Hollywood's newer (but more expensive) SR2 bike rack. They fit a jeep wrangler JL better than the SR1. Check it out below.
Pros
Robust construction (great for offroading)
Highly adjustable with folding arms to save space.
Cons
Doesn't come with a cable lock
Limited tire size compatibility
In terms of choosing a bike rack with great performance and durability, the Hollywood Rack is one of the best.
With the Hollywood SR2, you can carry two bicycles conveniently and expeditiously with durable construction and soft rubber-like cradles. Most interestingly, the rack can be adjusted to fit almost all rear spare tires, so you can attach it over your spare tire securely.
With its rugged strap system, the Hollywood SR2 can not only be installed in seconds but also removed with ease when not in use. Furthermore, it comes fully assembled, so it's easier to install. Not only that, but it's also simple to clamp.
You can center the rack's support arm for easy installation if you're mounting side-mounted tires. Besides being lightweight (10 lbs), the rack can be folded flat when not in use, making it easy to carry and store.
Interested? Get the Hollywood SR2 bike rack now by clicking the button below.
If you have more bikes to haul, or would like to bring your whole squad on the ride, the next option below would be perfect.
Maxxhaul Jeep Wrangler Bike Racks: A Bike-hauler's Best Friend
Bike racks are among the products made by Maxxhaul, a popular manufacturer of storage equipment. 
They also make heavy-duty bike racks for Jeep Wranglers that hold multiple bikes. If you like to haul all your bikes in your Jeep or take the whole cycling team on a joyride, these racks are for you.
Pros
Budget-friendly price
All-steel construction
Stores 4 bikes
Cons
The position of the bike rack may damage the paint on your Jeep Wrangler
Doesn't mount on the spare tire
MaxxHaul (70210) 4-Bike Deluxe Hitch Mount Rack is another great budget-friendly bike rack option. The ridged, all-steel construction ensures you won't lose any bikes, and the swing-down feature lets you get easy access to the back of the vehicle.
You can adjust the bike cradle with hook-and-loop straps and it fits 2-inch receivers. When not in use, the top bar swings down for compact storage – something users always worry about! The weight limit is 150 lbs, and there's a safety light reflector.
If you dig this bike rack for Jeep Wranglers, click on the button below to check the price.
Or, if 4 bikes are too much for you, check the next options below.
Honorable Mentions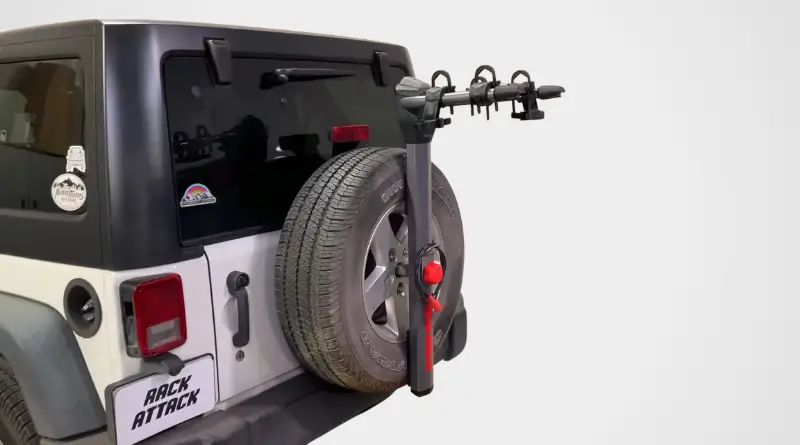 Pros
Includes locking system
Holds up to 2 bikes
Cons
Does not fit all spare tire sizes
One of the biggest names in the outdoors industry is Yakima. Jeep Wrangler owners love their bike racks.
Yakima Spare Tire Bike Racks have a simple design that requires no tools for installation. With ZipStrips, your bikes won't hit each other on the rack and they'll stay secure
You can also add some accessories to your Yakima to make it even better. Oh yeah, did I mention the built-in bottle opener? It's always fun to have an ice-cold drink after a long ride with friends.
The only downside to this thing is that it only attaches to the spare tire. If you don't have a spare tire, you'll have to choose another bike rack.
Like the Yakima Spare Tire Bike Rack? Click the button below to check the price.
Otherwise, check out the last bike rack for Jeep Wranglers below.
Pros
Strap-on technology allows for quick and easy installation
Adjustable to maintain balanced weight with any spare wheel placement
Cons
Not recommended for heavy offroading
Doesn't come with a lock
The only rack you can adjust for a spare tire in the middle, left, or right. Hence, it keeps a balanced weight wherever the spare tire is.
This rack is weatherproof. There's a rust-proof coating on this rack so it won't rust in the rain or snow. You should keep in mind that Rhino-Rack doesn't recommend heavy off-roading. It's because strap-on technology isn't as secure as bolting it down.
There you have it, our best bike racks for Jeep Wranglers. The Rhino-Rack bike carrier is the most affordable one, so click the button below to get it.
Which is Better for a Jeep Wrangler: A Hitch Rack or a Spare Tire Rack?
Which is better for a Jeep Wrangler: a hitch rack or a spare tire rack? I'd recommend the spare tire rack.
Unlike the tow hitch or roof rack, a spare tire bike rack mounts to the spare tire on your vehicle's rear door. There's a reason why Jeep Wrangler owners love this type of bike rack – not just because it pairs perfectly with the spare tire, but also because it's compact and easy to use. It's also a great alternative for Jeep owners with soft tops who can't use a roof rack.
A hitch rack, on the other hand, mounts on the trailer hitch and allows you to get to your bikes easily (unlike roof racks). These are easy to install and use. Backing up or maneuvering may be hard because they extend the length of your vehicle. For Jeep Wranglers with oversized wheels, I wouldn't recommend hitch racks since they tend to hit the spare tire.
What I Kept in Mind While Choosing The Best Jeep Wrangler Bike Racks
Mounting Style – We've already talked about hitch and spare tire mounting. Jeep Wranglers can also have roof-mounted racks, but they're not as good. I recommend sticking to the two racks I've mentioned in my review if you're shopping for one.
Weight Limit – You should also make sure the rack you're using can handle a decent amount of weight. There's no doubt that you'll bring multiple bikes and bicycles that weigh more than normal. It's always a good idea to check the rack's weight capacity if that's the case.
Make sure your bike rack can handle the weight and number of bikes you have.
Value for Money – Try to get something affordable, yet has enough features to support all your traveling needs, if you don't want to spend half your salary on one.
If you're looking for a Jeep Wrangler rack for the first time, you should avoid super expensive ones. Start cheap and work your way up. It's possible to get a great bike rack for a reasonable price and get almost the same performance as an expensive one.
Try to keep your eyes open and look at the ones that fit your budget instead of rushing into the ones that will cost you a fortune.
Our Final Results and Picks for the Best Bike Racks For Jeep Wrangler JL Per Section
A Wrangler rack search can be time-consuming and tedious. 
Other Jeep Wrangler owners took weeks and months to find the perfect rack. They weren't all just right, some were too small, some were too big, and some were just bad.
Luckily we already made a list of the best ones so you don't have to. Check them out below.
It's clear there are a lot of bike racks for Jeep Wrangler JL on the market, but we've sorted them by price so you don't have to. This time of year, it's bound to be on sale, so click the link on the bike rack you're most interested in to check the price.