What do you get when you cross an electric mountain bike with the Terminator? Ever wished to own a vehicle out of Batman's garage? Look no further than the Sur Ron X Black Edition.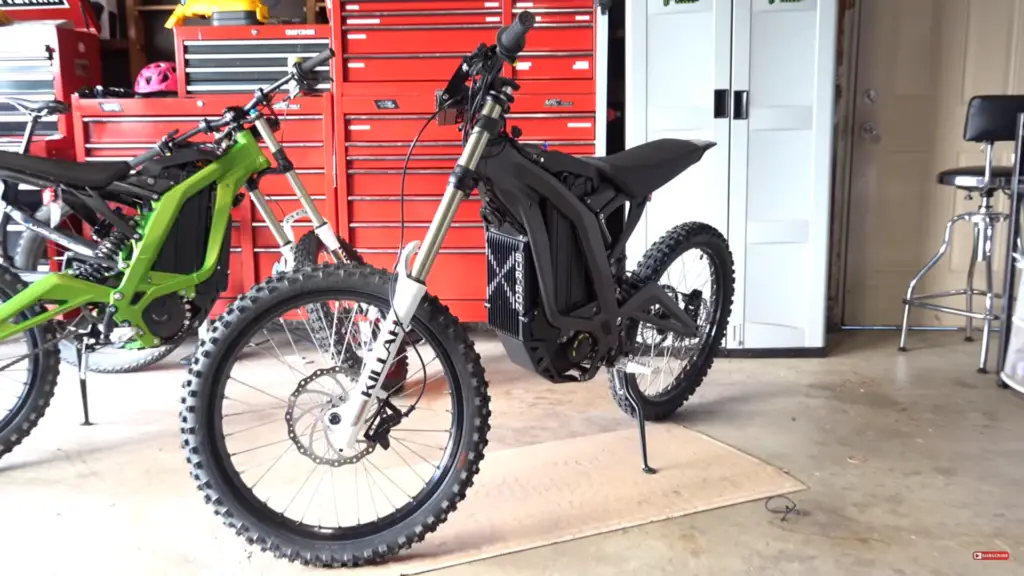 Who or What is Sur Ron X?
The Sur Ron X is a highly engineered monster electric dirt bike capable of reaching performance levels dwarfing that of even gas-powered dirt bikes. With its highly sophisticated styling, top of the line parts and performance, the "Light Bee" is easily one of the best performing, most recognizable headturners in the E-bike industry and was awarded the German Red Dot Award in 2018.
Also Read: Sur Ron Light Bee S Review
It is also very popular among professional motocross riders in competitive off-road sports. Needless to say, the Sur Ron X is a well known icon in the e-bike world
Sur Ron X (Black Edition) Overview
It might be a good idea to clarify where the black edition fits in the Sur Ron line. Since this bike is an "edition" that suggests that there's a line up. Specifying where the bike fits in the line up would be an important first step in discussing this specific model.
No overview can be complete without mentioning a very similar bike – the Segway X160. Sporting a nearly identical design and slightly more advanced tech features, the bike is well worth checking out.
Sur Ron X's Features
Sporting a futuristic design, matte black finish, and badass off-road wheels, this bike looks like something Darth Vader would use. The structure of the bike resembles a mountain bike-dirt bike mix with the handlebars and front fork belonging to that of a mountain bike and the rest is that of a dirt bike.
The Sur Ron X features 5200w (7 bhp equivalent) electric motor which is a seriously impressive powerup for a mountain bike. That power mixed with the battery's 2000 watt-hour capacity makes a 50 mile range at 50 miles per hour. If you're a serious rider, you should check out the best Sur Ron X battery upgrade options to extend your range. How much is a Sur Ron X battery? You'd be surprised.
The Sur Ron X also features a keyed "ignition" and keyed battery compartment similar to that of traditional motorcycles giving it the impression of being a legitimate motorbike.
What makes the Sur Ron X stand out from the crowd is it's dual front shock and single slanted rear shock which is a very rare feature in most other electric bikes. This also classifies the bike as a legitimate off-road electric mountain bike and not just a replica.
Some other unique characteristics of the Sur Ron X Black Edition include its informative heads-up-display (HUD) which displays the speedometer (in kph or mph), battery power, and trip meter, its new Sine Wave X-controller which is quieter, smoother and more powerful than the base model's, and its new regenerative braking which the base model doesn't have.
The brake levers are situated on the handlebars. Rear brake on the left and front brake on the right as with an actual motorcycle. 
One downside of this bike is probably its brake stopping power during high speed off-road treks. For its speed, brake performance is mediocre making this a dangerous ride especially for beginners.
Although for professional riders, the Sur Ron X has enough off-road efficiency to keep up with even a KTM 500 EXC as shown on this video:
Sur Ron X Motor Performance
If you've seen the video featuring the Sur Ron X winning first place in a hare scramble race with gas-powered dirt bikes, you'd be thinking "How did a small electric-powered dirt bike beat a bigger bike with a more powerful and efficient gasoline engine?"
You can watch that video here:
The Sur Ron X Black Edition's motor features 5200W (7 bhp) of power and therefore the energy demand on the battery is lowered making the motor run cooler and more energy-efficient.
With a two-stage drive, the Sur Ron X motor runs more quietly and efficiently even on high rpms and without generating too much motor heat.
One thing that sets it apart from other e-bikes is its ability to climb inclines. Its strong motor coupled with its lightweight build enables it to easily scale inclines that other electric dirt bikes struggle with.
What about Sur Ron X's battery?
The Sur Ron — also colloquially called "Light Bee" — features a light but massive 2000 watt-hour 60v 32ah removable battery consisting of high ratio Panasonic PF battery cells, a host computer management process and data interface, high power battery management system, state-of-charge battery statistics and four real-time temperature sensors all contained within a hard case that slides into the "engine compartment" of the bike. This enables the battery to maintain a large capacity of energy while also being highly efficient and safe. A 10A cast aluminum encased battery charger is also paired with this battery
In addition to the above, the Sur Ron X Black Edition features a regenerative braking system which helps charge the battery and aid in hill descents. Though the system takes some practice to use, as the throttle switches between gas and brake, it's still a nice touch despite its unrefined nature.
For better range, you can top up your battery pack with better-than-stock Sur Ron battery upgrades.
Sur Ron X suspension system
Sporting a DNM Volcano front suspension with RST oil+spring dampening and a Fast Ace 8-inch travel inclined rear suspension, the Sur Ron X can handle big jumps and rough roads with ease making it a solid choice for both off-road and city rides. The Sur Ron has great suspension for its type although it pales in comparison to suspension found on gas-powered dirt bikes.
Is the Sur Ron X durable?
With a super light aluminum frame weighing only 7.8 kg, it's hard to think that a bike like this can withstand the stress that comes with regular use. Formed using a large 6000 ton press, the aluminum used on this bike's frame is several times stronger and lighter than ordinary aluminum. The bike's swingarm is also constructed in the same way allowing it to withstand even the pressure and shock of high jumps while saving weight.
Apart from that, the quality control involved with the manufacture of this bike's frame subjects it to dynamic high-pressure and impact tests. Therefore we are assured of the bike's durability and quality.
To reduce bending and breakage on the foot pegs this aluminum foot peg support is a welcome upgrade to any new purchase or heavily used bike.
Advantages when riding the Sur Ron X
Aside from the insane amount of power that this ebike delivers, the main advantage of owning a Sur Ron is leveraging the industry's most cutting edge technology. Starting with the spiked off road tires, impact-resistant spoked wheels, DNM Volcano front suspension with RST oil+spring dampening and Fast Ace 8-inch travel rear suspension to soften impacts and maximize off road versatility. 
And with a tempered aluminum alloy frame that's several times as strong as regular aluminum, axial flux electric motor with the highest usable power and torque of any electric drive motor on the market, and a quiet Sine wave X controller.
The Sur Ron X comes with a light but solid frame that enables it to withstand the stresses of off-road situations. Complementing it is a very powerful motor, a highly energy-efficient battery system, top-of-the-line suspensions, and spiked off-road tires which makes the "Light Bee" a perfect choice for both competitive off-road riding and daily commuting or anything in between.
Disadvantages when riding the Sur Ron X
Even with all its upsides, like all technology, the Sur Ron X has its limitations. Being a lightweight vehicle, the Sur Ron X can be difficult to steer, especially for beginners. Its narrow and light structure gives it the tendency to oversteer during quick turns giving it a twitchy feeling.
Aside from that, the weight of the bike also affects its stability when accelerating. The sudden acceleration resulting from the motor's strong torque may be prone to popping unintended wheelies, therefore increasing the chances of accidents (or unintended bursts of laughter depending on your riding ability).
The tightly packed nature of the Sur Ron X also limits its customization flexibility. Aside from adding pedals, decals and fenders, there's really not much you can do to personalize the bike.
Sur Ron X (Black Edition) Tech Specifications
The Sur Ron X is an exceptional bike. That means it's also made of exceptional parts. To give you an idea, here's a breakdown of the Sur Ron X's main parts.
Manufacturer Name
Loncin Holdings, Ltd
Model Name
Sur Ron X Black Edition
Model Year
2018
Motor Manufacturer
ChongQing Quilong Technology Co., Ltd
Motor Model
Axial flux electric motor
Motor Power
5200W (7 bhp)
Motor Placement
Centrally mounted
Battery Capacity
2000 watt-hours
Battery Removal
Yes, easy slide out
Range
50 miles
Ride Mode
Off-road/Sport
Regenerative Braking
Yes
Throttle
Twist throttle
Gears
2-speed
Top speed
50 mph
Weight
110 lbs
Materials
Tempered Aluminum
Seat height
810 mm
Suspension
8 inch travel DNM/FASTACE rear suspension
RST Killah front suspension
Display
Negative LCD display (Speed & Odometer)
Purpose
Mountain/Street/Mud
Connectivity
Single USB socket 2100mA (phone charger)
Security
Keyed Ignition
What About After Support?
Sur Ron being a Chinese company, after-sales support is questionable. User reviews support the suspicion — it's easy to find customer support complaints on internet forums. 
Luckily, Luna Cycle, Sur Ron X's US distributor, has been doing its best to address customer problems, resulting in great buyer ratings. For example, while replacement parts are largely unavailable, Luna found a workaround by picking new models clean of bits and bobs in order to fix customer bikes. They also provide a variety of customization options and services, a huge benefit to Sur Ron riders.
Amazon has an extra long dirt pit mudguard specifically for this model that blocks mud and dirt being kicked up after a rainy day.
Sur Ron X (Black Edition) Value for Money
At a low price of $3,600, the Sur Ron X Black Edition is more than worth it. The Sur Ron is a solid, reliable, cool looking bike with decades worth of engineering behind it and a great reputation among buyers, reviewers, and even sports competitors.

The Segway X160 is a close cousin to the Sur Ron X and is available on Amazon for slightly less. We recommend looking at the Segway X160 electric dirt bike before deciding on the Sur Ron X.
Sur Ron Aftermarket Tire Upgrades
If you are looking for better than stock tire aftermarket upgrades, these below tires are great for better traction and performance.
If you don't already have one you may need a tire iron set to complete the job.
Sur Ron X Choice Commentaries from the Luna Cycle Webpage
Several people have bought and tried the Sur Ron X so far, and have left comments on the bike's ups and downs. Here are some of the things you should read before you buy.
"I bought My Sur-Ron from Luna a year ago and I never looked back. The service at Luna Cycle is always first class and they stand behind everything they sell. Most recently I bought and installed an X-controller which I totally recommend, but then I mailed my original controller back for a $170"

-Michael Hillock (Luna Cycle)
"I'm not disappointed at all with the performance from the Sur Ron X. The black on black looks beautiful and definitely gets a lot of attention."

-David Garcia (Luna Cycle)
"I knew that it would be fun. But this little beast exceeded all my expectations including how light and "flickable" it is on tight trails. Haven't found a hill or dune that it won't climb even in economy mode. I do a lot of riding in the central WA sagebrush scablands where the deer trails are tight and twist between the sagebrush over sand and rocks. It's challenging even on my fat tire ebike. The SRX (as I've coined it) lets me sit on the seat for slow traversing or stand on the pegs for steep or tricky twists with full confidence and more speed and power than I ever need. I end up exploring places that I never could before and seeing lots of wildlife because they typically don't hear me until they see me. Worth every cent and I'm just getting started."

-Charles Griffin (Luna Cycle)
"In summary, i love this beautiful bike ! i'd give a 5 star for the performance of this bike, but there are still space for improvements, so here are a few things about this bike, good and bad : 
1. the design of this bike is absolutely beautiful, the suspensions are great, the Chinese sure know how to make bikes ! 
2. the webpage says this bike can go over 40 miles per full charge, but my experience tells me it can go ~65 miles if i use EP mode (equivalent to eco mode for other ebikes), which is the perfect mode for commuters, sport mode is useless for me, so is the brake-regen feature in sports mode. also, unlike some other ebikes, the sur-ron ebike battery is portable, which is great, cuz i can just recharge it indoor and leave my bike outside. 
3. tail light is not bright at all, so i had to purchase other USB-rechargable tail lights myself 
4. it's simply hard to find a place to mount my tail light and turn signals, so i had to machine a piece of metal and screw it onto where the original tail light is, so i can have enough space to mount my own super bright tail light and turn signals !!! lunacycle, i love u guys, but pls address this issue !!! 
5. last but not least, the question about street legal. i guess everyone would have this concern whether it is street legal. all i can tell u guys is that, lunacycle claims that its max speed is 20mph,with a 750 watts motor, and the Chinese manufacturer says 20km/h & 168watts (if i remember correctly), and the manual that came with my package reads 20 mph & 250 watts…so, lunacycle, pls, for customers' sake, GET YOUR STORY STRAIGHT !!!"

-Zichen He (Luna Cycle)
"SUPER FUN!!! If you plan to trail ride this bike you are going to have a blast. On-time delivery and even received all accessories (shipped separately) the same day. Bike went together super easy in just minutes. Rode it 26 miles that same day I got it. The range this thing offers has me more than confident that I can easily make a round trip anywhere in town and make it back home with lots of battery remaining. The included smart battery charger makes recharging effortless and worry free. 3.5 hours to recharge as advertised. Only reason to change anything would be to simply suit one's tastes as the bike comes well equipped right out of the box. I had it 2 1/2 weeks and put 350 miles on it. It's an attention grabber for sure."

-Don Sunderland (Luna Cycle)
"The Sur-Ron X is a wonderful electric bike that was delivered just as promised by Luna Cycle. Their customer service has been fantastic throughout the entire purchase of the bike and even better for any of my follow-up questions. I would definitely and have recommend this product to many friends!"

-Shawn Deslandes (Luna Cycle)
"This review is not for gear heads but those considering an ebike especially if comparing to gas for recreational weekend warrior riding. Hopefully I am sharing some decision points and info you may have not considered. I am not qualified to talk about e-tech (plenty good info out there) so this review is for those readers who are just trying to decide to go electric (or not). If you do, save the time researching which e-bike and get a Sur-ron, most everything out there will tell you this (at least as of Spring '19). I am 48 and have always rode cross country MTB and have been doing downhill for the last 10 years. Two years ago I decided to get a gas dirt bike when I realized the epic long rides are behind me either because of my aging or those of riding partners. This is not a replacement for pedal power but another riding option for me. About that time my brother-in-law sent a link to Luna/Sur-ron. I blew it off thinking the e-tech is too new and decided to go with the gas dirt bike… until about 6 months ago when thought I was about to pull the trigger on gas and gave the Sur-ron one last look. I always analyze the heck out of decisions and am glad I did for 6 more months. I waa bit suspect of all the positive reviews and am not one to purchase on hype. So below is my rationale for buying the Sur ron X and thoughts regarding the Sur Ron and Luna after purchase. 
Pros 
1. I am not a gearhead and just want to ride with low maintenance. I live in Colorado and altitude (from what I read) is a pain with carburateurs as you swing from 5200 to 11000 feet. Considered fuel injection but few ICEs offer this. The Sur-ron has minimal maintenance beyond that of an MTB. Perfect for me.
2. I am 5'5″ and about 25 lbs overweight at 165lbs. Fit of Sur-ron is great. Most gas bikes are too big for me. Note that many taller riders still like the fit. My wide is 5'10" and loves it too. 
3. Being a cross-country MTBr, the idea of a noisy dirt bike was a real turn-off. Sur-ron X is sooo quiet. Obviously louder than a pedal bike but compared to gas its practically immaterial with the little extra noise vs a pedal bike. 
4. My wife and kids who can't use a clutch can ride it. 
5. Its nice to know I am not polluting and no need to get gas. 
6. The torque and speed is more than I could ever need for cross country riding. 
7. Built like a tank. I recently crashed at a dirt track the first time I took it out. Went up a steep hill, over-throttled, launched it. Only the rear fender broke and some scratches. Obviously anything can break but watch the videos- very well made. 
8. On the dirt track I rode for 1hour 59 mins. 80% of the time in Sport mode while rolling over jumps with no elevation gain other than the jumps. According to stock odometer I went 33 miles. Not sure how accurate odometer is – will need to verify. While not the range of gas this is a function of the e-tech not Sur-ron. Frankly, this is amazing. 
9. I have NEVER bought before trying and I rolled the dice on this based on all the positive reviews. The bike is awesome, Luna has fantastic support both before purchase and after. I have only asked questions and not dealt with real issues. Those that have had issues praise the service which is why I felt OK taking a chance with Luna. 
10. Compared to gas bike it is much lighter. 
11. Charging is only 3 hours from 10% to 100% 
12. I would never purchase on looks but it does look like a traditional dirt bike if that matters. 
13. I easily kept up with the gas bikes at the dirt track (https://www.youtube.com/watch?v=y9rW0NkS8LY) 
14. Price is superior for technology. 
15. Definitely will consider using for commuting if I am not up to pedaling. New street legal mode is really easy to switch to/from. Will be curious what will actually happen if stopped by cops in street legal mode. 
16. Great online knowledge for such a new product. 
Negatives (all very minor but I want to be balanced in this review) 
1. As with all ebikes, your really need to plan if you are camping without electric. Kinda sucks but you know that going in. Get a generator maybe? 
2. Odometer/Speedometer and battery indicator are small so difficult to read safely when riding. 
3. We don't have much mud in Colorado so I have not had fender concerns but that could be an issue for wetter climates. 
4. Seat could be more comfortable. 
5. Little after purchase options unless you customize or can fabricate your own."

Jason Fitez (Luna Cycles)
Sur Ron X Choice Commentaries from Other Reviews
If you're passionate about learning more of the Sur Ron X, here are some things that'll help you see from a professional's point of view:
"To me, the Sur Ron is as close to the perfect motorized two-wheeler that fits right between a full-suspension mountain bike and a small displacement ICE (Internal Combustion Engine) bike. Much like the original iPad, the Sur Ron has carved out its own niche in the EV two-wheeled space. Incredibly well-engineered and executed, this piece of kit from China approaches Honda quality. Fun factor surpassed all expectations. Plug it in to charge it, turn the key, and roost away on your favorite trail or road. I took a half a star away simply because parts are not yet readily available if I break something… like a brake lever grip or footpeg mount. Luna does stock them when Sur Ron can get them the part."

-Mark Kitaoka (Webbikeworld)
"The Sur Ron Firefly Electric Light MX Motorcycle is one of a kind. Seriously, there's really nothing quite like it in the market. Are there cheap electrics out there? Yeah. Under-powered, questionable batteries, cheaply built. AKA, worthless.
Are there fast, awesome light MX-style ebikes? Sure thing. For 3X the price of the Sur Ron. For the price, nothing else even comes close to matching the performance and clean engineering of this bike though."

-K.S. Storm (Tech Fiend Reviews)
"Pros:
lots of power, real 45mph top speed, long battery distance (I get ~35mi), solid construction, whoolies
Cons: 
throttle pull too long, pedal kit is janky, headlight assembly is terrible, brakes are inadequate, static tail light, power cutoff when brake lever pulled. None of these are dealbreakers and more annoyances which are all fixable."

-Max (YouTube)
"As an ebike rider, I would say this is 1% ebike and 99% Electric motocross bike. It's kind of a new category of bike that we're seeing recently where it's not quite a full size motorcycle but definitely too big and powerful to be called a bicycle. That's not bad, it's just new."

-Chris Till (YouTube)
"Took the Sur Ron up some technical hill climbs. It seems to have enough power to make it up some pretty nasty stuff but you have to be slightly rolling to get the torque to kick in.  Overall this bike is impressive, I only used around 30% of the battery on this whole ride. I'm 190lbs with a full backpack of water and other stuff so I'd say this bike handled 200lbs pretty well!"

-Chris Crawford (YouTube)
"It looks really good um probably one of the best looking electric bikes that I've seen on the market to tell you the truth. It's not too futuristic, it's not too boxy. You know, looks-wise it's really a 10 out of 10 for an electric bike."

-HolmesHobbies (Youtube Professional Review)
Where Can I Get the Sur Ron X (Black Edition)?
The best place you can get the Sur Ron is from Luna Cycle. You can contact them via their number at 800-881-4471 or visit them at 1330 E Franklin Ave., El Segundo, CA 90245, United States. 
Other places to buy include AliExpress, and if you're from the UK, visit the Surron website at https://surron.co.uk/, or at https://ridesurron.com/buy/. And, again, we highly recommend looking at the Segway X160 before deciding on the Sur Ron X because it's a very similar bike.
Sur Ron X (Black Edition) Videos
Still not convinced of the Sur Ron X's beauty? See the bike in action through these precompiled videos:
Sur Ron X (Black Edition) Image Gallery
Want to see the bike up close and personal? Here are some images you can look at: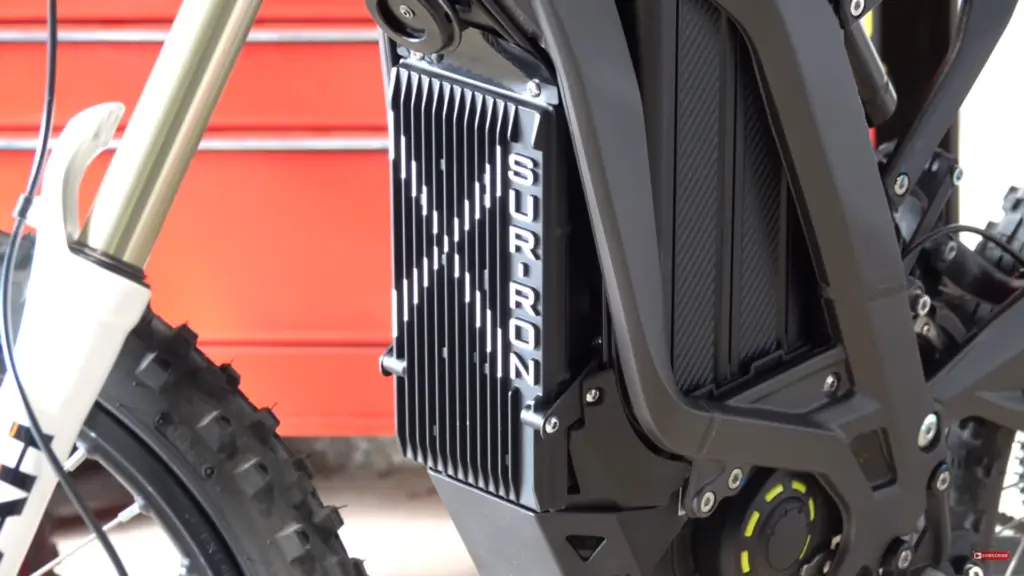 Also read: Where Are Sur-Ron Bikes Made?