KTM is at it again with their sporty off-road hotshots and in the form of an electric dirt bike this time! The KTM Freeride E-XC is one of a kind — one of the best electric dirt bikes to come out this year, created with a mix of extreme sports and absolute silence in mind. And it retails at just $8,299 USD.
KTM is Austria's biggest petrol motorcycle manufacturer and yes, they make great petrol bikes using highly advanced engineering. But will the company's electric bikes conform to the standard? Will their newest electric dirt bike be a market ground-breaker? Will it be as successful as its petrol-powered siblings? KTM has actually included features that'll make it so. Read on to find out.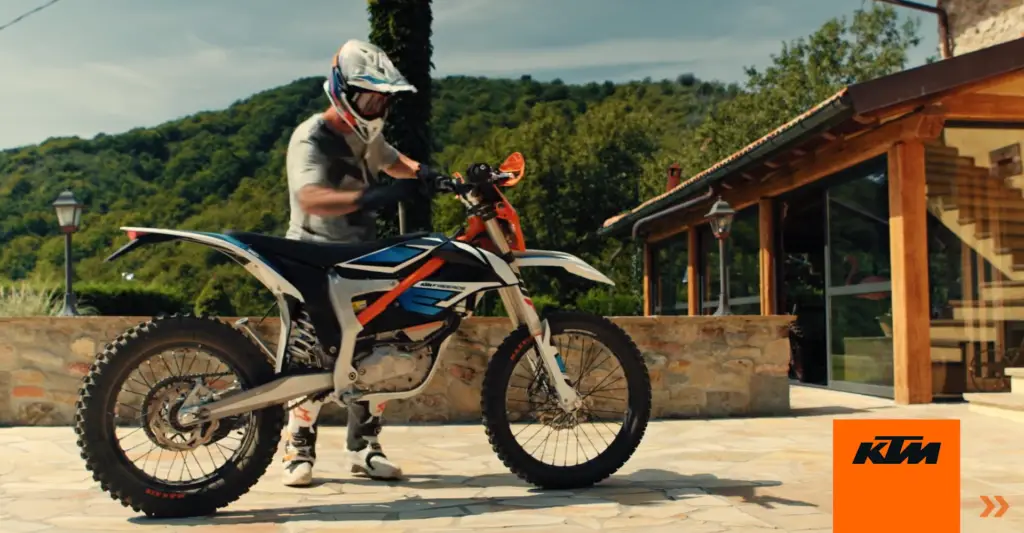 What is the KTM Freeride Electric Dirt Bike?
The KTM Freeride EX-C is an electric motorcycle that will make your off-road dreams come true. Its robust, powerful engine and great range of features make it one of the best electric dirt bikes on the market. 
Its power output is impressive, with 50 Nm of torque at its disposal – more than enough to take on any terrain. Plus, you can customize your bike with a range of KTM PowerParts for a truly unique ride experience. 
Even though this E-XC features plenty of power, its lightweight construction makes it incredibly agile and easy to maneuver in even the tightest turns. 
With a top speed of around 80km/h, riders can have their fill of off-roading fun without having to worry about going too fast. 
The KTM Freeride EX-C is a great choice for those who are looking for an electric dirt bike that can handle off-road conditions. 
Its impressive power and agility make it perfect for taking on the toughest trails, while its range of features allow riders to customize their ride experience to suit their needs. 
While some riders may find the price tag a bit steep, the quality of this E-XC definitely makes it worth consideration. If you're in the market for an electric dirt bike with plenty of power and agility, then you should definitely check out the electric KTM Freeride E.
Overview
EX-C Motorcycle Features
The KTM Freeride EX-C is a groundbreaking electric motorcycle that takes the motocross bikes experience to the next level. 
It boasts an impressive freeride chassis, and comes with all the features you could want from a cutting-edge electric dirt bike. 
From high-performance suspension to an intuitive display panel, this bike packs quite a punch! Whether you're cruising around town or taking on steep mountain trails, the KTM Freeride EX-C electric motorcycle has everything you need for an exhilarating ride.
Display
The KTM electric dirt bike features a unique heads-up-display with a digital speedometer and warning and indicator lights. The display is also located in an easy-to-see part of the bike, just on the handlebar. This helps riders stay aware of the bike's status without taking their eyes off the road, and therefore helping to promote safety. This is a commonly overlooked feature in many electric dirt bikes.
Frame
Freeride possesses a solid and flexible perimeter steel-aluminium composite frame along with a high-strength polyamide subframe. It also features a high-strength aluminum handlebar with a steering angle of 67° which enables riders to better overcome sharp turns.
Overall, the frame's lightweight composite design, top-of-the-line quality chrome-moly steel frame and bolt-on forged aluminum subframe ensures exceptional durability and long-term reliability.
Transmission
This electric dirt bike runs on a 1-speed automatic drive transmission that further simplifies the motocross experience using a top-of-the-line drivetrain that guarantees higher power tractability and features three available power delivery modes.
These power delivery modes include: Economy for a longer travel range but weaker power, Enduro for a balanced power-range ratio, and Cross for an extreme all-out short-range power surge. This feature is useful for when you need to customize your ride experience.
Motor
With a maximum output of 11 kW (15 hp), this lightweight powerhouse is ready for whatever you can throw at it. So let's dive in and see what makes this motor so special. 
First off, the KTM Freeride EX-C electric engine provides plenty of power. It has a power level comparable to that of a single stroke 250cc petrol engine and offers an impressive 11 kW (15 hp) output, so long as it's got a good charge, making it perfect for tough terrain and challenging courses. 
The battery itself also charges up quickly – in just three hours your ride will be ready to go again! You'll also appreciate the convenience of being able to start your rides further away from the home base, thanks to its long-range charging capabilities. 
When it comes to testing this motor's performance, the results speak for themselves. The KTM Freeride EX-C electric motor has consistently scored top marks in many a motor test and reviews, proving that it's more than capable of handling whatever obstacles come its way. 
Whether you're weaving through winding trails or tackling tough terrain, this motor will get you where you need to go with ease – all while keeping your electric bills low.
Batteries
Feeding this waterproof electric system is an easily removable 260V Lithium-ion KTM PowerPack battery located under the bike's "fuel tank." We prefer this battery placement because it is easily accessible by just lifting the seat to connect the charger and plug.
The battery itself has 3.9 kWh of capacity. This is good for up to 45 minutes of full power riding, or 11.5 miles of travel. It does not compare to other high-end electric dirt bikes which have over 15 miles of travel on full power. But that's okay because the largest dirt track—the Eldora speedway—is only half a mile long, not to mention the smaller ones.
Luckily, charging is straightforward. The battery comes complete with its own separate charger and charges by lifting the seat up and connecting the charger wire. It also charges by feeding on excess brake energy due to regenerative braking.
Brakes
This monster sports the latest Formula brake system that uses a radial 4-piston front caliper on a 260mm Wave brake disc along with a 2-piston rear caliper on a matching 230mm rear Wave brake disc. Both front and rear brake levers are situated on the handlebars due to its automatic transmission no longer requiring a clutch lever. This is a great addon because it makes dirt biking simpler.
The bike also features regenerative braking on eco mode. This helps further extend the bike's range by feeding brake energy back into the battery. This is a very useful system during long rides where an extra battery level is needed. Expect to use the brakes a lot when going downhill for it will help.
Suspension
Ride enjoyment is upscaled with WP XPlor 43 forks, a 43mm inverted fork with 250mm of travel and a WP Xplor PDS rear shock absorber with 260mm of travel. WP is a well-known brand in the world of motorcycles. Covering sport bikes to dirt bikes to cruisers. The KTM electric bike's suspension is reliable. Period.
Tires & Wheels
Propelling this monster electric bike are high-end wheels made of anodized aluminum, Giant rims, and CNC machined hubs with lightweight aluminum spoke nipples. This combination proves highly stable and light. These are also featured in KTM's gas-powered dirt bikes.
Tech Specifications of KTM Freeride EX-C Bikes
The KTM Freeride E-XC is a great bike built with great enthusiasm. If you want to know the things that make up this awesome ride, here's a breakdown of the Freeride E-XC's main parts:
| | |
| --- | --- |
| Manufacturer Name | KTM AG |
| Model Name | Freeride E-XC |
| Model Year | 2020 |
| Motor Manufacturer | KTM AG |
| Motor Model | KTM Racing permanent magnet synchronous motor |
| Motor Power | 18kW (24.5 bhp) @ 4550 rpm |
| Motor Placement | Centrally placed |
| Controller | KTM custom developed controller |
| Power Pack | 260V Lithium power pack |
| Battery Capacity | 3900W |
| Battery Removal | Easy slide out |
| Range | 11.5 miles (On unrestricted full power mode) |
| Ride Mode | Off-road, Sport |
| Regenerative Braking | Yes |
| Throttle | Twist throttle |
| Gears | 1 gear |
| Top speed | 50 miles per hour |
| Weight | 92.5 kg |
| Materials | Perimeter steel-aluminum |
| Seat height | 910 mm |
| Suspension | 250 mm travel WP Xplor upside-down front260mm travel WP Xplor PDS rear |
| Display | Digital (Speedometer, warning and indicator lights) |
| Purpose | Dirt bike |
| Connectivity | N/A |
| Security | Key-operated ignition lock |
After-Sales Support
KTM is known for its high customer-priority and provides excellent customer service. They provide repair and tuning services as well as after-market upgrades and modifications for both motorcycles and electric bikes. They also offer extended warranties for buyers.
You can visit them at KTM Sportmotorcycle GmbH, Betriebsgebiet Süd, Stallhofnerstraße 3, A-5230 Mattighofen in Austria. In the slim chance that you don't live in Northern Austria, you can contact representatives here. KTM also has a large dealer network in 82 countries. You should be able to find one near you.
Where Can I Get One?
The best place to get the KTM Freeride E-XC is the KTM website. You can also drop in to one of KTM's 10 main US dealerships to talk to sales staff.
Videos
Here are a couple of videos of the bike in action! You be the judge on whether this is a cool bike or not.
Choice Commentaries, Tests and Customers' Share
Still not convinced of the KTM Freeride's coolness? Here are choice commentaries gathered from people on the internet:
"I was grinning like a child in my helmet when riding the Freeride-E on the hilly trails around the Wildomar OHV area in southern California – and doing it in near silence. It rekindled the pure element of fun that is the whole reason most of us started riding motorbikes in the first place. It's fast enough to thrill, capable enough to tackle gnarly terrain, and manageable enough to make even an old dude feel fully in control."

-Kevin Duke (Motorcycle.com)
"You don't realise just how much rear brake is used when off-roading, until there isn't one. That's what was going through my mind as I hurtled towards a fence out of control on the KTM Freeride E-SX, legs flailing, right foot reaching for the absent lever, with a little nugget of poo threatening to escape."

-44Teeth (44teeth.com)
"If you ignore the engine area, the rest of the E-XC looks much like a regular, run-of-the-mill motocross machine. Full-on proper knobbies and off-road-tastic wire wheels play right into the look, as does the tripletree-mount mudguard that leaves plenty of room for the front wheel to pump. A compact flyscreen doubles as a housing for the recessed headlight, and the lack of turn signals and mirrors keeps the front end clean and the gear limited to the absolute essentials. In other words; not legal for use on public streets, not even almost. That's OK though, 'cause this thing is completely at home once the blacktop turns to brown."

-TJ Hinton (TopSpeed.com)
People Also Ask
How much does a KTM electric dirt bike cost?
The cost of a KTM electric dirt bike can vary depending on the make and model, but generally starts at around $8,000.
How fast is the KTM electric dirt bike?
The KTM electric dirt bike can reach a maximum speed of 40 mph.
How much is the KTM SX E3?
The KTM SX E3 costs approximately $10,999.00 USD.
How much is the KTM Freeride EXC electric?
The KTM Freeride EXC electric costs approximately $11,499.00.
Image Gallery
If you want to see more of the KTM electric bike, here are precompiled images of only the highest quality: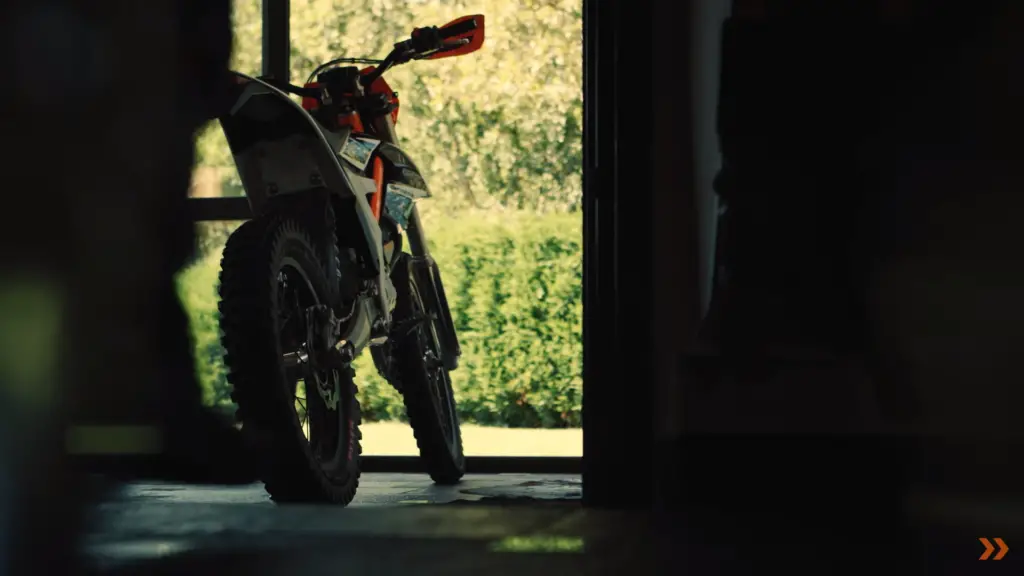 Also read: How Much Is a KTM Electric Dirt Bike?