Want to satisfy your sweet tooth? Try chewing on the Cake Kalk OR electric dirt bike.
Nothing's more delicious than riding a performance-oriented electric dirt bike. Nevermind that it looks like somebody taped cardboard boxes together — what matters is the immersive performance experience. Don't judge a cake by its frosting, is what they say.
The Kalk OR isn't cheap despite the tape job. It's more expensive than a Harley Davidson LiveWire, at a whopping $13,000 USD. Expensive, but does it come with a matching performance rating? Read on and see for yourself.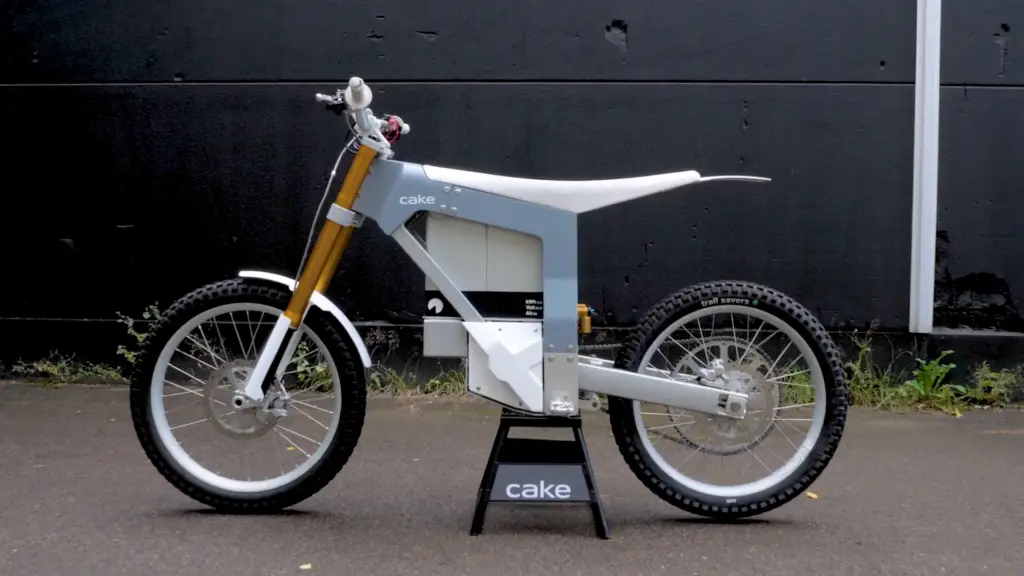 What Is the Cake Kalk OR Electric Dirt Bike?
The Kalk OR is Cake's second bike in its electric bike line. This bike bridges the gap between mountain bikes and dirt bikes as it shares the features and performance of both. Designed to be a purely performance-oriented electric dirt bike, the Kalk OR ignores the need for aesthetic beauty and bears almost nothing but the most functional parts. 
Overview
Features
The OR is made of purely purpose-built parts for peak performance. Most are custom-manufactured by Cake specifically for the Kalk series making them unique to the brand.
This electric bike also features an onboard charger. This is a fairly uncommon characteristic among electric bikes in the market. It simplifies the charging process and allows you to park & charge at any outlet without having to pull out your battery or carry an external charger.
Display
The OR maintains a minimalist dashboard with temperature and battery indicator lights. Aside from that, it has adjustment knobs for switching between ride modes and regenerative brake levels. This also gives the bike a purely mechanical feel.
Frame
A frame made of aluminum and carbon fibre carries all the OR's components. This type of frame is solid, lightweight, and flexible enough to withstand sudden shocks and pressure brought about by hard use. The aluminum is 6061 alloy, which has good mechanical properties, exhibit good weldability and workability, meaning it is easy to repair or modify.
The only bad thing about this frame is its appearance. It looks like folded cardboard and it exposes a lot of the bike's internal parts, such as the battery, motor, and controller to outside elements. Plus, it does not include a rear fender, so we do not recommend this electric dirt bike for wet, muddy trails.
Transmission
The Cake OR runs using a 1-speed automatic chain drive specially developed by the company. The drive train is made of parts such as chain, 13-tooth front sprocket, and 80-tooth rear sprocket.
The sprockets are set up this way because it is ideal for maximizing the OR's climbing ability. It also helps the bike achieve a peak torque of 31ft-lb (42Nm) on the shaft and 206.5ft-lb (280Nm) on wheel at 3000rpm.
The bike also comes with 3 riding modes that provide the rider with a variety of ride choices. These include Explore, which extends battery life to 3-4 hours but limits speed to 28 miles per hour, Excite, with up to 2 hours riding time, and Excel, for an hour at maximum power.
Motor
A Cake custom developed 11000W motor featuring an engine braking system propels the OR. Engine braking greatly helps the rider maintain control of the bike's speed by adding engine resistance to the wheels when the throttle is not in use.
Additionally, it contributes to the bike's regenerative braking system in conjunction with the front and rear brakes. This helps to further extend battery life.
Batteries
The Cake OR is powered by a 51.8 Volt and 2.6 Kilowatt Hour Li-ion battery pack with a capacity of 50Ah. This provides a range of up to 4 hours on regular power output and a maximum of 1 hour on max output.
The battery pack also comes with an integrated charger with a charging time of 2.5 hours. For a high-power, high-capacity bike, this is a great charge duration as other bikes of this caliber would take about 5-9 hours of charging time.
Brakes
A high-performance bike should have high-performance brakes. The OR uses custom developed motorcycle-grade front & rear brakes with four piston calipers actuated by alloy handlebar levers.
Both brakes perform greatly, but unlike a typical dirt bike, the rear brake is stronger than the front. This is ideal because of the bike's low weight and prevents frontflips during hard braking.
Suspension
An 8 inch travel Öhlins inverted air/oil front fork supports the Cake OR up front, while an Öhlins TTX22 shock absorber suspends the rear. Both shocks are solid and can withstand extreme pressures brought about by hard use.
The Cake Kalk also comes with a full trio of adjustment options for each of the shock absorbers. Front shocks are adjustable via high and low speed compression, and low-speed rebound. The rear, on the other hand, is adjusted via spring preload, rebound and compression damping.
Tires & Wheels
The OR electric bike sports 24 inch/50 mm 6061 alloy, triple chamber rims with specially developed tires. Triple chamber rims are stronger than single chamber rims owing to the extra structural support, but the extra material involved in their construction means an accompanying weight penalty.
Cake Kalk OR Electric Dirt Bike Tech Specifications
Cake made the Kalk OR out of their own design, and that includes its individual parts as well. If you want to know what the Kalk OR is made of, check out these specs:
Manufacturer Name
Cake
Model Name
Kalk OR
Model Year
2020 (originally released in 2019)
Motor Manufacturer
Cake
Motor Model
Cake 11kw Custom
Motor Power
11000W
Motor Placement
Centrally-placed
Controller
Cake custom developed built-in controller
Power Pack
51.8 Volt 2.6 kWh 18650 lithium cells
Battery Capacity
50Ah
Battery Removal
Integrated
Range
up to 4 hours
Ride Mode
Configured for 3 riding modes:
Explore: The ultimate mode during exploration. Limited speed to 45 km/h and 3-4h+ battery range
Excite: Enduro or active trail riding. 1-2 h riding time
Excel: Track and race mode
Regenerative Braking
Yes
Throttle
Twist throttle
Gears
1 gear
Top speed
55mph
Weight
152lbs
Materials
Aerospace grade 7050 aluminium, FSA Stainless steel, 6061 alloy
Seat height
35.8in
Suspension
Öhlins, inverted, air/oil with 8in travel front
Öhlins TTX22 with Cake internals and custom spring, 8.1in travel rear
Display
integrated dashboard
Purpose
Non-street legal / Pure offroad dirt bike
Connectivity
N/A
Security
Keyed ignition
After-Sales Support
Cake has a good reputation for customer service and response time. They are a Sweden-based company, but you can visit their American branch at 412 S 700 W, in Salt Lake City. You can also drop an email to [email protected] if you have concerns.
Where Can I Get One?
The best place to get the Kalk OR would be Cake's website. If you want to see the product in person, you can also visit any of Cake's 8 distributors throughout North America, including Aether Apparel, Deus Ex Machina, Stealth Tahoe, and Evolution motorcycles.
Cake Kalk OR Electric Dirt Bike Videos
If you're wondering how the Cake Kalk OR performs or want to see the bike in action, we've gathered a few videos for you. Watch them here:
Cake Kalk OR Electric Dirt Bike Choice Commentaries
If you want to know the thoughts others have had about the bike, read through these choice commentaries:
"The bike is very similar to the Sur Ron Light Bee but it uses motorcycle components instead of mountain bike components like the Light Bee. It's also more of a full sized motorcycle as opposed to the mini dirtbike size of the Light Bee. Right off the bat I can tell you the fenders look better than the pretty much non-existant fenders the Light Bee has. The rear looks long enough the front however is not a fender you'd want to have on a dirt bike. That will get caked up with mud in no time. Haha did you get that one? Cake?
There is it kinda cool bike. I kinda don't like the looks of it it serious looks like something Apple would make. If Apple made a dirtbike this is what it would look like, it just need a dock to put your Iphone then you have an Idirtbike haha. As for the light bee what really drew me to the bike was the frame it is a work of art. I think it looks sick. The suspension is definitely better than the Light Bee suspension Ohlins front and back.
Also the Kalk weighs in at 152lbs with the battery. The Light Bee weighs in at 125lbs with the battery. Website says it can do 50+ MPH. Light Bee can do 47MPH with stock supermoto gearing.
It has 21kw controller and 11kw motor. Also the range on their website claims "Up to 100km, 3h+ riding time". I'll believe when I see it. 100km is like what 60miles? My Empulse can barely go 60 miles and that has a 10.5kwh battery pack compared to the 2.6kwh the Kalk has so yeah sounds optimistic like all the other EV range figures out there. Also the best I've gotten on the Light Bee is 37 miles.
Also how much does the Cake's Kalk cost you say? $13,000… that's getting in to the Redshift territory there."

-HadesOmega (Bay Area Riders Forum)
"So I've put about two hours of riding on this bike so far, and here are my first impressions. It's really flowy, super snappy, really responsive under the twist of a throttle. My only complaint about this bike is you can't lower it at all. I have short legs. Sometimes when I come to a stop, it's kind of a struggle to get my foot down on the ground fast enough to not go overboard." 

-Emily Reed (Outside Online)
"Their going to have a wake up call when they find out that ALTA just dropped the price of their MX version to $10,495 US dollars. Not to mention this looks like it needs to be beefed up and refined quite a bit, other wise I see a lot of their electric bike's components imploding with hard use."

-Grenade776 (VitalMX)
"All the respect to the enginers and the massive task to make one of these but honestly this i one of the worst design i have ever seen in my life. With that said it is probably superfun to ride one."

-mikebrownsound (VitalMX)
Cake Kalk OR Electric Dirt Bike Image Gallery
Want to see the OR at different angles? See high quality images of the Cake Kalk OR here: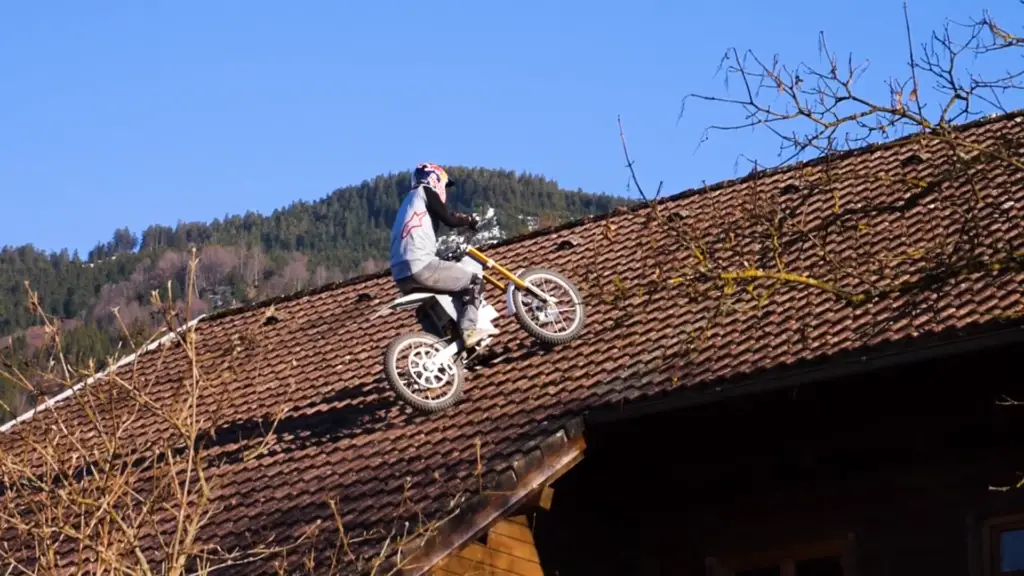 Also read: Electric Dirt Bikes That Go 30 Mph: Your Best Options