The HPC Typhoon Pro will probably be the first thing you see if steampunk and cyberpunk got married. Armed with high end components, a powerful electric motor, and Victorian era like styling, the HPC Typhoon Pro represents the perfect marriage between steam and shock.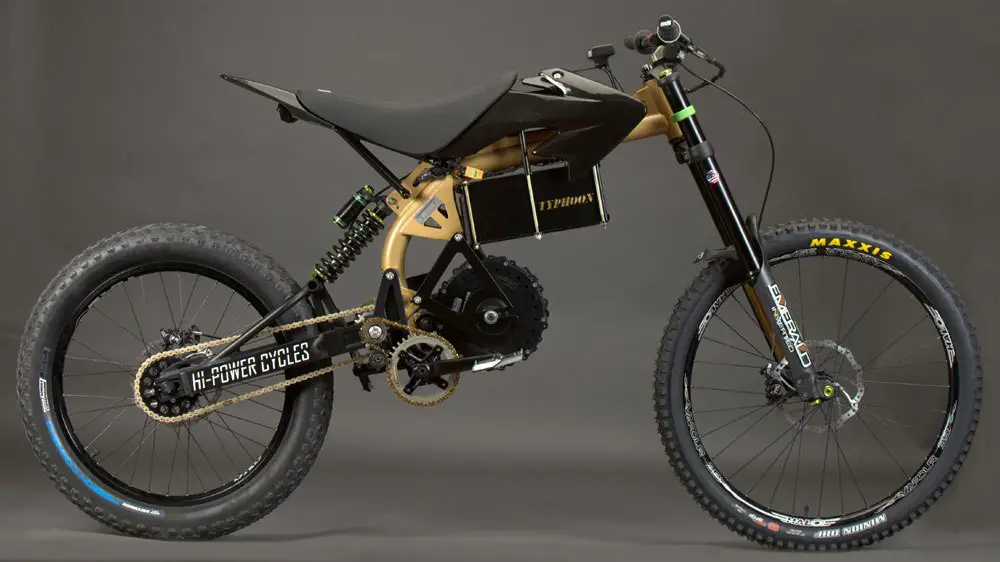 But yeah, we all know how it goes with stylish looking bikes, style often gets more attention than performance. Will the HPC Typhoon Pro perform just as good as it looks? Will it be a practical electric dirt bike option? Read on to find out.
What's the HPC Typhoon Pro and Who's it For?
The HPC Typhoon Pro is a large size hybrid electric dirt bike built for adults who want to ride the trails and dirt tracks in style. Armed with a badass and aggressive black gold look, and easy to maintain naked form, the HPC Typhoon Pro is perfect both style and clean freaks.
HPC Typhoon Pro Detailed Overview
HPC Typhoon Pro Main Features
The first thing you notice about the HPC Typhoon Pro is its looks. It packs a gold and black colored chromoly frame and high-end repainted components such as its suspension, brakes and tires.
HPC Typhoon Pro Display and Batteries
The Typhoon Pro sports a highly informative (but kinda boring) LCD dashboard that feels more like a calculator. But hey, it displays the full set of widgets that number freaks love — battery level, battery voltage, battery used, speed, distance, time, average speed, top speed, power output, and amp output. Really useful for those girls and boys who love to apply triage on everything they do.
To power this entire adult electric dirt bike, HPC equipped the Typhoon Pro with a standard 1290Wh lithium power pack with its own battery management system. This gives the bike an operating range of up to 45 miles on throttle-only. However you can raise this to 60 or 90 miles with an optional 1800Wh and 86V 2400Wh battery pack respectively which you can get at the time of purchase.
HPC Typhoon Pro Frame
The Typhoon Pro sports a chromium molybdenum (chromoly) frame that's painted gold and black for that classy Jack Daniels look. A workhorse of the bicycle industry, chromoly is a lightweight, strong steel. Butted and shaped to shed excess weight, it delivers a fairly lightweight frame that will last through years of extreme use. Chromoly also responds well to impact and offers good flexibility while maintaining its form. Basically, this means it'll take a good long while before you'll be riding on a 2-wheeled flimsy rust bucket.
HPC Typhoon Pro Motor and Transmission
Throttle-only propulsion comes from a 7000W exposed mid-drive brushless motor that also works together with the cranks to provide an optional pedal assist ride mode. The motor dishes out 120lb-ft of standing torque (significantly more than that of a Suzuki Hayabusa).
Despite having cranks, the Typhoon Pro only runs using a single gear. This means you'll have to rely on using the throttle to relieve the fatigue in your legs should you ever ride the bike pedalling.
HPC Typhoon Pro Brakes and Suspension
Here's where the sweet stuff is. The Typhoon Pro light electric dirt bike sports Magura MT7e quad piston disc brakes on both the front and rear. Magura is a high end brake brand used on more expensive bikes in both the electric and mechanical bike industry. One bike we've also reviewed that sports Magura brakes is Stealth's B-52 "Bomber" hybrid electric dirt bike which is a solid alternative to the HPC Typhoon.
Click Here to Read Our Stealth B-52 "Bomber" Review
The HPC Typhoon Pro sports a repainted long travel DVO Emerald front suspension forks for the best shock absorption on downhill treks or drops. To further help with rider comfort, the rear suspension also comprises a high quality rear coil.  Both shocks come with the full trio of adjustment options for flexible riding.
HPC Typhoon Pro Tires & Wheels
The HPC Typhoon Pro comes with standard downhill mountain bike aluminum spoked wheels wrapped with a Maxxis Minion DHF front tire and a Vee Tire rear tire. It's unknown exactly as to why HPC would equip the bike with two different brands of tires, but it's probably so the bike can possess both Maxxis' handling and Vee Tires' grip.
The wheels also come in uneven sizes with a 27.5-inch front wheel and a 24-inch rear wheel. This allows the bike to handle uneven or jagged terrain and provides a good measure of stability on downhill treks.
HPC Typhoon Pro Tech Specifications
If the HPC Typhoon Pro's features above sound like a mouthful, check out this list we put up to get an idea of what the Typhoon Pro is made of:
Manufacturer Name
Hi-Power Cycles
Model Name
Typhoon Pro
Model Year
2019
Motor Manufacturer
Hi-Power Cycles
Motor Model
2019
Motor Power
7kW (21.82hp, 120lb-ft of torque)
Motor Placement
Mid-drive
Controller
N/A
Power Pack
1290Wh lithium power pack with built-in battery management system (standard)
1800Wh lithium power pack (optional)
2400Wh lithium power pack (optional)
Battery Capacity
1290Wh (Standard), 1800Wh (Optional), 2400Wh (Optional)
Battery Removal
Easy slide out with hatch
Range
45 miles (standard)
60 miles (optional)80 miles (optional)
Ride Mode
Pedal assist, throttle-only
Regenerative Braking
N/A
Throttle
Variable twist throttle
Gears
1
Top speed
46 miles per hour
Weight
115 lbs
Materials
Chromoly, aluminum
Seat height
32 inches
Suspension
Factory Tuned DVO Suspension
DVO Emerald forks Jade rear coil
Display
LCD (battery level, battery voltage, battery used, speed, distance, time, average speed, top speed, power output, and amp output)
Purpose
Street, off road
Connectivity
N/A
Security
Keyed on/off switch
Where Can I Get an HPC Typhoon Pro, and How is HPC's After-Sales Support?
You can get the HPC Typhoon Pro right off of Hi-Power Cycles' website. For customer concerns and inquiries you can email them at sales@hpcbikes.com or contact their number at 818-734-1600 (US). If you also have any concerns and want a more personal way of communicating, you can visit their headquarters at Chatsworth, California.
HPC Typhoon Pro Videos
Want to see the bike perform in real time? Here's a video on the HPC Typhoon Pro in action:
Choice HPC Typhoon Pro Commentaries
HPC website includes a number of user reviews that you should comb through if you're serious about this bike. We've brought a select few for you here:
"When I shopped for a bike that would get me into wilderness, the Typhoon seemed to be the best choice out there.  Once I owned one, I was amazed at how capable the bike is.  I am a BIG guy, but the bike pulls me up hills, through the desert, and along forest trails with ease. It draws people to it, asking about its capabilities, and I have a big smile when I talk about it.  It is so quiet that when I am on a road, I can hear an approaching car behind me.  As a retired engineer, I was, and remain, impressed by the quality of design and build of this machine."

-Ken F (Source: Hi-Power Cycles)
"So I just wrote my official review and you will be happy to know that I'm giving your product a Five Star Rating. Congratulations. My only regret is that I didn't get the larger battery. The computer is very helpful now that I read up and learned what all the numbers mean. Staying off the gas is a challenge but me and the dog with a basket attached just broke the "XX" mph barrier on a bike path…..that's pretty fast……I love it thank you very much…"

-Shawn W (Source: Hi-Power Cycles)
 "The bike was delivered earlier today and I just completed assembly and first ride. Unbelievable!  Very nice ride, I can't wait to hit some trails."

-R. Rathwick (Source: Hi-Power Cycles)
HPC Typhoon Pro Pictures
If you want a different view angle on the HPC Typhoon Pro, don't hesitate to check out these pictures: