Looking for the best electric pit bike this year? You've come to the right place.
Electric dirt bikes are rapidly taking off and many have been introduced with the perfect pit bike form factor. Sure, they lack the loud pipes you'd expect but their silent bursts of instant torque make them a rush to ride… and you won't piss off your neighbours.
So what are your best choices this year? Find out below…
The 5 Best Electric Pit Bikes This Year
Before Picking the Best Pit Bike…
What Is a Pit Bike?
A pit bike is a small sized off road motorcycle used to simulate motocross races in miniature motocross rings or "pits." Pit biking, which is considered very similar to motocross, has been very popular in the United States since 2000. Pit bikes are basically smaller versions of full-sized dirt bikes and suited for both kids and adults.
Picking the Best Pit Bike: Our Ranking Criteria
When it comes to picking a good pit bike, we want to look primarily at the bike's size, power, handling, and off road capability. Everything else comes second. 
For the size, the ideal pit bike would be about as tall as your waist or lower. This allows riders to easily flick the bike and even do stunts (which is a regular task at the mini dirt track). For power and handling, the best pit bike would be able to dish out instant power the second you open the throttle while also allowing the rider to easily control the bike. For off road capability, the best pit bike would have built in off road tires and long travel suspension for the best grip and shock absorption respectively in the dirt track. 
Our bike scores are primarily based on 8 criteria: Build quality, responsiveness, speed, range, and weight coming first then followed by aesthetics, cool factor, and after-sales support. 
For the build quality, we take into account the bike's frame and fairings material and durability, as well as the amount of suspension and rider's comfort level. As for responsiveness, we assess the level of acceleration, gearing and whether the bike has complete brakes or just one.
We also judge based on the bike's speed. This encompasses everything from the amount of available standing torque to the maximum speed the bike can run on straight roads.
With range, we take into account the distance or time the bike can travel before running out of battery, the battery's recharge time, and whether the bike includes back up batteries. We also add bonus points if the bike features a regenerative braking system.
For aesthetics and cool factor, we mostly look at the bike's design— it's originality, appeal, reference to pop culture media, and even the amount of decals on its surface. And lastly, for after-support we judge based on how a certain dealer or company helps customers long after they bought a bike from a shop.
Top 5 Picks for the Best Electric Pit Bike
And now our picks for the best electric pit bikes on the market…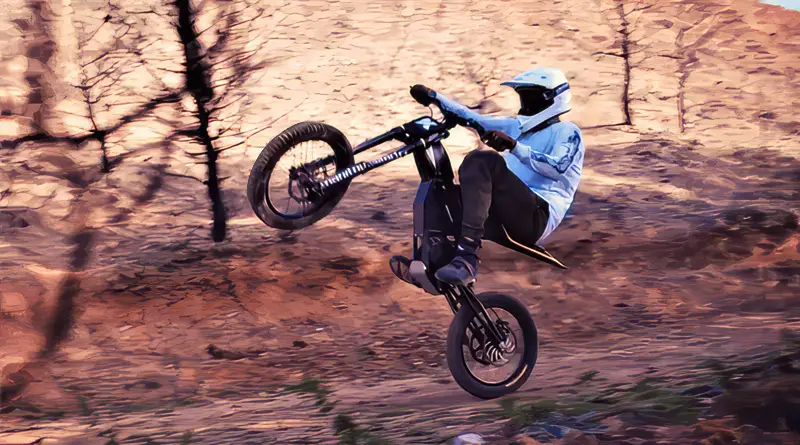 Kuberg is a scrappy young start up making some of the best electric dirt bikes available today. The Kuberg Freerider electric dirt bike comes in both a 8Kw and 12Kw motor output which makes it the perfect pit bike for any adrenaline junkie.
The Kuberg Freerider is a medium size electric dirt bike built for short speed bursts around dirt tracks and hills. It is one of two Freerider models, along with the Freerider Street which is a street legal version. 
It features a 22Ah 48V battery pack which offers a 2 hour ride at its highest setting. The battery itself recharges completely in about 2.5 hours. This allows you to enjoy your pit biking experience for a little longer than most other mini electric dirt bikes. 
It even features connectivity to your mobile phone using Kuberg's mobile app. The Kuberg app is used to track your bike's status as well as configure its performance. 
The Manitou Dorado Expert 180 mm forks air forks help the bike to withstand difficult terrain, and the DNM Burner RB –RCP shock absorbers help keep your ride smooth.
Basically, if you want to ride the pits in style while also having decent motor power, quick recharge time, and stunting capabilities, go with the Kuberg Freerider. This bike features the fastest recharge time among the rest of the bikes in this list at 2.5 hours from empty to full. This is great for when you really wanna enjoy and spend the whole day pit biking.
| The Good | The Bad |
| --- | --- |
| Ultralight material makes this bike highly portable | No integrated heads-up-display |
| Unique look makes it ideal for style | Can only carry up to 220lbs of rider weight |
| Nimble for its size, great for stunts | |
| Quick recharge time of 2.5 hours | |
You can get the Kuberg Freerider straight off Kuberg's North America website at $3,999.00 USD. That's if you want it quick. Otherwise, you can visit Kuberg's US main dealerships located in California, Florida, New York, and Indianapolis.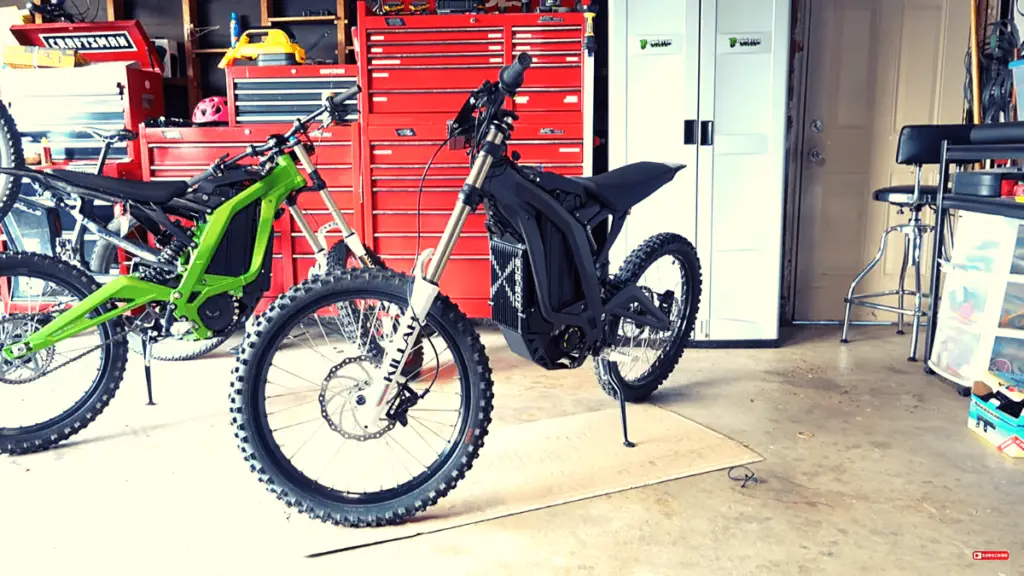 The Sur Ron X is the latest bike in its line built by Loncin motors and distributed by Luna Cycle. Loncin is actually the manufacturer behind well known brands such as Honda and Suzuki. They manufacture parts and accessories as well as even full motorcycles.
Loncin's Sur Ron X is a highly engineered electric dirt bike actually capable of outperforming even gas-powered dirt bikes. The Sur Ron X's top speed tops out at 45mph and features awesome tech such as a custom dash and a USB charger. With its highly sophisticated styling, top of the line parts and performance, the "Light Bee," as it's also known, is easily one of the best performing, most recognizable headturners in the electric dirt bike industry. 
The bike was also given the German Red Dot Award in 2018. The Red Dot Award is an international award given to the best product (or has the most unique design) in a design competition.
With a combination of lightweight materials and a powerful motor, the Sur Ron X is likely a great candidate for a competitive day at the pit. It's also the tallest among all the bikes in this list, so that makes it the most flickable. If you're the type to ride actively whilst doing jumps and skids across the dirt track, then this bike is perfect for you.
| The Good | The Bad |
| --- | --- |
| Solid, lightweight build | Twitchy handling |
| Powerful electric motor | Too much torque on opening the throttle even just a little |
| Excellent suspension system | Limited customization options |
| Grippy off-road tires | Missing fenders |
| Energy-efficient battery management system w/ regenerative coasting | Narrow, Tough, Short seat length |
Luna Cycle's website is the main place you can buy the Sur Ron X. You can also contact them through 800-881-4471 or give them a visit at 1330 E Franklin Ave., El Segundo, CA 90245, United States. In the slight chance that you're from the UK, visit the Surron website at https://surron.co.uk/, or at https://ridesurron.com/buy/.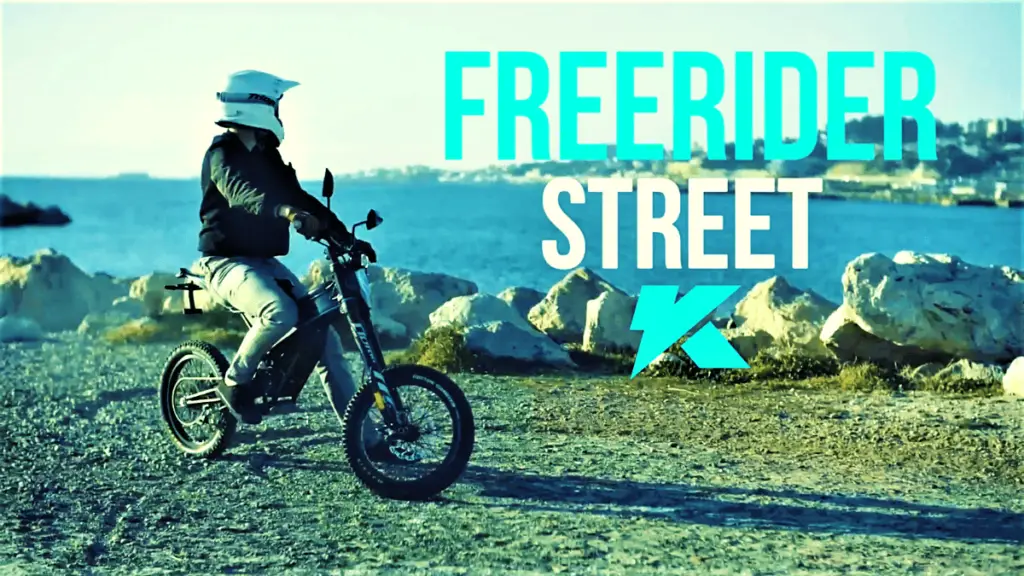 Here's another potential candidate for best electric pit bike from Kuberg which is just a street legal version of the Kuberg Freerider mentioned above. It features the same powerful 8Kw and 12Kw motor options and the same 22Ah 48V battery pack seen on the original Freerider, but includes extra features such as a headlight, side mirrors, and a tail light so you can ride it to your favorite off road pit.
The first thing you notice with both the Freerider Street and its off road-only counterpart is the weight, or lack thereof. Despite its 34.5-inch seat height, it's a tiny little thing and truly does feel more like a beefed-up starter bike than a dedicated pit bike. The seat itself is a little firm, and slippery, too, but when you're standing up on the pegs to clear jumps or a set of stairs, then it doesn't matter much.
Basically, this is the same bike as the first, only you can also ride it on the streets. Careful though, the street tires equipped on the Freerider Street may not be as good as the knobby tires on the original model when it comes to grip on dirt tracks. Looking on the "bright" side, you've got headlights and tail lights if you ever wanna go pit biking at night.
| The Good | The Bad |
| --- | --- |
| Ultralight material makes this bike highly portable | No integrated heads-up-display |
| Nimble for its size, great for stunts | Can only carry up to 220lbs of rider weight |
| Quick recharge time of 2.5 hours | |
| Comes with side mirrors, headlights, and tail lights. For safety reasons | |
US residents can straight off get the Kuberg Freerider Street from Kuberg's California website. They can also visit Kuberg's main dealerships in Florida, New York, Indianapolis, and California.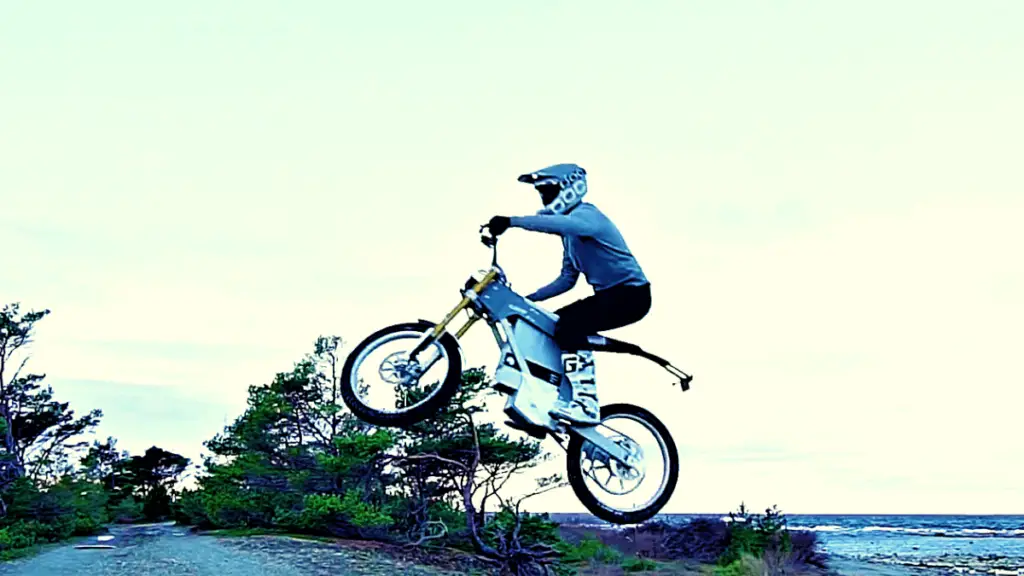 | | |
| --- | --- |
| Manufacturer | Cake |
| Retail Price | $14,000 USD |
| Link to Purchase | Cake Website |
Cake's latest release in the dirt bike lineup might just be its best electric pit bike option. The Kalk& is one of Cake's two dirt bikes in the Kalk series. The first being the Kalk OR. Unlike its first model, the Cake Kalk& is street legal. Meaning, you can use it on the city streets without getting fined. Like its predecessor, the Kalk& drops the requirement for aesthetics and focuses on pure performance.
The Kalk&'s electric motor makes 15 horsepower, which sounds pretty modest but at only 152 pounds, and with 32 lb-ft of torque at 0 rpm, the bike absolutely rips. The Kalk& also features a huge 80t rear sprocket that provides 207 lb-ft of torque on the rear wheel. This makes it close to being the best electric pit bike as mini off road races are more about power than speed.
Strangely, the Kalk& is actually noisy (coming mostly from the gear rather than the motor), which screams out a high-pitched mechanical grind at high speeds. This promotes safety though as it warns woodland creatures and unaware people that you're about to bomb up on them astride a blocky Lego-like dirt bike.
The Kalk's minimalist dashboard consists of just 2 knobs and 5 LED lights as indicators. One knob adjusts energy regeneration, while the other selects from three ride modes: Explore, Excite, and Excel. Explore gives you four hours of ride time, but maintains top speed at 28mph. Excite unlocks full top speed (around 50 mph) and provides one to two hours of ride time. Excel is your "track and race mode," with the most aggressive power delivery but shortest battery life.
If you're more about performance than style, then the Cake Kalk& electric dirt bike might be in your line of interest. It looks like folded cardboard, but it does perform exceptionally well in terms of speed, motor power, and handling. Also, it's got extra bits like side mirrors, a headlight, and a tail light which makes it legal on the streets. You can now ride to your favorite dirt track without having to carry the bike on your car. It's also got dual sport tires so your grip on the street is just as good as your grip in the dirt.
| The Good | The Bad |
| --- | --- |
| It's street legal | Looks like folded cardboard |
| Flexible ride modes | Internal parts exposed to the elements |
| Less extra electronics means less malfunctions | |
| Headlights help you see in the dark | |
Those interested in the Cake Kalk& can just order the bike off of Cake's website. While making an order, you can reserve a bike for a $200 deposit and you can pay the remaining $12,800 USD right before they ship it to you. No, it's not cheap.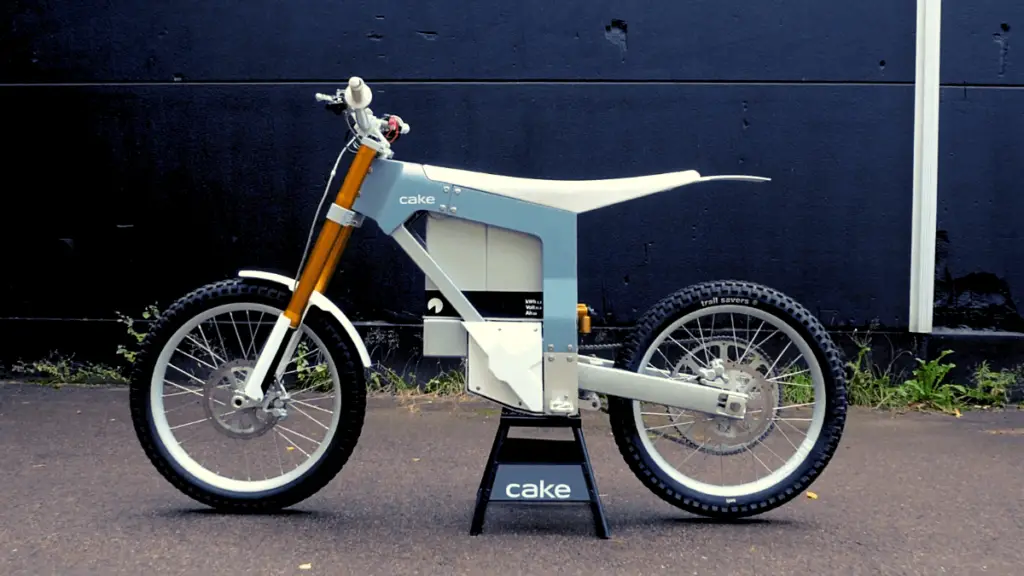 | | |
| --- | --- |
| Manufacturer | Cake |
| Retail Price | $13,000 USD |
| Link to Purchase | Cake Website |
If lights and side mirrors aren't your thing when pit biking, Cake's also got an off road-only version of the Kalk series called the Kalk OR. The Kalk OR is Cake's first bike in its electric dirt bike line. Designed to be a purely performance-oriented electric dirt bike, the Kalk OR ignores the need for aesthetic beauty and bears almost nothing but the most functional parts.
This bike features the same stripped down look as the Kalk& and most of its components. The only things different between the Kalk OR and its street legal counterpart is its tires and accessory components. The Kalk OR comes natural with knobby off road tires for the best grip in off road situations. Compared with the Kalk&, the Kalk OR is a more viable option when pit biking is concerned, but the lack of a tire hugging rear fender makes for a messy day at the pit.
In short, side mirrors, headlight and tail light ugly on a dirt bike? Good thing Cake's also got the Kalk OR. Yeah, it's still ugly as folded cardboard, and you can't drive it on the streets. But it's got dedicated off road tires now which are way better to use in the dirt than dual sport tires.
| The Good | The Bad |
| --- | --- |
| Custom developed parts maximize this bike's performance | Ugly cardboard box and duct-tape appearance |
| Relatively lightweight at 152lbs, and flickable too | Internal parts exposed to the elements |
| Flexible ride modes | Lack of proper fenders means you'll probably get a lot of mud on your back and face |
| Less extra electronics means less malfunctions | |
The best place to get the Kalk OR would be Cake's website.
FAQs on Choosing the Best Electric Pit Bike
Q: Are Electric Pit Bikes Worth It?
A: They definitely are since electric pit bikes are cleaner and easier to maintain than petrol pit bikes. They're also easier to operate so if you have any kids who are aspiring to be dirt bikers, they can use an electric pit bike for practice.
But, are pit bikes in general worth it? That really comes down to what you are using the bike for. Bombing around your back yard or blazing through short distances and easier trails would fit these bikes well. They're not really made for long distance romps over the mountainside.
Q: Are Electric Pit Bikes Good for Adults?
A: Electric pit bikes are smaller versions of actual dirt bikes, but they're definitely bigger than kids' starter bikes. The most rider weight an electric pit bike on this list can carry is 220lbs so most adults can ride it without affecting performance.
Q: What Is the Point of an Electric Pit Bike?
A: Electric pit bikes are much more agile than regular pit bikes on the dirt track. Having its full power at the ready the moment you pull the throttle is quite awesome when it comes to winding off road situations.
Noise is another factor. Dirt bikes have a way of… pissing off the neighbors. They're noisy, and make soccer moms (or rake wielding dads) fly off the handle if you zip up the street on one. But, electric pit bikes can do it in near silence… the perfect stealth bike to hoon around on.
Q: Can Electric Pit Bikes Be Street Legal?
A: Some electric pit bikes on this list actually feature components that make them street legal. We mentioned two [recap for them]. What makes these bikes street legal in many places is [list what they have]. So yes, unlike traditional pit bikes, electric pit bikes can be street legal.