Ever heard of dirt bike paddle tires? Do you ride in the desert? Maybe you don't want to ride in the desert but you'd like to see how it feels. Well, either way, if you love riding in the sand, or just want to try it out, you will need a paddle tire. But why paddles versus knobby ones?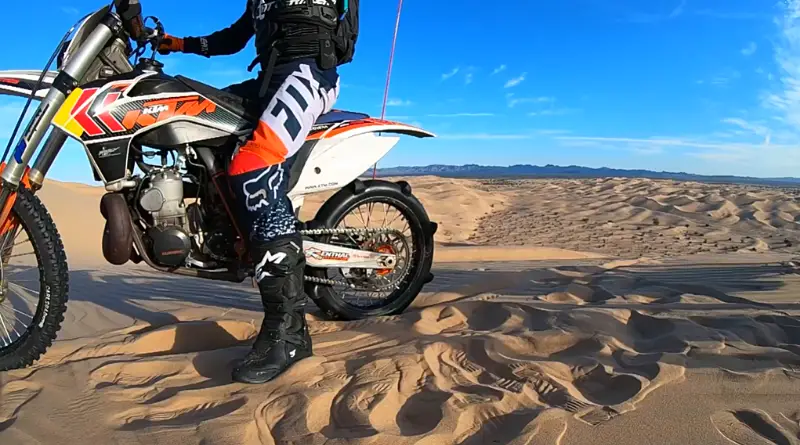 Paddle tires work by letting air out. When the air's let out, the tires get between eight and twelve psi. The tires are flattened due to a drop in pressure, so there is more traction between the tires and the ground, and you can float through the sand more easily.
Tire manufacturers are a dime a dozen, so we created this paddling tire buying guide to make choosing yours a lot easier.
Best Dirt Bike Paddle Tire
To give you an overview of the best dirt bike paddle tires out there, we put together a little table that lists the tires, their top pros and cons, and links to check prices. You can check it out below:
The first thing you'll notice is that there are excruciatingly few options for paddle tires. 
That's because you can only use them for one terrain. Sand. Unlike actual motorcycle sand tires — which can be used to a certain extent on the road — paddle tires can't and will pretty much give you a rougher ride than bullfighting in Mexico. People love dual-use tires more than anything.
You'll still find our top paddle tires a bit more effective when motocrossing across dunes. On the other hand, if you prefer sand tires over paddle tires, we've got your list below:
A lot more options than the paddle tires, but you'll find a number of these sand tires quite expensive. If you want to know more about all these dirt bike paddle tires and sand tire options in detail, keep reading below.
19 Inch Dirt Bike Paddle Tire
Not a lot of paddle tires come in different sizes. Most of them come on 19-inch wheels. Here are a few:
Pros
Suitable for off-road races as well as sand
Very durable. Made of quality materials
Cons
CST is the biggest company in the world for bicycle tires, but they also make tires and tubes for vehicles like all-terrain vehicles, motorcycles, trucks, cars, forklifts, and agricultural equipment.
CST tires are the best when it comes to durability. CST tires last long thanks to the quality materials they use.
CST Surge P tires are great for day-trippers and dune-shredders alike. Eight paddles sling sand across the width of the tire. Also, it glides comfortably in the desert while working great on off-grid surfaces. CST Surge P is lighter and cooler because it has a long-lasting compound.
Maybe you'd like a cheaper option? Check the next item below.
Pros
It's pretty cheap
and made of nylon
Cons
Some people complain about the designs
In 2006, Sedona Tires & Wheel opened to satisfy the growing demand for tires that came with new technology, like more horsepower, bigger engines, and suspension in today's dirt bikes and ATVs.
Sedona Dunatik paddle tires have a couple of convexities on the upper surface that improves traction on sand.
You can order this tire with either eight paddles or ten paddles, so 110/100-18 comes with eight paddles, while 119/90 comes with ten paddles.
Sedona Dunatik tires are lightweight too. Because it's nylon and not rubber, it's a serious sand catcher.
Cheap not to your liking? Check out a pricier one below.
Pros
Features a center fin that increases stability and lateral traction. Also gives the paddle support, protects the center of the tire, and smoothes out the ride.
Deeper paddles increase traction for climbing and acceleration.
Cons
With extensive research, Skat Trak has developed its own line of four-ply rated tires. 
The rear tires have a wider, flatter profile like a buggy paddle tire. They're buffed to shed weight, just like Skat Trak. 
Sand paddles are vulcanized in place on the rear tires. Sidewalls aren't buffed as standard, boosting strength and showing Skat-Trak's logo. There's a lot more surface area where the paddle attaches to the tire, which makes it less likely to separate and makes it easier to stick to the tire casing.
The new wider 'Intimidator' paddles have increased the contact area where they attach to the tire. The paddle will stay on the casing better and won't separate.
Does none of the above options fit your wheel size? Why not try an 18-inch dirt bike paddle tire option below?
18 Inch Dirt Bike Paddle Tire
Pros
Durable, lightweight tire
Features eight paddles that help you get traction on sand
Cons
Fairly pricey compared to other options
Founded in 1977 in Thailand, Vee Rubber produces motorcycle and bicycle tires and tubes. Growing quickly, the company spread to Asia, Western Europe, the USA, and Canada. Currently, the company supplies a lot of Japanese motorcycle manufacturers.
The paddles on the tires are designed to give more traction and hold on to sand, which makes the tires roll as fast as possible.
Vee rubber paddle tires have a special compound tread that's tough and durable.
Tire size too big for your bike? Might be time to try out the smallest dirt bike paddle tire option we could find. Keep reading.
16 Inch Dirt Bike Paddle Tire
Pros
Paddles designed to increase straight-line traction and stability
Available with six, eight, or ten paddles
Cons
There's no consistency in quality
AMS Tires are relatively new to the world of tire manufacturing, so don't be frightened if you haven't heard of them. AMS Tires is making a wide range of tires with legendary performance at a price point you're going to love.
Paddles on AMS Sand Snake increase straight-line stability and traction. The paddles wrap around the shoulder and give this tire a lot of grip and pulling power. There's a six, eight, and ten paddle version of the AMS Sand Snake MX.
Which Paddle Tire Should I Get?
You need paddle tires if you're going to ride in the sand or mud. 
I know some of you are thinking, but why not use knobby tires? You see, sand gets stuck easily between the tires and the mechanics. 
That's why you need paddle tires. Here are some tips you might find helpful when picking your paddle tires, and which ones we recommend getting.
Traction
A paddle tire has traction when it can move around the sand just like it would on normal terrain.
Durability
Just as with knobby tires, durability is key for paddle tires, so they can withstand any impact.
With that in mind, here are our top recommendations for the best dirt bike paddle tires you should get:
On the other hand if you prefer to use knobby tires instead of paddle tires, learn more about our best dirt bike sand tire options below:
Best Dirt Bike Sand Tires
The sand tire's job is to increase traction on loose surfaces. 
Choosing the right one depends on many factors, like riding condition, riding style, riding experience, etc. It's hard to beat MICHELIN StarCross, but there are some others to consider. Check them out below.
Pros
Carving corners is easy with the aggressive block
Features long wear life and reliable performance
Provides good traction in loose or hard-packed terrain
A tough tread compound that holds up both in dirt and sand
It has sidewall protectors to prevent cuts, tears, and rips
Big foot print gives it traction and stability
Cons
Expensive compared to other options
Michelin StarCross 5 tires are built with high-quality rubber compounds that provide great traction, grip, and longwear. There are a lot of solid blocks in the tire's tread pattern and good leading blocks on both sides.
In every aspect, the Michelin Starcross 5 Medium Motocross Bias Tire is a great choice. This tire features shoulder lug treads and shoulders siping triple compounds for high traction and stability on all surfaces, wet or dry.
This tire also has a durable nylon carcass, offering a combination of performance and value. It's the best dirt bike tire for sand dunes because of its fierce traction, strong control, and powerful braking.
Moreover, the StarCross 5 is one of the most advanced Motocross tires out there, with its bias construction. This tire provides a great balance between performance and durability, thanks to its medium tread compound.
Tires are pretty hard to dislike. With its exceptional traction, it gives you better steering while being stable and secure on your bike. Also, it has a 584-pound load capacity, so it's perfect for heavy work.
Pros
Driving is more comfortable with the enhanced tread and sidewall design
It's durable and sturdy no matter what kind of weather you're in
It gives you better steering control, traction, and speed
It's tough and puncture-resistant
Cons
A racy tread pattern and soft shoulder blocks make the Maxxis M7305D Maxxcross Desert IT Tire amazing in bad weather. The deep lugs grip the road even in wet or dry conditions, while the shoulder blocks provide enhanced off-road capability.
The tire's design makes it a good choice for desert racing. Additionally, the Maxxis M7305D tire's bias construction gives you fast linear acceleration and great traction on loose surfaces.
It's one of the best dirt bike sand tires out there because of its structure, design, and performance. In soft conditions, the tread blocks on both sides provide excellent traction and flexibility for high speeds.
Pros
Quality grooves in the center
Provide better grip and braking
Performance on loose dirt and hardpack surfaces
There are a lot of sizes to choose from
The bias ply construction helps you steer hard while delivering great mileage
Cons
It doesn't have a significant setback at the moment of this review
Kenda K760 is an ideal choice for high-speed trails and rock crawling. For maximum traction on uneven terrain, the tire comes with extra-large side knobs.
The Kenda K760 also has a long tread life, dual-purpose performance, and all-condition safety. This tread pattern gives you excellent traction without sacrificing ride quality, while an abrasion-resistant belt makes it tough and long-lasting.
Combined with an internal belt, the tire offers exceptional resistance to heat buildup on the outside. Also, it's affordable.
Pros
The tire performs well in all conditions
Smooth ride, low rolling resistance
Stable without sacrificing comfort or quality
Cons
Ride smoothly on any trail with the Dunlop MX52 Geomax Intermediate/Hard Terrain Tire. The tire features a quality compound that can withstand punctures and provides predictable steering. Additionally, its tread has multiple shoulder blocks for unbeatable cornering stability.
It's got open shoulders that let mud run right through the tire, so it drains more soil. With reinforced sidewalls that optimize weight and grip, this tire will help you tackle your trails.
Furthermore, the Dunlop MX52 Geomax Tires have a patented carcass tension control system, which makes them flexible. With flexibility, every driver gets a smooth ride, which is what they want to get that fun feeling while driving.
A system of shock absorption helps to dampen bounce as well. You'll remain comfortable and convenient on the bike no matter how you ride or how the terrain is.
Pros
The tire's tread pattern is aggressive
Offroaders can feel secure and comfortable with it
Cons
It doesn't have a Bias construction design
Designed with off-road cyclists in mind, Protrax's Pt1170 is a rugged and dependable knobby tire. This tire has a high-quality tread that provides traction and control on any surface.
In addition, the Protrax Off-Road Tire delivers a stable and comfortable ride. This tire's center tread gives it better traction on muddy trails in the rain or in the woods. Puncture protection technology makes it perform better, reduces accidental punctures, and increases tread life.
Construction and design tell you this tire is made for motocross enthusiasts. It focuses on all-terrain durability and performance. It's the best dirt bike tire for sand since the tread pattern grips loose soil, gravel, and heavy sand.
Pros
Exceptional traction and great performance
Anything you throw at it, it's gonna work
Provides excellent handling and comfort
Speed and comfort in one tire
It's super responsive when you corner and brake
Cons
Motocross and supercross racers will love the Pirelli Scorpion MX32 Extra X Dirt Bike tires. Off-road tires like this are tough enough to handle everything from motocross to trail riding.
With its Pirelli tread pattern for maximum traction and the steel outer wall to absorb impact, it is one of the strongest jump tires on the market. It's a little tire, but it's got attitude.
If you're looking for the best tire for sand terrain, this is the best. Its proven performance works in all conditions. Tread patterns improve traction and give riders more confidence. Meanwhile, the block has reinforced V-shapes that make it brake better.
Pros
Puncture-resistant 4-ply construction
Off-road-specific
Deliver consistent results
Awesome response time
Cons
You'll love this motocross tire style for off-road use if you're a motocrosser or biker. Due to its rugged construction and distinct styling, this tire is a great choice for serious dirt bikers.
This Protrax Pt1021 tire has a medium rubber compound for extreme conditions. A highly versatile tire that performs well in motocross and dual sport-like environments.
A unique tread design makes it stable on a variety of terrains, and the soft rubber compound makes it lightweight. Those looking for a good sand tire can't go wrong with this one. It's perfect for intermediate and advanced riders with a multi-tread compound.
Moreover, the tire gives you more control over loose terrain and better cornering traction. You'll love its responsiveness, and the way it rides all road challenges will always make you wanna hop on.
Pros
Gives you better durability and handling for less
Tires like these grip the ground better than ordinary racing tires
Stabilizing rubber
Improved braking and traction
Shockproof
Cons
With the MMG Knobby you can tackle sand deserts or mud trails. The aggressive tread pattern gives you good grip, and if you're brave, you can use it on sand roads. It has a rigid carcass to help your bike handle and control better.
A MMG Tire Set is also a good choice if you want to make your bike look better and perform better. Knobby treads make it better at handling rough terrain, and it's a smooth ride.
Additionally, the tread pattern offers an excellent combination of rolling resistance and traction. Compared to traditional tires, this tire's block design is filled with soft material that reduces noise by 50%.
It's stable, grippy, and controllable on uneven terrain. This tire can be used for all kinds of applications, including high-speed desert races and technical rock crawling. It will look great with both original and aftermarket rims.
Pros
Siping on the tread helps reduce hot tearing
Provides well-balanced cornering
Under normal driving conditions, this tire gives you better traction and handling
Hydroplane resistance is improved
Performance-wise, it's awesome
Cons
A complete line of dirt bike tires made with durable rubber compounds and heavy-duty construction for maximum durability on and off-road.
Off Roading bikes just got better with the IRC M5b. Those tires are badass. These tires eat up debris without fail thanks to their aggressive tread pattern and evenly spaced small knobs.
Thanks to wide tread and construction features, the tire is strong enough to take anything you can throw at it. Furthermore, it has a tread pattern that enhances traction on wet and dry surfaces.
Pros
Gives you great grip and traction
It handles everything well
Cheap and easy to use
Maximizes comfort
Cons
A smooth tread pattern ensures adequate traction on different surfaces on the WIG Racing 110/90-19 Off-Road Dirt Bike Motocross Tire.
WIG Racing tires are good for high-performance off-road riding. You'll get maximum traction and performance with these high-quality tires.
Also, the tread is knobby and the carcass is soft so it can handle all kinds of off-road terrain. It's perfect for dirt bikes, but you can also use it on BMX bikes, scooters, coaster wagons, and more.
Whether that be paddle tires or sand tires, all that the tire stands for is satisfaction on all levels.
Whether you are a professional or novice at handling bikes on sand or any terrain, the tire is there to support you with great performance. 
Do you need paddle tires on a sand dunes dirt bike?
Yes, you do need paddle tires in sand dunes dirt bike.
The ideal tire for the dunes is paddle tires, but some duners prefer regular dirt tires. As long as you lower the tire pressure, a knob tire will do just fine in the dunes.
Are paddle tires good for mud?
Yes, paddle tires are good for mud.
Paddle tires are built for terrain that are otherwise loose or almost unrideable using regular tires. Luckily, mud is counted among those terrain.
How many paddles should be on a sand tire?
How many paddles should be on a sand tire depends on how big your dirt bike is. Match the paddles to your engine power. If you have too many paddles, your bike bogs down. If you have too few, you can break it loose.
Now that you've checked out the best sand and paddle tires for this year, it's time to find out the best Dirt Bike Tire Pressure for Sand.