Why are we showing you the best dirt bike stands for this year?
Dirt bikes are so fun to ride that we ride them until we're exhausted, but we come back giggling. However, you must let it rest after a long day. One of the best ways to keep your bike safe is with a dirt bike stand.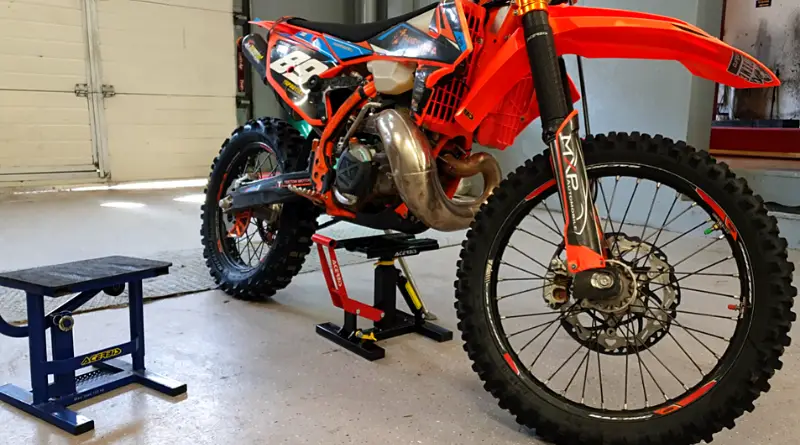 Dirt bike stands keep your bike at a safe elevation, prevent free-fall, and prevent slippage. They're great for cleaning and maintaining bikes.
I got a bunch of dirt bike stands down below if you're wondering what to get… complete with scores, top pros and cons, and a link to purchase.
Best Dirt Bike Stand for Your Bike – How Can You Tell?
For us, the best dirt bike stand is one that perfectly fits the bike you have, and has a lot of features that come with it. 
To give you a better idea of what we're talking about, Here's a quick look at the best dirt bike stands we could find on Amazon… plus their score against other options, top pros and cons, and a link to where you can check the price.
Do the numbers above not make any sense? Well, we scored our best dirt bike stands using the criteria below.
How Did We Select The Best Stands? Our Criteria…
You can't just get any stand on the market. I wouldn't even consider most of them because they are too small, too tall, or just too expensive. That's why we made this list of the best dirt bike stands based on these three things: 
Solid Construction: Dirt Bike Stands
You want it to hold your bike safely without moving too much. There's the load capacity to think about, but most of them can handle a lot more than a dirt bike.
Adjustable Height Range
When you're looking for a motocross lift stand, make sure it's got the right heights. Make sure it has an adjustable top deck.
MX Stand Market Price
Fixed dirt bike stands can be pretty cheap, but you need to consider your budget when you get into the more sophisticated scissor jacks.
Dirt Bike Stand Height – What Size Do You Need?
Fixed dirt bike stands come in different heights, depending on what size dirt bike they're for. You'll need an 8 to 10-inch tall pitbike stand if you're using a pit bike. You'll need much taller stands for bigger bikes, at least 17 inches tall… or just get a lift stand. Your life'll be a lot better.
How tall is the average dirt bike stand?
When it comes to dirt bike stands, there is no "average" height. Mostly because stands are made to accommodate various dirt bikes with different heights. However, you can find fixed dirt bikes at 8 to 21 inches tall (maybe even more).
Now that you know the basics, why not scroll down and read about the best dirt bike options for sale this year? I'm sure you'll find what you're looking for.
Dirt Bike Stand for Sale – Best Options This Year
Whenever you're not riding, dirt bike stands keep it straight, balanced, and steady. Most of them are metal, like aluminum.
You can use this tool to prevent wheel and suspension problems on your bike. You need them to fix dirt bikes, change tires, or tweak the drive chain. It's a must-have tool for bikers.
Here are more details on the products listed above.
Pit Posse Dirt Bike Stand – Best Dirt Bike Stand Option for the Pit
Pit Posse Motorsports was founded in 2003 with a mission to provide biking and scootering enthusiasts with quality tools and accessories. 
Currently, the company makes lots of tools and accessories for garages, trailers, and shops. Pit Posse tools design is made using high grade materials and sophisticated technology to ensure superior quality for long-term use.
Check out one of their products for dirt bikes below.
Risk Racing Dirt Bike Stand – Best Dirt Bike Stand Low Risk Buying Option
With moto innovation from the US of A, Risk Racing comes up with some of the most creative and clever solutions to problems that every dirt biker faces. 
Risk is based in North Carolina and makes great products like the Lock N Load trailer and truck restraint system that keeps bikes' suspensions from getting compressed, Holeshot practicing gates, Seal Doctor cleaning tools, Mud Axe cleaning tools, and Light Mine worklights. Risk makes Motocross sweeter.
Check one of their best innovations below.
Matrix Dirt Bike Stand – One of the Most Popular Best Dirt Bike Stand Options
Matrix Concepts doesn't just make fixed stands, they create solutions for motocross storage and service.
They're able to innovate instead of just producing the same types of products they've made for years. Their focus is on the goal, not the tool, so they can devise faster, easier, or lighter ways to accomplish the same thing. 
Matrix Concepts stands are lightweight, sturdy, and compatible with different accessories like casters and drain pans, so you can change oil and move your bike around with ease.
Here's one of their highest quality products.
Made up your mind? If you're still having trouble picking the best dirt bike stand for you, why not have a look below at our top 3 recommendations?
People Also Ask
Should I keep my dirt bike on a stand?
Yes, you should keep your dirt bike on a stand to prevent damage from occurring and to more easily access and inspect the bike for maintenance and repairs. 
The stand also keeps the tires off of the ground, which maintains tire pressure better. Keeping your dirt bike on a stand will help prolong its life and improve performance.
What can you use instead of a dirt bike stand?
You can use a jack stand instead of a dirt bike stand. Jack stands are sturdy and provide secure support for the bike while performing maintenance or repairs. Additionally, they offer adjustable height for easier access to various areas of the bike.
Why don't motocross bikes have kickstands?
 Motocross bikes don't have kickstands because they are designed for off-road use, where the riders spend much of their time with their feet on the ground and the bike balancing itself. 
Having a kickstand would get in the way of this efficient maneuvering. 
Additionally, when stopped in such severe terrain, often an inclined or awkward surface is encountered; making it difficult to place a kickstand securely.
Which is the best dirt bike company?
We believe the best dirt bike company is Honda, due to their reputation for producing reliable bikes that provide riders with a strong combination of power and comfort. 
Additionally, Honda offers a wide range of options at different price points that are designed to meet every rider's needs and budget.
Ok, So, Which Stand Should I Buy?
My budget pick is either one of the triangle bike stands. They're good and simple. Get the Pit Posse or dirt bike universal if you just want a kickstand. They're light and easy to carry around. Best of all, they're cheap.
The BIG RED seems like the best choice. Here's why. First, we've got the weight limit. That makes it perfect for working with heavy bikes since it can pull 1500 lbs. Don't limit it to motorcycles either. You can even lift snowmobiles, ATVs, and UTVs with this unit. So, it's useful for a lot of things.
I'm going with the BikeMaster as my mid-tier pick. Since it can handle 330 pounds, it's perfect for dirt bikes. And it's easy to operate with a foot lever. You can put your bike on it and it has a rubber top that keeps it steady. What really makes it stand out is the damper shock control system. Most of the other stands have a fast-drop lift, and that can sometimes cause you to lose control. With this one, it lowers the bike slowly so you don't lose control.
Dirt bike stands can be hard to find. That's why I came up with this list.
I researched a lot to find you the top 15 dirt bike kickstands on the market. Here you'll find the right kind of unit to help you with your bike repair work, whether you just need a stand or a tool.
You can just pick one from them. Get the perfect dirt bike lift for your dirt bike.