The B52 is the latest high performance mountain bike brought to you by Darpa Stealth Electric Bikes. It's an absolute beast in terms of performance, and technology, but it comes at a very steep price.
Is the Stealth B52 worth its enormous $10,000 US price tag? Is it the electric mountain bike you need to tackle technical trails in Colorado or the Pacific Northwest? Or, should you opt for a more economical competitor? Read on to find out.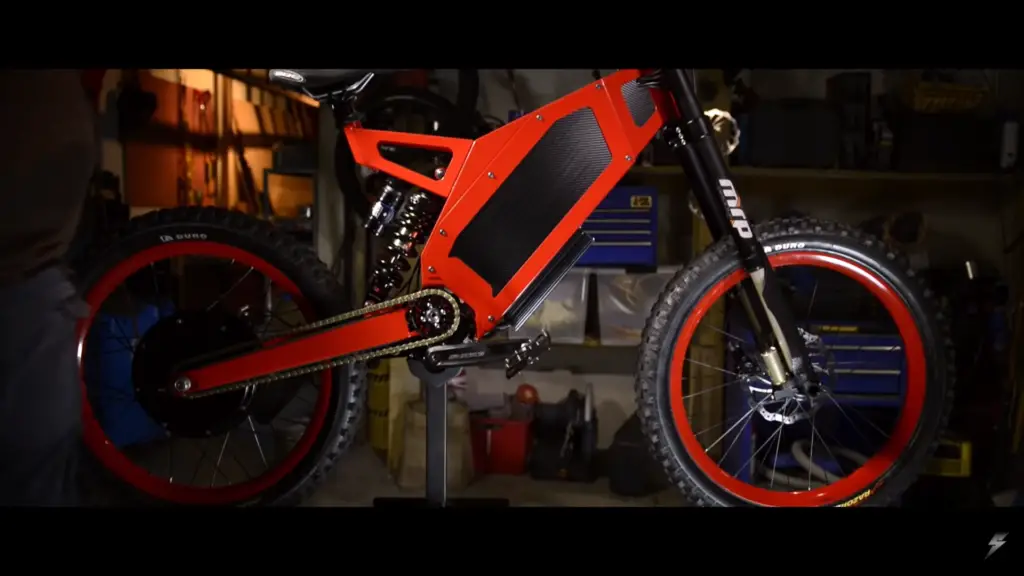 What Is the 2019 Stealth B-52?
The Stealth B-52 is one of Stealth's latest and most advanced electric-powered bike sporting top of the line features, parts, and performance. It is one of the best representations of an electro-mechanical hybrid.
The "Bomber" is also one of the most popular electric mountain bikes among high class extremists and seasoned trail bikers. But, it's not for everyone. The Stealth B-52 comes in at a whopping $10,400 dollar price tag. Expect to pay top dollar when you're getting some of mankind's most advanced engineering marvels tightly packed into one bicycle.
2019 Stealth B-52 Overview
2019 Stealth B-52 Features
The 2019 Stealth B-52, with its sleek & aggressive aircraft-like design, state of the art electronic and mechanical parts, and peak performance levels is in itself a technological marvel. This highly advanced engineering icon looks and feels like a mountain bike on steroids.
The Stealth B-52 looks alien from its peers due to is it's elongated swing arm and rear wheel mounted motor. The ebike's frame lives up to the name, comprised of alloy mainly used on aircraft. More on this below. The bike looks out-of-this-world — definitely not belonging to any known bike category.
2019 Stealth B-52 Frame
The Stealth B-52 "Bomber" sports a solid monocoque frame made of aircraft-grade Chromium-molybdenum (Chromoly) alloy steel that exhibits remarkable torsional rigidity under the most extreme pressures. The frame also includes an extremely durable swing arm of the same material featuring an adjustable wheelbase, built in torque arms, and a new battery fastening system for easy battery swapping.
2019 Stealth B-52 Transmission
The Stealth B-52 "Bomber" electric bike comes with a pair of pedals whose generated power is transmitted through the 9-speed sequential Vboxx transmission located on the underside of the bike. The transmission features enough gears to cater to any terrain. Gear shifting is simplified to the point where it takes only a wrist's twist at any time even on a stop.
The Bomber's unique concentric swing arm pivot and internal shifting also eliminates the requirement for chain tensioners or derailleurs, lessening its maintenance needs while keeping the natural feel of the bike when shifting gears. Obviously a huge plus, resulting in an efficient and smooth ride.
2019 Stealth B-52 Motor
The 2019 B-52 electric bike incorporates a monstrous Crystalyte H-series 6200 watt direct drive, brushless DC hub motor located in the rear wheel. It virtually eliminates sound emission, while improving traction and efficiency. It also has enough power to do a wheelie at a standstill and even while moving with a quick twist of the throttle.
In addition, the 2019 Stealth B-52 Bomber's motor is significantly lighter than previous versions. This further increases efficiency and decreases frame stress during big jumps.
2019 Stealth B-52 Battery
The 2019 B-52 features a 72 volt system with a whopping 2,000 watt hour battery, cut out of the latest generation of lithium batteries. It utilizes the latest battery management system technology for a great improvement in battery life, reliability and safety. Additionally, this provides a more predictable and smoother power curve with 600 charge cycles.
The Bomber can travel approximately 60 miles (if you ride it on economy mode). This is more than enough for casual mountain biking or a trip to the ORV park. Its brake regeneration capability is also a huge plus, extending range by converting brake friction energy into electrical energy for later use.
2019 Stealth B-52 Controller
The Stealth B-52 features a key operated controller with code-unlock. Although made of high-tech materials, it comes with a simple LCD display located on it's "fuel tank" showing the bike's battery level, speed, tripometer, odometer, energy efficiency, spent watt hours, and even motor temperature, control temperature, and current voltage.
2019 Stealth B-52 Brakes
Sporting Magura's powerful MT2 hydraulic brakes, the B-52 tops at brake effectiveness compared to other bikes of the same type giving the rider immediate response with only one or two fingers on the levers. As mentioned above, the B-52's brakes feature a regenerative braking system which, with a press of the regen button, transfers brake energy back into the battery to extend travel range.
2019 Stealth B-52 Suspension
The standard issue Fastace or DNM 200mm travel inverted front forks customized by the Stealth team soaks up extreme impacts with ease. With a compression, preload and rebound adjustment feature, the Stealth B-52's suspension can be fine-tuned on the fly using the dials to be able to handle any terrain type. This is a great package for those with various riding styles.
There's also the DNM MT-RC 250mm travel rear suspension which is solid enough to stabilize the Stealth B52's elongated swing arm and heavy motor. Made with a progressively wound spring and top of the line valving, this rear shock can handle the harshest terrain with ease.
2019 Stealth B-52 Tires
The B-52 sports the extremely grippy and all-terrain spiked off-road Duro Razorback tires. This tire provides exceptional traction in a wide range of road conditions. However, Stealth gives customers the option to swap the standard off-road Duro Razorback with the street Schwalbe Crazy Bob on the bike's purchase.
Stealth B-52 Tech Specifications
Stealth picked amazing bits and pieces for the B-52. If you're curious as to what makes up this awesome bike, check these specs out:
| | |
| --- | --- |
| Manufacturer Name | Stealth |
| Model Name | B-52 |
| Model Year | 2018 |
| Motor Manufacturer | Crystalyte |
| Motor Model | Crystalyte H-Series |
| Motor Power | 6200 Watts (8.3 bhp) |
| Motor Placement | Rear Hub |
| Battery Capacity | 72 volt 2000 watt hours |
| Battery Removal | Yes, some tools needed |
| Range | Up to 60 miles (100 km) |
| Ride Mode | Sport, Off-road |
| Regenerative Braking | Yes |
| Throttle | Twist Throttle |
| Gears | 9-speed |
| Top speed | 80km/hr (50mph) |
| Weight | 112 lbs |
| Materials | Aircraft-grade Chromoly Alloy |
| Seat height | Adjustable (minimum rider height: 162cm) |
| Suspension | Front suspension: DNM USD-8 200mm travelRear suspension: DNM MT-RC 250mm travel |
| Display | LCD (speed, tripometer, battery level, efficiency, motor temp, control temp, current voltage, spent watt hours, regenerated watt hours) |
| Purpose | Street, Mountain, Mud |
| Connectivity | Charging port on battery (Optional USB Charging port for phones) |
| Security | Keyed Ignition, Passcode ignition lock |
Stealth B-52 After-sales Support
Despite mixed reviews all around the web, Australia's Stealth dealerships have generally been very accommodating and are ready to support customers in need of repair, modifications or tech insights. You can also email their customer-support address at [email protected] or contact them through their landline at +61 3 9574 0257 for Australia and at +1 888 436 2219 for the United States. Amazingly, Stealth provides a lifetime warranty for every B-52 purchase. This should prove very reassuring for buyers.
Where Can I Get One?
Stealth distributes to dealerships around Western Australia, Queensland, New South Wales, Victoria, and Tasmania. They are also headquartered at Melbourne but because Stealth does not distribute bikes to dealerships outside Australia, the best place to buy the 2019 Stealth B-52 "Bomber" would be Stealth's Website at https://stealthelectricbikes.com/stealth-b-52/.
Stealth B-52 Videos
Stealth B-52 User Commentaries
If you need more information about the Stealth B-52, here are some commentaries by electric bike reviewers on Youtube:
"You wanna blow off steam. My whole life since four years old I blew off steam by riding my dirt bike and you can't always do that. I mean there's times I wanna barge out of that office and just get some speed, get some adrenaline. Um, now I have this electric bike and that's it dude, it just opens up new possibilities."

-Professional FMX Rider Ronnie Renner (Source: YouTube)
"Riding the thing is a pretty unique experience. Put simply, it hammers. You can always tell who's just had their first ride on a Stealth bike. On a tighter track, the throttle kicks in a bit too harshly."

-gizmag (Source: YouTube)
"Just giving it a quick test in my parking lot. Because boy, I am not ready for that yet. This bike is no joke. But when it comes to being a great city commuter in economy mode, this bike is really good at that. With combination of the pedal and throttle, this bike is really efficient in the city."

-Clorox God (Source: YouTube)
Stealth B-52 Image Gallery
If you want to see images of the Stealth B-52 and decide from there, we got your back. Check these out: