Stealth makes some of the badass-est electric bikes around. We can vouch for this after writing our Stealth B-52 review, the Australian company's torque monster flagship bike. But what happens when you take an electric bike and replace the pedals with dirt bike's pegs? Read on to find out.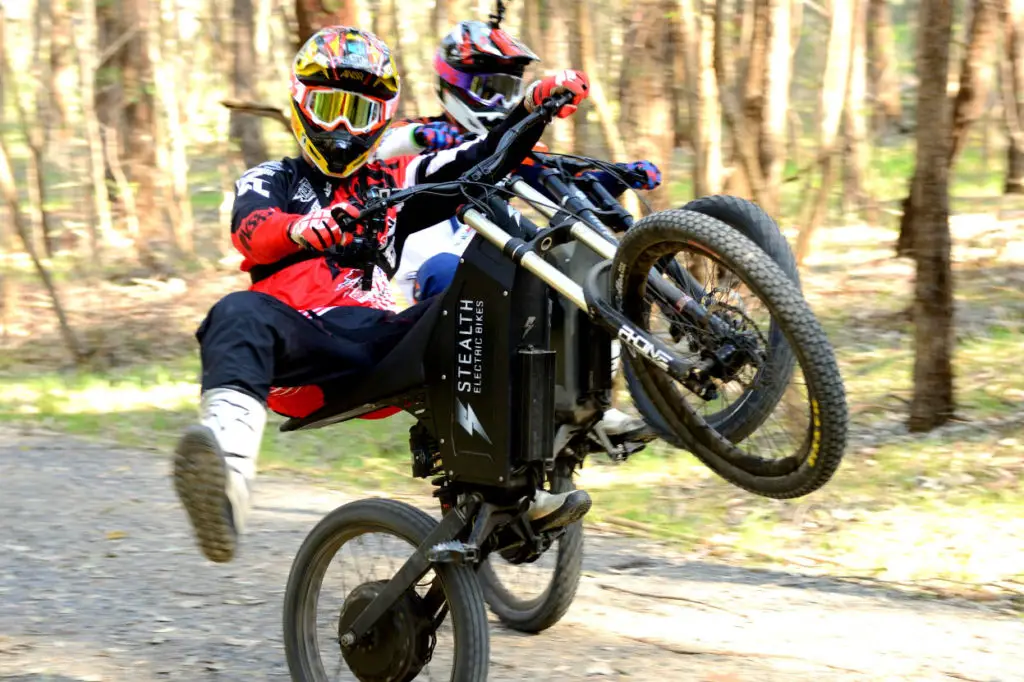 What Should You Know About Stealth's H-52?
To give you a detailed and organized description of the Stealth H-52 electric dirt bike, we've decided to go through 5 points of interest.
What Is the Stealth H-52?
The Stealth H-52 "Hurricane" is a lightweight but high-power electric dirt bike and a variant of the B-52 "Bomber" hybrid electric dirt bike Stealth released in 2019. Unlike its siblings — the Bomber and Fighter, it is not a pedal assist bike but has pegs to support the feet while riding.
Detailed Overview and Competitor Comparison
Stealth H-52 Electric Dirt Bike Main Features
For modern MX fans, the Stealth H-52 should be in your line of sight. The H-52 delivers an exceptional riding experience in all kinds of terrain. This is thanks to an information-dense LED display, great suspension, 250mm of rear wheel travel, and a pure, purpose-built cockpit.
Stealth H-52 Display and Batteries
Just as it is on the Stealth B-52, the H-52 features a complete LED display located on its pseudo-tank. This display shows all the possible info about the bike's status such as battery level, speed, tripometer, odometer, energy efficiency, and spent watt hours. It even shows the motor temperature, control temperature, and current voltage.
The Stealth H-52 electric dirt bike features a weaker 52 volt lithium battery system with about 2kWh of capacity. It utilizes the latest battery management system technology for a great improvement in battery life, reliability and safety. This combination provides up to 37 miles of range on max setting. The bike also features brake regen to extend range by converting brake friction energy into electrical energy for later use.
The H-52's battery also comes with its own charger which provides a recharge time of 3 hours from empty to full. Additionally, there's a USB connectivity feature to connect and charge your phone using power from the Stealth H-52 electric dirt bike's battery.
H-52 Frame
Like all other Stealth bikes, the Stealth H-52 electric dirt bike sports an aircraft-grade chromoly alloy frame to shed the most weight possible without losing durability. This also considerably raises its price tag though. Chromium-molybdenum alloy steel (or chromoly), is an alloy used for making frames that can withstand high pressure and temperature. It is used in the automotive industry because of its corrosion and high-temperature resistance and tensile strength.
The bike also features carbon fibre panels. This helps protect the components in its central chassis including the controller and battery without adding weight. As such, the bike does not skimp on the quality of its materials.
Stealth H-52 Motor and Transmission
Located in the rear wheel, the H-52's high torque Crystalyte H-series brushless DC motor delivers 5.2kW (8.3 bhp) of smooth, silent, electromagnetic thrust with just a twist of the wrist. This is because of its single-gear, single-speed transmission which is a far fetch from the base model's 9-speed transmission. 
The Stealth H-52 electric dirt bike also features 2 ride modes with varying top speeds tailored to both experienced riders and newbies. The bike's minimum top speed bottoms out at 15.5mph, while its maximum top speed caps at 50mph. You can easily switch ride modes on the fly using Stealth's interactive LED display.
Stealth H-52 Brakes and Suspension
Fitted with powerful 4-piston Magura MT5 brakes clamping down on 203mm rotors, the Stealth H-52 electric dirt bike stops precisely and predictably in all riding conditions. When coasting, riders can activate regenerative braking, which recovers kinetic energy and feeds it back into the battery pack to further enhance range.
Standard on the H-52 is a pair of Fastace 200mm travel front forks and rear shock. Tuned and spec'd by the Stealth team, this is a great all-round package for riders who want to mix their riding styles from relaxed to extremely active. Air adjustability makes it suitable for various rider weights.
H-52 Tires & Wheels
The Stealth H-52 electric dirt bike sports spoked carbon fiber rims with all-terrain knobby off-road Duro Razorback tires. This wheel and tire combination provides exceptional traction in a wide range of road conditions. 
There is also an option to swap the standard off-road Duro Razorback with the street Schwalbe Crazy Bob on purchase. The Duro Razorback tires are more suited to off road situations because of its knobby design, while the Schwalbe Crazy Bob tires come with a threaded, smooth surface.
Stealth H-52 Electric Dirt Bike Tech Specifications
The bike's components can be quite an eye-crosser on paper, so here's a simplified breakdown of Stealth H-52's tech specifications:
Manufacturer Name
Stealth
Model Name
H-52
Model Year
2020
Motor Manufacturer
Crystalyte
Motor Model
Crystalyte H-Series
Motor Power
5200 Watts (8.3 bhp)
Motor Placement
Rear Hub
Controller
72V 2000 watt hours
Power Pack
52V lithium Phosphate
Battery Capacity
2kWh
Battery Removal
Some tools needed
Range
37 miles (on max setting)
Ride Mode
2 modes with varying top speeds:

15.5mph on lowest (for newbies)
50mph on highest (for experienced riders)
Regenerative Braking
Yes
Throttle
Twist Throttle
Gears
1
Top speed
50mph
Weight
105lbs
Materials
Aircraft-grade chromoly alloy
Seat height
Adjustable (minimum rider height: 162cm)
Suspension
DNM USD 8, 200mm travel front forks
Display
LCD (speed, tripometer, battery level, efficiency, motor temp, control temp, current voltage, spent watt hours, regenerated watt hours)
Purpose
Motocross
Connectivity
Charging port on battery (Optional USB Charging port for phones)
Security
Keyed Ignition, Passcode ignition lock
Where Can I Get a Stealth H-52 Electric Dirt Bike?
The best place to buy the Stealth H-52 "Hurricane" would be Stealth's Website. This is because the majority of Stealth's physical distribution outlets lie outside the United States. In the slim chance that you live in Oz, you can visit Stealth's dealerships around Western Australia, Queensland, New South Wales, Victoria, and Tasmania.
Stealth After-Sales Support
Despite mixed support reviews all around the web, Australia's Stealth dealerships have generally been very accommodating and are ready to support customers in need of repair, modifications or tech insights. You can also email their customer-support address at [email protected] or contact them through their landline at +61 3 9574 0257 for Australia and at +1 888 436 2219 for the United States. Amazingly, Stealth provides a lifetime warranty for every H-52 purchase. This should prove very reassuring for buyers.
Stealth H-52 Electric Dirt Bike Videos
Want to see the Stealth H-52 electric dirt bike in action? Check out these YouTube videos:
Choice Commentaries
If you prefer deciding from the insights of other people who bought the bike, we've compiled a couple of choice commentaries for an alternative viewpoint.
"Riding the thing is a pretty unique experience. Put simply, it hammers. You can always tell who's just had their first ride on a Stealth bike. On a tighter track, the throttle kicks in a bit too harshly."

-gizmag (Source: Youtube)
"You wanna blow off steam. My whole life since I was four years old I blew off steam by riding my dirt bike and you can't always do that. I mean there's times I wanna barge out of that office and just get some speed, get some adrenaline. Um, now I have this electric bike and that's it dude, it just opens up new possibilities."

-Professional FMX Rider Ronnie Renner (Source: Youtube)
"Just giving it a quick test in my parking lot. Because boy, I am not ready for that yet. This bike is no joke. But when it comes to being a great city commuter in economy mode, this bike is really good at that. With combination of the pedal and throttle, this bike is really efficient in the city."

-Clorox God (Source: Youtube)
Stealth H-52 Electric Dirt Bike Image Gallery
Here are some snapshots of the Stealth H-52 electric dirt bike for a better viewing angle: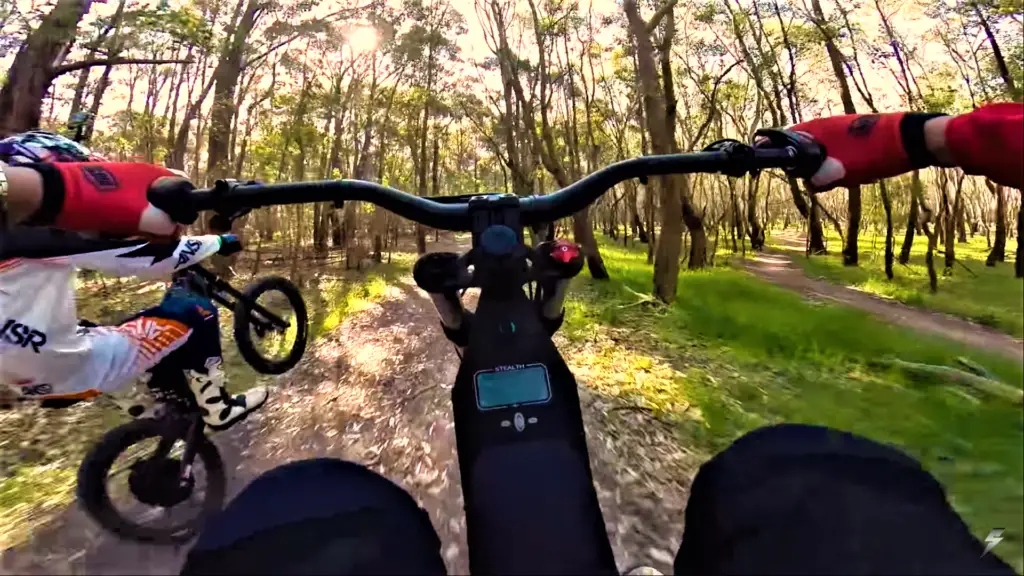 Also read: Cake Kalk OR Electric Dirt Bike Review