As the age of all-terrain adventure motorcycles rolls in, so does that of versatile electric adventure bikes. The Zero DSR/BF electric motorcycle stands as an example of these two-wheeled electric weapons. Sure the DSR/BF is an upgraded version of its base bike — the DSR. But, does it perform better? And, more importantly, are these electric machines ready to spank their gas-powered peers in 2020? Read on to find out.
What's the Zero DSR/BF and Who's it For?
The Zero DSR/BF electric motorcycle is a large-size dual-sport electric adventure supermoto built for long range travel across both urban and off road routes. If you prefer long hundred-mile relaxed adventures over short active bursts across the dirt trails, then this bike is for you.
Zero DSR/BF Detailed Overview
Zero DSR/BF Electric Motorcycle Main Features
As an upgraded version of Zero's previous DSR, the Zero DSR/BF electric motorcycle comes with extra accessories and features that allow it to perform better as an adventure supermoto. These features include a top box, solid aluminum side panniers, a tall adjustable windscreen, and full body crash bars. Several upgrades were also made to its systems, such as….
Click Here to Read Our Zero DSR Review
Zero DSR/BF Electric Motorcycle Display and Batteries
A simple but informative monotone LCD with blue backlighting supplies a constant flow of info about the Zero DSR/BF's status as you ride. You can also choose from three ride modes — Eco, Sport and Custom, which are settable via the Zero smartphone app. Don't worry, you can still operate the bike without the app.
The core of the 489-lb Zero DSR/BF electric motorcycle is a large 14.4kWh lithium-ion battery pack. This provides up to 157 miles of range which you can also upgrade to 196 miles with Zero's ZF14.4 Power Tank.
The battery also comes with a fast charger that provides a 2-hour recharge time. Riders can easily charge the bike at any 120V outlet with a power cord tucked into a cubby spot built into the swingarm. That's right, park out behind the Denny's at lunch to take advantage of their unsecured power outlets.
Zero DSR/BF Electric Motorcycle Frame
To support its weight and other components, the Zero DSR/BF electric motorcycle comes with a very durable aircraft-grade aluminum frame. The bike's frame is also less rigid and more flexible compared to Zero's other bike's such as the FX.
Click Here to Read Our Zero FX Review
Zero DSR/BF Electric Motorcycle Motor and Transmission
An air cooled electric motor propels the Zero DSR/BF with up to 70 peak horsepower and 116 ft-lbs of torque. This allows the bike to reach a max top speed of 102 miles per hour and a sustained top speed of 90 miles per hour. This is good enough for most riders but does not reach the top speed that most $18,000 gas powered adventure bikes are capable of hitting.For example, the Ducati Multistrada 1200 can hit a top speed of 145mph.
But, the Zero electric motorcycle's top speed is incredible considering that the bike runs on a single speed belt driven transmission. This, plus that instant burst of electric torque, also means that the bike reaches max acceleration immediately. Despite this, the bike's throttle control feature simulates the feeling of accelerating an authentic gas-powered motorcycle. This means the bike won't be jerky even as you quickly open the throttle.
It's important to realize how important this development is. The throttle of most electric motorcycles feel more like on/off buttons. This type of throttle response tends to cause accidents since some riders (especially beginners) might not be ready to handle the instant acceleration when they open the throttle. People tend to do a wheelie backflip. Zero's throttle control technology is a huge step in electric motorcycle design since it mimics the control and safety only offered by gas-powered bikes.
Zero DSR/BF Brakes and Suspension
The Zero DSR/BF sports J.Juan disc brakes — one on the front and one on the rear — that provides decent stopping power even on wet and gravelly terrain with its anti-lock braking feature. The brake levers themselves are quite tough and require a firm squeeze. It would be even better if Zero added a second disc brake onto the front as the lone single front brake seems too weak for a fully loaded ADV bike. The brakes also come with brake regen which further increases range by feeding friction energy from the brakes back into the battery.
A Showa suspension system handles shock absorption on the Zero DSR/BF. Both front and rear shocks come with the full trio of adjustment options — spring preload, compression and rebound damping. For optimum performance in all types of terrain, the DSR/BF's front and rear shocks accommodate 7.3 inches and 7 inches of travel respectively.
Zero DSR/BF Tires & Wheels
The Zero DSR/BF electric motorcycle comes with 19-inch front and 17-inch rear steel mag wheels wrapped in dual-sport Pirelli MT-60 tires. The uneven wheel size further helps the bike handle uneven or jagged terrain. Mag wheels are more rigid than spoked wheels and can handle bigger tires, more horsepower, and give better handling. Spoked wheels on the other hand, are lightweight and easy to repair once damaged.
What's the Zero DSR/BF Like to Ride?
On Road Riding Experience
On pavement roads, the Zero DSR/BF electric motorcycle feels nimble like a half-liter naked sportbike with regard to weight, looks and size–albeit one with insane standing torque. For it's 489-lb weight, it feels light and flickable. This is because of its low centre of gravity which puts all the weight into the ground so you won't have to carry it yourself. Lastly, the wide handlebar further simplifies steering into corners or flicking the bike to either side, allowing you to quickly make passes with confidence.
Off Road Riding Experience
In the dirt, the insane standing torque can be a little tricky to manage. But with enough practice it becomes easier to control the power while traversing tight corners. This becomes even simpler especially as you learn to ramp down to the Eco ride mode which restricts power delivery. (You can also set the bike's power and regen to your liking using Zero's mobile app.) Once you get the hang of it, traversing tight spaces on heavily wooded trails becomes pure joy since you don't need any clutch skills — one less distraction from the task of actually riding the bike.
Zero DSR/BF Electric Motorcycle Tech Specifications
If the Zero DSR/BF's features above sound like a mouthful, check out this nifty list be put up to get an idea of what the Zero DSR/BF is made of:
Where Can I Get a Zero DSR/BF?
The best place you can get a Zero DSR/BF electric motorcycle online is through the Zero Motorcycles website. There you can visually check out the bike you want through a 3D viewing feature in which all you have to do is drag the image left and right to view it at any angle. But if you want to see the bike in person or maybe do a test ride, you can visit Zero Motorcycles dealers all over the United States.
What is Zero Motorcycles' After-Sales Support Like?
Zero Motorcycles holds a good customer service standard. For customer inquiries in the United States, you can contact their phone number: (888) 786-9376 ext. 2. You can also drop by their main branch at 380 El Pueblo Road, Scotts Valley, in California.
Zero DSR/BF Videos
Want to see the bike perform in real time? Here's a video on the Zero DSR/BF in action:
Choice Zero DSR/BF Commentaries
Zero DSR/BF website includes a number of user reviews that you should comb through if you're serious about this bike. We've brought a select few for you here:
"An adventure bike that can't go 300km without stopping overnight to connect to an electric outlet. Yeah, that's going to work great when I'm out in the middle of nowhere in Asia or South America. I can extend my range with a few liters of fuel, unfortunately a power station won't fit in my saddle bags."

-Khắc cảnh lê (Source: YouTube)
"I just rode this bike and was impressed by the torque.  It would be an around town bike and I'll probably skip the quick charge option. One of my favorite features of this bike is the countershaft sprocket is centered on the pivot for the swing arm..so no tensioner is needed."

-Fuzzy Was (Source: YouTube)
"My thoughts are…even if you could charge in 10 minutes and at most gas stations, I could not enjoy this type of bike. Just not near the same as having the feedback of the glorious internal combustion engine."

-Bradley Alexander (Source: YouTube)
Zero DSR/BF Pictures
If you want a different view angle on the Zero DSR/BF, don't hesitate to check out these pictures: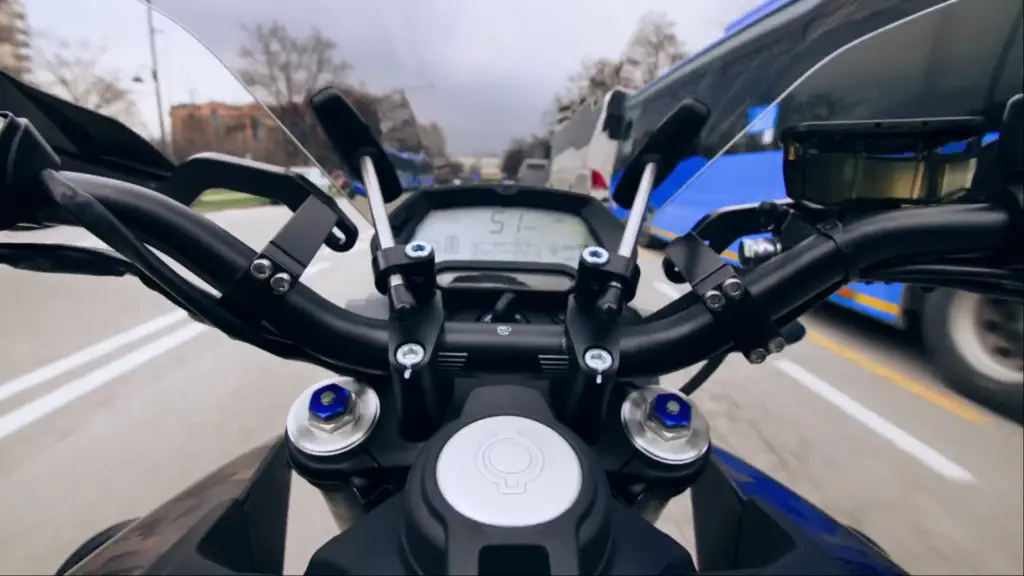 Also read: Sur Ron Storm Bee Electric Dirt Bike Review