Remember the Cake Kalk OR electric dirt bike that we reviewed last time? Well, it's street legal now, in the form of the Kalk&. In addition to some limitations imposed by traffic laws such as a downgraded motor, and smaller wheels, one difference is that the Cake Kalk& electric dirt bike comes with extra items required to make a dirt bike street legal and thus, is heavier than the OR.
The two Cake dirt bikes look strikingly similar. The Kalk&, like it's predecessors, still looks like it's made of folded cardboard boxes — folded cardboard boxes that cost a whopping $14,000 USD. Does that price tag equal a matching performance rating? Read on and find out.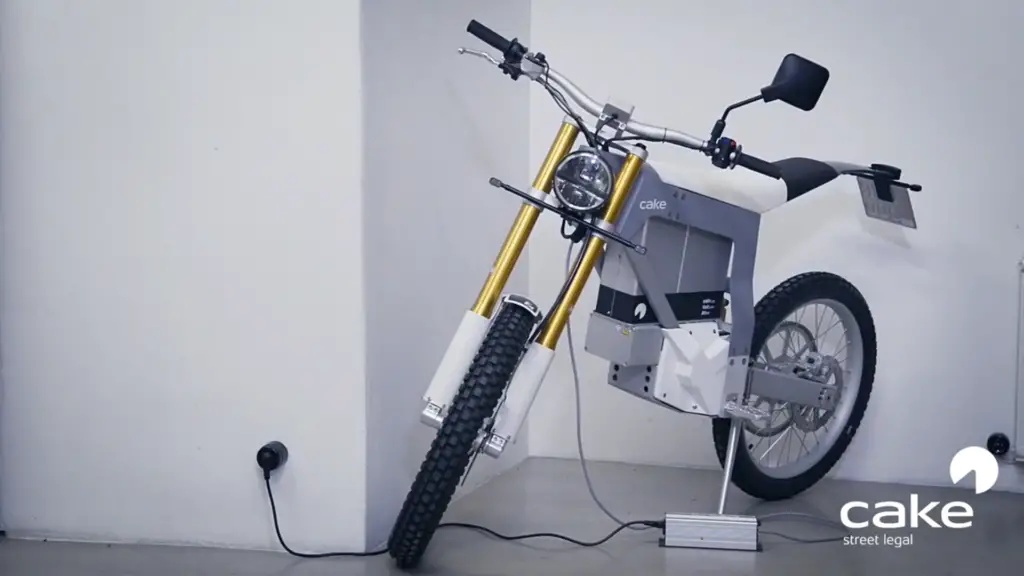 What Is the Cake Kalk& Electric Bike?
The Kalk& is Cake's second dirt bike in the Kalk series, the first being the Kalk OR. Unlike its predecessor, the Cake Kalk& is street legal, meaning you can use it on the city streets without getting flagged down and fined. Like its predecessor, the Kalk& drops the requirement for aesthetics and focuses on performance only.
Overview
Features
As a street legal bike, the Kalk& comes with extra accessories required by city laws when driving on city streets. These include side mirrors, a headlight, a tail-light, reflectors, and a plate holder. The Kalk&'s performance remains the same and doesn't differ much from the Kalk OR aside from a few changes.
Display and Batteries
The Kalk& features a small display on the middle of its handlebars that has integrated buttons for the headlight and signal lights, and provides basic info like speed and trip meter. That aside, the dashboard controls remain the same as the Kalk OR. The knobs at the top are for power and brake settings while the indicator lights are for temperature and battery level.
Same as the Kalk OR, it uses a 51.8V, 50Ah, 2.6 kWh lithium battery capable of reaching a range of 22 miles at 44mph (at least according to what Cake claims). The actual range you can get on this bike depends on your riding style, rider weight, weather conditions, temperature, road surface, and even tire pressure.
Frame
The Cake Kalk&'s frame structure remains the same as its predecessor, the Kalk OR. It retains its folded cardboard box appearance and is made of 6061 aluminum and carbon fibre materials. This type of frame is lightweight, and flexible enough to withstand the stresses brought about by hard use. 6061 aluminum is an easily repairable material due to its good mechanical properties weldability and workability.
One thing that Cake didn't take into account was the exposed components due to the minimalist frame design. We do not recommend this bike for use in wet conditions because water may damage vital components such as the battery, controller, and the motor.
Motor and Transmission
When talking about the difference between a street legal and non-street legal bike, you should know that there is a power limit implemented on street legal bikes in compliance with city laws. As for non-street legal bikes, they can have as much power as they want. Thus, the Kalk& is slightly weaker than the Kalk OR in terms of motor power. But that doesn't mean it's slow.
The Kalk& electric dirt bike uses a 10kW motor as opposed to the Kalk OR's 11kW motor, and gets its power from the 51.8V battery through a 24kW controller. This union results in 186ft-lb (252 Nm) of torque at its rear wheel.  Any way you look at it, that's a lot of torque, and results in a top speed of over 56mph.
The Cake Kalk& also uses a 12 teeth, rubber infused front sprocket and a 72 teeth rear sprocket along with an o-ring chain. Installing a smaller counter-shaft sprocket (less teeth), or a larger rear sprocket (more teeth), produces a lower gear ratio, which increases the acceleration of the bike but decreases its top speed. The larger rear sprocket makes up for the Kalk&'s loss in motor power.
Brakes and Suspension
Braking is provided by four-piston calipers gripping 220mm stainless steel rotors holding stainless steel discs. This setup is the same as that of the Kalk OR providing excellent braking performance and features regenerative deceleration.
Regenerative braking works by transferring friction energy from the brakes back into the battery, therefore extending ride range. This is very useful since the Kalk& travels for only about 22 miles and we want to go farther than that.
The Cake Kalk&'s suspension uses the same Öhlins components as the Kalk OR. An 8 inch travel Öhlins inverted air/oil front fork supports the Kalk& up front, while an Öhlins TTX22 shock absorber suspends the rear. Both shocks are durable and can withstand extreme pressures brought about by hard use.
Both shocks also come with the full trio of adjustment options. Front shocks are adjustable via high and low speed compression, and low-speed rebound while the rear, on the other hand, is adjusted via spring preload, rebound and compression damping.
Tires and Wheels
The Kalk& electric dirt bike runs on smaller 19″ wheels with aluminum motorcycle rims and dual sport motorcycle tires. Smaller wheels are more maneuverable but unbearable when you come into contact with a rough patch of ground. Keep your use case in mind when deciding between the Kalk& and Kalk OR.
Cake Kalk& Electric Bike Tech Specifications
The Cake Kalk& may look minimalist on the outside, but it has some discerning features that separate it from the pack. Take a look:
Manufacturer Name
Cake
Model Name
Kalk&
Model Year
2020
Motor Manufacturer
Cake
Motor Model
Cake 10kW custom
Motor Power
10000W
Motor Placement
Centrally-placed
Controller
Cake 24kW Custom
Power Pack
51.8V 2.6kWh lithium battery
Battery Capacity
50Ah
Battery Removal
Integrated
Range
22 miles at 44mph
Ride Mode
Configured for 3 riding modes:
Explore: The ultimate mode during exploration. Limited speed to 45 km/h and 3-4h+ battery range
Excite: Enduro or active trail riding. 1-2h riding time
Excel: Track and race mode, maximal torque and speed
Regenerative Braking
Yes
Throttle
Twist Throttle
Gears
1 gear
Top speed
+56mph
Weight
174lbs
Materials
aluminum and carbon fibre
Seat height
35.8in
Suspension
Öhlins, inverted, air/oil with 8in travel front
Öhlins TTX22 with Cake internals and custom spring, 8.1in travel rear
Display
LCD (speed + trip meter) and integrated dashboard (Ride mode + Brake level)
Purpose
Dirt, Street
Connectivity
N/A
Security
Keyed ignition
After-Sales Support
Cake has a good reputation for customer service and response time. They are a Sweden-based company, but you can visit their American branch at 412 S 700 W, in Salt Lake City. You can also drop an email to [email protected] if you have concerns.
Where Can I Get a Cake Kalk& Electric Bike?
If you are interested in getting the Cake Kalk&, you can directly order from Cake's website.  At the time of order, a $200 deposit reserves your electric dirt bike, and the remaining $12,800 USD is due just before shipping.
Cake Kalk& Electric Bike Videos
If you want to know more about the Cake Kalk& or want to see the bike in action, watch these videos:
Cake Kalk& Electric Bike Choice Commentaries
The customer is always right. If you're interested in other people's thoughts of the Cake Kalk& electric dirt bike, here are some choice commentaries we hope you'll find useful:
"A Turbowheel Lightning stand-up scooter with suspension and everything will do 40 mph and have decent range, for $1500-ish. Granted, not the same product at all, but they both work as commuting tools, and one literally costs one tenth of the other. I suppose if you want to really go off road and ride hard this makes a little more sense, but $15 grand for a commuter/toy is outrageous."

-Croft (YouTube)
"If it's $14000, Forget about it. Way over reason. For 3-4k it would be a bargain. ,5k not so much. Over 6, never mind."

-Rocketsql (YouTube)
"The bike design and even the brand name and logo are very much in line with the Apple design philosophy…clean and neat."

-Pruthviraj (YouTube)
Cake Kalk& Electric Bike Image Gallery
Want to see the Kalk& from different angles? Check out these images we've gathered from Cake's videos: