Lithium Cycles Rose Ave Electric Bike Review
The Rose Ave is a limited edition mini bike in Super73's Scout series and was created in 2017 in collaboration with a certain YouTuber whose album is its namesake. With its classic rugged look, laid back demeanor, and simple build, it's sure to catch the eyes of minimalists and artists alike.
But, will the Rose Ave's $1,749 US price affect its quality? Will it be a great companion for daily commuting? And, will it still be fun to ride despite its simple look? If you want to know about the Rose Ave or if this ride can actually suit your preferences, read on to find out.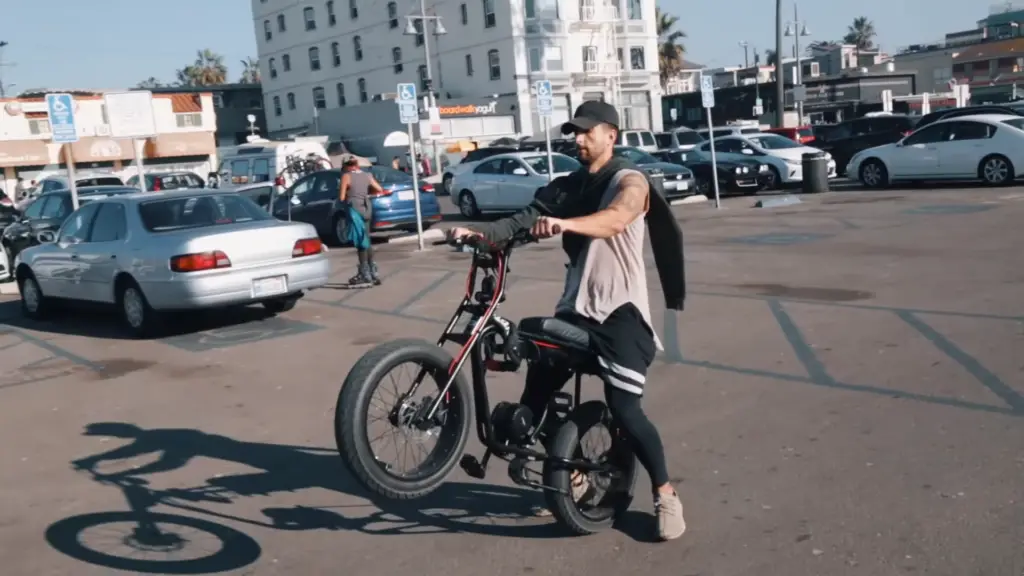 What Is the Super73 Rose Ave?
The Rose Ave is a studio album themed limited edition electric mini bike by Lithium Cycles. This bike is an improved Super73 "Scout" S1 created in collaboration with YouTuber Jesse Wellens (who incidentally owns a studio album of the same name). The only noticeable difference between the Rose Ave and the Scout S1 being a decal on the battery showing the Rose Ave name.
This variation on the Scout is one of Super73's best-selling products because of its low price, quality parts, and unique design. But, it has its disadvantages too.
Overview
Features
One could say that the Rose Ave is a modified version of its counterpart; the Super73 S1. It features a battery located on its fuel tank, rear hub mounted motor, pedals, handlebar mounted LCD display that shows the speedometer and odometer, and a stainless steel frame. The Rose Ave also incorporates several upgrades from its base model including a super bright LED light, and a motorcycle-style rear light.
Frame
The Rose Ave's frame is a less bulky version of the S1's which means it is optimized to provide a more convenient way of riding. The frame itself consists of stainless steel in contrast to that of the S1's solid steel frame making it lighter but still too heavy for an electric mini bike. Stainless steel has a clear weight advantage over solid steel because of its less dense composition. Still, this bike is heavier than other electric mini bikes due to its huge tires and longer wheelbase. It also comes with a matte black powder coated finish exclusive to this edition.
Transmission
The Rose Ave features a pair of pedals with a 3-level pedal assist system, conveniently called Low, Medium, and High. The low pedal assist provides a little electric assist while you provide more pedal power. You consider this a sort of "eco mode." Medium pedal assist balances your pedal and motor power. High pedal assist is the Rose Ave's "performance" setting, providing significant power with minimal pedalling effort. In addition to that, power can be further increased with the same thumb operated throttle present on most Super73 bikes.
Motor
The Rose Ave has a Bafang 1000W motor which trots top speeds of 20mph on throttle alone and up to 25 mph with pedal assist. It comes with a standard gear and chain but its single gear makes it a boring ride for long distance travel. This is also the same motor found on other Super73 electric mini bikes. 
Battery
The Rose Ave's battery comes in at 14.5 Ah which isn't a bad capacity for an electric mini bike. This brings the bike's range up to 35-40 miles (56-64 km) depending on user input. This range would be great for travelling to and from work or around town but not for long distance rides. Compared to other electric mini bikes, this range fits the quota but not perfectly. 
The batteries are also removable and that makes this bike a cut above Super73's other standard electric bikes. The fact that you wouldn't have to carry your bike to the nearest electrical socket to charge makes removable batteries convenient.
Brakes
The Rose Ave sports two generic but powerful hydraulic disc brakes which are surprisingly effective for its price range. Unlike its predecessors, the Rose Ave's brakes respond even with just one or two fingers on the lever. Responsive brakes help in extending flexibility during rides and promotes safety. This is a huge upgrade from Super73's other model; the Z1's brakes.
Suspension
The Rose Ave lacks suspension. It might be a fun ride on sandy beaches and smooth roads but not in rough or off-road situations. 
Even worse, this bike's lack of suspension makes it prone to eventual damage during rough rides. The lack of shock dampening means the bike's frame will eventually bend or shatter from constant pressure. 
This is a minimalist design intended to sharply reduce the bike's cost while also keeping the bike as light as possible. It's not well built for off road use.
Tires
The Rose Ave sports two generic 20″ x 4″ fat tires. This tire size partly makes up for the bike's lack of suspension when depressurized but comes at the cost of mileage and speed. The thick nature of the tires means it will provide a bit of "bounce" when not completely filled with air, soaking up bumps. But, the tire size adds weight, causing the motor to strain. This type of tire also helps the bike to minimize frame damage during rough, off-road rides.
Advantages
While a limited version of its base model,⁠ the S1⁠, the Rose Ave comes with many improvements. For one, the Rose Ave has a tighter turning radius due to the custom cut-outs near its handlebar pivot. For another, it has a more efficient battery life due to reduced weight over its counterpart. 
The Rose Ave also features a pedal-assist system making it nimbler in city rides. Human muscle and a mechanical motor working together equals more power.
Other Issues With the Super73 Rose Ave
Possibly most troubling, the Rose Ave comes with an inaccurate heads-up-display. It simply does not display the speed you are going in real time. This compromises road awareness and safety. 
The seat is also tough & uncomfortable, with an annoying seat height. At only 81 cm, the seating position is too low to even use the pedals properly. The best things that can happen to you sitting on this bike are sore thighs and numb knackers.
Tech Specifications
The Rose Ave is one of Super73's best electric mini bikes. It could be due to its looks or its feel as a ride. You be the judge. Here are the Rose Ave's individual parts in detail to help you with:
| | |
| --- | --- |
| Manufacturer Name | Lithium Cycles |
| Model Name | Super 73 S1 Rose Ave Edition |
| Model Year | 2017 |
| Motor Manufacturer | Lithium Cycles |
| Motor Model | Bafang |
| Motor Power | 1000W (1.3 bhp) |
| Motor Placement | Rear Hub Motor |
| Battery Capacity | 48V 14.5Ah (696 Wh) |
| Battery Removal | Easy slide out |
| Range | 35-40 miles (56-64 km) depending on user input |
| Ride Mode | Pedal assist (3 levels) |
| Regenerative Braking | None |
| Throttle | Thumb operated |
| Gears | 1-speed |
| Top speed | 25 mph (40 km/h)  |
| Weight | 31.7 kg (70 lb) |
| Materials | Stainless Steel |
| Seat height | 32″ / 81 cm |
| Suspension | None |
| Display | LCD (Odometer, Speedometer, Battery level, Ride modes, headlight status) |
| Purpose | Urban, Offroad (If you can stand the shock) |
| Connectivity | None |
| Security | Key-operated, button start |
After-Sales Support
Super73's after-sales support is always ready to help whenever. With several certified dealerships around the world, they've established a good foundation of great customer service.
You can also visit them at 16591 Noyes Ave, Irvine, CA 92606, call them at +1 (814) 747-9072, or email them at [email protected].
Where Can I Get One?
Super73 has several local branches all over Western Europe and the United States and has international branches in South Korea, Japan, Australia, and even South Africa. But since this is a limited edition electric bike, Super73 doesn't have it on sale anymore. The best place to get this version would be eBay and from people who purchased the bike and have it on sale.
Videos
Since videos about the Rose Ave are quite rare in the internet, we've already searched for and put together some of these videos so you don't have to. If you're interested in getting the Rose Ave or learning more about it, watch the videos here:
Choice Commentary on the Rose Ave Electric Mini Bike
Sometimes you have to put yourself in someone's shoes to truly understand something. If you want to know what others have to say about the Rose Ave, read the choice commentary.
"I received my S1 a few days ago and love it. I am not a pro bike mechanic, in that it's not my job, but I have assembled countless bikes over the past 15 years from carbon full suspension mtbs to mopeds.
I had seen a lot of posts about flats with Super 73 models. One thing I noticed pretty quickly is that the tires are difficult to seat on the bead. The tires also come partially deflated which can aggravate this problem. This isn't Super 73's fault at all, it's the proper way to ship the bike. But it's probably one of the reasons they want you to get the bike assembled by a licensed mechanic. For those of you receiving bikes in the next few days/weeks make sure that your tires are properly seated before going for a ride. If they're not, you WILL get a flat eventually, assuming you avoid a blowout at 25mph."
-u/spearpoint11 (Reddit)
"The Super 73 is my first electric bike. I don't think it's as much a bike as it is a blast from my past, I was a kid of the 70's with a yellow mini bike powered by a lawnmower motor. It does have 2 wheels and I pedal it to get around, so it's definitely a bike. Just a different kind of fun."
-Dolbydarma (mtbr)
Image Gallery
Being a limited edition electric mini bike, the Rose Ave would definitely look special. Check it out some more with our pre-compiled images.