Hey look, it's the Batmobile! No, wait. It's an electric dirt bike.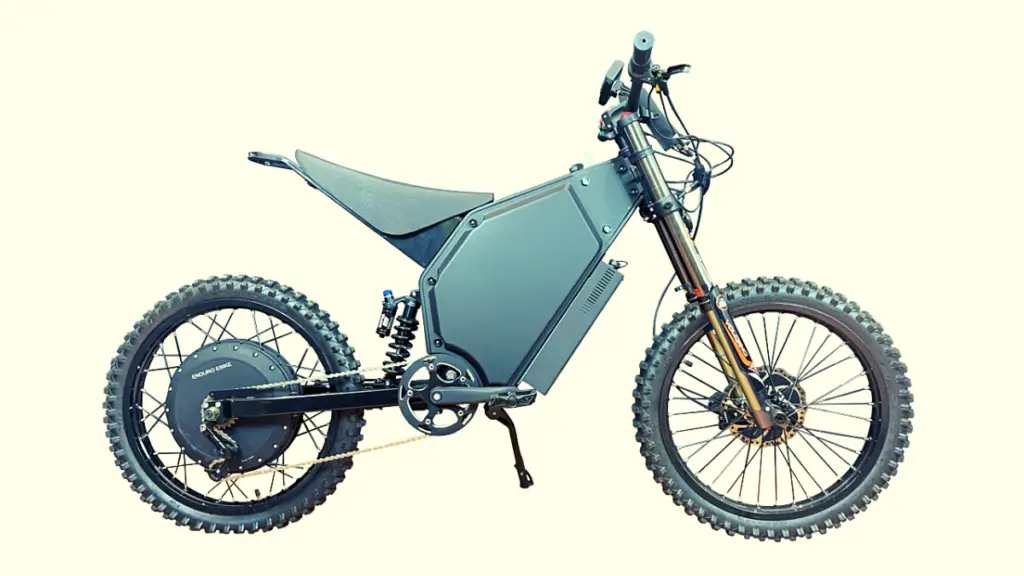 Now here's something that looks badass enough to make even petrol dirt bike fanatics fall over in envy — the Enduro E Bikes 12000W light electric dirt bike. It's incredible, but does it match up when it comes to performance and features? Read on to find out.
What's the Enduro E Bikes 12000W Light Electric Dirt Bike and Who's it For?
The 12000W from Enduro's dirt bikes lineup is a mid size trail/enduro electric bike for both adults and older teens. It's rugged styling and tough outlook makes the Enduro E Bikes 12000W a perfect candidate for extreme riding and aggressive races.
Enduro E Bikes 12000W Detailed Overview
12000W Enduro eBike Main Features
The Enduro E Bikes 12000W's greatest feature is its Sine Wave controller which provides smooth power delivery depending on throttle input. This is the same controller used by the Stealth B-52 "Bomber" and other Stealth electric dirt bikes as well.
Click to Read Our Stealth B-52 Review
Enduro eBike Display and Batteries
To add to its futuristic badassery, this enduro e bike sports a very informative TFT display with brightness settings and shows a various range of status updates on the bike. The info displayed on this dashboard includes: speedometer, odometer, tachometer, time, temperature, and power economy. It also shows the required recharge time to reach full battery level.
Perhaps one downside about this bike is its battery and charger. It runs on a 72V 48Ah Panasonic battery pack which provides only 32 miles of range. What a bummer right? Wait till you find out the charger provides a menacing 9 to 10 hours recharge time from empty to full. It's bad enough that we have to recharge right away after a few short minutes of riding, but to wait that long? We might as well get a different bike.
12000W eBike Frame
The Enduro ebike features a combined aircraft-grade aluminum and steel frame. Well, mostly steel. This gives the bike a weight of 136.6lbs — which isn't that heavy — and has high durability and easy repairability.
Enduro 12000W Light Electric Dirt Bike Motor and Transmission
A 12kW rear direct brushless motor propels the Enduro Ebikes 12000W — duh — and provides a top speed of 74.5 mph with a 14 horsepower equivalent and 31.1 ft-lbs of torque. This speed is good enough for a bike that rides on dangerous mountain edge trails and short dirt tracks.
To achieve a smooth power delivery and acceleration, the Enduro E Bikes 12000W light electric dirt bike comes equipped with a Sine Wave controller — an high quality aftermarket controller for performance enhancement. Bikes that also feature this controller include Stealth's H-52 "Hurricane" and F-37 "Fighter" electric dirt bikes.
Click to Read Our Stealth Dirt Bike Round Up
The bike also comes with 1 gear for instant but smooth acceleration and a set of pedals if you want to save battery and pedal to the dirt track where you can go all out on the throttle. This also means the 12000W is an automatic dirt bike and makes a great beginner electric dirt bike for adults.
Enduro 12000W Brakes and Suspension
For optimum braking power, the Enduro E Bikes 12000W comes equipped with Tektro E715 double piston hydraulic disc brakes. Tektro is a pretty good aftermarket brakes brand well sought after by electric dirt bike manufacturers around the world. One notable electric dirt bike that features one of Tektro's brake models is Kuberg's Freerider Street. The Freerider directly competes with the 12000W, though it has a more traditional dirt bike set up with pegs rather than pedals. 
If you are looking for new disc brake pads to replace your old ones, Tektro lists A11TS as an optional upgrade on their website and it can be purchased off Amazon. If you want a solid upgrade, look at the SHIMANO XT BR-M8100. Another high-quality option is the SHIMANO Deore XT M8100 M8120.
Click to Read Our Kuberg Freerider Street Review
For the best shock absorption in its class, the Enduro 12000W also features Zoom forks and a DNM Burner-RCP shock. Both Zoom and DNM are also pretty big aftermarket brands for those who want to enhance their bike's off road performance. 
12000W Light Electric Dirt Bike Tires & Wheels
As with most light electric dirt bikes, the 12000W comes with spoked aluminum wheels for that extra "bounce" on rough surfaces. Wrapped in motocross style OEM off road tires, the 12000W's wheels provide a firm grip even on muddy or sandy surfaces.
Enduro E Bikes 12000W Light Electric Dirt Bike Tech Specifications
If the Enduro E Bikes 12000W light electric dirt bike's features above sound like a mouthful, check out this list we put up to get an idea of what the Enduro E Bikes 12000W is made of:
Manufacturer Name
Enduro E Bikes
Model Name
12000W light electric dirt bike
Model Year
2020
Motor Manufacturer
Enduro E Bikes
Motor Model
Enduro E Bikes rear direct brushless motor
Motor Power
12kW (13hp, 31.1 ft-lbs equivalent)
Motor Placement
Rear hub drive
Controller
Sine Wave
Power Pack
Panasonic Cells
Battery Capacity
72V 48Ah
Battery Removal
Easy slide out
Range
32 miles
Ride Mode
Throttle, pedal
Regenerative Braking
N/A
Throttle
Variable twist throttle
Gears
1
Top speed
74.5mph
Weight
136.6lbs
Materials
Steel, aircraft-grade aluminum
Seat height
25 inches
Suspension
ZOOM AMS Downhill suspension forks
DNM Burner-RCP 2S rear suspension
Display
Full color TFT display (speedometer, odometer, tachometer, time, temperature, and power economy)
Purpose
Dirt, Mud, Sand
Connectivity
N/A
Security
Keyed ignition
Where Can I Buy the Enduro E Bikes 12000W?
The best place you can get your hands on the Enduro E Bikes 12000W light electric dirt bike is of course from the Enduro E Bikes website for about $3,999.00 USD at their discounted price.
What is Enduro E Bikes' After-Sales Support Like?
Enduro E Bikes provides quite a decent customer service quality in addition to its worldwide market availability (meaning you can find their products almost everywhere). They've also got a contact feature on their website where you can send them your concerns and expect a fast reply. 
In addition to that, you can directly email them through [email protected], chat them through Facebook at @Enduro-eBikes-Faceook or even tweet them at @Enduro-eBikes-Twitter. Lastly you can contact one of their representatives through 0800 001 6318 (US). It's pretty clear they want to make it easy for people to get ahold of them.
Enduro E Bikes 12000W Videos
Want to see this electric enduro dirt bike perform in real time? Here's a video on the Enduro E Bikes 12000W in action:
Enduro E Bikes 12000W Pictures
If you want a different view angle on the Enduro E Bikes 12000W, don't hesitate to check out these pictures: