How does it feel to ride a crotch rocket that can go off road? Yeah, we know it sounds scary but when you see the bike we're talking about, you'll probably change your mind.
The bike in question is the Zero FXS electric supermoto. According to Zero Motorcycles, this bike holds the record for an electric supermoto having more torque than a certain Italian gas-powered liter sportbike.
Imagine commuting on a monster electric dirt bike that prices out at $8,995 USD. That's like a third the price of a Ducati Panigale which the Zero FXS dwarfs in terms of torque. How is that possible? Read on to find out.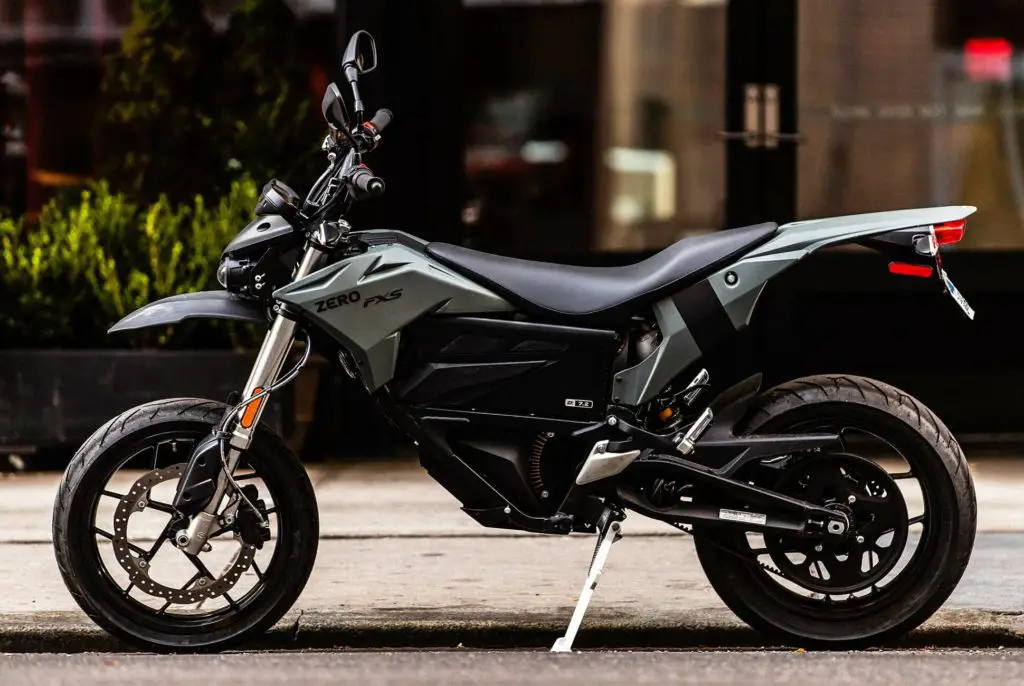 What Is the Zero FXS Electric Dirt Bike?
The Zero FXS is an innovative electric dirt bike by Zero Motorcycles that possesses the most advanced tech Zero can provide. This bike is virtually on par with large cylinder gas-powered motorcycles in terms of performance and is way ahead in terms of standing acceleration. It's also the second electric dirt bike in Zero Motorcycles' lineup right after the Zero FX which is basically the same bike but standardly configured for off-road riding.
Overview
Features
Despite mostly consisting of typical electric dirt bike parts, the Zero FXS does possess some features that make it stand out from the rest. Zero Motorcycles aims to be as unique as possible and copying everyone else's design simply won't do.
One of these unique features includes an onboard charger, which is quite rare in the electric dirt bike industry and helps to simplify recharging by cutting out the extra gear that you need to carry. Another is the option to get an additional integrated battery pack which can then be activated on the fly to provide more power.
Probably the best thing about the Zero FXS electric dirt bike is its connectivity with mobile phones through Zero Motorcycles' mobile app which allows riders to be flexible in setting their bike's performance. It also features a GPS tracking system through the same mobile app which is useful in case the bike gets stolen or other similar hazards.
Display
The Zero FXS possesses a minimalist blue LCD screen which displays the bike's speedometer, battery level, power output, and projected recharge time. It also shows other important stats such as temperature and ride profile. This setup is a good touch for Zero as it helps reduce needless power consumption while at the same time feeding useful information to riders.
In contrast to its minimalist display, the Zero FXS electric dirt bike features a mobile phone connectivity through Zero Motorcycles' mobile app, as mentioned. This perk allows riders to flexibly configure the Zero FXS's performance to suit any situation whether on road or off road, and track the bike's location from anywhere..
Frame
Zero equipped the FXS with a solid rigid frame made of lightweight aircraft-grade aluminum which maintains great durability while keeping the bike flickable. This frame setup along with its solid polymer fairings keeps the Zero FXS's sensitive high tech components from falling out or being penetrated by water droplets or vapor.
The only oversight here is that Zero made the frame too rigid which can prove harmful to the inner components because of friction and vibration damage. Overall it's a good setup since the Zero FXS is meant for both urban and off road environments and urban roads usually don't cause that much vibration in the frame.
Transmission
The Zero FXS electric dirt bike runs using a 1-speed direct-drive clutchless drive train which translates to a simple twist & go mode of operation. This setup constitutes a simplified propulsion system which makes the bike more accessible to beginner riders.
One disadvantage this setup might have is its inability to regulate throttle power output which then leads to over-throttling. This can be dangerous for first-time users as they can quickly lose control of the bike.
Motor
A powerful Z-Force® 75-5 passively air-cooled, high efficiency, radial flux, interior permanent magnet, brushless motor propels the Zero FXS electric dirt bike. This is the main reason for the bike's insane acceleration. It uses a carbon fiber belt drive connected directly to the rear wheel which further contributes to the bike's power distribution.
If the motor description seems a bit of a mouthful, wait until you feel the bike pull. The motor dishes out a whopping 78 ft-lb (106 Nm) of torque from 0 rpm. This is significantly more torque than that of a standard issue Ducati Panigale and the torque curve is flat so that power is both instant and unrelenting. But despite its insane amount of torque, the Zero FXS' speed can only top out at 70 mph which only a third that of a Panigale's.
Additionally, the motor works in conjunction with regenerative braking through its engine brake to help channel energy back into the battery, extending ride range. This is useful in case you want to use regen but forget to use the brakes when decelerating.
Batteries
Speaking of that battery, a 3600W Z-Force® Li-Ion intelligent modular power pack provides the Zero FXS with 27 miles (43 km) of operating range on moderate power output. This battery capacity is pretty common among other large electric dirt bikes such as KTM's Freeride E-XC and Cake's Kalk& and Kalk OR albeit the Zero FXS having slightly more range, but not quite enough to make a noticeable difference.
Perhaps the best thing about the Zero FXS' battery setup is that riders have the option to integrate an extra battery pack which can be activated on the fly without disembarking and switching out power packs. This is useful for when you run out of battery in the middle of a ride and want to keep going.
The battery pack also comes with a 650W onboard charger that provides a charging time of 5.1 hours but can be lowered down to just 1.6 hours with the use of custom accessory chargers provided by Zero Motorcycles. This is a great feature because it enables riders to park & charge directly from a wall socket, saving space and time.
Brakes
The Zero FXS features Bosch Gen 9 anti-lock braking system, along with a J-Juan dual piston floating caliper 240 x 4.5mm front disc brake, and a single piston rear disc brake of the same brand and size. The FXS also shares the same brake brand with the upcoming Pursang E-Track electric scrambler.
Zero did a great job of including an anti-lock braking system. It is an extremely useful feature often overlooked by other manufacturers. ABS on a high speed bike is necessary in that it minimizes rear wheel lock due to sudden braking and preventing skidding.
The bike also features a regenerative braking system, as mentioned, which allows riders to take back some power while decelerating. This further adds to the bike's operational range.
Suspension
A set of 8.60in (218mm) travel Showa 41mm inverted cartridge forks and a 8.94in (227mm) travel Showa 40mm piston, piggy-back reservoir shock supports the Zero FXS electric dirt bike. Both shock absorbers come with the full trinity of adjustments including spring preload, compression and rebound damping.
Showa is a well known manufacturer of high-performance automotive, motorcycle and outboard suspension systems based in Japan and is an OEM supplier to Harley Davidson Motorcycles.
Tires & Wheels
The Zero FX sports Pirelli Scorpion MT 90 A/T tires with a 90/90-21 wheel up front followed by a 120/80-18 at the rear for a disproportional layout that augments its off-road performance. The 21 inch front tire is a huge benefit for off-roading because it enables the bike to take in and manage impact better. The larger diameter better stabilizes the bike and improves handling when riding on rough roads.
Zero FXS Electric Dirt Bike Tech Specifications
The Zero FXS is a high tech bike with high tech gear. To show you what we mean, here are the tech specifications for the Zero FX electric dirt bike:
Manufacturer Name
Zero Motorcycles
Model Name
ZERO FX ZF3.6 Modular
Model Year
2019
Motor Manufacturer
Zero Motorcycles
Motor Model
Z-Force® 75-5 air-cooled, high efficiency brushless motor
Motor Power
27hp (20kW) @ 4,300rpm
Motor Placement
Centrally-placed
Controller
550 amp, 3-phase brushless controller with regen brakes
Power Pack
Z-Force® Li-Ion intelligent modular
Battery Capacity
3.6kWh
Battery Removal
Easy slide out
Range
27 miles (43km)
Ride Mode
Dual-Sport (Street, off-road)
Regenerative Braking
Yes
Throttle
Twist throttle
Gears
Single gear
Top speed
85mph (137km/h)
Weight
247 lbs (112 kg)
Materials
Aluminum
Seat height
34.7in (881mm)
Suspension
8.60in (218mm) travel Showa 41mm inverted cartridge forks,
8.94in (227mm) travel Showa 40mm piston, piggy-back reservoir shock
Display
Digital (battery level, speedometer, temperature, RPM, selected riding profile, projected recharge time, clock, trips A & B)
Purpose
Dirt bike, Street bike, Supermoto
Connectivity
No USB charging ports on standard modelBike performance can be configured using Zero Motorcycles mobile app
Security
Key-operated ignition
Where Can I Get a Zero FXS Electric Dirt Bike?
The best place to buy the Zero FXS is at Zero Motorcycles' main branch in Scotts Valley, California. But if you want a hassle-free and easy purchase, you can visit their website. They also distribute to hundreds of dealerships all over Europe and the United States. Zero also provides demo ride services so you know what you're getting. For details on demos, you can visit each of Zero's dealerships all over the United States.
After-Sales Support
Zero Motorcycles keeps a high standard for customer service. In the United States, for customer concerns, you can contact them through their phone number: (888) 786-9376 ext. 2 or if you live nearby, you can visit their main branch at 380 El Pueblo Road, Scotts Valley, California.
In the off-chance you don't live in the United States, you can visit their European branch at Oester 12, 1723 HW Noord-Scharwoude, NL or call them through +31 (0) 72 5112014.
Zero FXS Electric Dirt Bike Videos
If you're still not sure about how the Zero FXS performs or want to see the bike in action, here are a few videos to sate your curiosity:
Zero FXS Electric Dirt Bike Choice Commentaries
If you aim on deciding from what other people who bought the bike think, we've compiled some choice commentaries for you to base your judgement from.
"The biggest issue with these bikes is the battery. I wonder, since these batteries are removable, if a new battery technology becomes available to Zero, they could make it compatible with the motorcycle you already own."

-Grafight23 (YouTube)
"Stock gearing is limited to 90 on the speedometer max. It's actually around 85 on GPS. A FX / FXS will not go 110 and yes this applies to the 2020. The slider value in the app is a bug. I have a 2017 FXS w/ dual modular batteries and chain kit. Great bike."

-Comedic Sketches (YouTube)
"I bought a new 2020 Zero FXS and 11 days later the BMS died so back to dealer. My FXS was destroyed by a flood while in the dealer service bay.  So sad. I miss my FXS so much !!!"

-Kevin Gaeke (YouTube)
Zero FXS Electric Dirt Bike Image Gallery
Want to see the Zero FXS at different angles? Here are high quality images of the Zero FXS electric dirt bike: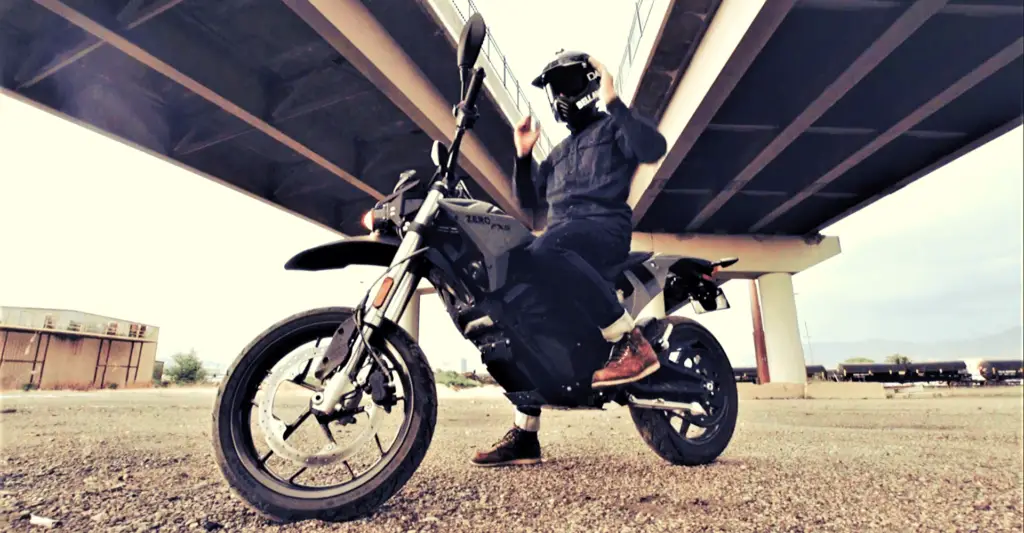 Also read: Zero DSR Electric Adventure Dirt Bike Review