The Electric Motion Epure electric dirt bike might just be the best trials bike for riding up nearly vertical slopes, rolling over rocky terrain or just stopping dead in the middle of a fallen tree. This trials bike is so revolutionary because of its relaxed casual look but extremely aggressive performance. 
How aggressive? Four times the torque of a Ducati liter bike-aggressive. Now, how did they pack such performance into this badass electric trials dirt bike?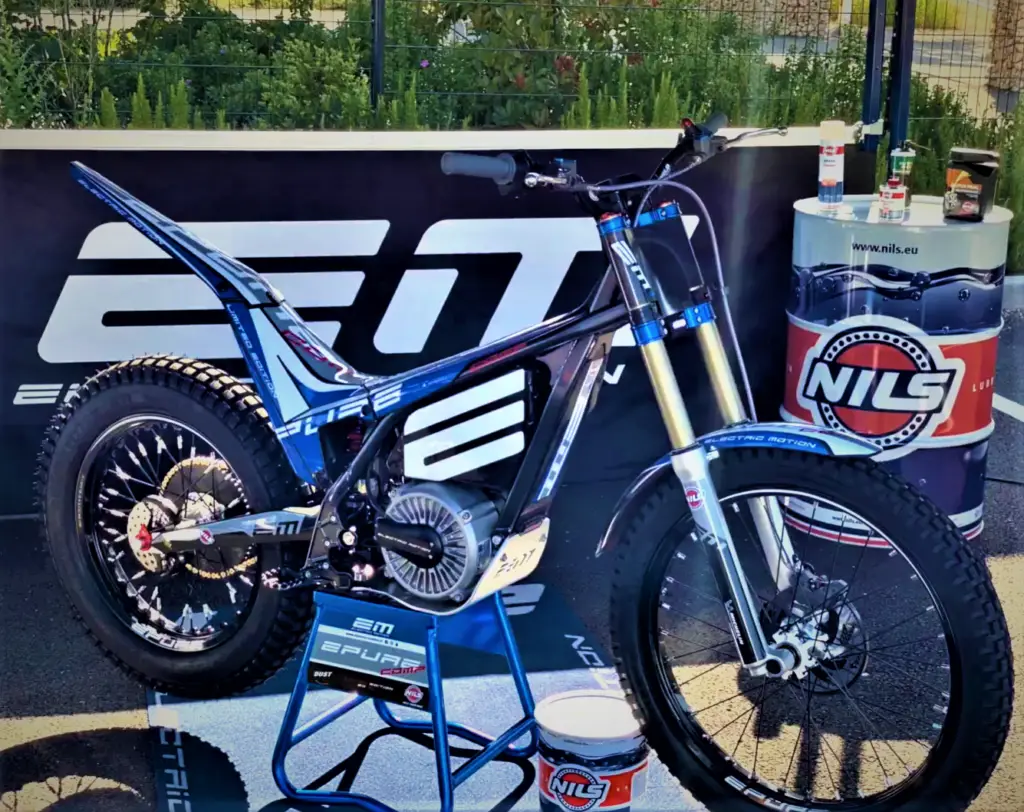 What's the Electric Motion Epure and Who's It For?
The Epure is a full-size electric trials dirt bike made for both professional and beginner trial riders. It's also one of the three latest models released by Electric Motion in 2020, the others being the Escape (a trail dirt bike) and the Etrek (a bigger motocross dirt bike).
Epure Detailed Overview
Electric Motion Epure Electric Dirt Bike Main Features
What makes the Epure unique from all the other electric trials dirt bikes out there is that it's a low-rider. Meaning, the pegs are much closer to the ground and the center of gravity is also much lower. This provides more balance and control than with a traditional design. The bike also features higher handlebars which would make riding the Electric Motion Epure feel a bit like riding a scooter.
Epure Display and Batteries
The Electric Motion Epure electric dirt bike unfortunately does not have a display or any indicator besides the LED on/off switch located on the battery compartment. This is a major oversight for Electric Motion as not knowing how much battery you have left or how fast you're going can be dangerous in the trials scene.
Having no display at all does come with a small advantage though because it slightly extends the bike's range by negating a bit of the power consumption. Epure's power system uses a universal 1875Wh lithium ion battery with its own charger. This gives the bike a range of approximately. 27 miles on full throttle (or between 100 and 240 minutes of casual operating time). In addition to the decent operating time, the charger provides an awesome recharge time of just 3 hours and 20 minutes from empty to full. This compares to Zero's FXS electric dirt bike which also runs up to 27 miles on full throttle but with a recharge time of a longer 5.1 hours.
Click Here to Read Our Zero FXS electric dirt bike Review
Electric Motion Epure Frame
To cut out some weight from the heavyweight trials bike while maintaining good durability, Electric Motion equipped the Epure with a standard-issue Alloy 15CDV6 frame. Alloy 15CDV6 is a near-inorganic steel which mixes high yield tensile strength with decent toughness and weldability. 15CDV6 can be easily welded with minimal loss of durable properties during welding and without needing further heat treatment. This type of alloy is mainly used in the aerospace and motorsports (racing) industries in components such as pressure vessels, roll cages, rocket motor casings, suspensions, subframes and wishbone suspension systems.
Epure Motor and Transmission
The Electric Motion Epure electric dirt bike runs using an OEM Electric Motion brushless motor but don't get fooled. Just because it's OEM, doesn't mean it can't dish out a mean surge of power. Electric Motion's 11kW OEM brushless motor possesses an amazing 442.5 foot pounds of standing torque. That's like four and a half times the torque of a Ducati 1199 Panigale V4 readily available as you open the throttle.
This bike has the most power of any electric dirt bike we've ever seen. In fact, only the Zero FX comes close, at 78 ft-lbs of torque.
Click Here to Read Our Zero FX electric dirt bike Review
Despite the monster torque, the Epure can only travel up to a speed of 40.4 miles per hour. Though barely considered fast in the tarmac, this amount of speed is already overwhelmingly fast on a dirt track.
Electric Motion's Epure electric dirt bike further impresses in a way that this single speed bike — amazingly — still features a clutch. This is a massive benefit for riders and a feature more electric dirt bikes should incorporate because riders can use the clutch to manage power delivery to the rear wheel, preventing throttle accidents or unwanted acceleration.
Epure Brakes and Suspension
Confident in their own OEM components, Electric Motion equipped the Epure with a standard issue 182mm front disc brake with a 4 piston caliper and a 150mm rear disc brake with a 2 piston caliper. This only means that the front brake is stronger than the rear in terms of bite and stopping power.
The same confidence goes for the suspension. The Electric Motion Epure electric dirt bike uses an Electric Motion Tech front fork with 175mm travel and an R16 V rear shock with 170mm travel. This provides the bike an almost equal shock absorption distribution during both front and rear landings.
The Epure also features brake regen. Brake regeneration allows you to return the frictional energy produced by your brakes to feed back into the battery; increasing range or operational duration.
Epure Tires & Wheels
Perhaps the only things not OEM in the Electric Motion Epure electric dirt bike are its wheels and tires. The Epure sports Morad Trial 1.6″ x 21" rims up front and Morad Trial 2.15″ x 18″ in the rear. Both wrapped with Michelin X11 off road tires. If you're new to dirt bikes, the main reason why the front wheel is bigger than the rear is to absorb impact better and maintain stability while riding in rough terrain.
Electric Motion Epure Dirt Bike Tech Specifications
Experienced riders want a complete rundown of the dirt bike's specs so we put this little chart together for you:
| | |
| --- | --- |
| Manufacturer Name | Electric Motion |
| Model Name | Epure |
| Model Year | 2020 |
| Motor Manufacturer | Electric Motion |
| Motor Model | Electric Motion Brushless Motor |
| Motor Power | 11kW, 442.5ft-lbs |
| Motor Placement | Mid-drive |
| Controller | N/A |
| Power Pack | 50.4V Lithium Ion |
| Battery Capacity | 1875Wh (Three hours, 20 minutes recharge time) |
| Battery Removal | Easy slide out |
| Range | 27 miles |
| Ride Mode | Single mode |
| Regenerative Braking | yes |
| Throttle | Twist throttle |
| Gears | 1 |
| Top speed | 40.4 miles per hour |
| Weight | 153 pounds |
| Materials | Alloy 15CDV6 |
| Seat height | 26.4 inches |
| Suspension | Electric Motion OEM forks and rear shock |
| Display | LED On/Off light on the battery compartment |
| Purpose | Trials dirt bike |
| Connectivity | N/A |
| Security | Key-operated ignition |
Where Can I Get an Electric Motion Epure Electric Dirt Bike?
Customers can just get the Electric Motion Epure electric dirt bike straight from the Electric Motion website which is based in France. However, Electric Motion's dealer network also extends into the United States. These dealers are located in South Dakota and Washington. If you want to hear from them, you can contact them through their numbers: 605-878-1005 (SD) and 1 509 722 4100 (WA) respectively. You can also email [email protected] as an alternative.
What Is Electric Motion's After-Sales Support Like?
Electric Motion provides complete after-sales support to US customers that buy from one of their dealers. These services include: free repairs and modifications. Plus, they offer a 1-year warranty for every purchase you make. You can also inquire through Electric Motion's website for help if you live far away from their US dealers.
Electric Motion Epure Videos
Want to see the Electric Motion Epure electric dirt bike in action? Check out these YouTube videos:
Choice Electric Motion Epure Commentaries
If you'd like an idea on what people think of the Electric Motion Epure, check out these commentaries from reviewers on YouTube:
"Epure is sick! the battery life comparing to the previous model is so long you can actually run out of energy before the motorcycle runs out of battery"

-MUCHUU (Source: YouTube)
"These are legit motorcycles that happen to have electric motors! 60nm or torque! Instantly! The Electric Motion epure Race has power! It also has a clutch."

-John Howerton (Source: YouTube)
Image Gallery
Here are some snapshots of the Electric Motion Epure Electric dirt bike for a better viewing angle: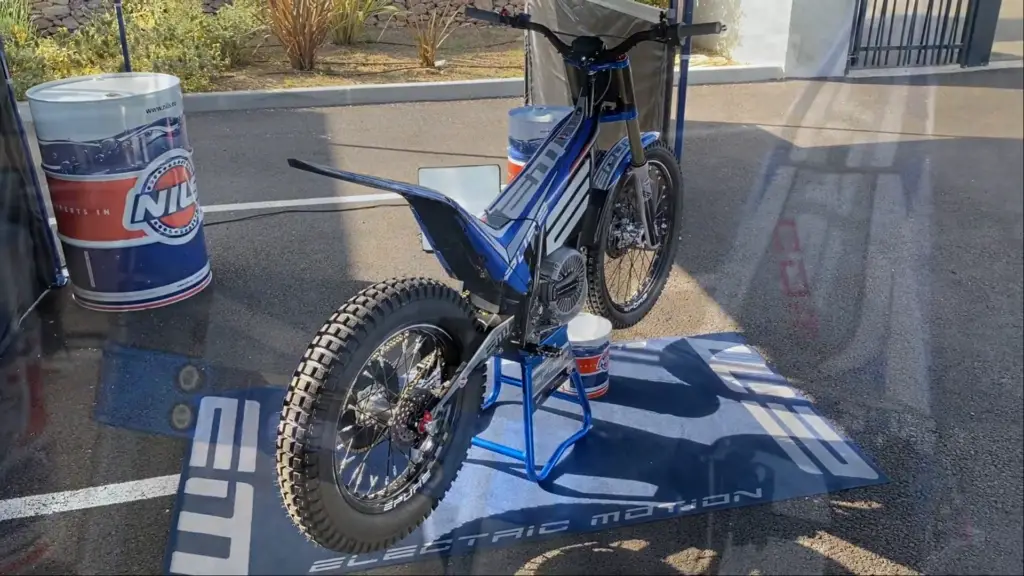 Also read: Delfast Prime 2.0 Light Electric Dirt Bike Review