There's a mind-blowing new bike that just got released and broke the world record for distance travelled by an electric bike — the Delfast Prime 2.0. The manufacturer's previous Prime model also topped over all distance records with a single-charge range of 228 miles. But now, Delfast raises the bar again with the Prime 2.0's spectacular range of 236 miles. But, is this bike just a one-jobber or is it an authentic dirt bike with great off road performance? Read on to find out.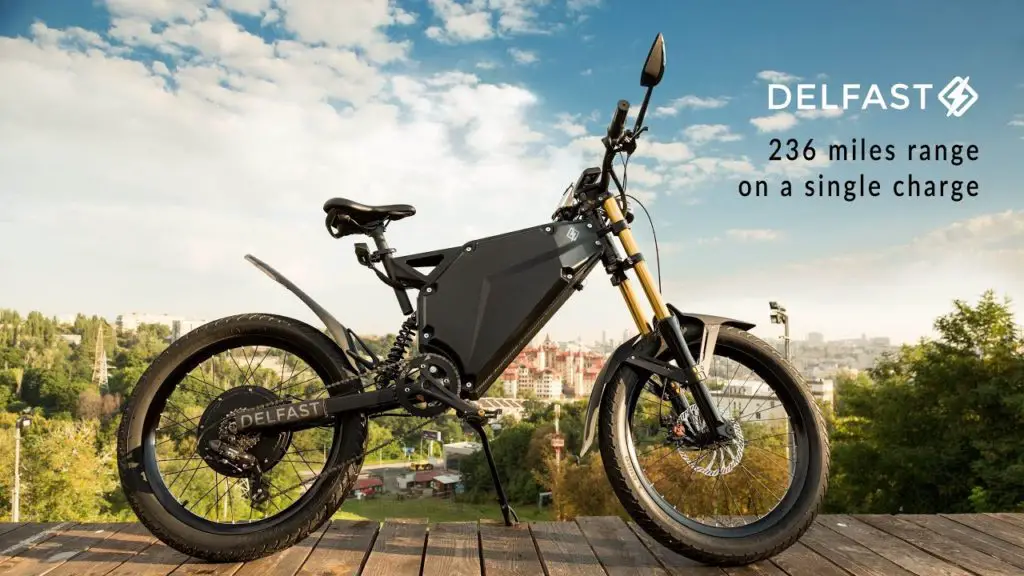 What's the Delfast Prime 2.0 and Who's it For?
The Delfast Prime 2.0 is a hybrid electric dirt bike (that means it has pedals) made for both the streets and off road. It's got an adjustable seat height that slides between 29 and 36 inches so adult riders of all sizes should be able to set the bike up according to their preference.
Delfast Prime 2.0 Detailed Overview
Delfast Prime 2.0 Light Electric Dirt Bike Main Features
Perhaps the Delfast Prime 2.0's best feature is its range which tops out at 236 miles on Eco mode. So far the Prime 2.0 holds the record for a hybrid electric dirt bike with the longest range so for masochists and long ride enthusiasts, this is the bike for you.
The bike also features side mirrors, a headlight and tail light, signal lights, and a plate holder so is fully  street legal. You can now ride to your favorite track or trail using public roads. Just don't forget to wear a helmet and gear.
Delfast Prime 2.0 Light Electric Dirt Bike Display and Batteries
This new Delfast bike features a colorful display located on the center of it's handlebars and provides information like the speedometer, odometer, battery level, temperature, and the time. It even shows your battery economy and current ride mode so it's perfect for riders who like to calculate battery consumption all the time.
The Prime 2.0 packs a 48V 70Ah Samsung battery with a bluetooth smart BMS (that means you can use your phone to set the bike's battery management system) into its enduro-based frame. This setup provides a rated range of 236 miles in Eco mode at 9-13 mph. The battery also comes with a 54.6V waterproof charger which provides an awesome charging time of just 5 hours. Although this Delfast bike's recharge time may not be as fast and efficient as that of Stealth's F-37, it does make up for this shortcoming by a longer charge cycle of up to 7 years.
Read Our Stealth F-37 Light Electric Dirt Bike Review Here
Delfast Prime 2.0 Light Electric Dirt Bike Frame
The Delfast Prime 2.0 rocks an enduro-based frame which incorporates a trail dirt bike's geometry into a mountain bike's form. This combination creates a strong and solid but agile character which is really useful considering this is a long range off road electric dirt bike. This Delfast bike's frame looks similar to Stealth's B-52 "Bomber" albeit with a chunkier core.
Read Our Stealth B-52 Light Electric Dirt Bike Review Here
The frame itself is made of patented reinforced high-tensile steel so won't bend easily under extreme pressure It also features a built-in pedal system which riders can use to save battery (although we would rather use the throttle all the way with the extreme range this Delfast bike has to offer).
Delfast Prime 2.0 Light Electric Dirt Bike Motor and Transmission
The Prime packs more grunt than a Ducati Panigale V4 with its throttle cracked wide open. With 99.6 ft-lbs (1.5kW)  down low, the Delfast Prime 2.0 light electric dirt biker rushes to a top speed of 28mph in just 2 seconds. You can have that maximum velocity upped to 37mph with Delfast's aftermarket upgrades.
The Delfast bike relies on a single-speed belt drive so it's easier to operate and can achieve the most power in the shortest amount of time. The belt drive also helps to better absorb shock and damp vibration as well as reduce noise and prevent motor overloading by slipping the belt over a pulley. Belt drives reduce noise because it isn't made of multiple parts so it doesn't clank like a chain does. It also better absorbs shock because of its flexible and non-rigid property.
Delfast Prime 2.0 Light Electric Dirt Bike Brakes and Suspension
One thing that we have never seen on a light electric dirt bike before, is the dual front disc brakes featured on this Delfast bike. Though dual disc brakes may not be necessary on low-speed bikes, it wouldn't hurt to get that extra response dual discs offer, especially if you're going downhill. A large rear disc brake attaches to the rear hub motor which also provides a good bite and stopping power (just don't apply too much pressure on the front lever at high speed or you'll bury your face in the dirt).
To support its weight and provide shock absorption, Delfast equipped the Prime 2.0 with Zoom 680DH front forks and a DNM rear shock. Zoom forks may be budget-friendly but they eat all the uneven terrain just like an expensive top-brand model would. DNM on the other hand, is a high quality shock absorber used by awesome electric dirt bikes such as Kuberg's Freerider series.
Read Our Review of the Kuberg Freerider Street Electric Dirt Bike Here.
Delfast Prime 2.0 Light Electric Dirt Bike Tires & Wheels
The Delfast Prime 2.0 sports regular 24-inch aluminum wheels wrapped with Urban off-road tires. Urban is a decent tire brand, but not really built for performance. We suggest getting aftermarket tires that really grip the road if you plan on doing trail rides with this bike. The Delfast bike's small wheel size also means it packs a serious jolt when you open the throttle due to a less rotating mass and weight, but won't perform as nicely in rough terrain. Most trail mountain bikes use 27 or 29'' wheels to soak up the bumps.
Delfast Prime 2.0 Light Electric Dirt Bike Tech Specifications
If the Prime 2.0's features above sound like a mouthful, check out this nifty list be put up to get an idea of what the Delfast Prime 2.0 is made of:
| | |
| --- | --- |
| Manufacturer Name | Delfast |
| Model Name | Prime 2.0 |
| Model Year | 2020 |
| Motor Manufacturer | Delfast |
| Motor Model | Delfast QS |
| Motor Power | 1.5 kW (122 bhp, 99.6 ft-lbs) |
| Motor Placement | Rear hub |
| Controller | 48V 32A |
| Power Pack | 48V 70Ah 13S 20P Samsung 3500 mah with bluetooth smart BMS |
| Battery Capacity | 70Ah |
| Battery Removal | Integrated |
| Range | 236 miles |
| Ride Mode | 1) Pedal assist/Throttle2) 15mph / 20mph / 28mph3) Recuperation |
| Regenerative Braking | N/A |
| Throttle | Twist throttle |
| Gears | 1 |
| Top speed | 28mph (can be upgraded to 37mph) |
| Weight | 128lbs |
| Materials | Reinforced steel, aluminum |
| Seat height | Adjustable |
| Suspension | Zoom 680DH front forksDNM RCP rear shock |
| Display | Colorful TFT display (speedometer, odometer, temperature, battery level, battery economy, ride mode, time) |
| Purpose | Long distance trail dirt bike, downhill dirt bike |
| Connectivity | USB and bluetooth connectivity |
| Security | Key-operated ignition |
Where Can I Get a Delfast Prime 2.0 Light Electric Dirt Bike?
The quickest most efficient way you can get the Delfast Prime 2.0 is at Delfast's website. Otherwise, if you want to check the bike out in person, you can drop in to one of Delfast's dealers all over the United States.
What is Delfast's After-Sales Support Like?
Delfast's customer service support is virtually flawless. They reply quickly, and provide informative advice on customer concerns. They also provide a wide range of upgrades that you can get and have installed on your bike right before delivery. They even provide a 1-year warranty for every purchase you make. They have branches all over the United States and have all their contact numbers on the Delfast contact website so you can easily contact them in case of any concerns.
Delfast Prime 2.0 Videos
Want to see the bike perform in real time? Here's a video on the Delfast Prime 2.0 in action:
Choice Delfast Prime 2.0 Light Electric Dirt Bike Commentaries
Delfast's website includes a number of user reviews that you should comb through if you're serious about this bike. We've brought a select few for you here:
"I finally got the bike yesterday! It was fairly simple to assemble. After charging it, I only had a few minutes to try it out but so far, it's pretty awesome! I'll post more updates as I get out for rides."

-Steve419 (Source: Delfast)
"I have participated in probably 2 dozen kickstarter projects (probably more); and this is as close to on time as I have ever seen."

-Praveen Tipirneni, USA (Source: Delfast)
"We received a Prime model over a week ago. It was simple to get customs clearance at our local office and assemble. We are excited to use the bike but it came without instructions on how to use of all of the promised features. Can we all get help with instructions on using the bike and all of the functions such as changing between the three different speed modes, GPS tracking,"

-Jason Kinch, USA (Source: Delfast)
"The bike is much more beautiful than expected. The pictures here on Kickstarter don't do it justice. I got the motorcycle seat and it looks great with it. Absolutely fantastic."

-Shawn Wentzel, Australia (Source: Delfast)
"Good going delfast. Mine was assembled easily. What a machine. Also missing a screw on the mirror but otherwise all good."

-Alex Riordan, South Africa (Source: Delfast)
Delfast Prime 2.0 Pictures
If you want a different view angle on the Delfast Prime 2.0, don't hesitate to check out these pictures: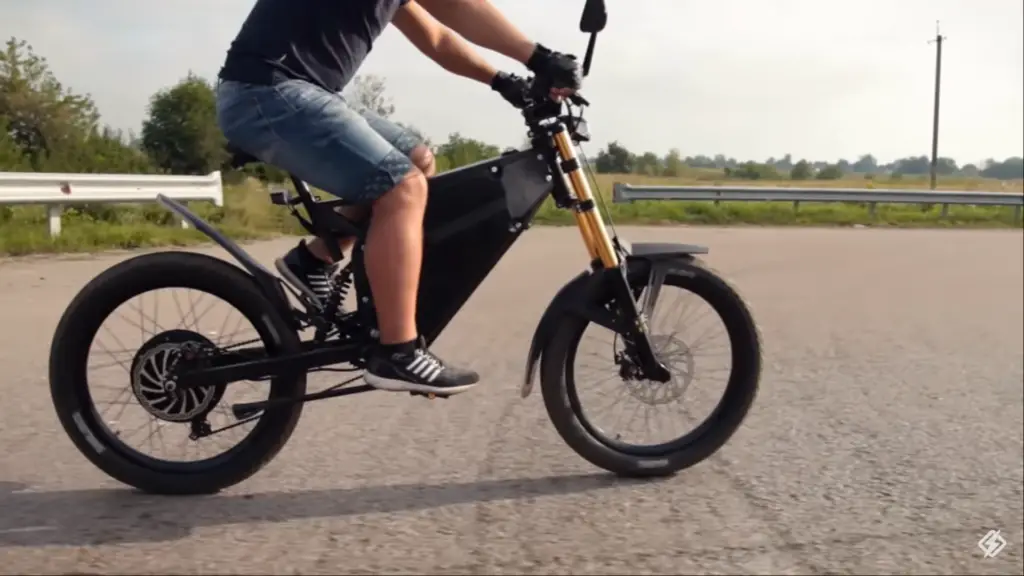 Also read: Zero DSR/BF Electric Motorcycle Review