Electric bikes are popular because they're so energy efficient! Did you know you can ride an electric bike 100 miles for $1? You may want to consider an electric bike solar charger and solar panel charging, however, if you care about the environment.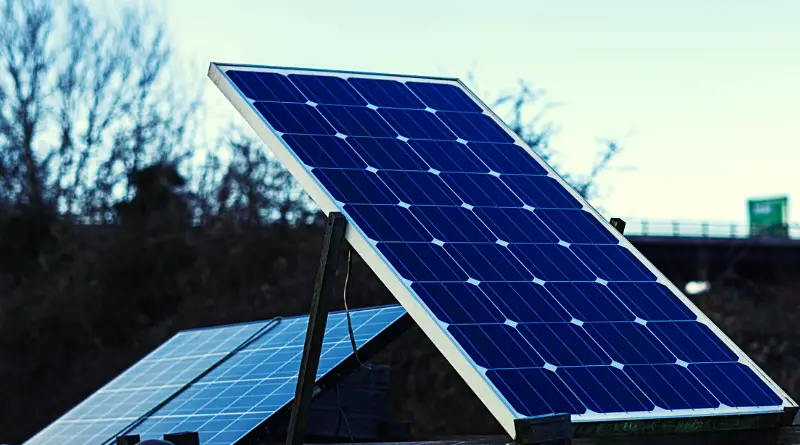 You can move solar panels around and bring them with you – these are like portable chargers for your battery-powered bike!
Today's topic focuses on solar charging for e-bikes and whether it is a good way to charge your battery. You'll also get our 12 best electric bike solar charger options.
Read on below to find the best solar option to charge your bike because you do not want to get stranded in the middle of nowhere.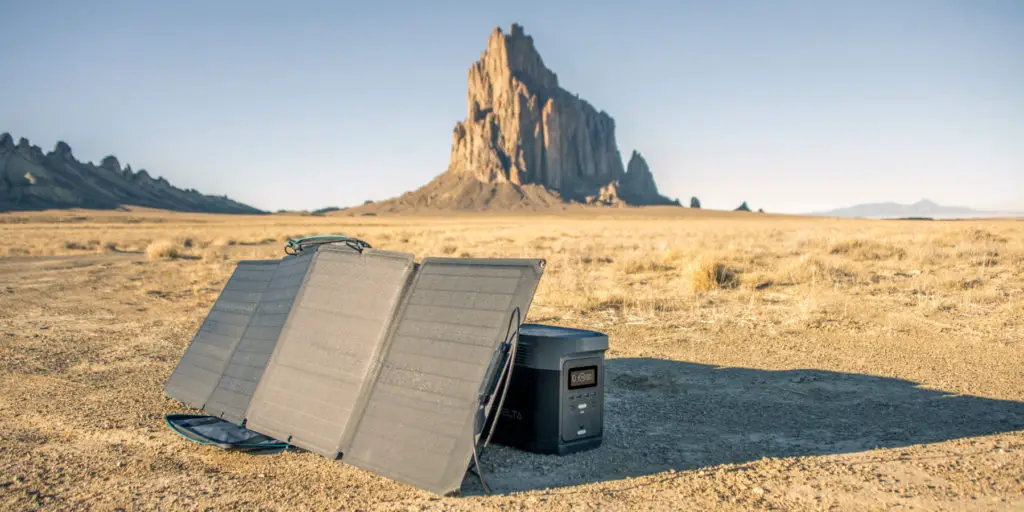 Best Solar Current Electric Bike Charging Options
To give you an overview of the best solar e-Bike charging options you can get, here's a table that shows our top picks for Solar e-bike chargers based on features, price, and user reviews.
| | Solar e-Bike Charging Option | Pluses | Minuses | Current Pricing |
| --- | --- | --- | --- | --- |
| 1 | Jackery SolarSaga 100W Solar Panel | Very modular, highest capacity option | Easily overheats on hot days | Click to See Price |
| 2 | X-Dragon 20W SunPower Solar Charger | Fits nicely in a backpack | Tiny and charges only minibikes | Click to See Price |
| 3 | BLUETTI SP120 120W Solar Panel | High durability, suits rough outdoors | No USB ports included | Click to See Price |
| 4 | EF ECOFLOW 110 Watt Solar Panel | Simultaneously powers multiple appliances | Bulky. Won't fit in a backpack | Click to See Price |
| 5 | Topsolar Flexible Solar Panel 100W | Large but foldable into 2x2ft | Not very receptive when cloudy | Click to See Price |
| 6 | Durecopow 20000mAh Waterproof Solar Power Bank | Acts as a piggyback power backup | Slow solar charging | Click to See Price |
| 7 | WEIZE 200 Watt 12 Volt Starter Kit | Can charge 2 ebikes simultaneously | Bulky. Needs a truck to transport | Click to See Price |
| 8 | BigBlue 42W Solar Charger (Fast Charge) | Comes with own interface for charging | Foldable but quite heavy | Click to See Price |
| 9 | Bakcou Solar Panel | Preserves power even through nighttime | Bulky. Needs a mount when transporting | Click to See Price |
| 10 | Portable E-Bike Solar Charging Station | Large with multiple panels but easily foldable | Doesn't come with solid frame | Click to See Price |
| 11 | Apowery Solar Panel Kit | Comes with own controller/wires | Large and Non-foldable | Click to See Price |
| 12 | Goal Zero Nomad 14 PLUS Camping Solar Panel | Features smart charging for both handheld devices and ebikes | Slow solar charging for ebikes | Click to See Price |
We didn't rank these options from best to worst since they all serve different functions for different situations, as you can see in the table above.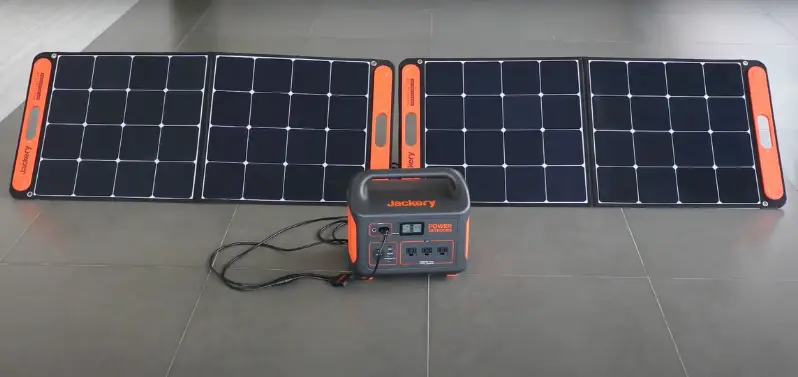 Up to 23 percent conversion efficiency, save time while getting more energy
It has ETFE on the surface, so it's longer-lasting and more durable
With a stand, you can adjust the angle for more sunlight
The Jackery SolarSaga 100W Portable Solar Panel may be the perfect choice for those who want to keep their e-bike battery topped up with solar current. 
The panel itself is equipped with a current sensor and is capable of delivering up to 100 watts in full sun. 
It's ultra-lightweight, making it easy to transport and even easier to set up – no more struggling with bulky panels or having to hire an electrician! Plus, you can always count on Jackery's legendary reliability when it comes to quality products. 
On the downside, its price point is quite high compared to other portable solar options, and some customers have reported that it doesn't deliver as much current output as others in the same range. 
Also, it's not the most aesthetically pleasing product out there, with its plain black plastic construction.
All in all, however, the Jackery SolarSaga 100W Portable Solar Panel is a great choice for those who want to keep their e-bike battery charged and are willing to pay a bit extra for reliability and convenience. 
With its current sensor and lightweight design, this panel will make sure you're never left without power when you need it most.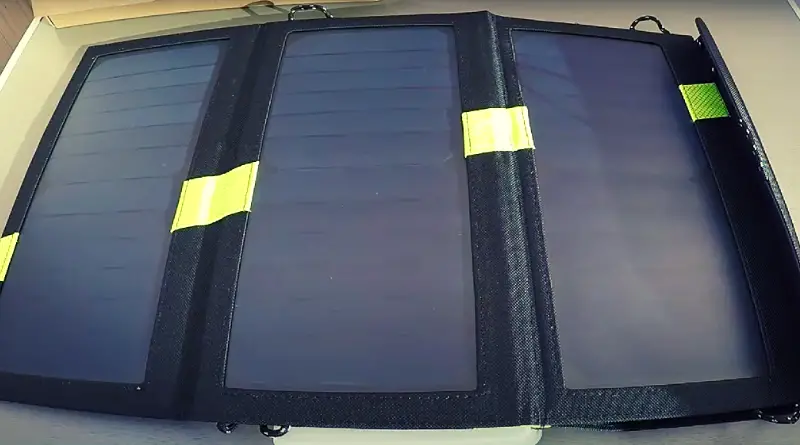 The X-DRAGON portable solar panel has a smart IC, that automatically adjusts voltage and current to achieve maximum power, delivering up to 2.8A when it's sunny
X-DRAGON's foldable 40W solar panel uses US-made solar cells that are up to 23.5% efficient. This is 50% better than common panels, which are 15% efficient
A rugged high-wear Oxford fabric offers weather-resistance and durability for outdoor activities and environments.
The X-Dragon 20W SunPower Solar Charger is a great option if you're looking for a reliable solar charger with a high energy conversion rate. The built-in MPPT charge controller and conversion kit allows you to easily convert your harvested energy into usable power. The Pro Gen technology helps boost the efficiency of the system even further, making it one of the most efficient options on the market.
On the other hand, some of its downsides include the fact that it can be too large for some camping trips and not as portable as other models. Additionally, it's relatively expensive compared to similar models, so you may want to look at other options if you're on a budget. 
Overall, though, the X-Dragon 20W SunPower Solar Charger is a reliable and efficient option for anyone looking to reap the benefits of solar energy. It's an ideal choice for those who want something that will last and efficiently convert their harvested energy into usable power. Plus, it comes with Pro Gen technology for added efficiency. The only potential downsides are its size and cost, but these should not deter you if you're in search of a reliable charger.
Get the latest price for the X-Dragon 20W SunPower Solar Charger by clicking here.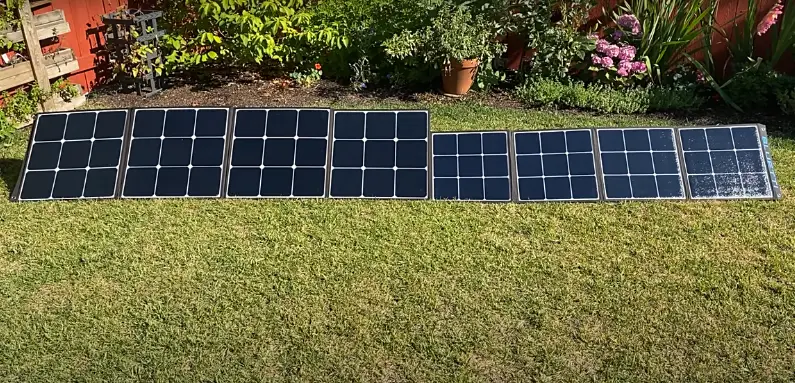 It's got the highest-efficiency monocrystalline solar cell, with up to 23.5% high efficiency, 5% more than normal monocrystalline
It's made with laminated technology and the long-lasting ETFE material allows it to last outside for a long time
Those adjustable kickstands make it easy to set up, and you can adjust the angle to get the best light
Are you looking for a powerful solar panel for your off-grid dream setup? Look no further than the BLUETTI SP120 120W Solar Panel. 
This motor kit is one of the most reliable options on the market and it's easy to see why. It comes with a charge controller that has an ultra-smart MPPT pin for efficient energy management, so you can be sure that your energy needs are met. 
Plus, its design ensures maximum conversion efficiency in low light conditions. The weatherproof construction means it stands up even in the harshest elements without a single issue – perfect for outdoor activities. 
And if you're worried about portability, don't be! This thing weighs just 5 lbs so you can take it anywhere with ease.
Just like the Jackery Solar panel, it's a great mid-market option and is also well worth the price. Speaking of which, check the latest pricing here.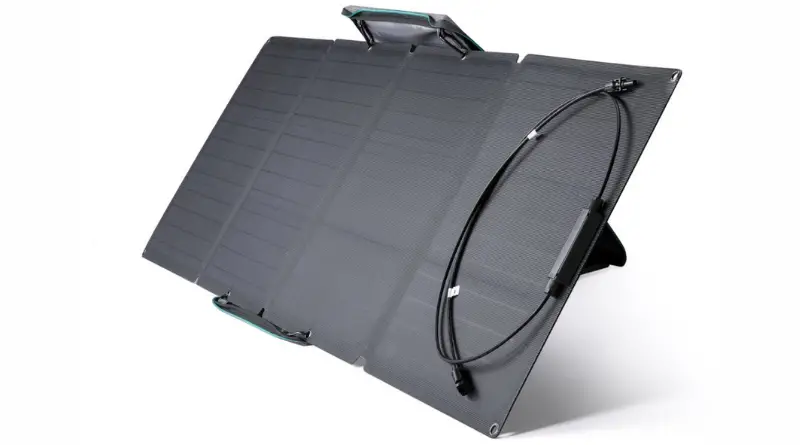 It's portable & self-supporting, making it perfect for short rides
Due to its waterproof construction, it can be used even in the harshest weather conditions.
The EF ECOFLOW 110 Watt Portable Solar Panel is the perfect way to share the sun's power. 
It takes just one simple step to get started, and before you know it, you'll be saving money on your electricity bills and taking part in renewable energy sales. 
Its portability makes it easy to take this amazing piece of tech wherever you go, ensuring that you never have to worry about running out of juice.
This panel comes with some great features like an adjustable kickstand so you can optimize the angle of your solar panel for maximum performance. Plus, its built-in MPPT charge controller provides efficient operation even in low light conditions. 
On the downside, this panel isn't exactly pocket-sized and might not be the best option for camping trips. Also, it doesn't have any weatherproofing features so you'll need to take extra care when using it outside in wet conditions.
You can usually get the EF EcoFlow Solar Panel for a steal. Check the latest pricing here.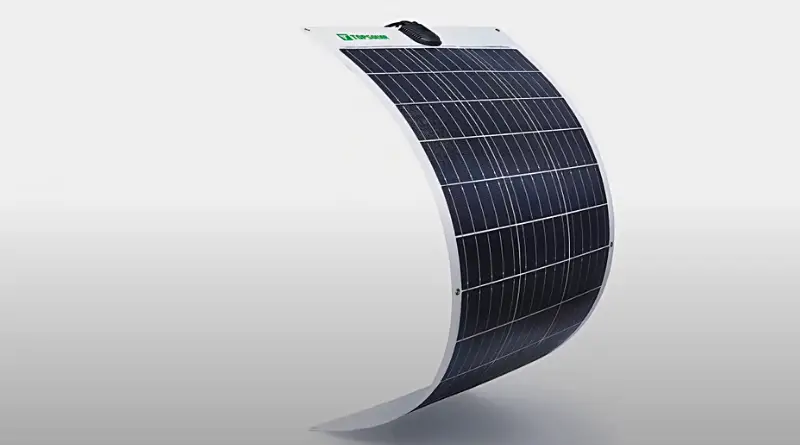 This solar panel is only 0.1 inches tall and weighs 3.97 pounds, so it can be used in most situations where normal solar panels can't
In addition to dirt resistance and self-cleaning capabilities, ETFE materials are tough and easy to clean.
Solar panels made out of waterproof materials. Better than glass and aluminum
This Topsolar Flexible Solar Panel 100W has an interesting feature: it's bendable, so you can put it wherever you want to charge your electric bike. It's also easy to fold and put in your bag.
Monocrystalline solar cells, back contact technology, and removing electrodes on the solar cell surface that block sunshine make this panel up to 50% more efficient than ordinary solar panels. 
ETFE is the material used in the solar panel. The ETFE material transmits light better and lasts longer than ordinary materials. A TPT backplane provides excellent heat dissipation, waterproofing, high temperature resistance, and easy cleaning.
It's perfect for charging 12-volt batteries. You can connect more than one panel in series to charge 24/48 volt batteries. In order to protect the battery, it needs to be used with the controller, and the solar panel can be easily connected to the controller.
The Topsolar flexible solar panel is available in three wattage options; 50W, 100W, and 200W. Check the latest price on each right here.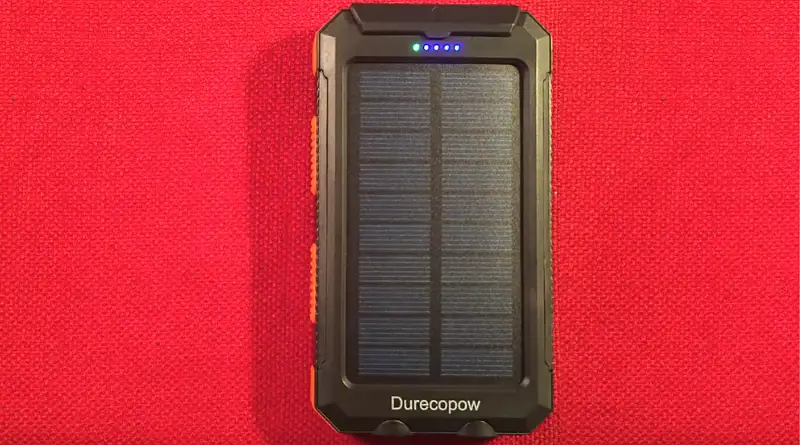 With Steady-SOS-Strobe mode, you can use the LED lights as flashlights.
The dual USB ports are controlled by an intelligent IC and offer high speed 5V/2.1A charging, so you can charge two devices simultaneously. Compatible with most devices.
The Durecopow 20000mAh solar charger is not a full solar charger, but it doubles as a power bank to charge your phone while you're on your electric bike. It's not going to connect directly to your ebike out of the box, but with a few modifications you'll be able to use it as a battery backup.
With its compact design and hook + carabiner, you can attach it to your backpack while camping, and it will charge itself under direct sunlight in case of an emergency.
There is only one place we'd look for the Durecopow 20000mAh solar charger, and you can usually find a deal on it here.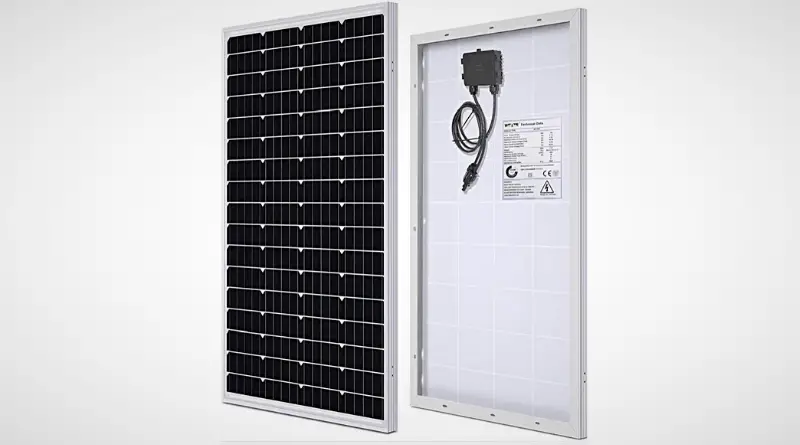 These solar panels are corrosion-resistant and weatherproof thanks to their anodized aluminum frames, tempered glass, and sealed junction boxes.
This industrial-standard solar panel measures 36.4″ x 26.8″ x 1.2″, has a 2.6 foot cable, generates 300-600Wh a day, charges 12v batteries, and can be used for RVs, cabins, sheds, and other small power needs.
Featuring Monocrystalline solar cells which offer a high efficiency of up to 21% compared to Polycrystalline solar cells, the WEIZE solar panel has a long lifespan and requires little maintenance.
It's also got everything you need to set up a full-blown solar power station. You can check out the latest price here.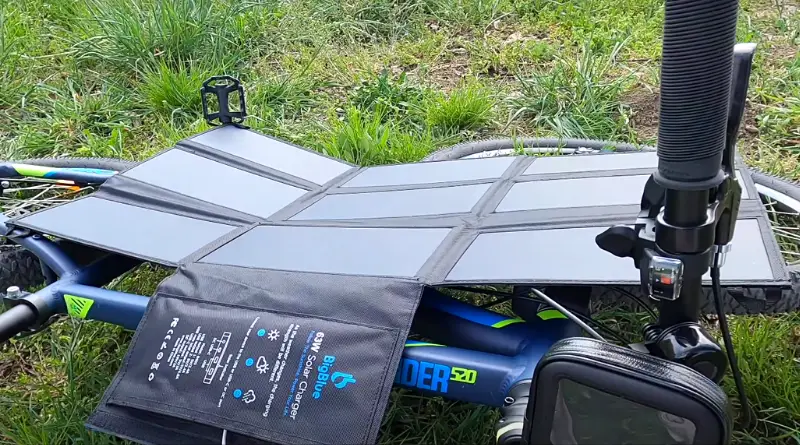 The 42w BigBlue solar charger is made with waterproof SunPower solar panels and durable fabric.
It has two USB ports, one with fast charging, so it's compatible with most 5V USB devices, like iPhones, Androids, iPads, batteries, etc.
Folds like a briefcase, lightweight and portable, so it's great for a long camping trip or if you're traveling somewhere where there's no electricity.
The BigBlue 42W Portable Solar Charger is dependable and efficient. 
It's big and bulky, but the sacrifice in portability means it charges fast. It did a great job charging multiple devices and in marginal or partially shaded conditions. 
The large size makes it a great way to charge all kinds of electronics. I know it's a behemoth, but if you need a little more firepower, it may be worth it. These options are great for car camping with an eBike and other situations where portability isn't as important.
The BigBlue 42W Portable Solar Charger is a cheaper option than most on this list, but you'll have to get the latest price here.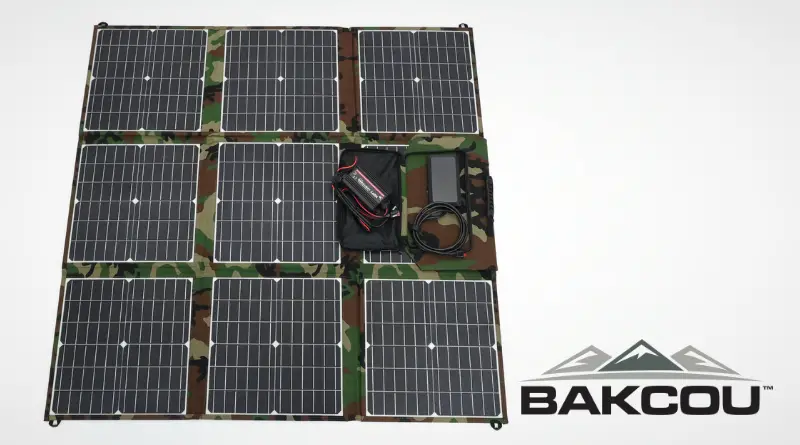 With a clear view of the sun, a 14.5ah battery can be charged within 4-5 hours.
You can request Bakcou for custom connectors/wires on purchase. This is pretty convenient since you don't have to make a DIY for unsupported ebikes.
The BackCountry (Bakcou) solar panel is a large outdoor charging option for electric hunting bikes. 
It comes in a portable and foldable mesh fitted with nine, 18V solar panels for maximum efficiency. Weighs only 6.5kgs, so it's not too heavy to store on your ebike or backpack.
This solar panel from Bakcou costs a wallet-tearing $899 USD, but it's still worth it. Especially when you wanna go on long rides out in the wilderness.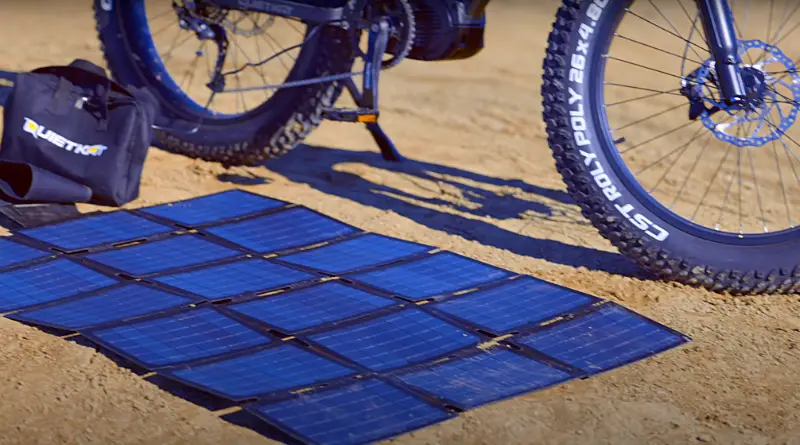 QuietKat offers a 1-year warranty on all its parts.
Each QuietKat portable solar ebike charger comes with financing.
Despite not really being compatible with other brands of e bikes besides QuietKat, this solar panel ebike charging set pretty much takes the top spot for charging QuietKat ebikes.
eBike charging panels connect directly to bike batteries to maximize efficiency. You can set up the panel while sitting in your deer stand, fishing on the water, or relaxing at your campsite.
Once the panel is exposed to direct sunlight, charging takes about the same amount of time as from a traditional outlet. With the included bag, you can carry the panel easily in any of the QuietKat pannier bags for easy transportation.
You can get the QuietKat portable solar charging station from their store for $699 USD, which is really good considering it comes with 18 solar panels connected together.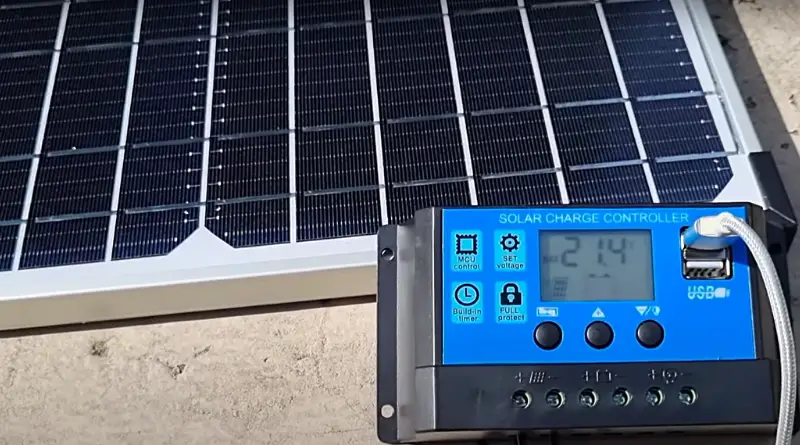 PWM algorithms provide full battery protection: under/over voltage, output overload, short circuit, and anti-back-connection. They improve charging efficiency by 20% without consuming additional energy.
The panel is protected from weathering and wear by high efficiency monocrystalline solar cells, a heavy duty anodized aluminum frame, and tempered glass coating.
Each corner is equipped with a protective case to protect the glass plate and make them more sturdy. Fast installation with pre-drilled holes on each panel for fast mounting and securing. Compared to similar items.
With the Apowery Solar Panel kit, you'll be able to charge various 12V batteries off grid for off grid applications like an electric bike, shed, cabin, gate opener, etc.

However, it's not compatible with lithium batteries. That's a bummer, since most electric dirt bikes nowadays use lithium batteries for better efficiency.
You can however modify the wiring to accommodate a lithium battery. But that will cost you a lot more. However, this is a good solar charger for e bikes that still use lead acid batteries – like kids' ebikes.
The Apowery Solar Panel Kit is the cheapest option on this list so it's great for those on a budget. Check the latest price here.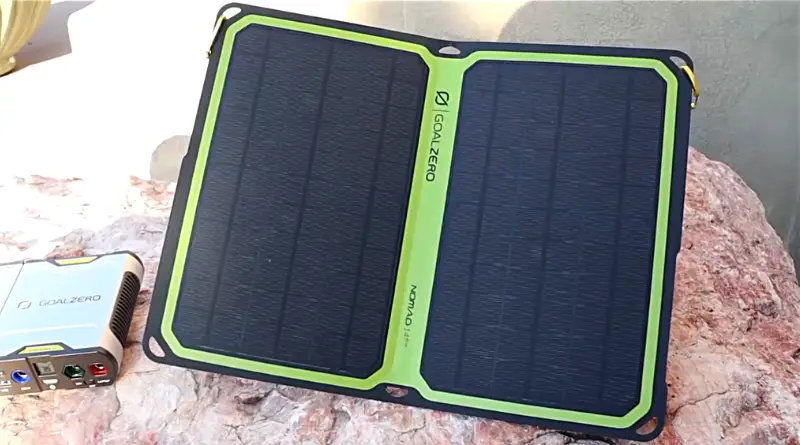 The LED indicator shows the strength of solar conditions and how fast the battery is charging.
Nomad 14 plus has an auto restart feature, meaning your device will automatically restart if there isn't enough sunlight.
There are three versions of the Nomad, the lighter Nomad 7 (7 Watts), the compact and efficient Nomad 10, and this 14 Watt version. 
In 2021 Goal Zero redesigned the NOMAD 14 PLUS to make it lighter and smarter. It has a kickstand that keeps the panel at the correct angle and a power flow indicator to make sure it's charging correctly.
Using power flow history, the auto-restart feature knows the difference between a connected device that's fully charged and one that's disconnected due to a lack of sunlight.
NOMAD 14 PLUS reconnects and begins charging once the sun comes out if it's unplugged before it's fully charged. Ideal for phones, GPS, headlamps, or FLIP 20/30
Depending on what you want, you can pick the solar charger only, Venture 30 or Venture 70 batteries, or even Guide 10 batteries if you just want to charge AAs.
See the current price of Nomad 14 Plus Solar Panel here.
DIY Solar eBike Charger
We've had solar energy for years, but what's a DIY solar eBike charger?
Have you ever seen a house with solar panels on the roof? Sadly, you can't load up your eBike with solar panels for unlimited rides.
I've got something even better.
Manufacturers in the solar-energy industry have created portable solar panels that can be used to charge electric bikes.
What does it cost?
Very little.
Can you charge an e-Bike with a solar panel?
Short answer, you can charge an e-Bike with a solar panel. 
But you'll have to keep the charging speed in mind. Chargers for 48V eBike batteries will need at least two solar panels capable of putting out at least 200W of power if you want to charge your eBike in a day.
How? 
Solar panels with a 200-watt rating produce 200 watts of power.
However, this is the nominal power it can produce under Standard Test Conditions, also called STC. In the real world, getting 100 percent power from a solar panel is rare.
Depending on where you live and the weather, you'll get different amounts of energy.
Sun intensity differs between sunny and snowy places. We call this irradiance.
Thus, expect a higher wattage in the summer and a lower wattage in the winter.
Solar panels are supposed to generate energy based on their wattage multiplied by peak sun hours.
In other words:
Wattage of Solar Panel x Peak Sun Hours = Energy Generated.
In the US, there are four sun hours a day. As a result, you can generate about 400 watts of electricity with a 100 watt solar panel every day.
Additionally, if you live in states like Arizona, Wyoming, or Nevada, you could get up to 600 watts of solar energy every day.
Dust, weather, and other variables can reduce your output by 30 percent.
Why go for DIY e-Bike solar charging instead of using a nearby charging station?
Besides saving you from dragging your bike to the charging station half a mile away, a DIY solar charger will keep you going even if you run out of juice in the middle of nowhere.
Make sure you are out in the sun, plug in that charger, recline on a folding chair, and sip a martini with an umbrella.
Off Grid eBike Charging
Basically, off-grid eBike charging is charging your electric bike somewhere that doesn't have any charging stations or power sockets – in the wild.
Here's where solar panels, power banks, and generators come in. These nifty gadgets could save you from getting stranded in the middle of nowhere.
How do I charge my ebike off grid battery?
Because power banks aren't always big enough to charge your ebike, and petrol generators are too heavy to lug around on the trails, solar charging is your best option.
I've tried a lot of solar charging methods before. Some of them feel a bit like high school science projects. 
Yet I've found the Jackery Explorer 1000 solar generator to be the easiest method so far.
There's a lot of power in this monster solar generator with a hefty 1,002 Wh internal battery that can be charged with Jackery's SolarSaga solar panels. It can also be charged by plugging it into a wall or plugging into a car outlet, but I was really intrigued by the solar charging.
You can plug pretty much any device into it after the battery is charged by the solar panels (or during the charge). In our case, we're gonna plug in an e-bike charger.
Portable Solar Charger for Electric Bike
Portable solar chargers are nifty little gadgets that allow you to charge your ebike using the power of the sun – even away from civilization. 
To figure out how portable solar ebike chargers work, we have to look at how the main component – the solar panel – works.
Basically, solar panels work by knocking electrons free from atoms when particles of sunlight hit them, or photons. 
A solar panel captures this flow of electrons, making it into electricity. Photovoltaic cells create this electricity, and their components turn it into power.
The portable solar charger then accommodates this energy and either stores or feeds it into your electric bike's batteries.
I've found about 5 ideal manufacturers who make them so far – Bosch, QuietKat, Bakcou, Electric Bike Co, and Jackery.
With a solar electric bike charger, you can stop anywhere from the highway to the outback trails and still be able to charge your bike as long as it's daylight.
Solar e-Bike Charging Station
Besides being convenient, you don't need a lot of parts to set up a DIY solar e-bike charger.
To give you an idea how to set up a DIY solar e-Bike charging station, here's an example:
The Jackery Explorer 1000 has multiple power outlets, plus three 110V AC outlets, so you can use solar power for anything you want. The 110V AC outlets and USB ports aren't just for your e-bike. You can hook up other appliances or devices too.
The fact that I can power my phone with solar energy I harvest from the sun makes me happy. I sometimes charge my phone with the unit just for fun.
You need to make sure your Jackery unit is at least partially charged before you can charge an e-bike. Sort of like an energy reserve. With the Jackery, you fill it up with solar power and store it until it's time to charge your e-bike. 
With both the Jackery Explorer 1000 and the solar panels, all you need to do is point the panels at the sun.
It's also possible to leave the main unit inside and run the wires out a window if you want a more permanent setup. Anyone who lives in an apartment with a sun-facing window might find this useful.
Each Jackery solar panel is 100 watts, but Jackery also makes 60 watt panels for smaller units they sell. For more power, you can connect two panels together.
There's a parallel connector in Jackery just for this kind of thing. As long as we charge the Jackery slowly throughout the day, a single panel will be fine for our purposes, but two panels will do twice the work.
In bad conditions (morning light, partially cloudy, etc.), I can get 110W of power. In good conditions, I get over 150W.
Typical e-bike batteries are 500-700 Wh. Jackery Explorer 1000 has 1,000 Wh, so can charge about twice. In most cases, people ride back with a partially charged battery rather than a completely empty one, so 3-4 partial charges are more likely.
The thing I like about this system over direct solar charging is that the solar energy is always there when you need it. My e-bikes are usually charged at night after I use them during the day. In direct solar charging, where I plug my bike right into a panel, I wouldn't be able to charge after the sun goes down. But the Jackery setup lets me solar charge even after dark.
Charging e Bike Battery With Inverter
Your electric bike battery can be charged with energy from your car battery using an inverter. Just make sure you don't have a flat car battery as that'll be way more trouble than a dead e-bike. You can use an alternator tester to shut off the charger when the battery gets low. You can also use an energy monitor to see how much power goes to the bike.
When charging from a car 12V source or solar panel 110V AC inverter, understand where the bottleneck is, which could be the source or the inverter:
In practice, this makes more sense. For instance:
Can we charge a 36V 13Ah battery with a 2A charger from a 12V 10A car power plug with a 200W inverter?
Battery capacity: 36×13= 468Wh
Charger power: 42V x 2A = 84W
Power source: 12V x 10A= 120W
Inverter power: 200W
Yes, you can, because the charger only uses 84W, which is less than 75% of the bottleneck power of the car plug, which is 120W.
If you're charging with solar, you'll need a buffer battery or production rate that's 25% above what the charger needs. Solar panels aren't very efficient, so they take forever to charge even the simplest devices. With a boost module, you can get your solar panel's output voltage to the voltage and amperage your batteries need to be charged.
Considering solar charging your ebike? No need to scour the web for electric bike solar charger options because we compiled them all for you.
People Also Ask
Can you charge an electric bike with a solar panel?
Yes, you can charge an electric bike with a solar panel. Solar panels offer a convenient and sustainable way to power your electric bike. By installing solar panels on your property, you can use the sun's energy to charge your e-bike batteries effectively and efficiently.
How long does it take to charge an electric bike with a solar panel?
A solar panel can charge an electric bike in a few hours depending on the capacity of the battery and the strength of the solar panels.
How do I charge my bike battery with a solar panel?
Charge your bike battery with a solar panel by connecting the positive and negative terminals of the battery to the positive and negative leads of your solar panel, respectively. 
Make sure that both panels are connected properly before switching on the power supply. Finally, turn on the charging switch for your bike battery to start charging it using solar energy.
How do you charge an eBike battery when camping?
Charge an eBike battery when camping by connecting the charger to a solar panel, plugging it into a generator or hooking up to an RV's electrical system.
Which Solar Charger Should You Buy?
Too many to choose from? These are three of our recommendations for the best solar chargers for electric bikes:
Personally, I recommend the Jackery Solar Saga charger because you can pair it with the Jackery solar generator for the most efficient and fastest solar charging.
While it's not cheap, the capabilities it provides are awesome, so I think it's totally worth it. My kinda charging is fast, reliable, and totally off-grid.
Now that you've seen your 10 best options for electric bike solar chargers, why not learn how to charge an electric bike on the road?