Back in 2017, Kuberg released a medium-sized, high-power state of the art electric dirt bike called the Kuberg Freerider. This bike was such a beauty in both features and performance that it quickly became an electric dirt bike darling in the US… But there was a problem. 
It wasn't street-legal. Enter the Kuberg Freerider Street electric dirt bike which is basically the same bike but upgraded and rebuilt for traversing city roads. Was the wait worth it? And does the bike have the grunt to be a beast off road and keep up with the soccer moms? Let's find out…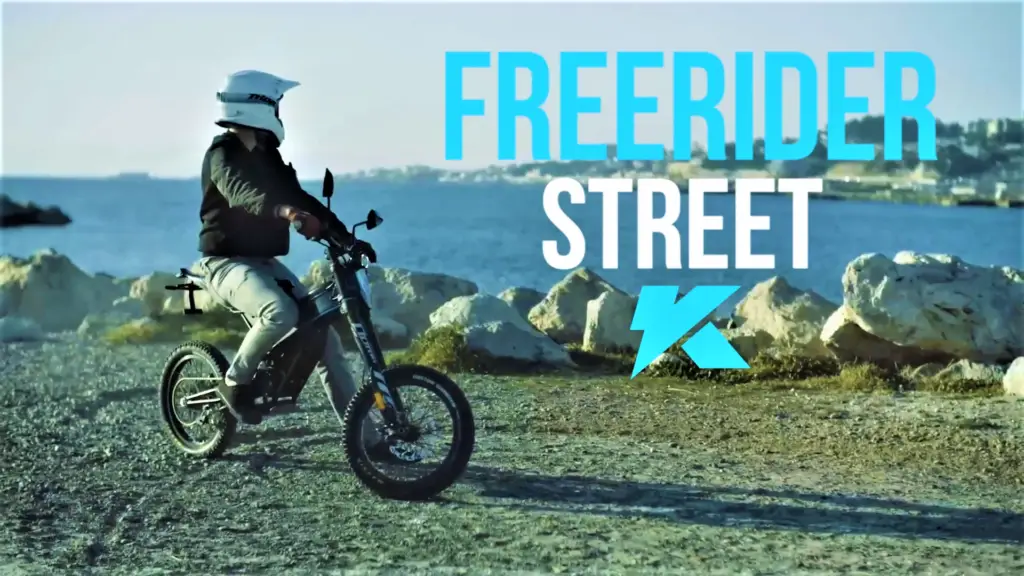 What Is the Kuberg Freerider Street?
The Kuberg Freerider Street Edition is a medium-sized electric motocross bike built for short trips around city streets and suburban roads but its uses don't stop there. It could also perform stunts when ridden by an experienced rider. Given the bike's slightly under-sized form, the Freerider Street Edition better accommodates teens than fully grown adults. But don't worry as both get the full experience the bike offers nonetheless.
Kuberg Freerider Street Detailed Overview and Competitor Comparison
Freerider Street Electric Dirt Bike Main Features
Like its off road-only counterpart, the Kuberg Freerider Street electric dirt bike features bits and pieces not commonly found on other bikes in the electric dirt bike scene. Some of these features include wi-fi app connectivity and wireless performance configuration. You can even view your bike's current status (such as odometer and battery level) through your mobile phone.
Kuberg Freerider Street Display and Batteries
Like all Kuberg bikes, the Freerider Street doesn't come with a built-in display. This is a big disadvantage considering this bike's also meant to traverse the most dangerous terrain of all — the streets. However Kuberg makes up for this downside by including a connectivity feature to pair your mobile phone to the Freerider Street using wi-fi and Kuberg's Volt app.
The Kuberg Volt is a mobile phone application which allows you to wirelessly view your Kuberg bike's current status and configure its performance. It also allows your mobile phone to act as a heads-up display which shows the bike's odometer, speedometer, and battery level.
A 48V 22.2 Ah Power Force lithium-ion polymer battery powers the Freerider Street, giving it a short operating time of one hour, but this is on max power setting. The bike's operating time on lower settings is in the 2.5 to 3-hour range, which is pretty good.
The battery also comes with its own 48V charger which provides a quick charging time of 2.5 hours on 220V outlets. What's cool about it is that Kuberg offers an optional quick(er)-charger which reduces the charging time to just 30 minutes. This is probably the quickest recharge time among all the electric dirt bikes we've reviewed.
Freerider Street Frame
The Kuberg Freerider Street electric dirt bike features a powder-coated, double-cradle frame with steel tubing. Powder coating adds to the steel's solidness, allowing the frame to withstand damage and last even longer. A double-cradle frame uses two tubes running under the motor to support it. This is better than a downtube frame, which only has a single tube to support the motor, as it provides a much higher strength and rigidity.
Despite having a solid frame, the Freerider Street can only carry up to 220lbs (or close to 100kg) for it to effectively function. The frame itself weighs a super light 79lbs which makes it easier to carry or transport. This favour's significantly versus KTM Freeride E-XC's 203lbs and Zero Motorcycles FX's 247lbs. In fact, Kuberg's Freerider Street is one of the lightest adult electric dirt bikes available. 
Freerider Street Motor and Transmission
A 48V 8kW mid-mounted gearless direct drive hub motor propels the Kuberg Freerider Street to a maximum 34mph (or 55 km/hour) top speed. Kuberg claims that this bike is a torque monster at max setting but didn't provide details on exactly how many little monsters are available.
The bike also runs using a single-speed transmission which allows for a simple twist and go mode of operation. This makes it easier to operate the bike but compromises safety as the sudden acceleration can be too much to handle new riders.
As mentioned earlier, the bike's motor performance can be adjusted remotely using the Kuberg Volt app on your mobile phone. This allows riders to customize the bike on the fly according to riding style, environment, and many other factors.
Freerider Street Brakes and Suspension
The sweet stuff lies in the Freerider Street's brakes. This bike uses a highly advanced hydraulic Tektro Auriga system with hardened SBT 35 203mm brake discs. The Tektro Auriga disc brake caliper and lever combination uses an open system design using safe mineral oil. This is good if you are searching for a high quality hydraulic brake system at good value.  
Hydraulic systems are deemed more efficient than mechanical disc brakes so you just need to apply less pressure to the lever for the same level of braking power. This means you can get better modulation. A hydraulic system is sealed so no outside material can get in and affect brake performance. The 203mm diameter brakes are also a good size for this bike, and should provide more torque on the rotor when slowing the bike.
In terms of reliability, power and feel, we highly recommend Tektro brakes as they make the best brakes for mid-class off-road bikes like the Kuberg Freerider and its variants.
Click Here To Read Our Kuberg Freerider (Dirt Only) Review
Despite the "Street" word in its name, this Freerider variant comes with the same suspension found on the base model, Kuberg's Freerider. The Kuberg Freerider Street features a Manitou Dorado Expert front fork and 7 inches of travel. A DNM Burner rear shock also provides exceptional support through various terrain.
Freerider Street Tires & Wheels
Kuberg equipped the Freerider Street with Maxxis Creepy Crawler tires for additional effectiveness in both crawling over tough terrain and creeping around city traffic. It's a good choice of rubber.
Though the Kuberg Freerider Street electric dirt bike comes standard with unmatching 26" and 24" front and rear wheels respectively, there are other front tire size options to choose from. You can choose to equip the bike with matching 20" wheels or 24" wheels.
For dirt bikes, a bigger front tire is usually beneficial. The front wheel absorbs impact and steers your motorcycle. That said, making the front wheel larger in diameter will greatly help improve its handling and stability on the trail.
Kuberg Freerider Street Electric Dirt Bike Tech Specifications
The Kuberg Freerider Street electric dirt bike's components can be quite a mouthful, so here's a simple breakdown of its tech specs:
Manufacturer Name
Kuberg
Model Name
Freerider Street Edition
Model Year
2020
Motor Manufacturer
Kuberg
Motor Model
Kuberg Mid-Mounted Gearless Direct Drive Hub
Motor Power
48V, Peak power > 8kW
Motor Placement
Centrally-placed
Controller
KUBERG BLDC PRO
Power Pack
48V 22.2 Ah Power Force lithium-ion polymer battery
Battery Capacity
22.2 Ah
Battery Removal
Quick removal
Range
up to 1 hour
Ride Mode
Enduro / offroad (Trail, Sand and Snow)
Regenerative Braking
None
Throttle
Twist Throttle
Gears
None (1-speed automatic)
Top speed
34 mph (55 km/h)
Weight
79 lbs (36 kg)
Materials
Powder-Coated Steel
Seat height
34.5″ (86 cm)
Suspension
Manitou Dorado Expert 180mm with air pump front
DNM Burner RB-RCP rear
Display
Fixed LED Battery Level Indicator(Features mobile phone connection which can act as speedometer)
Purpose
Street, hard packed dirt
Connectivity
WiFi ready – adapter sold separately
Security
Connectable to mobile phone via Kuberg Volt app
Where Can I Get a Kuberg Freerider Street Electric Dirt Bike?
Residents in the United States can get the Kuberg Freerider Street through the Kuberg California website. But they can also visit 4 main dealerships in Florida, California, Indianapolis, and New york.
What Is Kuberg After-Sales Support Like?
Kuberg values the quality of its customer service. They have branches in North America located in Florida and New York. You can also visit their main support page, or contact them through 954 323 6531 or through a contact feature on their website.
Kuberg Freerider Street Electric Dirt Bike Videos
Want to check out the Kuberg Freerider Street electric dirt bike in dynamic action? Check out these YouTube videos:
Choice Kuberg Freerider Street Electric Dirt Bike Commentaries
If you want to know more about the Freerider Street, don't hesitate to check out these comments from people who got the bike.
"Well i've had this fker on order for nearly 2 years now and finally i picked it up last night. Kuberg has been doing some shows and events in UK recently to promote the brand and they have been running races and shows at the Arenacross in sheffield and London. The top lads at EScape agreed to fetch my bike back up north with them.
The bike itself is a proper laugh to have a play on. The spec has increased massively since the original concept. It has a decent set of front forks on it now as well as a half decent rear shock. The wheels and tyres are a strange one as they are a unicycle size but it works. The motor was upped to 8kw from the original 2kw planned. There are 3 power modes so of course it went straight to the top power for a little play last night. Its very manageable but still very powerful. Its under 40kg so its easy to throw around and the battery apparently lasts an hour at a decent pace. I've not tested this out yet though. Before I took it in I tried power level 1 and it was bloody lame, very beginner friendly, the power delivery very slow and forgiving."

-dukenukem (KTM Forums)
"I took my bike out for the first time today, and I had the time of my life. (I'm an adult, by the way. Anyone can have a blast with this thing.) I'd recommend setting your bike to the lowest torque mode if you've never ridden a dirt bike before. My bike was originally on race mode, and I crashed pretty badly. The handlebars got scuffed up and the bike wouldn't run for about 15 minutes. But the bike worked perfectly after that period. It is very durable.
Riding on the beginner's mode, I quickly became used to rate of acceleration. I felt in control. The bike was incredibly responsive while turning and braking. The bike went over cracks, curbs, grass, hills, etc. like it was nothing. Today, I rode for about 45 minutes straight (probably 15 of those minutes at top speed), and the bike is still more than halfway charged. Its range is incredible."

-lynxkeeper (Amazon)
Kuberg Freerider Street Electric Dirt Bike Image Gallery
Here are some snapshots of the Kuberg Freerider Street electric dirt bike for a better viewing angle: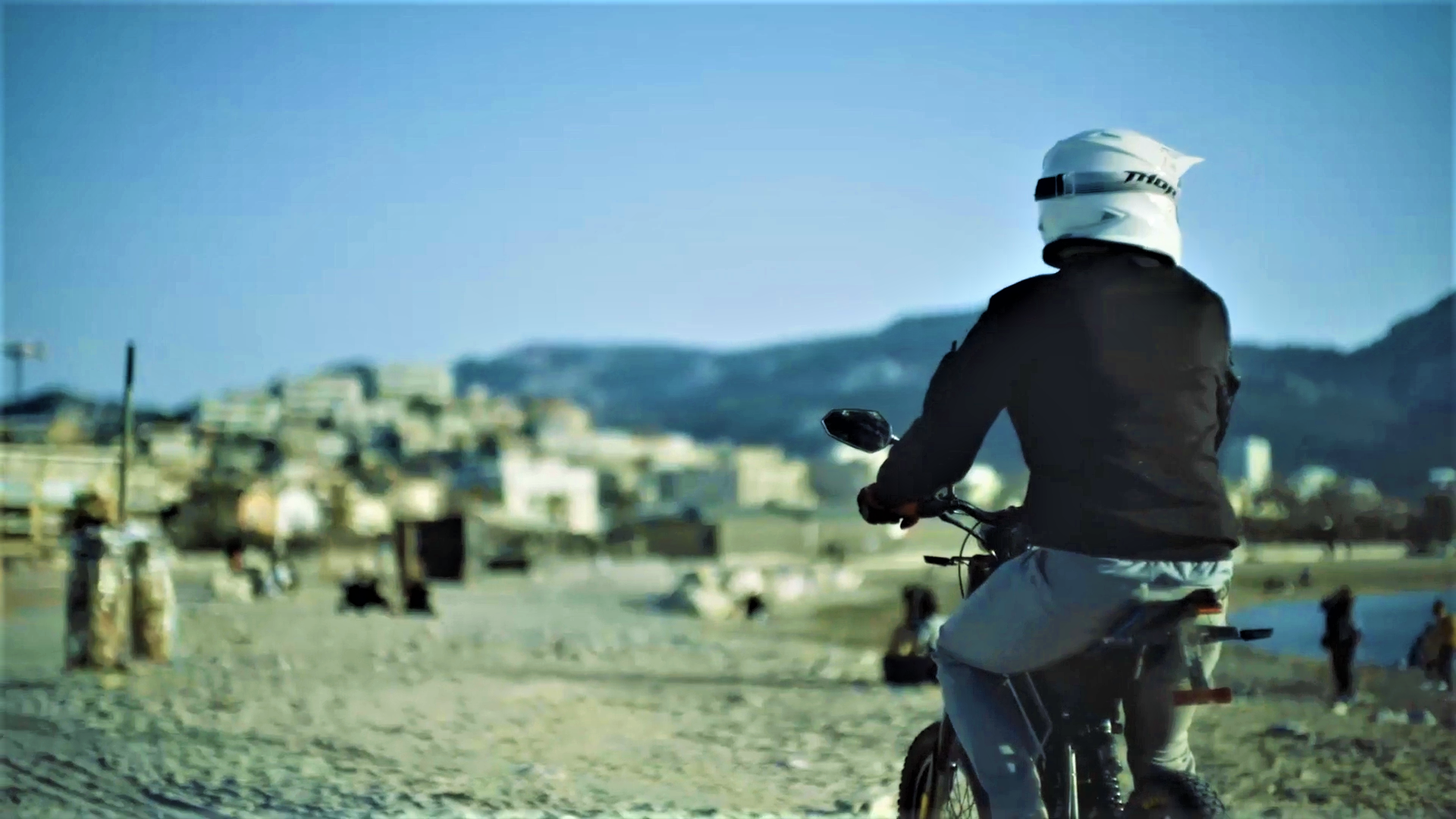 Also read: Luna Cycle Sur Ron X (Black Edition) Electric Dirt Bike Review