The Stealth F-37 light electric dirt bike is another revolutionary release from Lockheed Martin Stealth Electric Bikes. Armed with state of the art components and designed like an Raptor fighter jet, this bike can easily fly through the most difficult trails — at least according to Stealth's promotion material. But what if we dug deeper and dissected the F-37? Will it's performance prove as 'extraordinary' in the dirt as it is in Stealth's media kit? Read on to find out.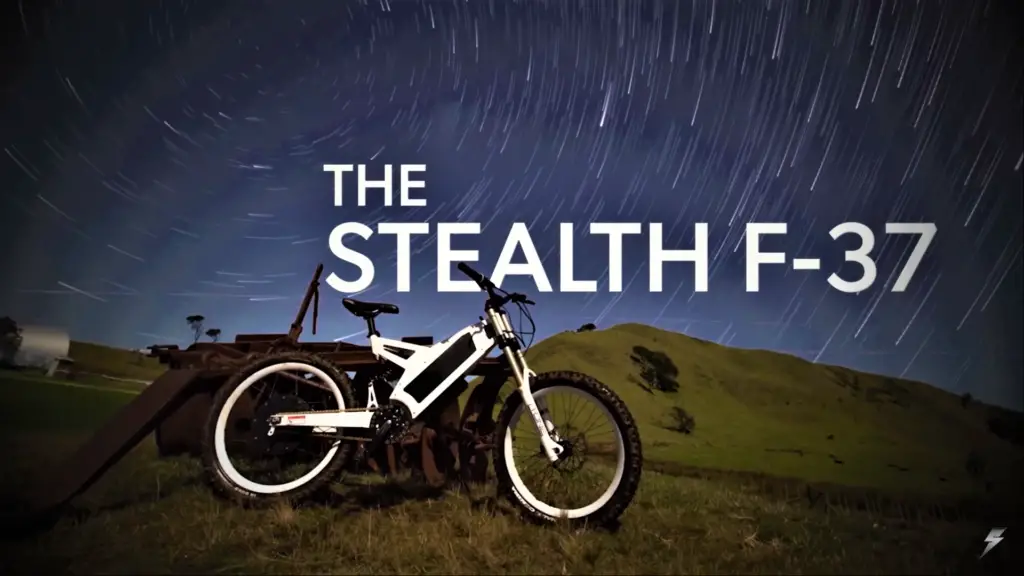 What's the Stealth F-37 and Who's it For?
The Stealth F-37 light electric dirt bike is a hybrid electric dirt bike with pedals instead of pegs. So if you're the type to pedal part way around the trails with some power assist, and crack the throttle open to feel that rush of effortless torque during your ride, then this is the perfect bike for you. Going by the colloquial name of "Street Fighter," it's the third light electric dirt bike in Stealth's lineup following the B-52 "Bomber" and the H-52 "Hurricane". The F-37 is also sometimes referred to as the B-52's little brother due to being similar to it albeit a bit leaner.
Click Here to Read Our Stealth B-52 Light Electric Dirt Bike Review
The Stealth F-37 light electric dirt bike's tall seat height makes it very recommended for adults, or if you have tall teens then they could ride it too.
F-37 Detailed Overview
Stealth F-37 Light Electric Dirt Bike Main Features
The best thing about the Stealth F-37 light electric dirt bike is that it features a full suspension system. This means that both the front and rear wheels are suspension supported, as well as the seat. This allows for a very smooth (and less painful) ride in rough terrain. 
Hybrid electric dirt bikes straddle two worlds: electric dirt bikes and electric mountain bikes. Hybrid electric dirt bikes sport frames more like rugged mountain bikes, and often include pedals, but also powerful electric motors and suspension systems not found on your typical full suspension mountain bike. Peddle power helps boost the Stealth F-37's range by using pedal assist instead of doing a full-on throttle which tends to significantly reduce your battery level and range.
F-37 Display and Batteries
Stealth's patented DC-1 display allows riders to read vital data and stats in real-time. It displays widgets such as speed, battery consumption, range estimation and efficiency, along with the usual data such as battery level, temperature and the odometer. Its innovative layout and user-friendly menus translate to a great experience for even the most novice riders.
The Stealth F-37 light electric dirt bike's 1.5kWh lithium ion battery offers solid safety and dependability on the dirt trails giving you a decent range of up to 60 miles or about 2 hours. The F-37 batteries also come with a 'built in' charger that provides a 3-hour recharge time. The advantage of a built in charger is that it allows you to straight out park right next to a household outlet and start stocking up on those vital electrons.
A full top up only takes 3 hours — a great recharge time for a bike with 60 miles of range in 2020. This is way better than other light electric dirt bikes such as Luna Cycle's Sur Ron X which has only 50 miles of range and a 3.5 hour recharge time.
Click Here to Read Our Luna Cycle Sur Ron X Review
Stealth F-37 Frame
Like both its siblings— the Stealth B-52 and H-52, the Stealth F-37 light electric dirt bike comes with an aircraft-grade chromium molybdenum frame with carbon panels. Chromium molybdenum is a midweight frame material that can withstand extreme heat and pressure. This means you can put the bike through the worst of terrain and environmental punishment and still come out with barely a dent on the frame. The carbon panels help protect the bike components while keeping the extra weight to a minimum. It's an outstanding material selection by Stealth.
In terms of dimension, the Stealth F-37 comes in a large-size frame with enough seat height adjustability to suit most riders ranging from 5'4" up to 6'4." If you're… horizontally challenged… you're probably ok with the Stealth F-37 because the bike carries a maximum rider weight of 264lbs.
The F-37's structure shares a profile similar to that of a large downhill mountain bike. This means that you can still load it on a heavy-duty bike rack, or easily transport it in an elevator or small vehicle. This gives hybrid electric dirt bikes a strong advantage over their traditional form factor peers.
Stealth F-37 Motor and Transmission
A torquey Crystalite brushless DC rear hub motor effortlessly propels the Stealth F-37 light electric dirt bike up to a top speed of 38mph with the throttle alone. The bike also comes with pedals so you can use your legs to help the motor out. Transmitting pedal power to the bike's rear wheel through the 2-speed, internally geared bottom bracket also helps improve range, efficiency and acceleration.
The bike also comes with two ride modes — economy and competition mode. Economy translates to a pedal assisted mode of operation where the bike's maximum speed tops out at just 15mph, but provides a range of 60 miles. Competition mode makes use of the motor's full power as well as the throttle's and provides a top speed of 38mph but only 25 miles of range.
Stealth F-37 Brakes and Suspension
The Stealth F-37 light electric dirt bike comes standard with Magura MT5 4 piston hydraulic brakes on both front and rear. Though these german-made brakes are already considered competition-grade, riders have the option to upgrade to Magura MT7 brakes which have a stronger bite and faster lever response.
To further increase the bike's range, Stealth equipped the F-37 with brake regeneration. This allows the friction energy produced during braking or coasting to stream back into the battery and refill the battery level.
The most interesting part about the Stealth F-37 is its suspension. It features a full — or let's say triple — suspension system which not only adds shock absorption to both wheels, but also to the seat. Yeah, that's right — just like your grandad's old Harley. The F-37 uses Fastace forks with 200mm of travel along with a DNM rear shock with the same amount of travel, and a Stealth OEM spring seat shock. 200mm of suspension travel allows smooth shock absorption even on tall drops. 
Fastace is an expensive high quality suspension brand, so you can expect exceptional durability on your forks. DNM, on the other hand, is known for being budget-friendly and easy to replace, but belongs to the lower end of the gradient when it comes to durability. Expect to have to frequently replace your rear shock if you like riding extreme terrain.
Stealth F-37 Tires & Wheels
Standard on the Stealth F-37 light electric dirt bike are two 24″ alloy wheels wrapped with Duro Razorback off road tires. Given the bike's uniform wheel size, it wouldn't do too well on downhill treks since downhill bikes require a bigger front wheel for a more stable ride. 
Duro Razorback tires are quite competitive when it comes to off road grip, but quite slippery on the streets. If you want to ride your Stealth F-37 on the streets, you have the option to upgrade to Schwalbe Crazy Bob street tires upon purchase. Crazy Bobs are known for their exceptional grip on city streets and also provide extra durability due to their thickness.
Stealth F-37 Light Electric Dirt Bike Tech Specifications
To orient you about what the Stealth F-37 light electric dirt bike's construction looks like, here's a thorough breakdown of its tech specifications:
Manufacturer Name
Stealth Electric Bikes
Model Name
F-37 "Street Fighter"
Model Year
2020
Motor Manufacturer
Crystalyte
Motor Model
Crystalyte series brushless DC motor
Motor Power
3.7kW 
Motor Placement
Rear hub mounted
Controller
N/A
Power Pack
1.5kWh Lithium ion
Battery Capacity
1.5kWh (3 hours recharge time)
Battery Removal
Easy slide out with panels
Range
60 miles @ 15mph
Ride Mode
Economy mode – 60 miles @ 15mph max speed
Competition mode – 25 miles on full throttle
Regenerative Braking
Yes
Throttle
Variable twist throttle
Gears
2
Top speed
38mph
Weight
88lbs
Materials
Aircraft grade chromium molybdenum
Seat height
Adjustable to suit most riders ranging from 5'4" up to 6'4"
Suspension
Fastace 200mm travel forks
DNM 200mm rear shock
Stealth OEM seat suspension
Display
DC-1 display (speed, battery consumption, range estimation and efficiency)
Purpose
Street, offroad
Connectivity
N/A
Security
Key operated ignition with handlebar lock
Where Can I get a Stealth F-37 Electric Dirt Bike?
If you've already seen the Stealth F-37 light electric dirt bike in person, or want a hassle-free way to get the bike, the best place to get it would be at Stealth's US website. Otherwise, if you want to check the bike out in person, or give it a test ride, you can visit one of Stealth's dealerships all over the United States. Stealth maintains a good concentration of large dealerships in Washington, Oregon, California, and Florida along with smaller shops in Louisiana, Virginia and Massachusetts.
What is Stealth's After-Sales Support Like?
United States' Stealth dealerships are generally very accommodating and ready to support customers in need of on-site services such as repair, bike modifications or tech tips. You can also email their customer-support address at [email protected] or contact them through their landline at +1 888 436 2219 US. Stealth also provides a lifetime warranty for every bike you purchase from their website or any of their dealerships around the world.
Stealth F-37 Videos
Want to see the Stealth F-37 light electric dirt bike in action? Check out these YouTube videos:
Choice Stealth F-37 Light Electric Dirt Bike Commentaries
If you'd like an idea on what people think of the Stealth F-37, check out these commentaries from reviewers on YouTube:
"After 2 years I've put on over 4,700 km of jumps, wheelies and all sorts of fun.
The Stealth Fighter has been one of my favourite bikes I've ridden and I plan to continue riding for many years."

-Brandyn Mears (Source: YouTube)
"Stealth rates the Fighter as 3700 watts peak output, but they burst more.  I was pulling about 4100w in the sand. I have owned both the Bomber and Fighter. and soon the new P7.  When I first got the Fighter, I liked it better than the Bomber. but then I went back to liking my Bomber better.  My dad who is 71 likes the Bomber a lot more and has taken temporary possession of it, as I can only ride one bike at a time.  I recently sold this bike in the video, I will never sell my Bomber.  Unless you are  a shorter person, say under 5'8″, get the Bomber.   For the inseam challenged, the Fighter does have more stand over clearance."

-Rix Babs (Source: YouTube)
Stealth F-37 Pictures
Given the Stealth F-37 light electric dirt bike's awesome profile, we know you'd want a look at the bike from different angles. Here are some images you might wanna check out: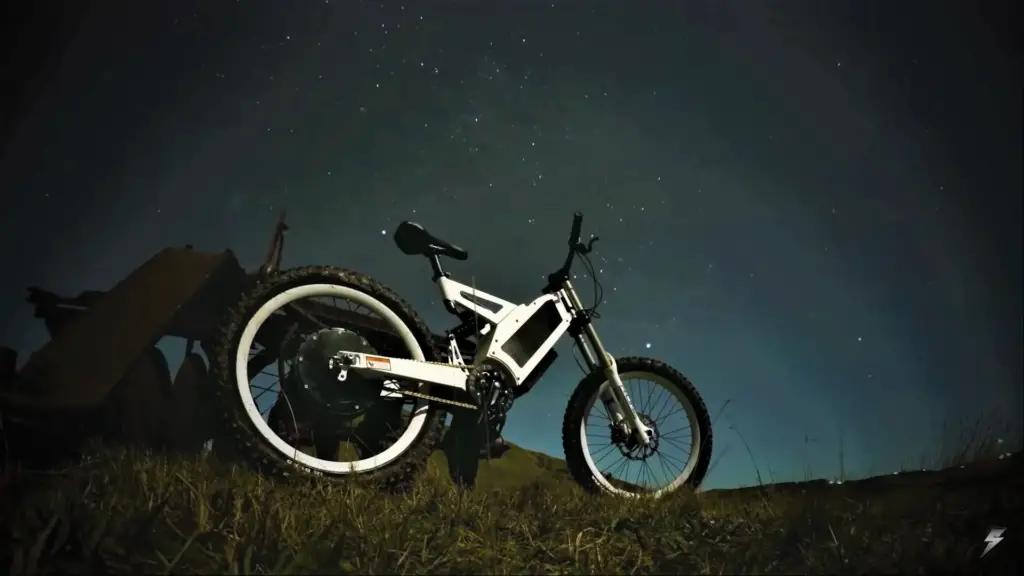 Also read: Kuberg Freerider Electric Dirt Bike Review