What's that buzzing around you? A giant fly? No, it's the Kuberg Freerider electric dirt bike.
No electric dirt bike looks or feels as out-of-this-world than the Kuberg Freerider. Its appearance is that of a mosquito on steroids… and with wheels. But, faster. And stronger. And, rather than blood, it sucks the boredom right out of you.
This electric dirt bike was built for two important objectives: First, to help adults relive their best juvenile memories (the legal ones) and, second, for kids to craft those fantastic memories. Yes, all that at the cost of just $3,999 USD.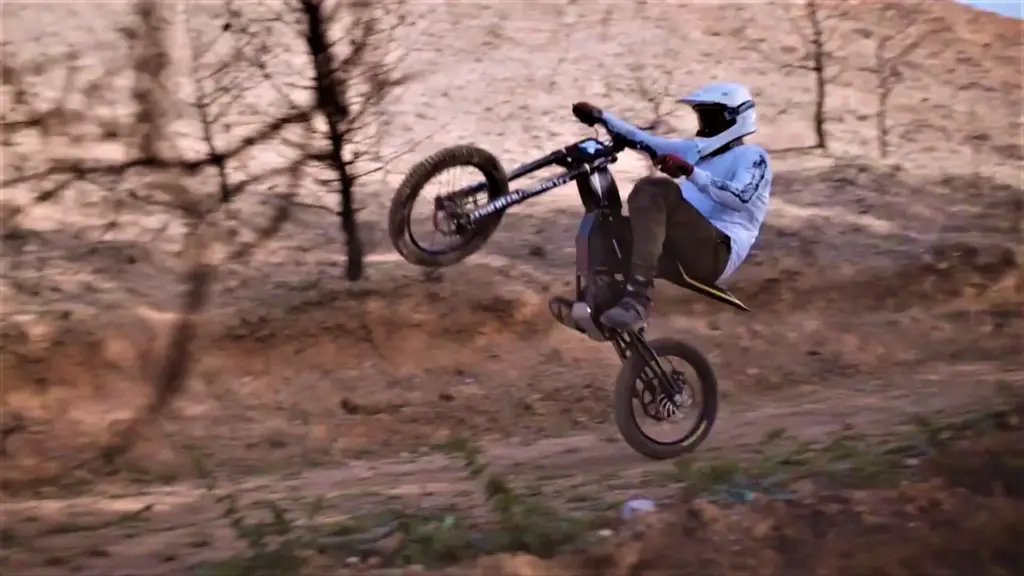 What Is the Kuberg Freerider?
The Kuberg Freerider is a mid-power lightweight electric dirt bike purpose-built for short fun rides across dirt trails and small hills. It is the first of two Freerider variants, the other being the Freerider Street which is remodelled for non-offroad purposes.
Overview
Features
The Kuberg Freerider bears qualities that are considered rare in the electric bike industry. For one, its mobile phone connectivity allows riders to configure their bike's performance via Wi-Fi connection using the Kuberg Volt mobile app. The app also allows functions like speedometer simulation, firmware updates, and riding stat monitoring. This provides riders with real-time awareness of their bike's status.
Connectivity just scratches the surface of this bike's feature list, however. The Freerider also includes [your feature list]. Let me walk you through the great and not so great characteristics of this little electric mosquito. 
Display
Starting off with a wimper, the Kuberg's display is a bit of a bore compared to the rest of the bike. No LED indicators whatsoever. But it gets worse: the fixed LED battery level indicator with Green, Red, and Blue lights means it's difficult to tell exactly how far you've gone and exactly how much battery power you have left.
Don't fret though as the Freerider comes with mobile phone connectivity, allowing your mobile phone to act as a heads-up-display. In this regard, the Kuberg app — Volt — is incredibly informative, showing your battery level and speedometer as well as allow you to monitor your bike's condition on the fly. Just make sure to fasten your phone somewhere so you're not riding with one hand. On the dashboard for example, or on the handlebars.
Frame
Constructed with a powder-coated, double-cradle frame with steel tubing, this electric dirt bike bears exceptional structural integrity. A double-cradle frame uses two tubes running beneath the engine in order to support it instead of one steel tube on a single cradle frame. It provides a significant advantage over a downtube chassis in terms of strength and rigidity while also being cost-effective. It has a curb weight of just 79 pounds which makes it ultra-light and easily hand-carried and transported.
Transmission
The Freerider electric dirt bike uses a 1-speed automatic drive with chain. This type of drive makes the bike accessible to inexperienced newcomers to the 2-wheel world.
A 1-speed automatic drive also provides instant power but affects stability as there is no way to control power output. This can prove dangerous to newbie riders as they can quickly lose control of the bike. An unintended twist of the throttle can launch the bike forward, bucking the rider off.
Motor
A 48V mid-mounted gearless direct drive hub propels the Kuberg Freerider with 8000W of power. That is pretty remarkable considering this is an small-sized ultra-light bike. 
It has enough power to reach a top speed of 34mph (55km/h), fast enough to safely bomb through dirt trails. The power output and top speed can also be configured through the Kuberg Volt mobile app.
Batteries
A 48V Power Force lithium-ion polymer battery powers the Kuberg Freerider with 22.2Ah of capacity. This is a reliable battery with a lifespan of over 1000 cycles.
Unfortunately, this battery can only power the Freerider for up to 1 hour on full throttle before it needs to recharge, cutting the fun off right before it's truly enjoyed. This can also prove a hassle especially on lengthened off-road rides.
Regular recharge time is shown to be 2.5 hours from a 110 V or 220 V outlet. A quick charger is also available as an optional accessory. Quick charging reduces wait times to just an hour.
Brakes
An effective electric dirt bike needs effective brakes. The Freerider features a hydraulic disc brake system using Tektro Auriga hardened 203mm brake discs. Tektro's well proven Auriga brakes aren't light and stock pads aren't great but they're reliable at best.
These brakes provide an amount of stopping power achievable only with hard braking, except with only one or two fingers on the lever. This proves useful in dirt situations where staying on your bike and not bailing is crucial.
It also comes with sintered brake pads on both front and rear. Sintering is the fusing together under heat and pressure of metallic particles and in the case of brakes it blends various other elements to enhance friction properties and wear life. A sintered brake reduces the heat that regular discs generate and to ensure longer disc lifespan.
Suspension
The Kuberg Freerider's suspension comes in the form of a Manitou Dorado Expert front fork with air pump and 7in travel, and a DNM Burner RB-RCP rear shock to provide exceptional support through various terrain. Manitous and DNMs are examples of cheap but reliable suspension.
Tires & Wheels
20″ x 2.5″ Maxxis Creepy Crawler front and rear tires rest beneath the suspension. These tires are purpose-built for offroad use and provide maximum traction even in wet conditions.
The front wheel can optionally be upsized to 26". This gives the bike an irregular layout that further expands its off-road performance. The reason the front wheel has a larger diameter is to take and manage impact better. The larger size gives the bike better handling and stability in possible rough roads which ultimately protects the rest of the bike.
Kuberg Freerider Tech Specifications
The Kuberg Freerider is a great bike built with great enthusiasm. If you want to know the things that make up this awesome ride, here's a breakdown of the bike's main parts:
Manufacturer Name
Kuberg
Model Name
Freerider
Model Year
2017
Motor Manufacturer
Kuberg
Motor Model
Kuberg Mid-Mounted Gearless Direct Drive Hub
Motor Power
48V, Peak power > 8kW
Motor Placement
Centrally-placed
Controller
KUBERG BLDC PRO
Power Pack
48V 22.2 Ah Power Force lithium-ion polymer battery
Battery Capacity
22.2 Ah
Battery Removal
Quick removal
Range
up to 1 hour
Ride Mode
Enduro / offroad (Trail, Sand and Snow)
Regenerative Braking
none
Throttle
Twist Throttle
Gears
None (1-speed automatic)
Top speed
34 mph (55 km/h)
Weight
79 lbs (36 kg)
Materials
Powder-Coated Steel
Seat height
34.5″ (86 cm)
Front Suspension
Manitou Dorado Expert 180mm with air pump front

DNM Burner RB-RCP rear
Display
Fixed LED Battery Level Indicator
(Features mobile phone connection which can act as speedometer)
Purpose
Dirt, Sand
Connectivity
WiFi ready – adapter sold separately
Security
Connectable to mobile phone via Kuberg Volt app
After-Sales Support
Kuberg deeply values the quality of its customer service. They're based in the Czech Republic and you can contact them at +420 608 757 353 or via email at [email protected]. You can also visit their headquarters at Mankovice 158, 742 35 Mankovice, Czech Republic. 
Live in the United States? Don't worry, Kuberg also has a branch in North America located in Florida. You can contact the US branch at 954 323 6531 or via email at [email protected].
Where Can I Get One?
The best place for US residents to get the Kuberg Freerider is through Kuberg's North American website. Kuberg also distributes to dealers all across the Czech republic and North America. There 4 main dealerships in the US. These dealerships are based in Florida, California, Indianapolis, and New york. They all provide complete service packages to customers.
Kuberg Freerider Videos
A written description is never enough. Sometimes you have to see the bike in action to believe. Here are some videos about the Kuberg Freerider electric dirt bike:
Kuberg Freerider Choice Commentaries
Want to find out what people are saying about the bike? We've gathered some commentary about the Freerider from various sites. Check them out here:
"I took my bike out for the first time today, and I had the time of my life. (I'm an adult, by the way. Anyone can have a blast with this thing.) I'd recommend setting your bike to the lowest torque mode if you've never ridden a dirt bike before. My bike was originally on race mode, and I crashed pretty badly. The handlebars got scuffed up and the bike wouldn't run for about 15 minutes. But the bike worked perfectly after that period. It is very durable.
Riding on the beginner's mode, I quickly became used to rate of acceleration. I felt in control. The bike was incredibly responsive while turning and braking. The bike went over cracks, curbs, grass, hills, etc. like it was nothing. Today, I rode for about 45 minutes straight (probably 15 of those minutes at top speed), and the bike is still more than halfway charged. Its range is incredible."

-lynxkeeper (Amazon)
"The Freerider appeals to a VERY wide range of riders! It is a teenage sized bike that adults will have a blast on as well. The weight capacity on the original website was listed incorrectly. The Freerider has a capacity of 220lbs or 100kg! The bike can be set up for taller riders simply by adding taller bars or gooseneck (downhill mountain bike parts). Who will want to ride a Freerider? Teenagers, racers, retired (lightweight motorcycle to place in the RV) women, casual riders, mountain bike riders looking for a different thrill, dirt bike riders/racers, security companies, search and rescue teams, indoor race facilities. Where will people ride it? Anywhere and everywhere! mountain bike parks, single track trails, pump tracks, backyard moto tracks, inner city, suburbs, skate parks, race track paddock transportation, airport transportation, EVERYWHERE! At $4000. Most that appreciate quality and engineering are shocked we can supply it at that price! We have our own factory in the Czech Republic. Most components are supplied in house, including our excellent state of the art electronics! Remember, some are paying $8000 for a downhill pedal bike! and a Stealth Bomber is $10k+ !!"

-kdog (NewAtlas)
"Who are these made for? Rich kids ($4k bicycle?) who are 6'4″ tall and less than 75kg? Seems like a very limited sales range. But at least they got the voiceover guy with the super deep voice to say "the Freerider from Kuberg", eh?"

-1jaques (NewAtlas)
"Well ive had this fker on order for nearly 2 years now and finally i pucked it up last night. Kuberg has been doing some shows and events in UK recently to promote the brand and they have been running races and shows at the Arenacross in sheffield and London. The top lads at E-Scape agreed to fetch my bike back up north with them.
The bike itself is a proper laugh to have a play on. The spec has increased massivly since the origional concept. It has a decent set of front forks on it now as well as a half decent rear shock. The wheels and tyres are a strange one as they are a unicycle size but it works. The motor was upped to 8kw from the origional 2kw planned. There are 3 power modes so of course it went straight to the top power for a little play last night. Its very managable but still very powerful. Its under 40kg so its easy to throw arround and the battery aparently lasts an hour at a decent pace. Ive not tested this out yet though. Before i took it in i tried power level 1 and it was bloodly lame, very beginner friendly, the power delivery very slow and forgiving."

-dukenukem (KTM Forums)
Kuberg Freerider Image Gallery
To appreciate the Kuberg Freerider's beauty, you have to look at it from various angles. Check these images out:
Also read: Stealth H-52 Electric Dirt Bike Review