The Zero DSR electric adventure dirt bike is another torque beast from Zero in the most relaxing form possible. This bike might just make the big boom in the electric motorcycle industry with its awesome combination of godly riding comfort, monster acceleration, and long travel range.
Electric motorcycle riders are probably getting excited. Zero is an electric motorcycle manufacturer and dealer well known for their powerful rides. The bikes they make almost always make it to the top 10 lists of every electric bike magazine out there in terms of power. 
But what about its other aspects? What lays behind all the marketing? Is the Zero DSR actually as good as Zero markets it to be? Read on to find out.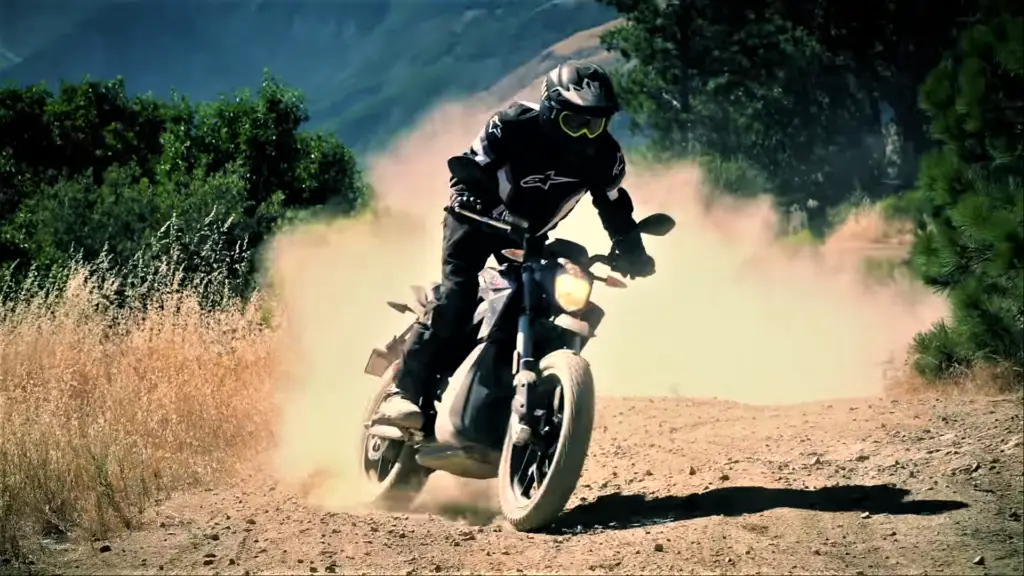 What Is the Zero DSR?
The Zero DSR is a large electric adventure bike known for its sleek style and monster acceleration, as well as comfortable and convenient features. It is Zero's first bike in their adventure lineup right before the Zero DSR/BF which is a beefed up version of the DSR with built-in utility boxes.
The Zero DSR is also one of just three members of the adventure dirt bike category in the electric bike industry. The others being Zero's DSR/BF, and the upcoming Kalashnikov UM-1.
Overview
Zero DSR Features
Like all of Zero's bikes, the DSR boasts a high tech arsenal of convenient features. One of these features is performance configurability with Zero's mobile app using a connected mobile phone. Another is the ability to switch batteries on the fly (provided you bought the power tank accessory provided by Zero).
Display and Batteries
Contrary to its high tech structure, the Zero DSR sports a simple blue LCD display with basic indicators such as battery level, speedometer, rpm, and a clock. Aside from those, it also displays internal statuses such as temperature and projected recharge time. Zero did fine with including a simple display because it limits unnecessary battery consumption while providing the same status updates.
The Zero DSR's display also features a mobile app connectivity perk in which you can connect using your phone to Zero Motorcycles' mobile app. Once motorcycles and phones are paired, owners can start customizing settings. 
Among the customizable settings are cost of electricity, gas cost per gallon and the miles per gallon. Additionally, the app uses recorded information to calculate statistics, such as how much was saved on gas, and energy consumed per mile. As a bonus, it even shows how much CO2 has been prevented from being released into the atmosphere.
The bike also features a high capacity, high output Z-Force® Li-Ion intelligent integrated battery pack which provides a maximum range of up to 163 miles on one charge. This is an exceptional amount of range as even gas powered liter-bikes can't go that far without needing to refuel. The DSR perfectly fits the adventure bike profile with this perk.
The battery also comes with a plug & play charger so you can just park near a socket and get straight to charging. The standard charging time for a stock Zero DSR is 9.8 hours from 0 to full. However, you can decrease this charging time with Zero's quick charger accessory (which can also be plugged directly onto a wall socket) that you can purchase along with the bike. The quick charger decreases the empty to full charging time down to a minimum of 2.8 hours, depending on which quick charger you purchased.
Frame
The Zero DSR maintains a solid aircraft-grade aluminum frame which can be modified to fit utility brackets and boxes. Unlike Zero's FX and FXS models, Zero made the DSR's frame more flexible and less rigid. This helps to prevent interior component damage due to friction and vibration caused by rough riding.
Motor and Transmission
A powerful Z-Force® 75-7R air-cooled, high efficiency motor propels this electric adventure bike with a peak torque of 116ft-lb (157Nm) up to a maximum speed of 102mph (163km/h). The motor also maintains a strength of 70hp (52 kW) at just 3,500 rpm.
The DSR also runs using a 1-speed clutchless direct drive which likens operation of the bike to that of an automatic scooter or moped. However great that may sound, it also comes with a huge disadvantage. That much power with no way to properly control or regulate the output (such as several gears and a clutch lever) makes the bike dangerous to ride for beginners and throttle-happy riders.
The bike also runs on a Cypher II operating system in its controller which gives the DSR its unmatched responsiveness. This operating system provides the bike with its regenerative motor deceleration feature which further helps with increasing its travel range.
Brakes and Suspension
Just like other Zero bikes, the DSR features J-Juan brakes paired with a Bosch anti-lock braking system. An anti-lock braking system (ABS) is a safety anti-skid braking system that prevents locking of the rear wheel due to sudden braking. Therefore maintaining contact with the road surface.
J-Juan brakes are also pretty great since J-Juan is a big brand solely focused on providing bikes with efficient brakes and has several years of experience doing so. Another bike we've reviewed that also features (or at least is about to feature) J-Juan brakes is the upcoming Pursang E-track electric scrambler.
To soak up the shock from all kinds of adventurous riding, Zero equipped the DSR with Showa 41mm inverted cartridge forks, and a Showa 40 mm piston piggy-back reservoir rear shock. Both suspensions feature the full trio of adjustment options including spring preload, compression and rebound damping. This allows riders to optimize their bike to fit any terrain.
Showa is an expert manufacturer of high-performance suspension systems based in Japan and is an OEM supplier to Harley Davidson Motorcycles. That should give you an idea of the quality of their suspensions.
Wheels and Tires
The Zero DSR sports an unbalanced combination with its 2.50 x 19 front wheel and 3.50 x 17 rear wheel. The reason the front wheel has a bigger diameter is to absorb and handle impact better. The larger size gives the bike better stability and handling in possible rough roads which ultimately protects the rest of the bike.
Both wheels are wrapped by Pirelli MT-60 dual-sport tires. Pirelli is a name that screams passion and heritage. Lately, though, this reputation hasn't been accompanied by top-of-the-line rubber. Its tires, designed for high-performance bikes, are still very good, but are coming under increasing pressure from competitors that offer similar performance for lower prices.
Zero DSR Tech Specifications
If you want an idea of what this Zero electric adventure bike is made of, take a look at the DSR's specs below:
Manufacturer Name
Zero Motorcycles
Model Name
DSR
Model Year
2020
Motor Manufacturer
Zero Motorcycles
Motor Model
Z-Force® 75-7R passively air-cooled, brushless motor
Motor Power
70 hp (52 kW) @ 3,500 rpm
116 ft-lb (157 Nm)
Motor Placement
Mid-drive
Controller
775 amp, 3-phase brushless controller with regen braking
Power Pack
Z-Force® Li-Ion intelligent integrated
Battery Capacity
14.4kWh
Battery Removal
Integrated
Range
163 miles
Ride Mode
Dual-sport (street, off-road)
Regenerative Braking
Yes
Throttle
Twist throttle
Gears
1
Top speed
102mph (163km/h)
Weight
419lbs
Materials
Aircraft-grade aluminum
Seat height
33.2in
Suspension
Showa 41 mm inverted cartridge forks, with full adjustability

Showa 40 mm piston, piggy-back reservoir shock with full adjustability
Display
Blue LCD (battery level, speedometer, temperature, RPM, projected recharge time, clock, trips A & B)
Purpose
Adventure bike
Connectivity
Bluetooth/wifi connectivity with Zero's mobile app through a mobile phone
Security
Key-operated ignition
Where Can I Get a Zero DSR?
You can get the Zero DSR at Zero Motorcycles' main branch in Scotts Valley, California. But if you want to purchase the bike from just your smartphone or computer, you can visit their website. 
They maintain hundreds of dealerships all over Europe and the United States. Zero also provides demo ride services so you can get a feel for what you're planning to buy. For details on demos, you can visit each of Zero's dealerships all over the United States.
Zero also offers a 2-year warranty for every bike you purchase, as well as a 5-year warranty for its power pack.
After-Sales Support
Zero Motorcycles maintains a high customer service standard. For customer concerns in the United States, you can contact them through their phone number: (888) 786-9376 ext. 2. If you live nearby, you can visit their main branch at 380 El Pueblo Road, Scotts Valley, California.
In the slim probability that you don't live in the United States, you can visit their European branch at Oester 12, 1723 HW Noord-Scharwoude, NL. You can also call them in the Netherlands at +31 (0) 72 5112014.
Videos
If you want to learn more about the Zero DSR electric adventure bike or want to see the bike in action, make sure to also watch these videos:
Choice Commentaries
When researching this bike, we found several particularly interesting comments that we think you should take time to read:
"An adventure bike that can't go 300km without stopping overnight to connect to an electric outlet. Yeah, that's going to work great when I'm out in the middle of nowhere in Asia or South America.
I can extend my range with a few liters of fuel, unfortunately a power station won't fit in my saddle bags."

-Khắc cảnh lê (Source: YouTube)
"I just rode this bike and was impressed by the torque.  It would be an around town bike and I'll probably  skip the quick charge option. One of my favorite features of this bike is the countershaft sprocket  is centered on the pivot for the swing arm..so no tensioner is needed."

-Fuzzy Was (Source: YouTube)
"My thoughts are…even if you could charge in 10 minutes and at most gas stations, I could not enjoy this type of bike. Just not near the same as having the feedback of the glorious internal combustion engine."

-Bradley Alexander (Source: YouTube)
Image Gallery
Here are a few more Zero DSR images that you might want to see before you get one: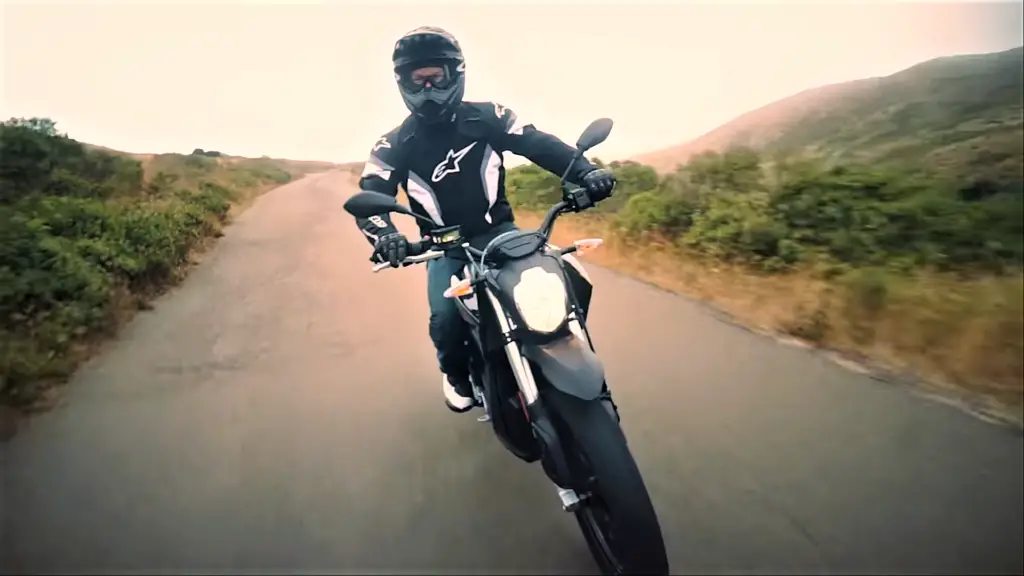 Also read: Honda Mugen E-Rex Electric Dirt Bike Preview