Kuberg has just released an all new kids' electric motocross dirt bike for your active and action-craving kids. According to Kuberg, the Kuberg Cross X-Force Pro 50 kids electric dirt bike belongs to Kuberg's most advanced Race Series models. But will it be safe to ride? Will it have premium components? Will it be a good contender in the kids' electric dirt bike scene in terms of performance? Read on to find out.
What Is the Kuberg Cross X-Force Pro 50?
Lightning acceleration, instant torque, and massive power …at least that's what Kuberg claims. The Kuberg Cross X-Force Pro 50 is the latest addition by Kuberg to the kids electric dirt bike segment. It is a small-sized electric motocross dirt bike suitable for kids of 6 – 12 years old.
Kuberg Cross X-Force Pro 50 Detailed Overview and Competitor Comparison
Kuberg Cross X-Force Pro 50 Kids Electric Dirt Bike Main Features
Like all Kuberg bikes, the Kuberg Cross features Kuberg's signature wifi connectability and configurability through the Kuberg Volt app. The bike also features unique, limited-edition decals for a much more stylish ride (which some kids would probably love).
Kuberg Cross X-Force Pro 50 Display and Batteries
As it is with all Kuberg bikes, the Kuberg Cross electric dirt bike only features a minimalist battery indicator as its built-in display, but comes with wi-fi connectivity. This makes use of your mobile phone as a display and "tool kit" for the bike through Kuberg's Volt app which allows you to reconfigure the bike's performance on the fly and as desired.
We've discussed the Kuberg Volt app previously in our Kuberg Freerider Street review, and found it to be a solid way to freely tweak your bike without the need for tools. Make sure you get up to speed on the app — click to read the Kuberg Freerider Street electric dirt bike review.
A 48V 22.2 Ah Power Force lithium-ion polymer battery powers the Cross X-Force Pro 50, giving it a short operating time of one hour on max power setting. If your kid rides it on lower settings, they might be able to reach up to 3 hours of range. Its range rests on the mid to high end of the range gradient when it comes to kids dirt bikes as most kids' electric dirt bikes of the same class can only run for an hour tops. Examples of these less-than-1-hour-rangers include Mototec's 24v kids' electric dirt bike and Razor's MX500 Dirt Rocket kids' electric dirt bike.
The battery also comes with its own charger which provides a charging time of 5 hours. Unlike Kuberg's bigger bikes, there isn't an option to purchase a quick charger for the Kuberg Cross X-Force Pro 50. Still, this is a much quicker charging time than that of Razor's MX350, MX400, and MX500, or even Mototec's 24v and 36v kids' electric dirt bikes.
The Cross X-Force Frame
Like all of Kuberg's bikes, the Pro 50 features a powder-coated, double-cradle frame with steel tubing. Powder coating adds to the steel's durability, helping the frame withstand damage (especially corrosion) and last longer. A double-cradle frame uses two tubes running beneath the motor in order to support it. This is better as opposed to a downtube frame, which only has a single tube that supports the motor, as it provides a much higher advantage in terms of strength and rigidity. It's also cheaper to produce, so saves you a bit of cash.
Despite its solid steel frame, the Kuberg Cross X-Force Pro 50 only weighs a convenient 73lbs which allows easier hand carry or transport. This compares favourably to the Pro 50's main competition, the KTM SX-E5 and the Husqvarna EE 5 which weigh in at 88lbs and 89lbs. The light weight also helps the rider easily control and flick the bike around.
The Cross X-Force Motor and Transmission
The Kuberg Pro 50 incorporates a centrally located Kuberg OEM brushless DC motor which provides  8kW of power, or about 10.73 horsepower. This is a bit less than a 125cc gas powered bike, but ahead of a smaller 50cc bike. It provides a decent burst of speed for kids who want to have a safe, but fun ride on the mild trails.
The bike's single-speed transmission further simplifies riding as it provides a simple twist & go mode of operation. This also makes the bike more suited for beginner riders as all they have to worry about is the throttle and brakes. 
The Cross X-Force Brakes and Suspension
A set of Kuberg OEM expanding (drum) brakes handle the Cross X-Force's stopping action. These may be unnamed and unbranded brakes but they are still quite reliable. Drum brakes are less responsive than hydraulic or mechanical brakes but provide a much gentler bite. This helps prevent panic-braking accidents which are most common among first-time riders. What's cool is that a right foot lever actuates the rear brake giving riders the feel for riding a regular motorcycle.
As for its suspension, the Kuberg Cross X-Force Pro 50 kids electric dirt bike features a DNM suspension system. The front is equipped with DNM USD forks and a DNM Burner for the rear. Both are good shocks in terms of performance, but not that great when it comes to reliability. DNM is known as a budget manufacturer of suspension systems but they aren't really considered 'high end'. This makes them easy to replace though.
Cross X-Force Tires & Wheels
The Kuberg Cross X-Force Pro 50 kids electric dirt bike sports Kuberg OEM 12.5 inch wheels along with Kenda tires. Kenda tires are specialized for the off-road scene so you can expect a lot from the Cross X-Force tires when it comes to durability and off road grip.
Kuberg Cross X-Force Pro 50 Kids Electric Dirt Bike Tech Specifications
Pro 50's components can be quite a mouthful, so here's a simplified breakdown of its tech specifications:
Where Can I Get a Kuberg Cross X-Force Pro 50 Kids Electric Dirt Bike?
The best place for US residents to get the Kuberg Pro 50 is through Kuberg's Florida website. But there are also 4 main dealerships in the US. These dealerships are based in Florida, California, Indianapolis, and New York. They all provide complete service packages to customers.
What Is Kuberg After-Sales Support Like?
Kuberg deeply values the quality of its customer service. Kuberg maintains dealership branches in North America located in Florida. You can also visit their main support page, or contact them at 954 323 6531 or via email through a contact feature on their website.
Kuberg Cross X-Force Pro 50 Videos
Want to see the Kuberg Cross X-Force Pro 50 in action? Check out these YouTube videos:
Choice Kuberg Cross X-Force Pro 50 Commentaries
If you prefer deciding from the insights of other people who bought the bike, we've compiled a few choice commentaries for an alternative viewpoint.
"Something we're really impressed with on this Cross X-Force Pro 50 is that it has a right foot rear brake just like a standard motorcycle race bike so your child or an adult riding this bike is gonna have the feeling and experience of having a right foot brake."

-Chad (Kuberg USA)
"The standard Kuberg Pro50 is a great little bike, but this one is in a whole new league."

-Dani Ros (Picclick)
"Great dirt bike. Able to control torque and speed through the app. Capable for kids up to adults under 220 pounds. Awesome communication from Upzy regarding shipping and delivery. I had ordered the bike as a Christmas present and due to inventory issues in the US, the bike shipped from the factory in the Czech Republic. Item arrived prior to Christmas. My son was thrilled!"

-Joachim T. (Upzy)
Kuberg Cross X-Force Pro 50 Image Gallery
Here are some snapshots of the Kuberg Pro 50 kids electric dirt bike for a better viewing angle: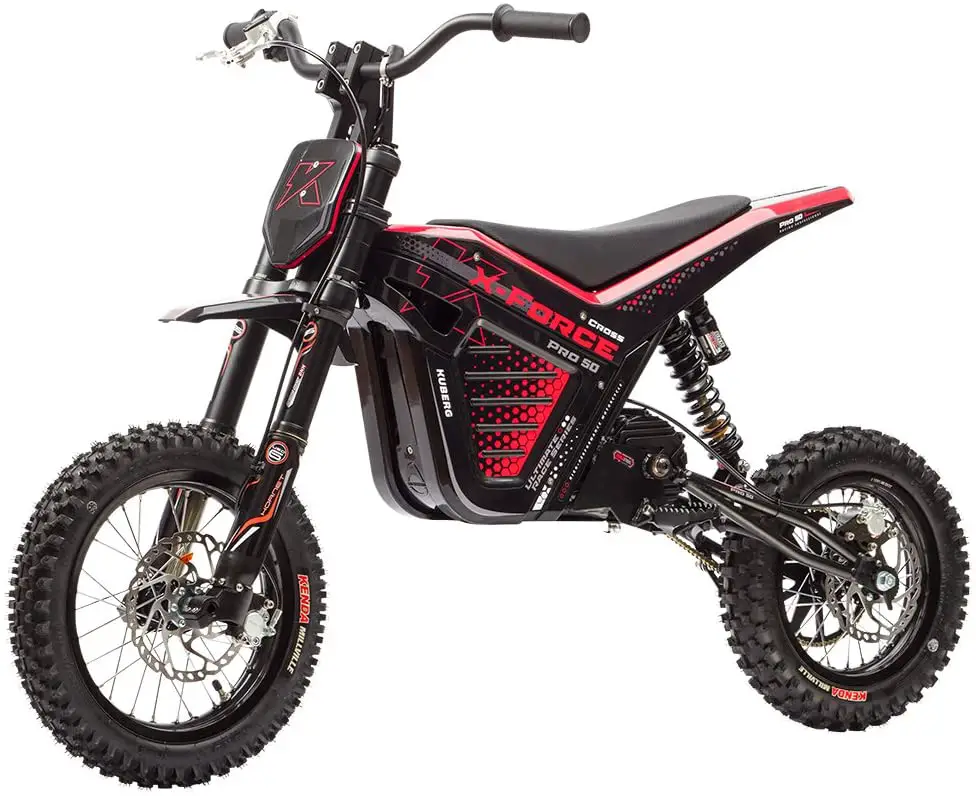 Also read: Kuberg Start Kids Electric Trials Dirt Bike Review