Would a MotoTec 24V electric dirt bike actually be an awesome gift to your kids this year? Would this $388.00 USD electric dirt bike actually be worth it? 
This electric dirt bike was manufactured by MotoTec which has been manufacturing personal vehicles for recreation and transportation since 2009. MotoTec's product line includes both petrol and electric powered vehicles. They manufacture scooters, pocket bikes, trikes, and dirt bikes.
Because of this, they've grown quite a reputation for quality rides. But will the MotoTec 24v Electric Dirt Bike catch on with the best of MotoTec rides in terms of quality and reliability? Read on to find out.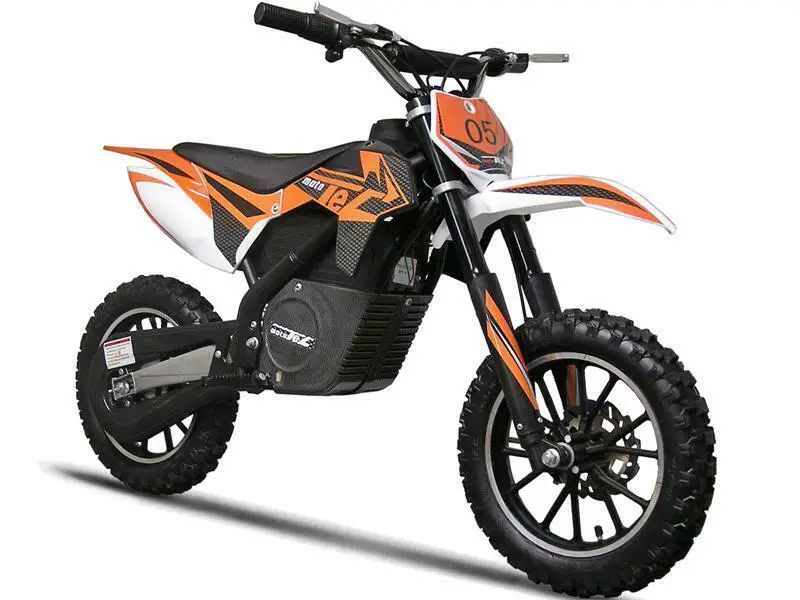 What is the MotoTec 24v Electric Dirt Bike?
The MotoTec 24v Electric Dirt Bike (A.K.A "MT-Dirt-500") is a mid-end electric powered toy ride for children of age 8 and above. This bike bears the authentic appearance of a traditional dirt bike and, unlike the Razor MX350 electric dirt bike we also reviewed, features both a front and rear suspension. In terms of dirt bike authenticity, this MotoTec dirt bike is comparable to Razor's MX500.
Overview
Mototec 24v Electric Dirt Bike Features
Mototec's MT-Dirt-500 24v electric dirt bike may have generic manufacturer-provided components but it makes up for this shortcoming by introducing great add-on features. These features include adjustable handlebars, key-lock security, and a key-lock operated ride mode selector with three ride modes. These ride modes are an advantage for parents who want to set their child's max riding speed.
Display and Batteries
The Mototec 24v electric dirt bike features a basic analog battery indicator with LED indicator lights located on its "gas tank." This might be a disadvantage for some as there's no way to figure out how fast your child is going, or exactly how much battery is left as indicator lights can be inaccurate.
Two 12V rechargeable sealed lead acid batteries power the Mototecs MT-Dirt-500 for a total of 24V with 12Ah capacity. This gives the bike a short operating time of one hour at max setting. The batteries are located right on top of the motor and can be removed with an easy slide out mechanism. This extremely low range may be an inconvenient cliffhanger experience for your kid and may affect their opinion on the bike. Add to that the battery unit's charging time of a menacing 12 hours from empty to full and there's non-stop fun… for about 60 minutes.
No worries though, as the Mototec 24v electric dirt bike's universal powerpack means it is compatible with most aftermarket batteries. You can always get higher capacity batteries for your Mototec dirt bike and easily install them.
Frame
A solid steel frame with an authentic dirt bike geometry supports all the Mototec 24v electric dirt bike's components. A steel frame is known to be very durable but also adds a lot of weight to the bike. 
Additionally, steel frames can handle more punishment and don't fatigue when bent repeatedly. This characteristic renders the frame highly repairable in case of damage.
Other kids dirt bikes we've reviewed that share the same frame material include the Razor MX350 and MX500 electric dirt bikes, and Kuberg's Trial Hero electric dirt bike.
Motor and Transmission
The Mototec 24v electric dirt bike sports a MotoTec 24V 500W motor which gives the bike a top speed of 16mph on its max setting. On top of that, the bike runs on a 1-speed chain driven transmission.
The bike also features three ride modes selected using the ignition key lock. Economy gives the bike a top speed of 5mph and up to two hours of range. Moderate balances out the bike's speed and power consumption and gives a 10mph top speed with 1 and a half hour operation. Lastly, High provides  the fastest top speed of 16mph along with an hour of operation.
A MotoTec 24V controller also controls this power delivery setup. This controller provides a good responsiveness but it still doesn't compare to the likes of Razor MX500. Luckily, you can always get better controllers for the MotoTec 24v electric dirt bike on Amazon.
Brakes and Suspension
Even a slow bike like the MotoTec 24v electric dirt bike sports its own dual hydraulic disc brakes. These brakes are controlled by a lever on each side of the handlebar and performs a solid bite no matter what speed or rider weight.
The MotoTec 24v electric dirt bike also uses MotoTec standard hydraulic front forks and hydraulic rear shock. What's great is that it's also adjustable so parents can adjust the stiffness according to what's comfortable and safe for a child.
Wheels and Tires
The MotoTec 24v electric dirt bike sports two 2.5 x 10 aluminum wheels with pneumatic knobby off-road tires. With such small wheels, there may be difficulty traversing intense terrain. For this reason, we highly recommend using the bike on mild off road terrain not only keeping the bike in its element, but also for your child's safety.
MotoTec 24v Electric Dirt Bike Tech Specifications
If you want an idea of what makes this Mototec dirt bike tick, take a look at its individual components below:
Manufacturer Name
MotoTec
Model Name
MT-Dirt-500
Model Year
2020
Motor Manufacturer
MotoTec
Motor Model
MotoTec 24V 500W motor
Motor Power
500W
Motor Placement
Mid-drive
Controller
MotoTec 24V controller
Power Pack
Two 12V Sealed lead acid (24V total)
Battery Capacity
12Ah
Battery Removal
Easy pull out with flap
Range
1 hour on max setting
Ride Mode
Economy: low speed, long range
Moderate: balanced speed – range ratio
High: high speed, short range
Regenerative Braking
N/A
Throttle
Variable twist-grip
Gears
1
Top speed
5mph, 10mph, 16mph (depending on ride mode)
Weight
66lbs
Materials
Steel, aluminum
Seat height
23 inches
Suspension
MotoTec front fork & rear shock
Display
Analog battery indicator with lights on "gas tank"
Purpose
Hard packed dirt recommended
Connectivity
N/A
Security
Key operated
After-Sales Support
MotoTec currently doesn't offer their contact information. You can however always contact the seller on Ebay for concerns about their product. Otherwise, Big Toys USA, MotoTec's main distributor in Plover, Wisconsin, also offers aftermarket support for MotoTec products. You can contact them via a contact feature on their website.
Where Can I Get a MotoTec 24v Electric Dirt Bike?
We highly recommend getting the MotoTec 24v Electric Dirt Bike from Ebay. It's the best place you can get the bike as you're more likely to get the best price for a brand new MotoTec 24v Electric Dirt Bike. Furthermore, every small commission that we get from every purchase you make helps support writers here at Mud Bike and their families.
Videos
Want to learn more about the MotoTec 24v Electric Dirt Bike and see it in action? Here are a few videos we think you should watch:
Choice Commentaries
While researching this bike, we found some useful commentary that we think you should take time and read. Check them out here:
"Fun little machine with a few remarks"
"This is my first touch with toys of this type and I really like this bike, even more my 7 year nephew, few minutes of riding and my boy want full speed and he got it and he loves it, age limit is little to high 13+? my nephew have 7 is 4′ tall and bike could be to small for him at 13, if your kid is tall around 4′ bike fit good. Now what is bad, disc brakes they look as are made from cheap material, screws regulating distance brakes to disc has terrible mounting (small black pin at the end of screw) it doesn't hold good and I couldn't install brakes with these screws I use my and it was a little tricky to install it but now is fine, other thing that is not good is lock for speed limit, you can put screwdriver and turn it without any key lol keys are unnecessary and this is not safe if you think your kid shouldn't ride in full speed, also battery charge time could be shorter but over all is a good bike that I would recommend to buy"

-lukstuff (Ebay)
"Possibly decent for the money."
"Foot pegs bent first day riding it, need more bracing underneath by the frame. Battery life seems really good. Have not had enough time on it yet to give a full evaluation. Easy to control speed level for the kids also."

-alistaynick (Ebay)
"She loves it!"
"My 7 year old girl loves motorcycles! I have been trying to get her to ride the Honda XR50r we have, but it scares her. This little electric bike is the perfect size and it's quite! She is addicted to it now! The only thing is she's not done when the battery is. LOL"

-karl2787 (Ebay)
"Nice little bike, not too much for my little guy."
"Bike was easy to install as it was already put together once I was able to determine where certain screws went. The 3 speed levels has certainly helped my little guy gain confidence and graduate to higher speeds. He has wiped out several times so far and the bike is holding up well."

-bpperry (Ebay)
Image Gallery
Want to see the bike from different angles? Here are are a few more images of the MotoTec 24v electric dirt bike: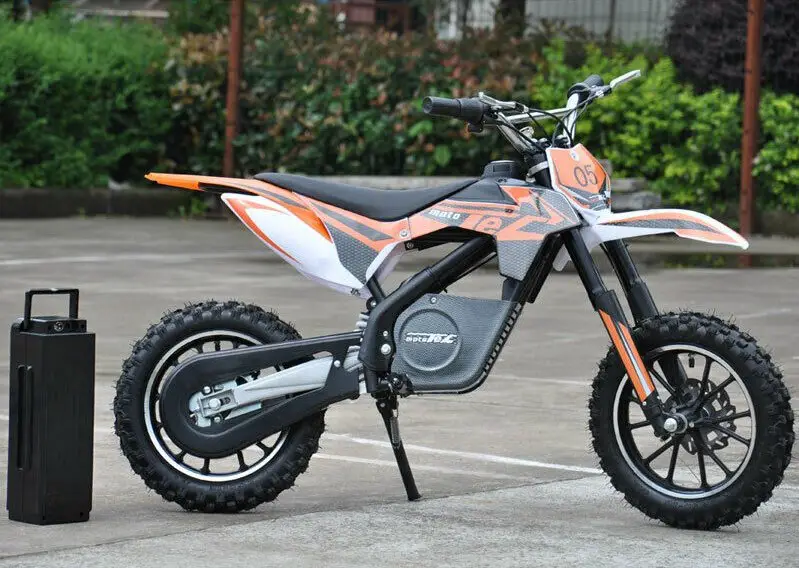 Also read: MotoTec 36v Electric Dirt Bike Review