Has your 13-year old and above (Razor's user age suggestion) reached that turning point in life when they're wildly enthusiastic about motocross? No worries, because that's exactly what Razor's MX500 Dirt Rocket is for. What's awesome is that you can get this amazing teens dirt bike for just $569.99 USD on Amazon. If you want a Razor Dirt bike for kids younger than 13, you can check out the MX350.
After getting the bike, you could check out our Razor Dirt Bike Battery article to upgrade your Razor MX500 with better range.
Razor is a toys and equipment manufacturer that opened up in 2000. They manufacture electric powered dirt bikes for kids and young adults.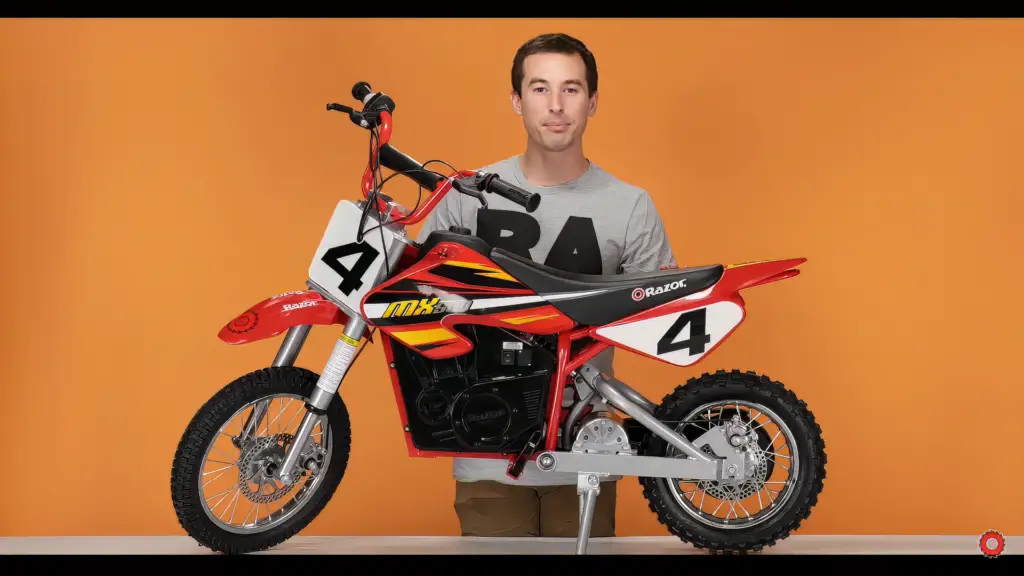 What is the Razor MX500 Dirt Rocket?
The Razor MX500 is a dual-suspension teens electric dirt bike made for teenagers (13 years old and above). It is also the third bike in the Razor Dirt Rocket series, right after the Razor MX400.
Overview
Razor MX500 Features
Your child will probably love the fact that the Razor MX500t bears the authentic look of a traditional dirt bike. This bike features all the mandatory components of an electric dirt bike such as a twist throttle, hand brake levers controlling its front and rear disc brakes, and a more powerful motor coupled with higher capacity batteries. The Razor MX500 even has a retractable kickstand for when you need to park somewhere.
Razor MX500 Display and Batteries
Like the rest of the Razor Dirt Rocket variants, the Razor MX500 lacks a heads-up-display. This kind of setup gives the bike a classic mechanical profile when ridden. One disadvantage this may have is that it's virtually impossible to assess the bike's status such as its battery level.
The Razor MX500t power system comprises 3 generic 12V rechargeable sealed lead acid batteries cobbled together to make one 36V unit. This battery setup gives it quite a poor range of only 40 minutes running time. The battery pack also comes with its own charger, but requires a 12-hour charging time before reaching full battery level. This battery unit maintains a lifespan of approximately a year (or 250 12-hour charge cycles) before you have to buy a replacement.
Razor MX500 Frame
A solid steel frame houses many of the Razor MX500 Dirt Rocket's components. This frame bears the geometry of an authentic dirt bike which also contributes to its performance on mild off road terrain by slightly mimicking the dynamics of a real dirt bike. 
Though it may be durable, the Razor MX500's purely steel frame material also adds to its weight, which is a factor in whether or not your child will appreciate the bike. One advantage of a solid frame is its high carry capacity. The Razor MX500 can carry up to 180 lbs of rider weight, which also means even lightweight adults can take it for a spin.
The Razor MX500's size is relatively too small for kids of 13 years old and above despite Razor's user age suggestion. This may be a larger factor in your child's approval of the bike.
Razor MX500 Motor and Transmission
The Razor MX500 Dirt Rocket runs using a 1-speed transmission coupled with a 500W electric chain driven motor located centrally on the MX500's belly. This motor provides enough power to propel the rider up to 15mph, but this still depends on rider weight and type of terrain.
Razor MX500 Brakes and Suspension
Unlike the weaker Razor MX350 we reviewed, the Razor MX500 features both a front and a rear brake. This complete brake system comprises wheel discs controlled by hand levers situated on both sides of the handlebar. This type of brake lever setup simplifies the braking action and keeps your child focused on the road, and possibly promoting his/her safety.
The Razor MX500 features a dual-suspension system which is a huge upgrade from the weaker MX350 Dirt Rocket. Dual suspension bikes absorb impact in both the front and rear of the bike. Heavier than their rigid counterparts, dual suspensions are significantly more comfortable on rugged terrain.
Razor MX500 Wheels and Tires
The Razor MX500 sports a larger 16 inch wheel at the front, and a smaller 14 inch wheel at the back. This type of wheel setup enables the bike to easily traverse mild downhill slopes without tipping over (and possibly harming your kid). 
In addition, both of the Razor MX500's off road tires are pneumatic which means they are filled with pressurized air. Most tires we see on toy dirt bikes are solid and made of plastic. This kind of tire is ideal for speeding through gravel roads, grass fields, and tightly packed dirt, and will only wear out after rigorous use.
Razor MX500 Dirt Rocket Tech Specifications
If you want an idea of what makes this Razor dirt bike tick, take a look at the MX500 Dirt Rocket's specs below:
| | |
| --- | --- |
| Manufacturer Name | Razor |
| Model Name | MX500 Dirt Rocket |
| Model Year | 2020 |
| Motor Manufacturer | Razor |
| Motor Model | Razor 500W Electric Chain Driven Motor |
| Motor Power | 500W |
| Motor Placement | Centrally Placed |
| Controller | N/A |
| Power Pack | Three 12V Sealed Lead Acid Rechargeable Batteries w/ Charger |
| Battery Capacity | 36V |
| Battery Removal | Easy Slide Out w/ Compartment |
| Range | 40 Minutes of Constant Use |
| Ride Mode | N/A |
| Regenerative Braking | N/A |
| Throttle | Twist-Activated Throttle |
| Gears | 1 |
| Top speed | 15 mph |
| Weight | 98 lbs |
| Materials | Steel |
| Seat height | N/A |
| Suspension | Generic Dual-Suspension |
| Display | N/A |
| Purpose | Kids Electric Dirt Bike |
| Connectivity | N/A |
| Security | Button Operated |
After-Sales Support
Razor maintains good customer service and support. They also provide customers a way to reach out through a contact page on Razor's website where you can input your personal information, and order concerns for Razor to better address them.
If you ever require assistance with your product, Razor maintains a web of channels to accommodate your concerns. You can contact them through their number: Los Angeles (866) 467-2967 during their Monday to Friday operating days, or give one of their service centers in Los Angeles a visit.
Where Can I Get a Razor MX500 Dirt Rocket?
Check out the Razor MX500 on Amazon because they offer a door-to-door delivery service along with usually a 90-day warranty for every purchase. We highly recommend getting Razor products through Amazon because you're likely to get great deals on the bike and every small commission we get helps put food on Mud Bike writers' tables.
Razor MX500 Dirt Rocket Videos
If you want to learn more about the Razor MX500 Dirt Rocket teens electric dirt bike or want to see the bike in action, make sure to also watch these videos:
Razor MX500 Dirt Rocket Choice Commentaries
When researching this bike, we found several particularly interesting comments that we think you should take time to read:
"The bikes are heavy and very sturdy. My kids love running them up and down the small hills and dips and bumps in our 2 acre yard. They go about as fast as a vigorously pedaled bicycle, so I think the 15 mph top speed is about right."

-Tragar (Amazon)
"A great little machine to learn on. Fits my 8 yr old perfectly. Have been getting about 40-45 mins run time on flat trail. Front brakes failed after 2-3 hours of use. Front suspension design is horrible– knocks and rattles like its missing a lower bushing."

-Nigel Mailman (Amazon)
"This bike has less than one hour of ride time on it and 4 hours of my time trying to figure out what is wrong with it and over three weeks in a repair shop."

-Derek Drogowski (Amazon)
"These are FABULOUS dirt bikes for the cost. We live on about 50 acres and my kids get everywhere they want to without any hesitation. Dirt, gravel, rock, mud, you name it the bikes will do it. The battery life is great too, we charge about once every other week!"

-Chandra (Amazon)
"We got this for my son who just turned 7 for his birthday and he loves it! He has been tearing around the yard on it non stop! We really did our research before we purchased this bike And we are very happy we went with this one! I would definitely recommend it! Also if you're planning to buy this bike we looked all over and Amazon was by far The cheapest and fastest shipping."

-Brittany (Amazon)
Razor MX500 Dirt Rocket Image Gallery
Here are a few more MX500 Dirt Rocket images that might give you a better idea about the bike: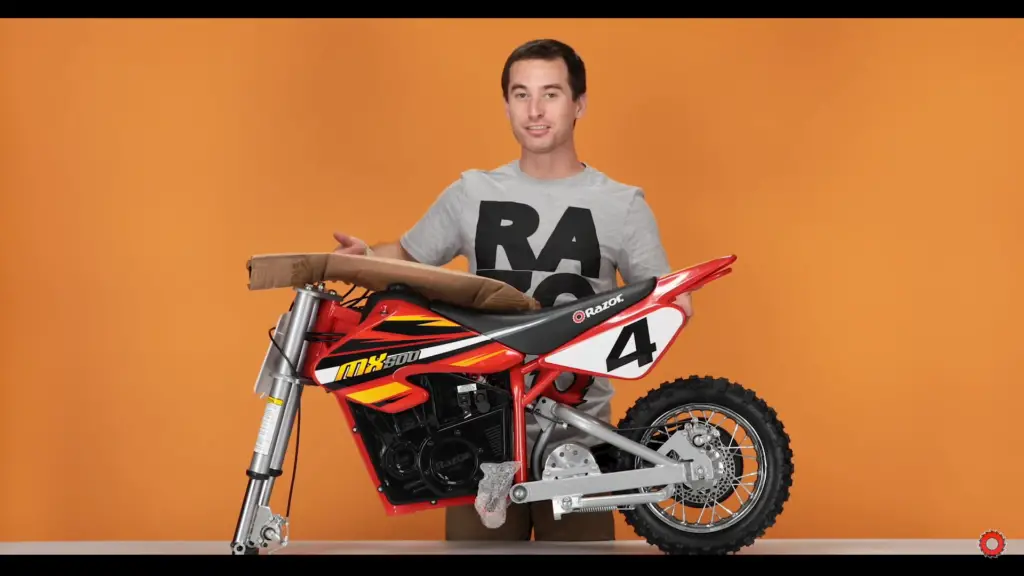 Also read: Kuberg Trial Hero Electric Dirt Bike Review