The Husqvarna EE 5 kids electric motocross dirt bike is the first big step into the world of electric race bikes for world class motorcycle manufacturer Husqvarna Motorcycles. We all know Husqvarna (or "Husky") as the icon behind the most popular motocross dirt bikes in the world.
Since the 1960s, Husqvarna has won several world titles in motocross with their gas-powered dirt bikes — even maintaining the crown for the best performing motocross dirt bikes till now. That's for the gas-powered dirt bikes. 
The real question is whether Husqvarna's very first electric motorcycle will reflect the motocross icon's performance standard. Will it feature the components worthy of a world class brand? Will it be safer and more reliable than several other — more established — contenders in the kids electric dirt bike scene? Read on and find out.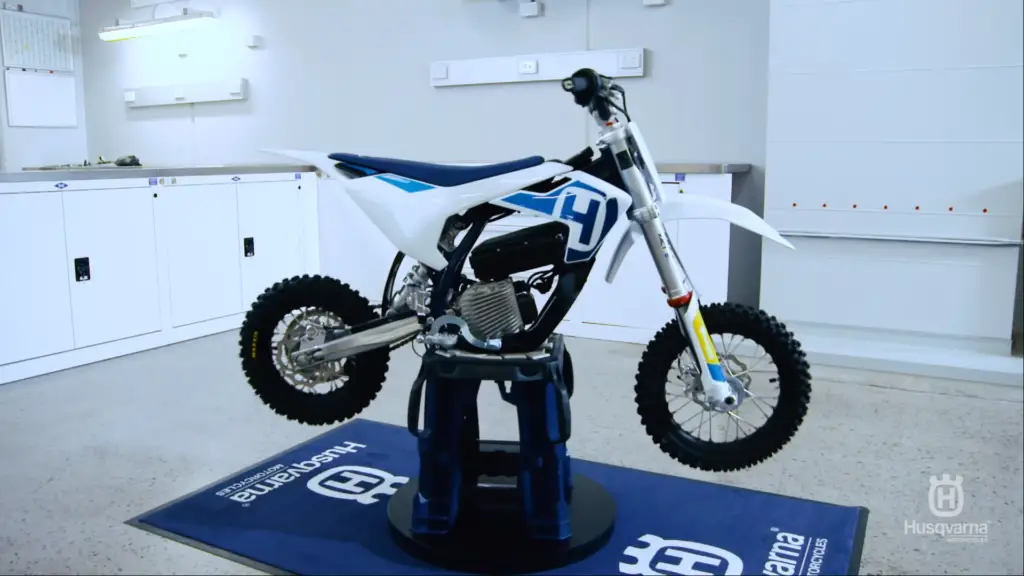 What Is the Husqvarna EE 5?
The Husqvarna EE 5 is an electric motocross dirt bike for kids between 3 and 6 years old. It holds a reputation as Husqvarna's first and currently only electric-powered dirt bike and possesses a motor power equivalent to a 50cc dirt bike. It is also similar to KTM's SX-E5 (which is also a kids electric dirt bike) in terms of functionality and looks albeit a bit smaller.
Overview
Husqvarna EE 5 Kids Electric Motocross Dirt Bike Features
The Husqvarna EE 5 kids electric motocross dirt bike bears quite a simple setup — not what you'd expect from a world class motocross brand's first electric product. The EE 5 features mostly OEM components except for its tires and suspension. But we'll still go through them one by one so you can decide if this bike is actually worth the buck. 
Husqvarna EE 5 Display and Batteries
Somewhat taking its design from the KTM SX-E5, the Husqvarna EE 5 features a simple multifunctional instrument panel. This features buttons that allow selection between 6 different ride modes to allow the bike's power output to cater to any riding ability. Unfortunately, this instrument panel doesn't display any information other than the ride mode.
Powering the electric motor in the EE 5 are 84 modern lithium ion cells, mounted in a durable die-cast aluminium casing. This accounts for 907Wh of stored energy, which gives the EE 5 up to two hours of casual riding, or 25 minutes of full-power running. It also features an integrated battery management system (BMS) which further ensures the battery pack's longevity by…
The EE 5 also comes with an external universal charger that supplies up to 900W and can be connected to any 110 or 230 Volt socket. It plugs directly into the battery pack for easy charging and provides a charging time of 1 hour from empty to full. This is an excellent charging time compared to other kids dirt bikes such as Razor's MX350, MX400, and MX500.
EE 5 Frame
A solid chromoly steel frame houses the drivetrain. Chromoly is a light, strong steel. When shaped to take off excess weight, it translates to a light frame that will last through a long time of hard use. It is also responsive and offers good flex while maintaining its form. 
The EE 5's frame also maintains carefully computed parameters of longitudinal flex and torsional rigidity. Longitudinal flex is the flexibility of the chassis from nose to tail while torsional rigidity is the amount of resistance a cross section has against torsional deformation. This combination basically means that the bike is solid and doesn't fatigue easily under pressure. It also improves the bike's handling, which therefore ensures precise cornering and great stability.
The EE 5's bodywork design offers young riders the same ergonomic feeling, confidence and comfort as the full-size motocross bikes. Additionally, the ergonomic benefits and comfort extend riders' ability to perform at peak capacity. This is an obvious benefit for young racers, and the transition to larger bikes will also be easier as a result.
EE 5 Motor and Transmission
The electric motor equipped in the EE 5 produces a peak power output of 5kW — much the same as its 2-stroke counterpart (the 50cc dirt bike mentioned earlier). The permanent magnet motor bears an extremely compact and slim design, which is well suited to the EE 5's smaller chassis. It also provides a torque of 10.2 ft-lbs and a top speed of 45mph. 
This is quite good, as it's up there with some contemporary 125cc bikes such as the SYM Wolf Classic (formerly Honda's CB125). The electric motor also features air-cooling, and its covering allows it to be water and dust-proof, which renders it largely maintenance free.
EE 5 Brakes and Suspension
The EE 5 uses Husqvarna OEM hydraulically operated brake callipers and waved front and rear brake discs. This allows the bike to provide progressive grip in all conditions.
The Husqvarna EE 5 kids electric motocross dirt bike uses premium suspension, making it exceptionally capable as a mini motocross racer. On the front, WP XACT 35 mm forks offer extraordinary shock dampening and rider comfort. With 205mm of travel, the air unit in the left fork leg allows adjustability using an air pump for rider preference, weight or track conditions. The rear wheel further accommodates a fully adjustable WP monoshock, allowing about 185mm of suspension travel.
EE 5 Tires & Wheels
Mirroring the full-size motocross range, the EE 5 uses lightweight, black anodised aluminium rims fitted with MAXXIS tires for maximum grip. The wheel combination features unequal diameters to allow for better off road performance with a 12-inch tire in front and a 10-inch rear.
Husqvarna EE 5 Kids Electric Motocross Dirt Bike Tech Specifications
The Husqvarna EE5 Electric Motocross Dirt Bike is a great bike with great gear. To show you what we mean, here are the tech specifications for the EE5:
Manufacturer Name
Husqvarna Motorcycles
Model Name
EE 5
Model Year
2020
Motor Manufacturer
Husqvarna Motorcycles
Motor Model
Husqvarna 48V – BLDC motor with outer rotor
Motor Power
5kW, 10.2 ft-lbs
Motor Placement
Mid-drive
Controller
N/A
Power Pack
84 modern lithium ion cells, mounted in a robust die-cast aluminium casing
Battery Capacity
21 Ah
Battery Removal
Integrated
Range
25 minutes to 2 hours depending on input
Ride Mode
1 – 6 with varying power outputs
Regenerative Braking
N/A
Throttle
Twist throttle
Gears
1
Top speed
45mph
Weight
89 pounds
Materials
Chromoly steel
Seat height
26.2 inches
Suspension
XACT 35 WP Upside-Down fork with 205 mm travel
XACT WP mono shock with 185 mm travel
Display
multi-functional instrument and display with basic lights and buttons
Purpose
Motocross/Offroad racing
Connectivity
N/A
Security
Button-operated ignition
Where Can I Get a Husqvarna EE 5 Kids Electric Motocross Dirt Bike?
You can get the Husqvarna EE 5 kids electric motocross dirt bike straight off Husqvarna's website. But if you want to try the bike out first, or take a personal look at it, you can use a feature in the same website to search for a dealer near you.
Husqvarna After-Sales Support
Maintaining their image as a world class motorcycle and outdoor equipment manufacturer, Husqvarna provides exceptional customer support. They offer all kinds of services and information on their website for any bike you purchase from them. Otherwise, if you can't find what you're looking for, you can always find a nearby dealer through the website feature mentioned above.
Videos
If you're still not sure about how the Husqvarna EE 5 Kids Electric Motocross Dirt Bike performs or want to see the bike in action, here are a few videos to sate your curiosity:
Choice Commentaries
If you prefer deciding from the insights of other people who bought the bike, we've compiled some choice critical commentaries for an alternative viewpoint.
"This bike needs a head light, kick stand, and removable battery pack like the e-kids dirt bikes made by GAS GAS… All 5 of my kids want to trade out gas for electric if they were available for their size…"

-Juston Preble (Source: YouTube)
"Husqvarna announced the EE5 at #EICMA2018. The electric dirt bike is not as hardcore as it's dino-juice powered siblings. Rather, it is a stepping stone for the young ones."

-Powerdrift (Source: YouTube)
Image Gallery
Want to see the Husqvarna EE 5 Kids Electric Motocross Dirt Bike from different angles? Here are high quality images of the bike: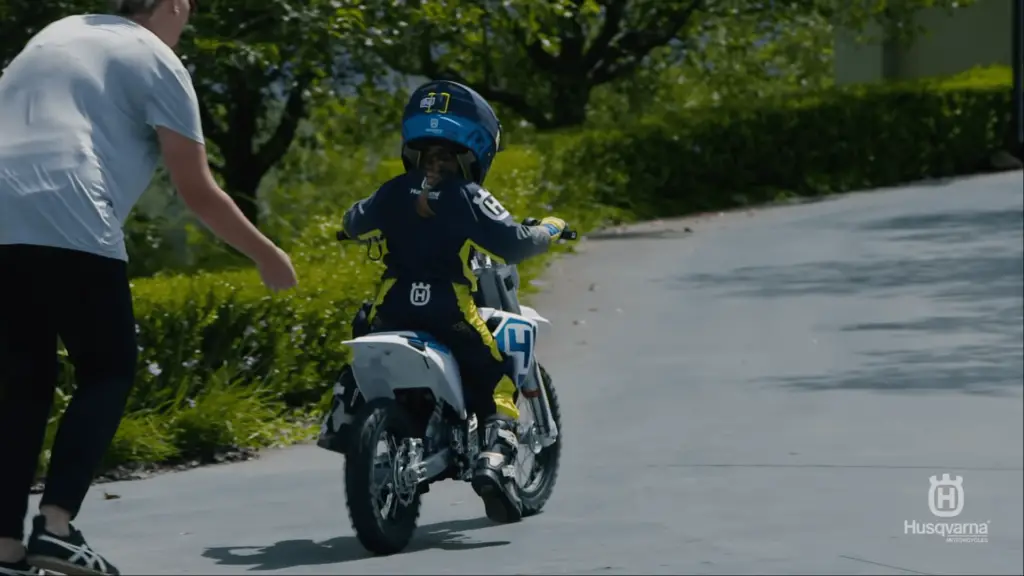 Also read: Pulse Performance EM-1000 Kids Electric Dirt Bike Review