Riding a Razor MX400 is one of the best ways to give your kids some fun and  with an authentic adventure experience. Add to that its extremely low price of just $329.99 USD, so your wallet won't be riding out towards the sunset with your kid.
After getting the bike, you could check out our Razor Dirt Bike Battery article to upgrade your Razor MX400 with better range.
It's exciting that the Razor MX400's offered at such a low price, but does that price also speak for its quality? Read on to find out.
What is the Razor MX400?
The Razor MX400 is a scaled-down, hardtail electric dirt bike made for teens (13 years old and above). It also comes second in the Razor Dirt Rocket power hierarchy, right between Razor's MX350 and MX500 electric dirt bikes. Though the MX400 may have a different name, it is closely similar to the MX350 in all aspects except the paint job.
Overview
Razor MX400 Features
Just like the Razor MX350 dirt bike we reviewed before, the Razor MX400 teens electric dirt bike looks identical to a traditional dirt bike which is a one thing your teens might love. This bike features all the basics of an operating electric dirt bike such as a twist-grip throttle, a left-hand operated rear brake, a twist & go mode of operation, and even a kickstand.
Display and Batteries
The Razor MX400 lacks a heads-up-display ⁠— a common oversight among Razor's electric dirt bike series. Although this kind of setup gives the bike a classic rugged mechanical profile, it does render it impossible to assess the bike's status such as speed and battery level.
Speaking of batteries, a pair of 12V rechargeable sealed lead acid batteries power the MX400, adding up to a total of 24 volts. Both batteries are located in an easy slide-in/slide-out compartment in the bike's belly, and the set up comes with its own charger. This gives the bike a constant operating time of up to 30 minutes, which is menacingly short considering the Razor MX400's charge time from empty to full capacity is 12 hours.
If you want a longer range, you can replace the MX400's current motor with a more power-efficient 250W MX400-compatible motor from Amazon. This raises the Razor MX400's operating time up to an hour.
Frame
The Razor MX400 features a solid metal frame with authentic dirt bike geometry for that legitimate dirt bike feel. Additionally, it comes with flexible and colored (comes in white, black, or green) shatter-resistant fairings for that classic dirt bike look, and angled, riser-style handlebars for a relaxed and comfortable riding position.
Speaking of that frame, the MX400's relatively heavy weight unobstructed headset constitutes a valuable advantage. This allows the bike to remain stable and easy to maneuver, but not so well on rough terrain.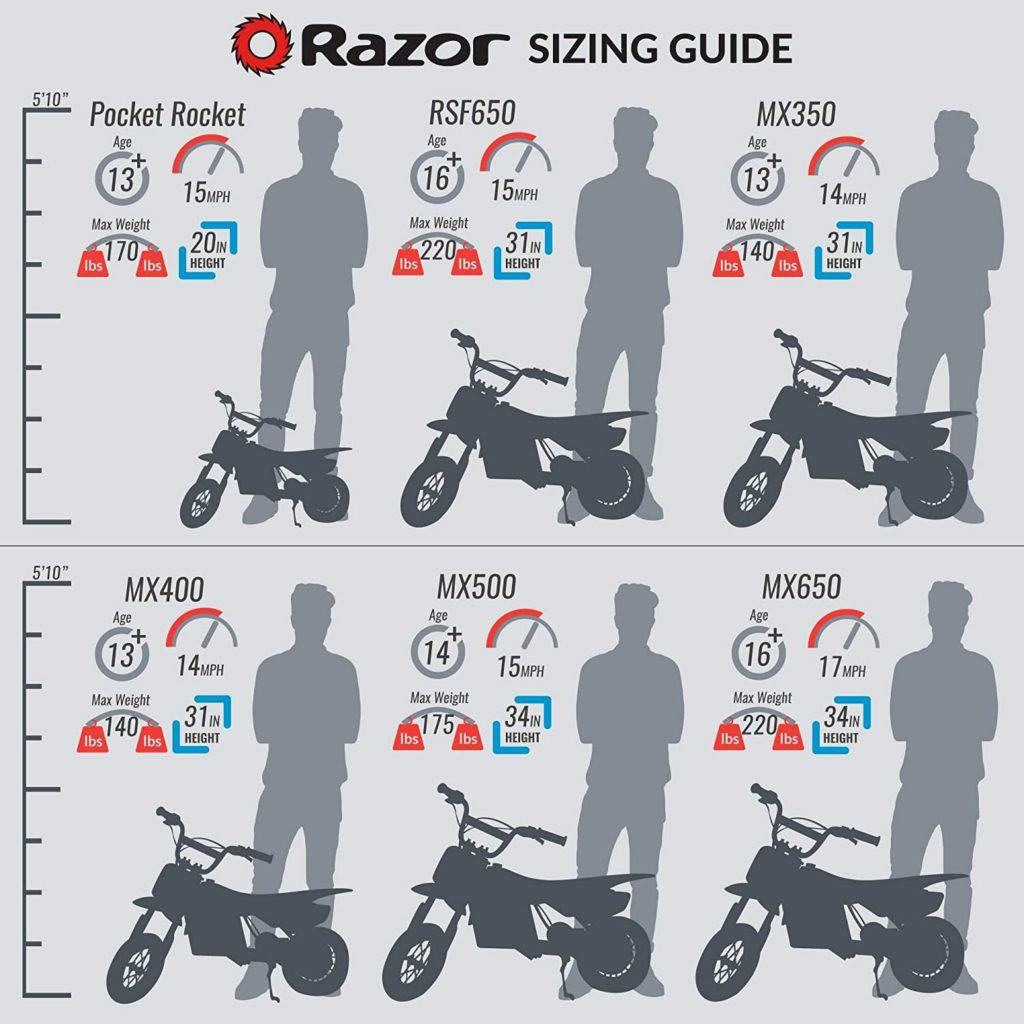 A 350W electrical high-torque, chain-driven motor propels the MX400 up to a maximum speed of 14 mph (22 km/h). This makes the Razor MX400 quite similar to the Razor MX350 we reviewed before. It's slightly slower than the MotoTec 24v electric dirt bike and the Razor MX500 which are aimed at older kids. The bike does not compare to Kuberg's Trial Hero km/hr which is so far best in class speed. Given the bike's simple and convenient twist & go mode of operation, it only runs using a single gear and doesn't provide any options to switch speeds or ride modes.
Brakes and Suspension
Razor equipped this bike with an easy-to-operate left hand-actuated rear brake which is convenient for your teens to use as they only have to worry about one lever. But since breaks on larger bikes are on the right side, they may have an awkward transition when moving up to a larger bike.
The MX400 features a standard double-crown front fork for basic frontal shock absorption but no rear suspension. Though it may look unappealing for a dirt bike, this setup comes with an advantage as it facilitates a direct power delivery from the motor to the rear wheel, which allows the bike to attain full power very quickly from a standing start.
Wheels and Tires
Staying faithful to the authentic dirt bike look, the Razor MX400 sports spoked wheels with 12-inch pneumatic knobby tires for an efficient mini off road ride feel. 12-inch tires may be too small to be of any use in off road situations in the adult bike world, but these wheels were made to accomodate 5ft teens, give or take. With that in mind, try to choose mild terrain for your teens to ride on, such as hard packed grass, dirt, or gravel.
As mentioned, the Razor MX400 runs on pneumatic tires. These tires are made of an airtight inner core filled with pressurized air. One of the biggest benefits of using pneumatic tires is their ability to absorb uneven terrain. This allows for a smoother ride with less bumping and shaking.
Razor MX400 Tech Specifications
If you want an idea of what this Razor electric dirt bike is made of, take a look at the MX400 Dirt Rocket's specs below:
| | |
| --- | --- |
| Manufacturer Name | Razor |
| Model Name | MX400 Dirt Rocket |
| Model Year | 2020 |
| Motor Manufacturer | Razor |
| Motor Model | Razor 350W electrical high-torque, chain-driven motor |
| Motor Power | 350W |
| Motor Placement | Centrally placed |
| Controller | N/A |
| Power Pack | Rechargeable 24V (two 12V) sealed lead Acid |
| Battery Capacity | 24V 200Ah |
| Battery Removal | Easy slide out |
| Range | Up to 30 minutes of continuous use |
| Ride Mode | N/A |
| Regenerative Braking | No |
| Throttle | Twist throttle |
| Gears | 1 |
| Top speed | 14 mph (22 km/h) |
| Weight | 70.25lbs |
| Materials | Steel |
| Seat height | N/A |
| Suspension | Double-crown front fork, rigid tail |
| Display | N/A |
| Purpose | Electric dirt bike for teens |
| Connectivity | N/A |
| Security | Button operated |
After-Sales Support
Razor maintains good customer service and support. If you ever require assistance with your product, Razor maintains a web of channels to accommodate your concerns. You can contact them through their number: Los Angeles (866) 467-2967 during their Monday to Friday operating days, or give one of their service centers in Los Angeles a visit.
They also provide customers a way to reach out through a contact page on Razor's website where you can input your personal information, and order concerns for Razor to better address them.
Where can I get a Razor MX400 Dirt Rocket?
You can just get the Razor MX400 straight out of Razor's official website, but we highly recommend getting the MX400 from Amazon because they offer the best prices on a brand new unit. Additionally, they provide free delivery anywhere in the United States plus a 90-day warranty for every purchase you make. We also get a small commission if you buy through our Amazon links in this review, so you'll be helping support our writers.
Videos
If you want to learn more about the Razor MX400 Dirt Rocket teens electric dirt bike or want to see the bike in action, make sure to also watch these videos:
Choice Commentaries
When researching this bike, we found several particularly interesting comments that we think you should take time to read:
"Assembly was fairly simple and straightforward. Suggest a second pair of hands lining up the handle bar bolts. Definitely not for a 13 yr old but my 6 year old loves it! Great frame and tires with just enough power to take a young one off road riding"

-Steve Eckman (Amazon)
"I bought two Razor electric dirt bikes for my grandsons. The 8-year-old hopped on, quickly learned all the basics, and he loves it. The 6-year-old, who has not yet mastered a bicycle, is having a problem with the hand brake. I think he just needs a little time and training and more confidence before he becomes proficient. The dirt bikes were my best idea to get them outside and away from their iPads. So far, the plan is working!"

-Kathy Broderick (Amazon)
"This was a birthday gift for my Grandson. He loves riding it around the neighborhood. It is quiet, so it does not bother the neighbors. The only negative is the chain came off the second time he rode it. He needed to learn to push off and not pop the throttle from a dead stop. A few of the exterior pieces are a little flimsy, but so far it has held up well. (1 month) He is light in weight, so he goes plenty fast."

-Rose Loving Nana (Amazon)
"We purchased this for our 7 year old son, it didn't have power to go up slight inclines or in our yard. We returned it and will buy something with more power."

-Melanie Miranda (Amazon)
Image Gallery
Here are a few more MX400 Dirt Rocket images that you might want to see before you get one: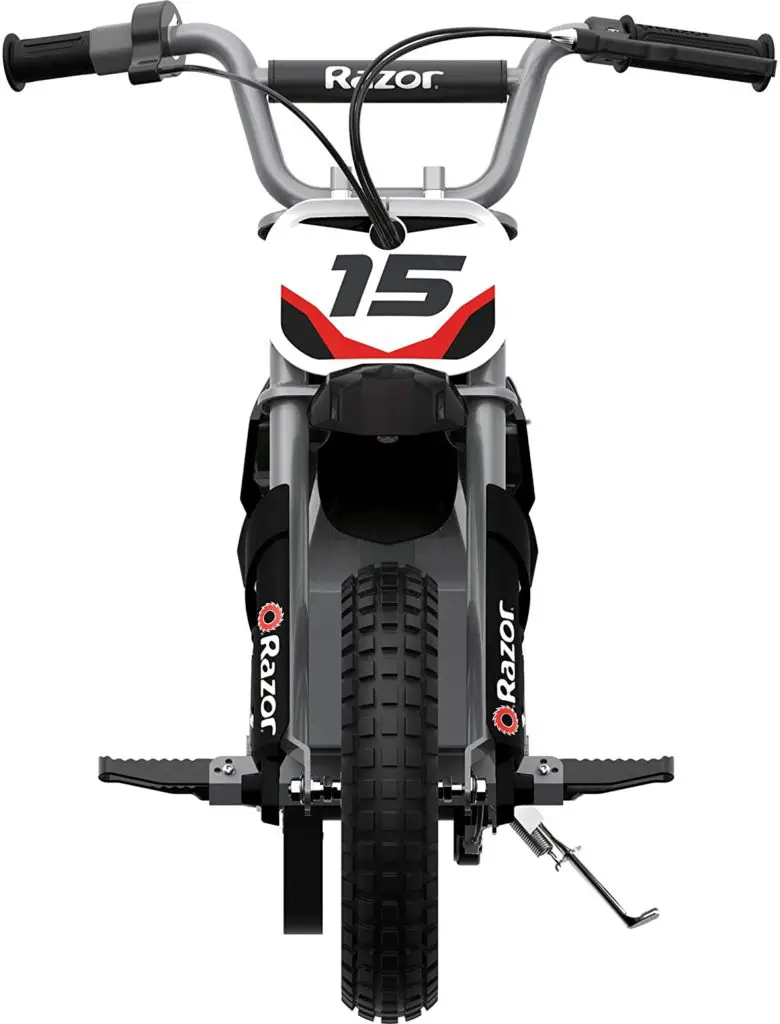 Also read: Monster Moto E1000 Mini Electric Dirt Bike Review