The newly developed KTM SX E5 kids electric motocross dirt bike is the next step in KTM's innovative electric motocross line-up. Regular riders know all about this legendary motorcycle manufacturer — KTM is known for building some of the best dirt bikes available.
KTM's leading knowledge in youth motor-cycling and years of development work in the e-sector led to the development of the KTM SX-E5 which is based on the more well known KTM 50 SX.
The KTM SX E5 might just be the earthshaker kids dirt bike of this decade — a kids electric motocross dirt bike built to give your kids the feel of a real motocross experience. Problem is, it retails at a stiff $5,049 USD.
KTM is Austria's corporate giant in gas-powered motorcycles and yes, they make great petrol bikes using highly advanced engineering and even a nice full sized electric dirt bike. But will the company's kids electric dirt bikes have the same recognition as their adult bikes? Will their newest kids electric dirt bike actually meet the standard for KTM dirt bikes? Read on to find out.
What Is the KTM SX E5?
The KTM SX E5 kids electric motocross dirt bike is visually a smaller version of KTM's Freeride E-XC electric dirt bike. It is an aggressive electric dirt bike made for kids (about 5 – 11 years old) with more experience in MotoX-related activities.
This is because of its highly responsive but startling power output and complete suspension system. That means the KTM SX E5 isn't your typical run of the mill dirt bike for sissies. It requires a lot of practice and patience to safely use out on the mini dirt track.
Overview
KTM SX E5 Features
The KTM SX E5 2020 offers all the magic of an electric dirt bike. It is a competitive, zero emission, low noise and maintenance ride. Plus all the extra gear that makes a KTM dirt bike awesome, which makes this an ideal bike for those looking to hit their first tracks.
SX E5 Display and Batteries
While having no legit display, KTM fitted the SX E5 with an easy-to-use multifunctional instrument panel. This allows selection between 6 different ride modes to tailor the power characteristics to any ability level. 
Parents can also lock in the power setting so junior can't adjust it on the fly. Thus, it promotes safety.
For extra safety, a roll-over sensor cuts the power in case of a crash or fall. In addition, a wrist lanyard key also cuts motor power if the rider falls off.
The KTM SX E5 uses an OEM 907Ah lithium-ion power pack that provides more than two hours of casual riding, but just 25 minutes for all out racing. The power pack comes with an external worldwide charger with approximately an hour of charging time from dry to full. It's located under the bike's pseudo gas tank and takes about 10 minutes to swap.
SX E5 Frame
A double-cradle type frame supports all the KTM SX E5 kids electric motocross dirt bike's components. A double-cradle frame uses two metal tubes that run under the engine for support instead of one metal tube like on a single cradle frame. 
While the frame is cost-effective, it provides a significant advantage over a downtube chassis in terms of strength and rigidity. It also comes with a fiberglass-reinforced plastic subframe for extra support and durability. The fiberglass parts also contribute to the bike's lightweight but solid property.
SX E5 Motor and Transmission
The KTM SX E5 comes with a 48V permanent magnet electric motor with an outer rotor and produces a peak power of 5 kW. This provides the bike with a torque of 11 ft-lbs and a top speed of 45 miles per hour. This amount of speed is great since other kids dirt bikes such as Razor's MX350, MX400, MX500, and Kuberg's Trial hero can only run up till about 17mph tops.
It also features a state-of-the-art control unit that perfectly integrates inside the motor, and provides a responsive and strong power delivery. Although its high power might not be suitable to inexperienced riders. The SX E5 runs on a single gear which gives it a twist & go mode of operation.
SX E5 Brakes and Suspension
The SX E5 uses KTM OEM components for its brakes. So while having brakes that don't have a recognizable brand name usually means low quality, KTM does make great effective brakes.
The customizable chassis features high-end WP Xact suspension units — specifically XACT 35 WP Upside-Down forks and XACT WP mono shock. As a race motorcycle, the suspension features full adjustability at both ends. The fork is also air adjustable, and the shock holds a piggyback reservoir.
SX E5 Wheels and Tires
The front wheel is a KTM OEM 60/100 x 12-inch and the rear a 2.75 x 10-inch and comes with knobby Maxxis tires. Maxxis tires are able to easily handle because of being designed with a spiral-wound cap ply. 
This tire design greatly enhances the tire's durability because the spiral-wound gap fly can work in hot, high-pressure, and even corrosive situations. Sturdy side walls protect the tire from minor bruising, while debris ejectors increase the life of the tires by reducing the chances of harmful buildup. The brand's tires are also reinforced with a nylon belt design, which greatly improves the tire's ability to mitigate punctures.
KTM SX E5 Tech Specifications
If you want an idea of what makes this KTM dirt bike tick, take a look at its individual components below:
After-Sales Support
KTM is known for its high customer-priority and provides excellent customer service. They provide repair and tuning services as well as after-market upgrades and modifications for both motorcycles and electric bikes. They also offer extended warranties for buyers.
You can visit them at KTM Sportmotorcycle GmbH, Betriebsgebiet Süd, Stallhofnerstraße 3, A-5230 Mattighofen in Austria. In the slim chance that you don't live in Northern Austria, you can contact representatives at https://www.ktm.com/en/mx/sx-e-5/. KTM also has a large dealer network in 82 countries so you should be able to find one nearby.
Where Can I Get a KTM SX E5 Kids Electric Motocross Dirt Bike?
You can just get the KTM SX E5 kids electric motocross dirt bike straight off from KTM's main website. You can also drop in to one of KTM's 10 main US dealerships to talk to sales staff.
KTM SX E5 Videos
If you're interested in learning more about the KTM SX E5 kids electric motocross dirt bike or just want to see it in action, make sure to watch these videos:
KTM SX E5 Choice Commentaries
The KTM SX E5 kids electric motocross dirt bike is a pretty new model, but we've found these commentaries on it:
"The price tag becomes less of a factor when the bike lasts more than a season. With the amount of adjustability it has (and fewer hard wearing components), it could last up to 3 years. Factor in all the service costs of a regular 50 and you got yourself a deal."

-L V D Westhuizen (Source: YouTube)
"I think it is a bad idea not having a 10 inch front wheel. Getting kids started out on e-bikes in the 4-6 age group / beginner class is super important for the sport. That 12 inch wheel is only good for the 7-9 and open classes where kids are on the average super gnarly on a gas bike already."

-Mark McPhail (Source: YouTube)
"It's a cool idea but it's not ideal for hard core 50cc racers, only 25 mins of battery life when u race, that's very short and on top of that u dont want to waste 1 hour of riding times every 25 mins u use ur bike."

-Ligia Roscher (Source: YouTube)
KTM SX E5 Image Gallery
Here are a few more SX E5 images that might give you a better idea about the bike: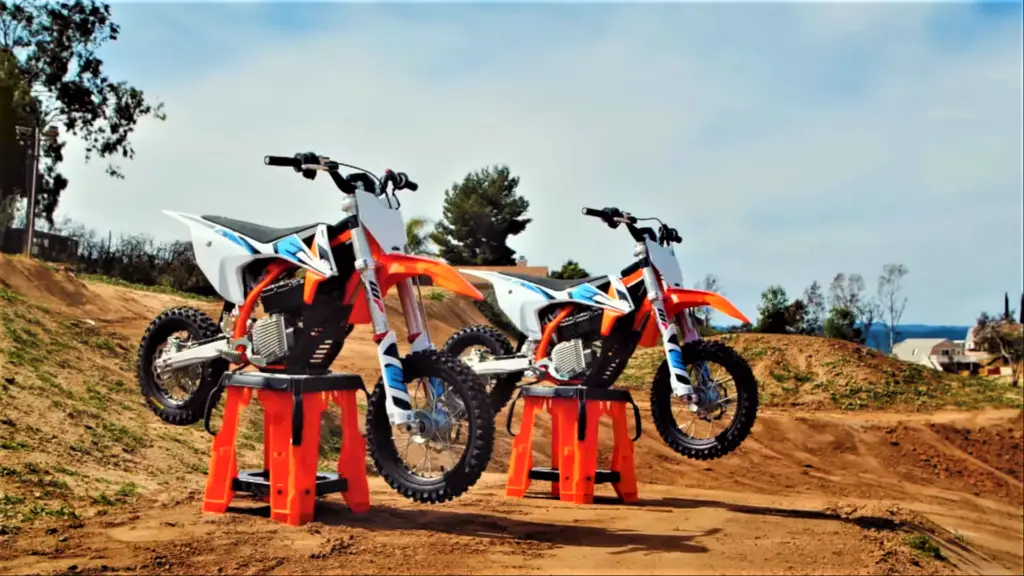 Also read: Husqvarna EE 5 Kids Electric Motocross Dirt Bike Review