Got active kids? Do they dream to be future riders and stunt bikers? Luckily, you can help make their dreams come true with Razor's new release; the Razor Dirt Rocket MX350 electric dirt bike for just $359.99 USD on Amazon.
After getting the bike, you could check out our Razor Dirt Bike Battery article to upgrade your Razor MX350 with better range.
Razor is a kids toys and equipment manufacturer that started producing their first products in 2000. Starting off with roller skates, skateboards, battery powered scooters, hoverboards, and now electric powered kids dirt bikes, they've made some great innovations in the toy industry.
But, will this Razor dirt bike prove to be an ideal first ride for your kids? Read on to find out.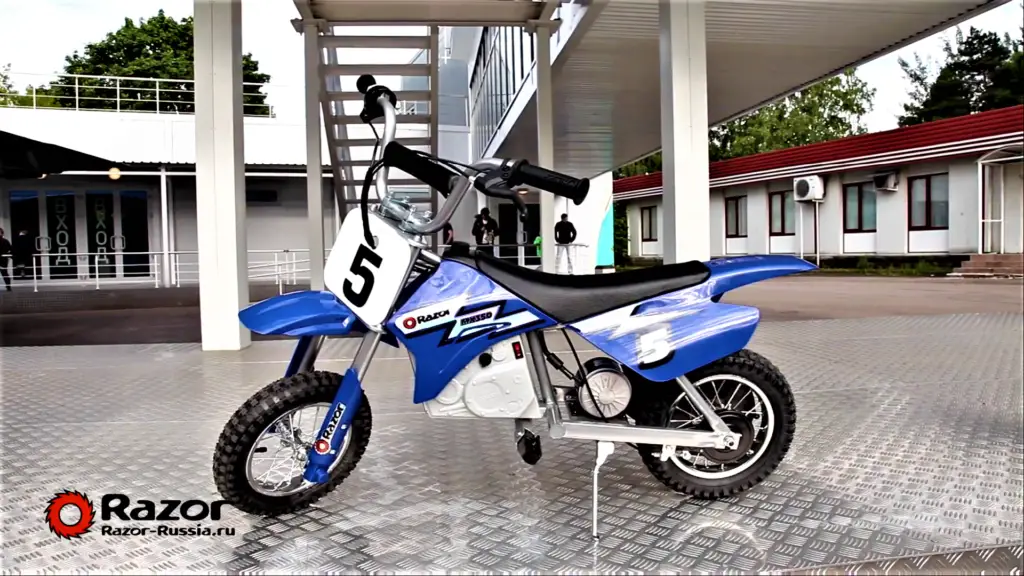 What is the Razor Dirt Rocket MX350?
The Razor Dirt Rocket MX350 is a rigid-tail kids electric dirt bike meant for beginners or even first-timers. This is further proven with its friendly power delivery and not-too-strong acceleration. 
It's name may make it sound powerful but it isn't the fastest Razor dirt bike. The Razor Dirt Rocket MX350 is one of four Dirt Rocket variants in Razor's electric dirt bike lineup, with the others being the more powerful MX500, SX500, and MX650.
Overview
Razor Dirt Rocket MX350 Features
The Razor Dirt Rocket MX350 kids electric dirt bike bears a very close resemblance to a traditional dirt bike (which is something your kids will probably love). This bike features all the basic necessities of an operating electric dirt bike such as a twist throttle, a left-hand operated rear brake, its power distribution system (the battery and motor), and even a kickstand.
Razor Dirt Rocket MX350 Display and Batteries
Being a beginner's bike, the Razor Dirt Rocket MX350 doesn't come with a display or a controller to switch ride modes. It features a very basic "twist & go" mode of operation which aims to keep it as convenient for your kids as possible.
On the other hand, a pair of 12V rechargeable sealed lead acid batteries power the Dirt Rocket MX350, adding up to a total of 24V and is located in an easy slide-in/slide-out compartment under the bike's "gas tank". This allows your kids to constantly operate the Razor MX350 Dirt Rocket for approximately 30 minutes. The pair of batteries also come with their own charger which provides a charging time of 12 hours until full capacity.
Razor Dirt Rocket MX350 Frame
The Razor Dirt Rocket MX350 features quite a heavy metal frame with an authentic dirt bike geometry for a legitimate dirt bike riding experience for your kids. It also comes with shatter-resistant fairings to give it the classic dirt bike look, and angled, riser-style handlebars for a relaxed body position translating to maximum comfort.
The Dirt Rocket MX350's relatively heavy frame and unobstructed headset constitute a valuable advantage. This allows the bike to remain stable and easy to maneuver on rough terrain, so you can bet your kid won't be thrown around every time he or she makes a wrong turn.
One problem this Razor dirt bike might have is its seat height. It may be too tall for most kids around 7-years old, and the bike's high ground clearance may prove very difficult for first-timers to balance the bike. We recommend some stationary balancing practice before riding the bike on full throttle.
Razor Dirt Rocket MX350 Motor and Transmission
Razor's Dirt Rocket MX350 kids electric dirt bike runs using a 350W electrical high-torque, chain-driven motor which propels the bike up to a maximum speed of 14 mph (22 km/h). Given the bike's simple twist & go mode of operation, it only runs on a single gear and doesn't include any options to switch speeds or ride modes.
Razor Dirt Rocket MX350 Brakes and Suspension
Even a slow-going kids dirt bike needs some brakes. For this reason, Razor equipped the MX350 Dirt Rocket with a basic, left-hand operated rear brake to further promote your child's safety while riding the dirt bike.
The MX350 Dirt Rocket features a simple double-crown front fork for basic frontal shock dampening. The latest MX350 model in Razor's lineup unfortunately doesn't come with a rear suspension, unlike its previous versions. This type of setup comes with an advantage though, as it facilitates a direct power delivery from the motor to the rear wheel, making acceleration from a stop easier.
Razor Dirt Rocket MX350 Wheels and Tires
Staying faithful to the traditional dirt bike look, the Razor MX350 Dirt Rocket sports spoked wheels with 12-inch knobby tires for an efficient mini off road ride experience for your kids. 12 inch tires may be too small to be of any use in off road situations in the adult bike world, but these wheels were made to accomodate kids shorter than 5 feet. This typically means this kids electric dirt bike is sized 13 years old or younger. With that in mind, try to choose mild terrain for your kids to ride on, such as gravel or hard packed dirt.
Razor Dirt Rocket MX350 Tech Specifications
If you want an idea of what makes this Razor dirt bike tick, take a look at its individual components below:
| | |
| --- | --- |
| Manufacturer Name | Razor |
| Model Name | Dirt Rocket MX350 |
| Model Year | 2020 |
| Motor Manufacturer | Razor |
| Motor Model | Razor 350W electrical high-torque, chain-driven motor |
| Motor Power | 350W |
| Motor Placement | Centrally placed |
| Controller | N/A |
| Power Pack | Rechargeable 24V (two 12V) sealed lead Acid |
| Battery Capacity | 24V 200Ah |
| Battery Removal | Easy slide out |
| Range | Up to 30 minutes of continuous use |
| Ride Mode | N/A |
| Regenerative Braking | No |
| Throttle | Twist throttle |
| Gears | 1 |
| Top speed | 14 mph (22 km/h) |
| Weight | 70.25lbs |
| Materials | Steel |
| Seat height | N/A |
| Suspension | Double-crown front fork, rigid tail |
| Display | N/A |
| Purpose | Kids Electric Dirt Bike |
| Connectivity | N/A |
| Security | Button operated |
After-Sales Support
Razor maintains a good reputation in the field of customer service and support. They also provide a means to contact them directly through a contact page on Razor's website where you can input your personal, and order concerns for Razor to better address them.
If you ever need help with your product, Razor maintains specific channels to accommodate your concerns. First of all, you can contact them through their number: Los Angeles (866) 467-2967 during their Monday to Friday operating days, or give one of their service centers in Los Angeles a visit.
Where Can I Get A Razor Dirt Rocket MX350?
The best place you can get the MX350 Dirt Rocket would be from Amazon where they offer a door-to-door delivery service along with a seller-specified warranty for every purchase.
Razor also maintains a web of other authorized retail stores all over North and South America including Target, Kmart, Best Buy, Dunham's sports, and Sears among others. If that's not convenient enough for you, most of these authorized retail stores also offer Razor products online. Again, we highly recommend buying Razor through Amazon because you're likely to get a great price on the bike and every purchase helps support writers here at Mud Bike.
Razor Dirt Rocket MX350 Videos
If you want to know more about the Razor MX350 kids electric dirt bike or want to see the bike in action, watch these videos:
Choice Commentaries Regarding The Razor Dirt Rocket MX350
When researching this bike, we found two particularly contrasting comments that we think you should read:
"Funny how many people are knocking that little razor talkin bout get a real one!! My 4yo started on that 250$ razor and learned a lot about being in the pegs, counter steering, proper leaning and balance, and any other safety skill i needed to teach him. All while at under 20 mph and silent not pissing off the neighbors. When he moved up to his honda crf 50 he was ready to be there."

-Gregorio Bernstein (YouTube)
"What a joke. This little "dirt bike" is so slow. On a dirt track it would be even slower. Cheap crap that WalMart peddles to unsuspecting parents."

-The Nimble Ninja (YouTube)
Image Gallery For The Razor Dirt Rocket MX350
Here are a few more MX350 Dirt Rocket images that might give you a better idea about the bike: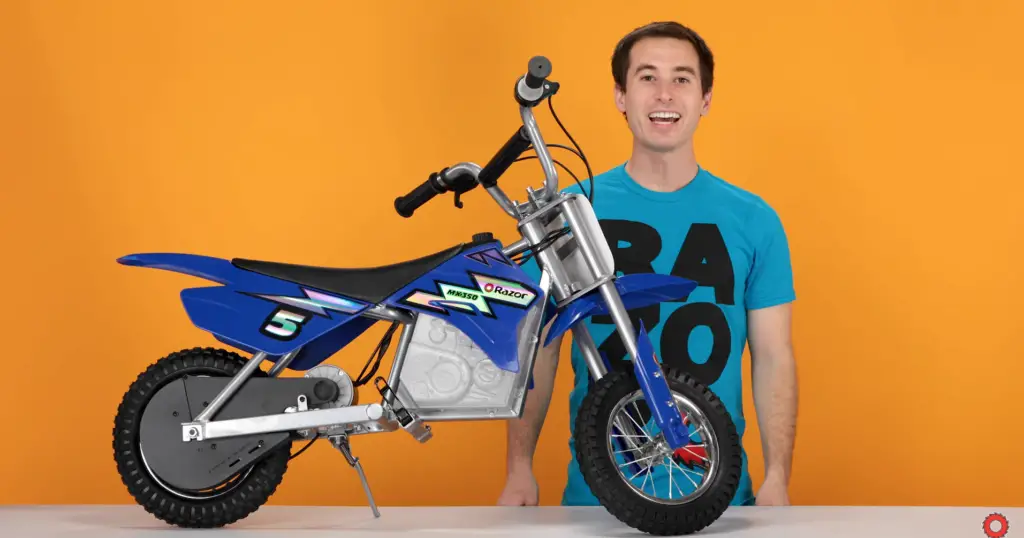 Also read: Razor MX500 Dirt Rocket Electric Dirt Bike Review