Way back 2014, Kuberg introduced a specialized electric dirt bike for kids who want to start getting into a more active riding style. This electric dirt bike is the Kuberg Start kids electric trials dirt bike which Kuberg claims to be "small scale, big power." But is it really recommendable for kids? Will your kid enjoy riding it? Will it last? Read on to find out.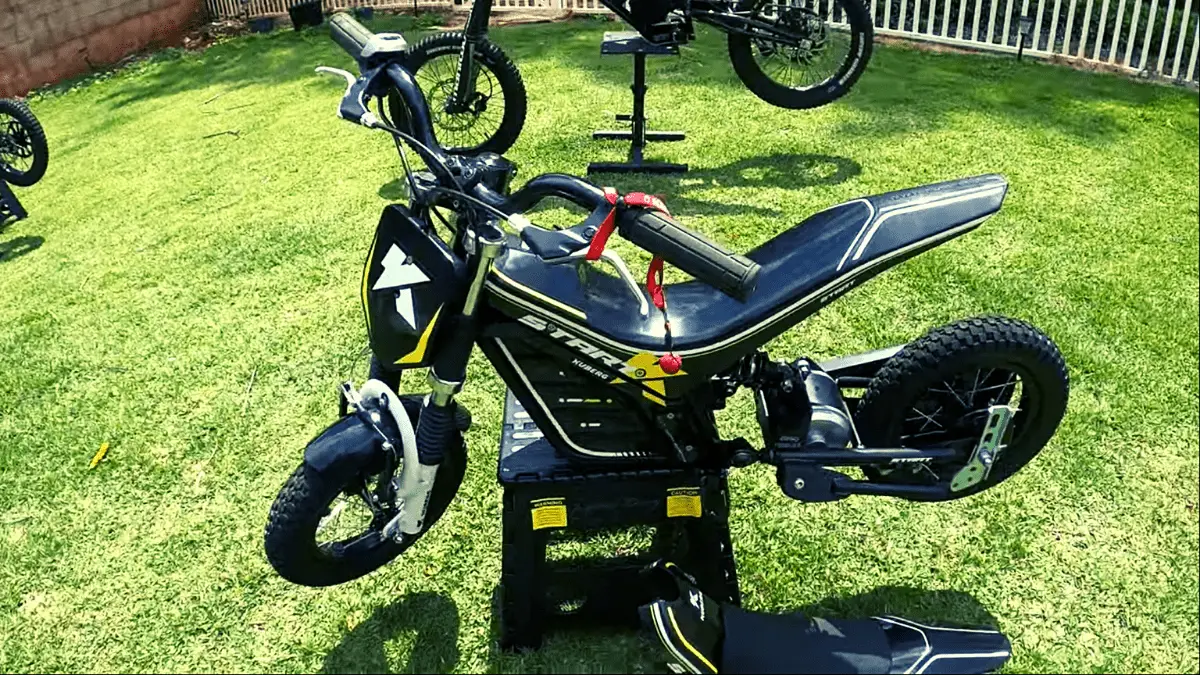 What Is the Kuberg Start?
The Kuberg Start is a small-sized electric trials dirt bike built for kids who want to start or move into a more rigorous riding method. As a trials dirt bike, the Start comes with no seat, and slightly raised handlebars to compensate for the standing riding position. The bike also works well in mild to moderate off-road terrain (although this also depends on your child's skill).
Kuberg doesn't really take its entry-level electric kids bikes seriously in terms of components so the Kuberg Start is more likely to be on the lower end of Kuberg's stick. In light of this, we wouldn't expect too much when it comes to the high-quality components included on other Kuberg adult bikes like the Freerider. It does compare well to the Kuberg Trial Hero electric trials bike, though.
Click here to read our Kuberg Trial Hero review
Detailed Overview and Competitor Comparison
Kuberg Start Kids Electric Trials Dirt Bike Main Features
The Kuberg Start kids electric trials dirt bike's most noticeable feature would be its low height, seatless form which any kid between the ages 3 and 5 could effortlessly mount. Another would be its lengthened swing arm to further lower the bike's center of gravity, and improve its balance and stability. This combination of features make it perfect for beginner riders.
Kuberg Start Display and Batteries
In line with all of Kuberg's bikes, the Kuberg Start doesn't come with a built-in display. Instead, it features a mobile phone-to-bike wi-fi connectivity which allows riders (and parents) to monitor and set their bike's condition through Kuberg's mobile app.
The app allows parents to set the bike's performance according to the rider's skill and even features a locking option to prevent tampering. The only downside is that you have to get the wi-fi dongle as a separate purchase. Otherwise, you're stuck with the basic "press start button and go" mode of operation.
A  24V 9Ah integrated Kuberg OEM lithium power pack powers the Kuberg Start kids electric trials dirt bike and gives it a range of 1 hour on max setting. Since the battery's integrated, you don't have to pull it out to charge. Instead, you can just park right next to an electrical outlet and start charging. 
The charger that comes standard with the Kuberg Start provides a recharge time of 6 hours from zero to full. This is a mildly menacing amount of time, but it's better than most other kids electric dirt bikes — some of which take an impossible 12 hours to recharge.
Kuberg Start Frame
A powder-coated steel double cradle tube frame supports the Kuberg Start kids electric trials dirt bike. Powder-coated steel is more resistant to chipping, scratching, fading, and wearing than other metal finishes, and provides protection from corrosion and rusting. A double-cradle frame uses two tubes running under the motor to support it. This holds an advantage over a downtube frame, which only features a single tube to support the motor, as it provides a much higher strength and rigidity. It's also more cost-effective to produce.
Kuberg Start Motor and Transmission
The Kuberg Start kids electric trials dirt bike runs using an OEM Kuberg 24V 1000W mid-drive electric motor that can propel the rider up to a top speed of 15mph with 1.3 horsepower. The motor also features air-cooling to prevent overheating — although we doubt the battery will last long enough for the motor to overheat anyway.
The bike runs on a single gear. This provides a simple twist & go mode of operation which is advantageous in that it allows the rider to focus more on basic riding skills such as throttle control and balancing. Parents can also freely set the bike's ride mode using Kuberg's mobile app through a wi-fi connected mobile phone.
Kuberg Start Brakes and Suspension
Unlike most Kuberg bikes, which use a hydraulic braking system with discs, the Kuberg Start uses Kuberg OEM cable type and drum brakes on front and rear respectively. Cable type brakes are the oldest and most common brakes you'll find on bicycles. Drum brakes are less responsive than hydraulic or mechanical brakes but provide a much gentler bite. This helps prevent panic-braking accidents which are most common among first-time riders.
On the other hand, the Kuberg Start features a branded Spinner grind fork and a regular spring rear to absorb mild to moderate shock. Spinner suspensions are not widely considered high-quality but they are cost-effective, reliable and easy to replace.
Kuberg Start Tires & Wheels
The Kuberg Start kids electric trials dirt bike sports Kuberg OEM 12.5 inch wheels with regular offroad tires. These tires can easily handle mild to moderate terrain without any accidents. Any terrain beyond that, and your child needs to be more experienced.
Kuberg Start Kids Electric Trials Dirt Bike Tech Specifications
To give you an idea what the Kuberg Start is made of, here's a simplified breakdown of its tech specifications:
Manufacturer Name
Kuberg
Model Name
Kuberg Start
Model Year
2020
Motor Manufacturer
Kuberg
Motor Model
24V Kuberg OEM 1kW
Motor Power
1.34 HP (1 kW)
Motor Placement
Mid-drive
Controller
PWM
Power Pack
24V Kuberg OEM lithium power pack
Battery Capacity
9Ah
Battery Removal
Integrated with a charger socket
Range
1 hour
Ride Mode
Configurable through Kuberg's mobile app
Regenerative Braking
None
Throttle
Twist throttle
Gears
1
Top speed
15mph
Weight
45lbs
Materials
Powder-coated steel
Seat height
16 inches
Suspension
Spinner Grind front fork
Kuberg OEM rear shock
Display
N/A
Purpose
Hard packed dirt, moderate rough terrain
Connectivity
Connectable to mobile phone via Kuberg Volt app
Security
Button-operated ignition
Where Can I Get a Kuberg Start Kids Electric Trials Dirt Bike?
The best place for US residents to get the Kuberg Start kids electric trials dirt bike is on Amazon because you can always get a great deal for the bike along with a 90-day warranty. Every purchase helps this site out because we get a small commission. Otherwise you can get the bike straight from Kuberg's Florida website. There are also 4 main dealerships in the US. These dealerships are based in Florida, California, Indianapolis, and New York. They all provide complete service packages to customers.
What Is Kuberg After-Sales Support Like?
Kuberg deeply values the quality of its customer service. Kuberg maintains a branch in North America located in Florida. You can also visit their main support page, or contact them at 954 323 6531 or via email through a contact feature on their website.
Kuberg Start Videos
Want to see the Kuberg Start kids electric trials dirt bike in action? Check out these YouTube videos:
Choice Kuberg Start Commentaries
To give you an idea of how your kids might accept the bike, here's a commentary from a buyer on Amazon.
"Our son loves his Kuberg Trial Bike (16 inch)! He was able to follow in his brother's footsteps by picking up our family sport with ease. Not only are Kuberg products safe, they're also durable."

-Jessie Forgione (Amazon)
Image Gallery
Here are some snapshots of the Kuberg Start kids electric trials dirt bike for a better viewing angle: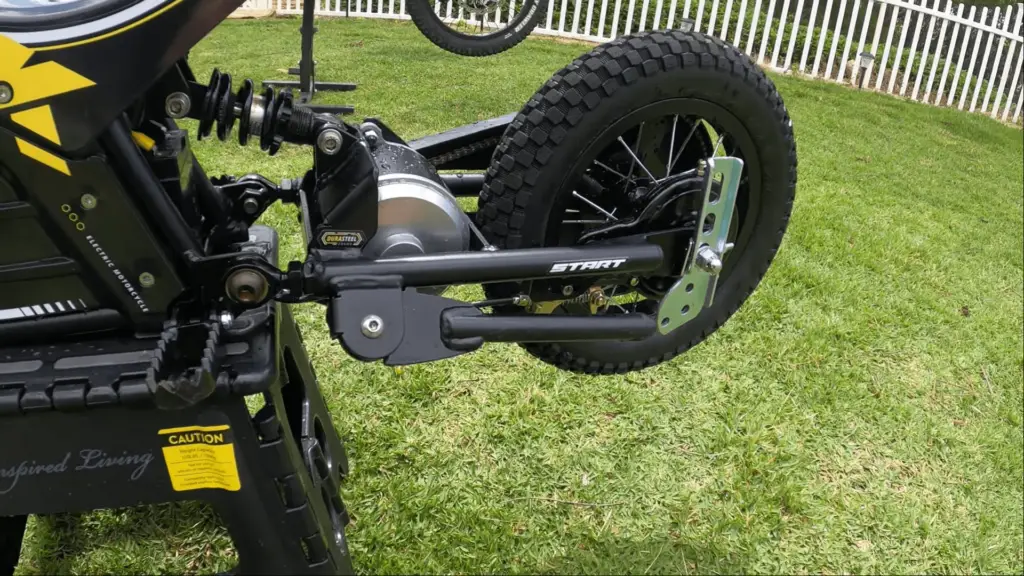 Also read: Monster Moto "Mega Moto" 250W Kids' Electric Dirt Bike Review