An all-new bike from the maker of the legendary 2-wheeled self-balancing personal transporters has just arrived — the Segway X160. 
Or, wait… is this just a rebranded Sur Ron X?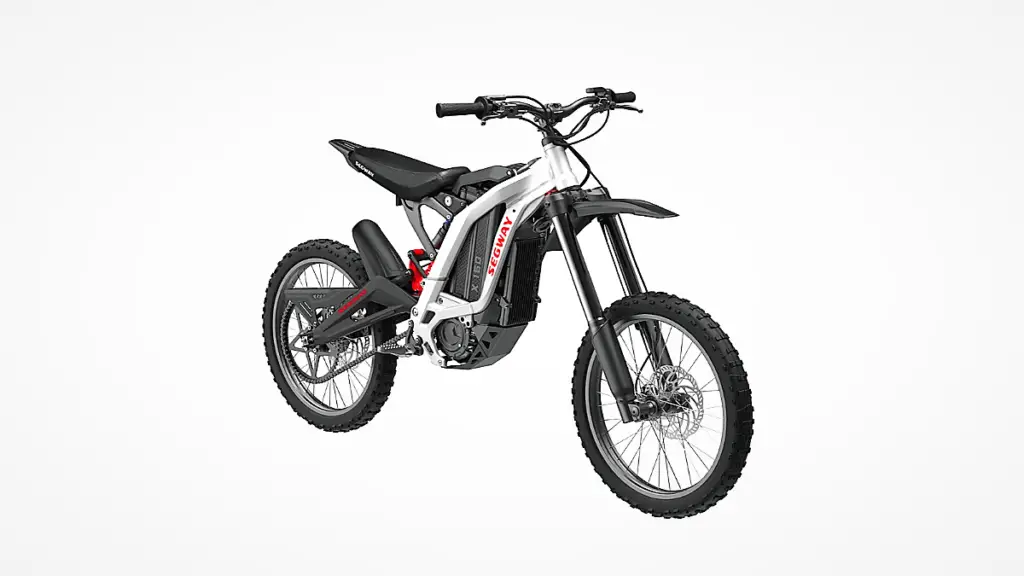 It's hard to miss the exact same styling found on the Light Bee X by Sur Ron, but is it really the same bike? Does it perform any better? Is it more comfortable to ride? Read on to find out.
What's the Segway X160 and Who's it For?
The Segway X160 is a midsize lightweight electric dirt bike made for quick zips around the dirt track or the local trails. Despite Segway's adult-only age recommendation, the bike's size and seat height suggests even teens can ride it. The Segway X160 is a powerful bike though so you're gonna have to keep a constant watch on your teens if you ever decide to let them use it. Oh and don't forget to wear a helmet.
Segway X160 Electric Dirt Bike Detailed Overview
Segway X160 Dirt eBike Main Features
Alright, we're going to give it to you straight: Although it may share a mutual styling with Sur Ron's Light Bee X, the Segway X160 possesses better features and perks. These features include: mobile phone connectivity and remote configurability, bright built-in headlights, adjustable frame length & seat height, and a highly customizable frame.
Click To Read Our Sur Ron X vs Segway X160 Comparison Article
Segway Electric Dirt Bike Display and Batteries
The Segway X160 unfortunately only features a basic speedometer and battery level display. It does however feature mobile phone connectivity which allows riders to configure their bike's performance through Segway's Nine-bot app. Also, you don't have to worry about having to install a phone holder because the X160 comes with a built-in adjustable phone rack.
A powerful Segway battery pack with Panasonic cells powers the X160. This battery pack gives the bike a max range of 40.4 miles. The battery pack also comes with its own charger which provides up to 5 hours recharge time from empty to full. This is quite an excruciatingly long amount of time for it's short operating range. The battery itself features a convenient easy slide in, slide out removal, though. So if you plan to take the X160 on long trail rides, always bring an extra battery pack. If you want a higher range of 50 miles, you can check out the Luna Cycle Sur Ron X.
Click to Read Our Luna Cycle Sur Ron Light Bee X Review
Segway X160 Dirt eBike Frame
The Segway ebike features an aviation grade aluminium alloy frame. Though it may sound quite a mouthful, the frame's function is pretty simple. Basically, this means the frame is solid, lightweight, and quite flexible. It's also very easy to repair once broken — which will probably take either the most extreme riding conditions or a 30-foot drop from a cliff.
The frame also bears an aggressive geometry which gives it quite a badass rugged look when combined with its red and black color scheme and off road tires. The entire bike also weighs only 105.8lbs which is quite convenient if you like to bomb winding trails. Lightweight bikes are easier to flick. They're also great for tackling tough terrain where you may have to lift the bike over rocks or logs. If you opt for a heavier bike, the KTM Freeride E-XC weighs at 203lbs.
Click to Read Our KTM Freeride E-XC Review
Segway X160 Motor and Transmission
An OEM Segway motor with unspecified specs powers the X160. Although Segway doesn't mention the motor's voltage, they do claim that it provides a top speed of 31.1mph, paired with 162.2 foot pounds of torque. This powerful torque rating usually translates to easier climbs and easier wheelies. However, 31.1mph is quite disappointing in comparison to the Sur Ron X's 50mph top speed.
The juicy part is in the Segway X160's transmission. Although the bike comes with just a single gear and normally would provide a jolty acceleration, the X160's electronic throttle control feature simulates a smooth power delivery. This is quite convenient especially for beginners since they wouldn't have to worry about accidental backflips.
The X160 also features a dual drive system. This means the motor uses two sets (primary and secondary) of drive systems to propel the bike which consists of a belt and a chain respectively.
X160 Electric Dirt bike Brakes and Suspension
The Segway X160 features remarkably responsive OEM brakes which activate using brake levers on the handlebar, and paired with an electric brake for extra stopping power. The brakes also come with brake regen which basically streams friction energy back into the battery to extend range.
A superior Segway OEM dual suspension system also helps ensure a smooth ride in all kinds of terrain. This includes a multi-link hydraulic spring rear shock and a double-shoulder inverted front fork. Although I don't recommend using the X160's stock suspension on extreme rides such as competitions, it can very well handle itself on moderate to slightly difficult terrain. Also it features a universal design so you can always switch it up with aftermarket parts anytime.
Segway X160 Dirt eBike Tires & Wheels
To further help absorb shock, the Segway e bike comes with spoked aluminum wheels of unspecified size wrapped with all-terrain tires. All terrain tires aren't the best for off road situations so I always recommend changing your tires to dedicated knobbies first before blasting through the local equestrian trails.
Segway X160 Electric Dirt Bike Tech Specifications
If the X160's features above sound like a mouthful, check out this list we made to get an idea of what the bike is made of:
Manufacturer Name
Segway
Model Name
X160
Model Year
2020
Motor Manufacturer
Segway
Motor Model
Segway OEM brushless motor
Motor Power
Unknown KWs(2.9 hp and 162.2 ft-lbs equivalent)
Motor Placement
Mid-drive
Controller
IP67 controller
Power Pack
Panasonic IP65 battery pack
Battery Capacity
Unspecified
Battery Removal
Easy slide out with hatch
Range
40.4 miles
Ride Mode
Sports Mode – Max powerEP Mode – 70% power
Regenerative Braking
Yes
Throttle
Twist throttle
Gears
1
Top speed
31.1 miles per hour
Weight
105.8lbs
Materials
Aviation grade aluminium alloy
Seat height
Adjustable
Suspension
Segway OEM multi-link hydraulic spring rear shock 
Segway OEM double-shoulder inverted front fork
Display
LED (speedometer, battery level)
Purpose
All-terrain (mostly off road)
Connectivity
Mobile app (Segway Nine-bot App)
Security
Turn-key ignition
Where Can I Get a Segway X160?
You can get the Segway X160 direct from Amazon for as low as $3,499.99 USD. We always recommend Amazon because of their very fast shipping, great customer service, and good return policies. Note that we're also an Amazon affiliate partner, so every click helps to support our website.
What is Segway's After-Sales Support Like?
Segway provides excellent after-sales support with a very quick response rating and customer service quality. For any concerns, you can always visit a contact page on their website where you can input your name and concern and await their email reply (takes usually half a day or so). If you have no access to their website you can try to directly email [email protected]egway.com or call 1(866)473-4929 / 1(866)4Segway.
Segway X160 Videos
Want to see the bike perform in real time? Here's a video on the Segway X160 electric dirt bike in action:
Choice Segway X160 Commentaries
Segway's website and Amazon store includes a number of user reviews that you should comb through if you're serious about this bike. We've brought a select few for you here:
"Amazing bike, was a lil skeptical at first but I am very pleased. If you cant have a dirtbike and want something that can give u the feeling of being on a bike, this does it. Plus you dont have to worry about gas and oil as well as the mess and loudness of a gas powered bike. The battery runs out a little faster on sport mode and takes a bit to charge is the only downside. If you can live with that then its the bike for you."

-Marc Larkins (Source: Amazon)
"I was really excited to get this bike . It arrived and the package was really beat up . When I opened it the lumber that the bike was bolted to was shattered . Upon further inspection the battery hold down latch was broken . The Segway emblem that covers it was laying in the bottom of the packaging . The battery was in the bike not in the original packaging that leads me to believe this may have been a return and not inspected."

-Jasmine L. (Source: Amazon)
"The two-wheeled electrified adventure machine falls somewhere between a gas-powered dirt bike and mountain bike; Eco mode is plenty powerful for most riding. In sport mode, it will pop sheelies on demand."

-6J (Source: Segway)
"…blitzing through the hills and tracking trails at solid speeds, and can accelerate from 0 to 31 mph in precisely 4.02 seconds."

-Stuff (Source: Segway)
Segway X160 Pictures
If you want a different view angle on the Segway X160 electric dirt bike, don't hesitate to check out these pictures: