Kuberg's Young Trial Hero Edition kids electric dirt bike is a great example of the type of bikes that have made Kuberg a leader in the space. The Kuberg Young Trial Hero Edition comprises the best quality components Kuberg can offer, and delivers maximum performance and riding quality for your kids relative to other electric dirt bikes for kids. 
You can get it right off of the Kuberg site for $1,899.99 USD, but you can always get it for much better prices on Amazon.co.uk and Amazon.it if you live in the UK or Italy.
But will Kuberg's growing reputation for competent off road electric dirt bikes be derailed by the Trail Hero's lack of basic built-in components such as its display? Read on to find out.
What is the Kuberg Trial Hero?
The Trial Hero is the trials dirt bike variant of Kuberg's Young Hero Edition electric dirt bike series, with the other being the Kuberg Cross Hero which is a standard dirt bike variant. Trials motorcycles are favored by amateur or professional riders who want to operate over extreme terrain. Trials motorcycles are designed to be both lightweight and durable.
This bike accommodates kids from 5 to 12 years old and is recommended to run on moderate to intense terrain just like its sibling; the Kuberg Cross Hero.
Overview
Features
The Kuberg Trial Hero dirt bike features all the necessary components on a kids electric dirt bike. It also includes some extra bits and pieces that aren't usually found on regular electric dirt bikes for kids. These extra features include mobile phone connectivity and the ability to manually adjust the bike's performance through Kuberg's mobile app.
Display and Batteries
The lack of a display makes this bike quite unappealing at first look, but there is actually something special behind this fact. Like every other bike Kuberg offers, the Kuberg Trial Hero features a unique mobile phone connectivity which allows the rider to use their mobile phone as a display and controller, and can even modify the bike's performance through Kuberg's mobile phone app.
The Trial Hero runs using a standard 9Ah Kuberg powerpack which provides a range of 2 hours on moderate setting. This powerpack is situated right next to the motor in the bike's central chassis and is set up to be water-proof, as well as its controller hub and motor. What's more, it comes with a powerful charger that only charges for 6 hours until max level— that's half the charging time of other electric dirt bikes, such as the Razor MX350 and MX500.
Frame
A solid powder-coated steel tube frame houses many of the Kuber Trial Hero's components. This frame bears a specialized geometry resembling that of a trials dirt bike, but is quite comfortable to ride on due to its more relaxed riding position. 
Though durable, a pure steel frame further adds to the bike's weight, which might be a factor in your kid's opinion of the bike. The advantage of a steel frame is its high carrying capacity. The Kuberg Trial Hero can carry up to 220 lbs of rider weight, which also means even lightweight adults can ride it albeit weird and uncomfortable.
Motor and Transmission
The Kuberg Trial Hero runs using a quiet but powerful Kuberg 36V 4.14hp air-cooled brushless motor controlled by Kuberg's 36V control unit. This motor has enough power to propel the rider up to 17mph on maximum setting. This combination, combined with a one-speed clutchless transmission, makes for an easy but enjoyable ride for your kids.
Brakes and Suspension
Since this kids dirt bike can reach speeds up to 17mph, it's gonna need a good brake system. Luckily, Kuberg equips every Trial Hero model with a high quality Tektro Auriga hydraulic braking system (single 6.3in disc, on front and rear).
Tektro is a bicycle components manufacturer and distributor founded in 1986. So you can expect more than 30 years worth of component engineering to reflect on your product.
As for its suspension, the Kuberg Trial hero features high quality 50mm travel Spinner Grind Air LC forks and a DNM AO-42AR rear shock absorber. The benefits of air forks is they are lightweight and easily adjustable for rider weight and spring stiffness. This suspension setup enables the bike to quickly adjust to accommodate any terrain.
Wheels and Tires
The Kuberg Trial Hero sports small 16-inch Kenda tires on the front and rear. Kendas are known for their durability but lack a little by way of grip especially off-road. These tires are held by solid high quality powder-coated steel spoked wheels which shrug off punishment from rugged terrain.
Trial Hero Tech Specifications
If you want an idea of what makes this Kuberg dirt bike tick, take a look at its individual components below:
| | |
| --- | --- |
| Manufacturer Name | Kuberg |
| Model Name | Young Hero Trial Edition |
| Model Year | 2020 (Originally released in 2017) |
| Motor Manufacturer | Kuberg |
| Motor Model | Kuberg self-developed 36V air-cooled Brushless Motor |
| Motor Power | 3000W (4.14bhp) |
| Motor Placement | Centrally placed |
| Controller | Connectable with mobile phone which then acts as a display and controller |
| Power Pack | Standard Kuberg powerpack |
| Battery Capacity | 9Ah |
| Battery Removal | Easy clip out |
| Range | 2 hours of continuous operation |
| Ride Mode | Manually adjustable with the use of a connected mobile phone |
| Regenerative Braking | N/A |
| Throttle | Twist throttle |
| Gears | 1 |
| Top speed | 17mph |
| Weight | 77lbs |
| Materials | Powder-coated steel |
| Seat height | 20.5 inches |
| Suspension | 50mm Travel Spinner Grind Air LC forksDNM AO-42AR rear shock |
| Display | Connectable with mobile phone which then acts as a display |
| Purpose | Kids electric dirt bike |
| Connectivity | Mobile phone can be connected to act as a controller and display |
| Security | Button operated, automatic kill-switch using connected armband |
After-Sales Support
Kuberg deeply values the quality of its customer service. Kuberg maintains a branch in North America located in Florida. You can also visit their main support page, or contact them at 954 323 6531 or via email through a contact feature on their website.
Where Can I Get a Kuberg Trial Hero?
You can get the Trial Hero right off of the Kuberg site for $1,899.99 USD. Also, if you're based in the UK or Italy, make sure you check out the Trial Hero on Amazon.co.uk, and on Amazon.it. If you're in Germany, Amazon.de and Ebay.de also offer the Kuberg Trial Hero. We strongly recommend getting the bike from these other sites because you're much likely to get the best deals on the Trial Hero.
Videos
If you're interested in learning more about the Trial Hero electric dirt bike or just want to see it in action, make sure to watch these videos:
Trial Hero Choice Commentaries
Considering this is a pretty new model, we've found just one commentary on the Trial Hero that we're allowed to share:
"The dirt bike is so coooooool! Wish I had one!! Should do a giveaway because I want one for Christmas"

-Teddy Plays (YouTube)
Trial Hero Image Gallery
Here are a few more Trial Hero images that might give you a better idea about the bike: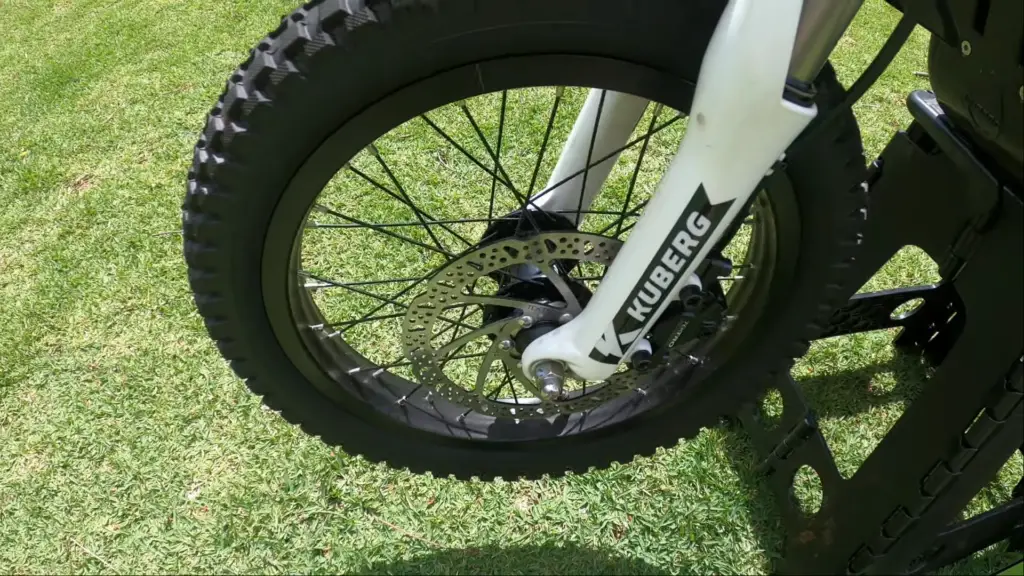 Also read: MotoTec 24v Electric Dirt Bike (MT-Dirt-500) Review