The Monster Moto 250W electric mini dirt bike will give your young rider the experience of a gas powered mini dirt bike without the snappy power. It's a great starter bike for many young riders and will help your kid in making a smooth and comfortable transition to more powerful electric dirt bikes.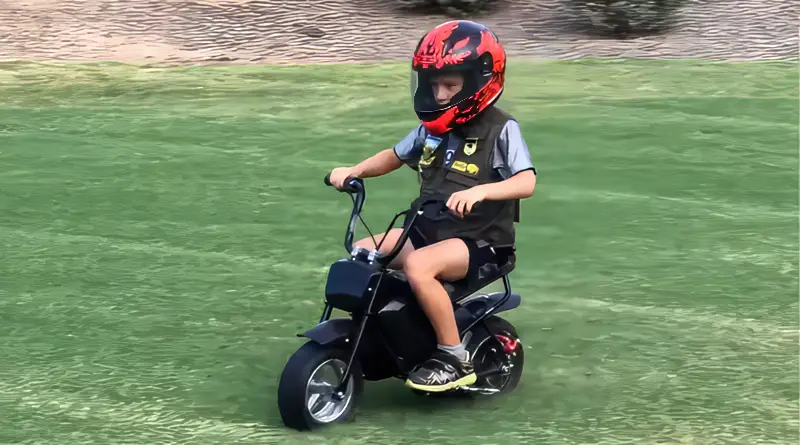 What's the Mega Moto 250W and Who's It For?
The Monster Moto Mega Moto 250W is a mini electric dirt bike made for 6-year olds and older kids. It is an ideally safe and comfortable starter bike for little riders with its low torque, low speed motor, tall handlebars, and low seat height.
Mega Moto 250W Detailed Overview
Monster Moto 250W Kids' Electric Dirt Bike Main Features
Perhaps the Monster Moto 250W's most useful feature is its safety speed limiter. This feature allows parents to manually set the maximum speed that the bike can run on full throttle through a switch on the bike's battery compartment. The switch also features a key lock so children won't be able to tamper with it.
Display and Batteries
The only cockpit display featured on the Mega Moto 250W is a battery level indicator near the throttle (which makes sense because most 6-year olds can't yet understand indicators other than that). However, there's a speed limit indicator near the speed limit switch on the bike's battery compartment for parents to check out from time to time.
A 24V 7Ah rechargeable battery pack powers this Monster Moto mini dirt bike and provides a range of up to 45 minutes of continuous use. It also includes a charger which allows a recharge time of just 5 hours. This is 50% less charging time than that of Razor's MX350.
READ OUR REVIEW OF THE RAZOR MX350 DIRT ROCKET HERE
Frame
The Mega Moto 250W kids' electric dirt bike hosts a rigid but lightweight cast aluminum frame that can effectively carry up to 130lbs of rider weight. The handlebars on the frame are also adjustable so parents can freely choose their kid's riding position.
Motor and Transmission
Monster Moto's Mega Moto 250W runs using a 250W generic electric motor (which is ideal since it drastically reduces the cost and this is just a practice bike). This motor allows a top speed of up to just 11mph but you can reduce this to 7mph and 3mph using the 2-stage speed limiter switch located on the bike's battery compartment.
Given that the Mega Moto 250W is a starter bike, it runs on a single speed transmission that allows kids to easily operate the bike without worrying about any other controls. Despite running on a single gear, the Monster Moto mini dirt bike features a slow throttle response. This makes it safe for kids since pulling the throttle doesn't immediately dish out a large amount of power in a short time.
Brakes and Suspension
Stopping is no problem on the Monster Moto 250W. The good thing about the Mega Moto 250W is that it uses a disc brake in the rear which has a better and stronger bit than that of a drum brake. Disc brakes use a metal disc to stop the rear wheel while drum brakes use a drum filled with fluid and use pressure to stop the wheel.
While braking is good, ride quality is mixed. A Monster Moto OEM shock absorber supports the rear end of the Mega Moto 250W. This is good as it helps keep your kid's butt comfortable on rough terrain. But the lack of a front suspension might compromise safety because the handlebars will wobble every time it hits a rough surface.
Tires & Wheels
The bike's wheels don't help. The Mega Moto 250W sports lightweight cast aluminum wheels which are quite regular when it comes to durability, and thick pneumatic (air-filled) tires. The good thing about these wheels and tires is that they're universal so you can replace them with just about any brand as long as the size fits. The thick pneumatic tires also assist the shock absorbers to keep the bike gently bouncing on rough terrain.
Monster Moto 250W Kids' Electric Dirt Bike Tech Specifications
Manufacturer Name
Monster Moto
Model Name
Mega Moto 250W
Model Year
2020
Motor Manufacturer
Monster Moto
Motor Model
Monster Moto 250 watt electric motor
Motor Power
250W
Motor Placement
mid-drive
Controller
N/A
Power Pack
24V Lithium Ion
Battery Capacity
7Ah
Battery Removal
Integrated
Range
45 minutes on constant use
Ride Mode
2-stage speed limiter

7mph, 3mph and 11mph
Regenerative Braking
N/A
Throttle
Twist throttle
Gears
1
Top speed
11mph
Weight
51lbs
Materials
Cast aluminum
Seat height
17.5 inches
Suspension
Monster Moto OEM rear shock
Display
Analog battery level indicator
Purpose
Kids' starter dirt bike
Connectivity
N/A
Security
Button-operated ignition (no key, just a button)
Where Can I Get a Monster Moto 250W Kids' Electric Dirt Bike?
The best place you can get Monster Moto's Mega Moto 250W kids' electric mini dirt bike is on Amazon because it's where you can get the best price for a brand new model of the bike. You also get buyer freebies such as red and pink decals.
What Is Monster Moto's After-Sales Support Like?
Despite a mixed number of stars on their sales page on Amazon, a quick look at the user reviews proves that Monster Moto is quite responsive when it comes to customer after-support. They also provide customers with a user manual and tips on how to repair their products (if customers send an email).
Monster Moto 250W Videos
Choice Monster Moto 250W Kids' Electric Dirt Bike Commentaries
If you'd like an idea on what Amazon customers think of the Monster Moto 250W, check out these commentaries from Amazon:
"When people see how much fun these are, you'll want to get 2.
There's no suspension, not good for going off jumps, and if you're going through very heavy brush, things get jammed up pretty quick, but it wasn't built for those things. Fixing it is very easy as there's very few moving parts with this electric motor. It was built to go a zippy 17mph off roading, on relatively flat surfaces in such an easy way to drive that no motorcycle experience is necessary. My wife jumped on it and while never riding a motorcycle or scooter of any kind, immediately got comfortable and loved it within 2 minutes of riding it."

-M. Lim (Amazon)
"After putting the handlebars on and charging the battery the minibike was ready to go. My daughter loves it she is 43 inches tall it fits her perfectly she's five years old. Over the past month and a half of owning it her riding skills have gotten much better she's much more confident."

-Alex Gore (Amazon)
"Super alarmed. Let me start by saying we have had two moto 1000 electric bikes for a bit, and they were fun. Then one just stopped working, moments after if shut down, it kicked back on and my sons friend mowed my son down."

-Jamie (Amazon)
"The bike is super sturdy. It's pretty quick and has a lot of torque. It took me awhile to get the hang of turning it, but everyone else seemed able to figure it out without any trouble. My son takes it to the park and surrounding green areas and rides it all over the place."

-C. Lindsey (Amazon)
Monster Moto 250W Pictures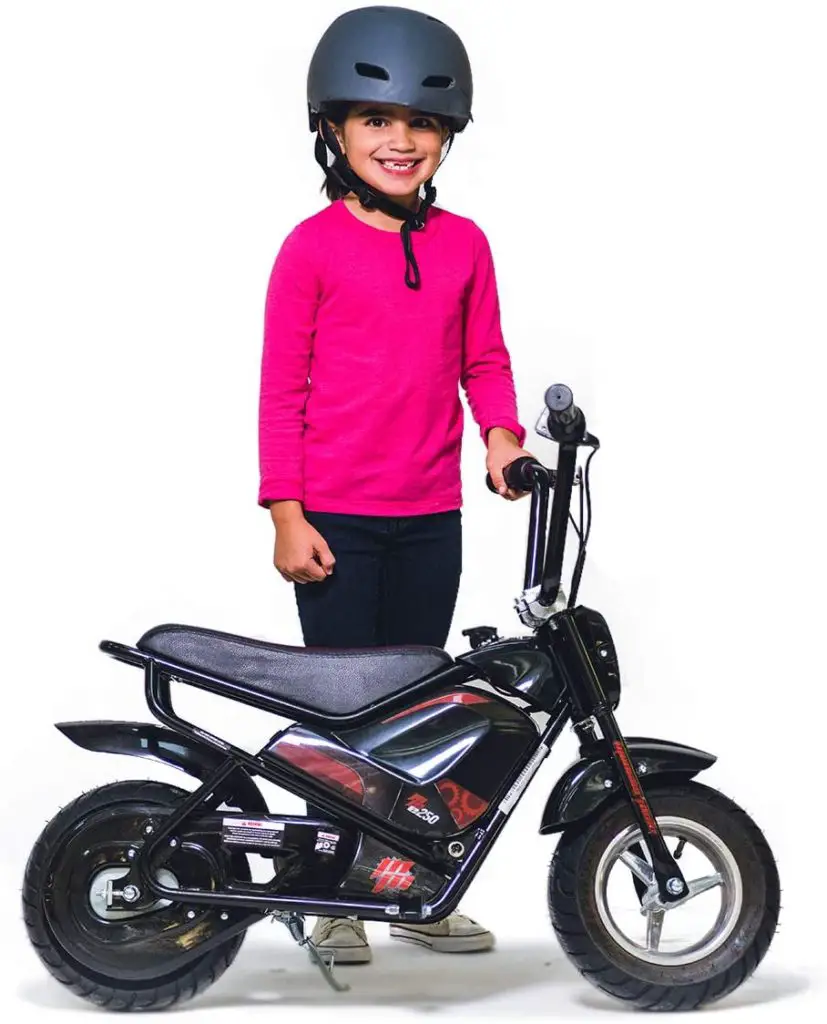 Also read: How Old Do You Have to be to Ride an Electric Dirt Bike?