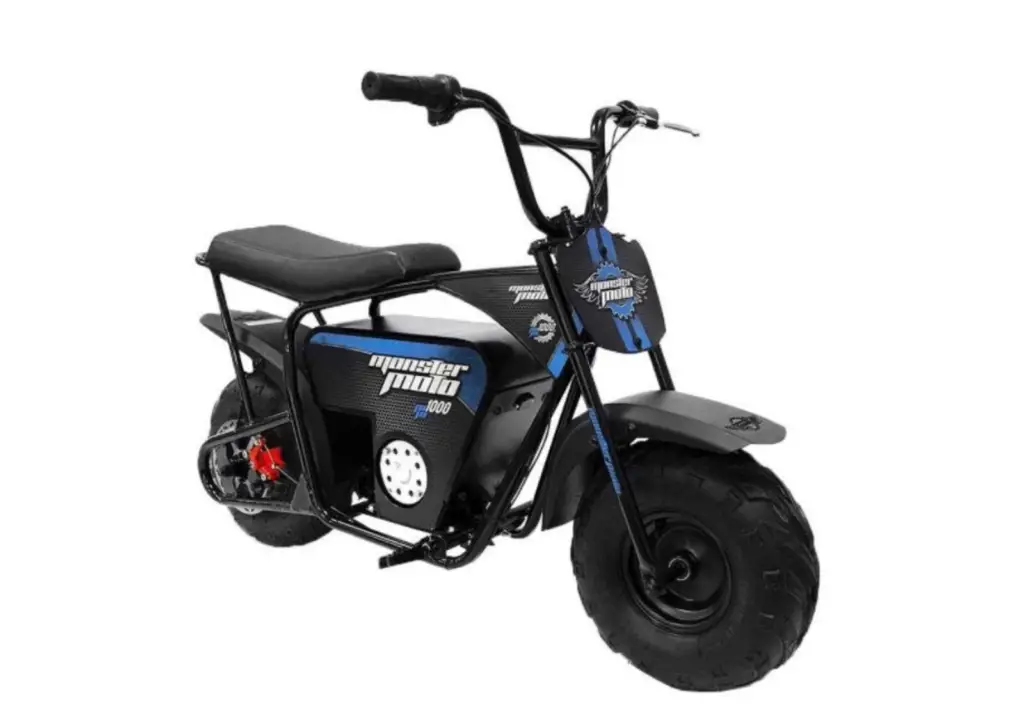 The latest pick among recently released kids starter electric dirt bikes right now is the Monster Moto E1000 mini electric dirt bike. This mini dirt bike may have the look of a generic starter bike but it does have perks that make it safe to ride and quite entertaining for kids. Find out all about these perks as you read on.
What's the Monster Moto E1000 and Who's it For?
The Monster Moto E1000 is a small-size electric dirt bike built for starters. Although Monster Moto recommends the bike for kids 14-years old or older, its tiny size suggests even 4-year olds can operate it.
Monster Moto E1000 Mini Electric Dirt Bike Detailed Overview
Monster Moto E1000 Mini Electric Dirt Bike Main Features
This Monster Moto mini electric dirt bike features none but generic components. Like other starter bikes, it doesn't really bear any special features. However, beginners don't really care about high quality, high performance components. They just wanna learn how to ride.
E1000 Display and Batteries
The only display the E1000's got is an analog battery indicator on the right handlebar. This is useful as parents and riders will have an idea when it's time to get off and recharge.
An ordinary 36V lithium power pack supplies the Monster Moto 1000, giving it a really short operating time of just 45 minutes. This pairs up with a menacing 6-hour recharge time, so it's easy to see your kid quickly getting sick of it.
E1000 Frame
The E1000's simple frame comprises a not-so-solid but easily repairable cast aluminum material that holds up to 185 pounds of rider weight. This type of frame is versatile and corrosion resistant so you don't have to worry about letting your kid run through some wet terrain.
E1000 Motor and Transmission
A Monster Moto OEM 1kW electric motor propels the E1000 giving it 1.3hp combined with 73 ft-lbs of torque. Despite the Monster Moto's monster torque figure, the bike features gentle acceleration so wouldn't startle beginner riders.
The bike runs on a single gear transmission which also means it's a twist & go mode of operation. This is ideal as starters need to focus on how to ride the bike first before worrying about any other controls.
E1000 Brakes and Suspension
What's fun about Monster Moto's E1000 electric mini dirt bike is that it features a rear disc brake. Disc brakes are especially good at performing in all types of terrain — be it wet, dry, or semi-dry — because of its tight hugging grip. You can also use bigger wheels with disc brakes since the disc attaches to the hub of the wheel rather than the bike's frame. Also, the tire's weight wouldn't affect the braking strength too much as the brakes would grip on the center of the wheel, reducing the amount of friction needed to stop it.
Two downsides though — no front brake, and no suspension. This makes for a really awkward ride especially on rocky or bumpy terrain. Make sure your kid rides on pavement or hard packed dirt, instead. The oversized wheels however add a bit of suspension to the bike although still not enough to make a noticeable difference.
E1000 Tires & Wheels
The E1000 runs on standard aluminum wheels wrapped with thick tubeless tires for better balance assistance. Nothing else special about the wheels, really.
Monster Moto E1000 Mini Electric Dirt Bike Tech Specifications
To get a more detailed view of the Monster Moto 1000, check out this list:
| | |
| --- | --- |
| Manufacturer Name | Monster Moto |
| Model Name | E1000 |
| Model Year | 2020 |
| Motor Manufacturer | Monster Moto |
| Motor Model | Monster Moto 1kW electric motor |
| Motor Power | 1kW (1.3 hp, 73 ft-lbs) |
| Motor Placement | Mid drive |
| Controller | N/A |
| Power Pack | 36V lithium power pack |
| Battery Capacity | 10Ah |
| Battery Removal | Integrated |
| Range | 45 minutes on constant use |
| Ride Mode | 1 |
| Regenerative Braking | N/A |
| Throttle | Twist throttle |
| Gears | 1 |
| Top speed | 17 mph |
| Weight | 110lbs |
| Materials | Cast aluminum |
| Seat height | 24 inches |
| Suspension | None |
| Display | Battery level indicator on handlebars |
| Purpose | Hard packed dirt, pavement |
| Connectivity | N/A |
| Security | Button operated ignition |
Where Can I Get a Monster Moto E1000 Mini Electric Dirt Bike?
You can get the Monster Moto 1000 mini electric dirt bike from Monster Moto's web shop right off the bat. This provides you a surefire way of obtaining a brand new model along with a warranty period. If that's not right up your alley, you can also check out Walmart for the bike. They offer the same benefits as those on the manufacturer's website itself.
What is Monster Moto's After-Sales Support Like?
Despite a low 2.7 out of 5 average star rating on their walmart page, Monster Moto does provide decent customer support on their main dealership website. You contact them via 800-798-0325 (US) or email them using a contact feature on their website. They also offer extra online services such as an order tracker and easy item returns.
E1000 Mini Electric Dirt Bike Videos
Want to see the Monster Moto 1000 electric mini dirt bike in action? Check out these YouTube videos:
Monster Moto E1000 Choice Commentaries
Want to find out what people are saying about the bike? We've gathered some commentary about the Monster Moto E1000 from Walmart. Check them out here:
"I recently bought this bike for my kids and they love it! They ride it around the neighborhood every day after school. It has really helped get them spend more time outside and away from screens. The bike is really easy to use. Just plug in to charge and it runs for about an hour. Highly recommend."

-Jack (Monster Moto)
"Great product! Took some time to write review to see if anything negative popped up, nothing did. Great little bike…hauls around not only my 6 year old, but my 230lb butt as well. I dont see you beating it for price."

-Mekuhnik (Monster Moto)
"It's a great value. Had to adjust chain and rear brake. It was no problem for me. Some people have zero tinkering skills and expect everything to be perfect and never need adjusting or maintenance. If that is you don't buy ATVs on line. The mini bike now is assembled in the US and has an American contact number also. I read in the early reviews that communication was a problem. I did not need to contact them but usually a local contact is a good sign that you can."

-GrassZ (Monster Moto)
"I bought this for my son for xmas. Due to the long winter –really didn't get to ride it much until April. The forks were bent. (out of the box) I fixed that. The fuse kept blowing, so I installed a circuit breaker. That worked for a while till the brushes finally trashed. didn't last 5 months"

-Phoneless11 (Monster Moto)
"Bike arrived quickly, was pretty easy to assemble, but had problems. First 1 of the wires on the harness you are first instructed to connect was pulled out of the plug. GLARING QC issue as this was either pulled out by someone disconnecting the harness in the factory, or it was NEVER tested (mostly likely). Then once it was all together as-per-manual the Throttle is stuck on and will not disengage."

-NotAngryJustDisappointed (Monster Moto)
Monster Moto E1000 Mini Electric Dirt Bike Pictures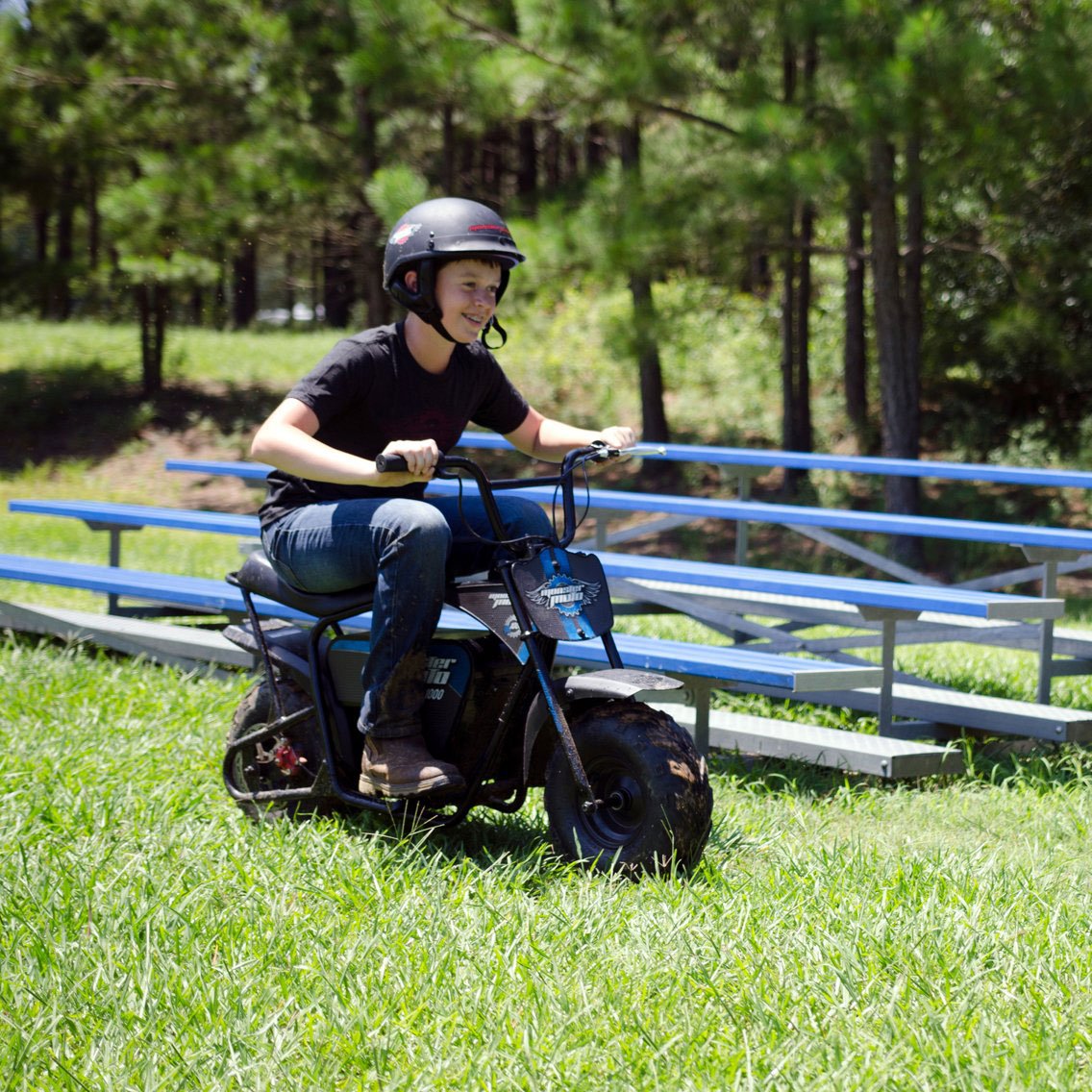 Also read: Sur Ron Light Bee S Review