I bet you wish you had a list of all kids electric dirt bikes available on the market so you can avoid that so-called buyer's guilt from seeing a better one right after getting a "great" bike. Well, look no further because we've piled up a list of all kids' electric dirt bikes our guys could find on the net. Check it out below.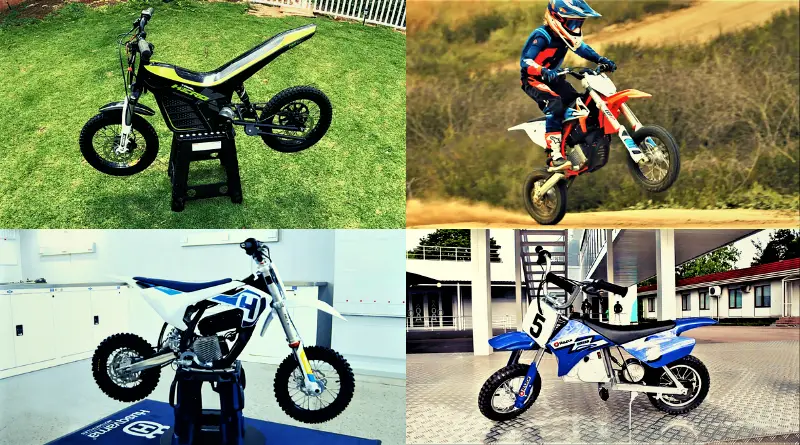 Apollo DB-10
Sporting the traditional dirt bike look and thick off road tires, the Apollo DB-10 gives kids the authentic experience of riding a real dirt bike. The DB-10 also features OEM but perfectly capable components that are also solid but easy to replace or repair.
Best Choice Products Kids 6V Ride On Motorcycle
Another stylish kids electric dirt bike with training wheels for your little beginner dirt bikers. This bike features a working headlight and tail light for when you plan to train your kid at night.
Best Ride On Cars Honda CRF250R Dirt Bike
Modelled after the popular Honda off-road race bike — the Honda CRF250R, this kids electric dirt bike brings your kid an authentic dirt bike experience. Or at least close to that. It also features a 6-volt battery and motor, as well as storage space and training wheels.
Burromax TT250
Sporting an authentic gas engine-looking motor, and tall handlebars, the Burromax TT250 offers your kid a pretty relaxed starting ride. It's also lightweight so your child can easily control the bike without too much force.
FamilyGoKarts Kids Electric Dirt Bike for Children – Orange
Though not as well recognized like the other brands on this list, this orange kids electric dirt bike offers some pretty decent performance (for starters). Plus, it's more affordable so it'll make a great practice bike for your kid.
HONEY JOY Ride on Motorcycle
Nothing's better than a kids electric dirt bike styled like a full blown dual sport motorcycle. This stylish electric dirt bike for kids brings you a complete set of motorcycle accessories plus training wheels if your kid is a beginner.
Huffy Electric Ride On Cars for Kids
If you've got any kids that would like to learn to ride an electric dirt bike, check out the Huffy Electric Ride On Cars for Kids. This starter electric dirt bike comes with training wheels and a fabulous pink color scheme. It also features a badass motard look.
Husqvarna EE 5
The Husqvarna EE 5 is an e-motocross dirt bike that fits kids between 3 and 6 years old. It's also Husqvarna's first and only electric-powered dirt bike. The EE5 dishes out power equivalent to a 50cc petrol dirt bike and can run up to 2 hours before needing to recharge.
KTM SX E5
The KTM SX E5 is a visually smaller version of KTM's Freeride E-XC (an electric dirt bike for adults). It is an aggressive looking electric dirt bike made for kids between 5 and 11 years old with experience in motocross.
Kuberg Cross Hero
The Kuberg Cross Hero Edition is a mini MX electric dirt bike that offers awesome thrills, performance and speed over any terrain in any conditions. This bike is a proven, rugged, hard wearing, fun machine for little riders looking to rip a new one over the toughest terrain out there.
Kuberg Cross X-Force Pro 50
Lightning-fast acceleration, rapid torque, and huge power …at least that's what Kuberg says. The Kuberg Cross X-Force Pro 50 is the latest release in Kuberg's kids electric dirt bike lineup. It is a small-sized electric motocross dirt bike suitable for kids of 6 – 12 years old.
Kuberg Start
The Kuberg Start is a small size trials e-dirt bike recommended for kids between 5 and 11 years old who want to begin with or move into a more active riding style. As a trials dirt bike, the Start comes seatless with raised handlebars to make up for the standing mount.
Kuberg Trial Hero
The Kuberg Trial Hero is a small size electric trials dirt bike made for kids between 6 and 12 years old. Trials motorcycles fit amateur or experienced riders who want to traverse extreme or jagged terrain. Trials motorcycles are designed to be both durable and lightweight.
Monster Moto 1000
The Monster Moto E1000 is a mini electric dirt bike built for beginner riders. Although recommended by Monster Moto for 14-year olds or older, its small form suggests even kids younger than 5 years old can operate it.
Mototec 24v (mt-Dirt-500)
The MotoTec 24v Electric Dirt Bike (A.K.A "MT-Dirt-500") is a mid-end electric powered toy ride for children of age 8 and above. This bike bears the authentic appearance of a traditional dirt bike and, unlike the Razor MX350 electric dirt bike we also reviewed, features both a front and rear suspension. In terms of dirt bike authenticity, this MotoTec dirt bike is comparable to Razor's MX500.
Mototec 36v
The MotoTec 36v electric dirt bike is a legit fun and safe ride for 9-year olds and older kids. This bike bears the authentic dirt bike look and functionality with its rugged form and dual suspension.
Unfortunately, you can no longer find this product on the market. However, you can check out sites like Ebay or Amazon for a good-as-new used unit.
Pulse Performance EM-1000
The Pulse Performance EM-1000 is a starter-level electric dirt bike meant for children between ages 8 and 11. Pulse Performance built this bike to be child-friendly with its simple mode of operation and gentle acceleration. It is a basic, no-suspension electric dirt bike meant as a training bike for young riders and bears the simplest but reliable components.
Qaba 6V Kids Electric Battery-Powered Dirt Bike
Styled like a certain classic enduro dirt bike we all know and love (clue: it's a KTM), the Qaba 6V kids electric dirt bike might be the best thing you can get your kids this year. This bike features bright & colorful decals, working headlights, and a built-in speaker to play music through.
Razor Dirt Rocket SX500 McGrath Electric Dirt Bike
The Razor Dirt Rocket SX500 McGrath Electric Bike aims for the purpose of paying tribute to Jeremy McGrath. Jeremy McGrath is one of the most popular American Motocross champions in the history of the sport. The bike comes with authentic graphics that makes the bike look very appealing.
Razor MX650 Rocket Electric Motocross Bike
The strongest among Razor's kids electric dirt bikes, the Razor MX650 encompasses the best of what Razor can offer in terms of component quality and performance. It features a 650-watt electric motor, along with dual suspension and riser handlebars which deliver a smooth, comfortable ride up to 40 mins.
Razor Mx350
The Razor Dirt Rocket MX350 is a rigid-tail (no rear suspension) kids electric dirt bike meant for starter kid riders. This is further proven with the bike's friendly power delivery and gentle acceleration.
Razor Mx400 Dirt Rocket
The Razor MX400 is a scaled-down, hardtail electric dirt bike made for teens (13 years old and above). It also comes second in the Razor Dirt Rocket power hierarchy, right between Razor's MX350 and MX500 electric dirt bikes. Though the MX400 may have a different name, it is closely similar to the MX350 in all aspects except the paint job.
Razor Mx500
The Razor MX500 is a dual-suspension teens electric dirt bike made for older kids (9 years old and above). The MX500 bears the authentic look of a traditional dirt bike. 
Did we miss a bike? Do let us know at [email protected], and we'll add it to the list right away!
Also read: Zukun Z56 Kids Electric Motocross Dirt Bike Preview