The Pulse Performance EM-1000 kids electric dirt bike is probably the most affordable way to get your kids interested in the world of motorcycles. This simple kids electric dirt bike is Pulse Performance's way of saying you don't have to spend so much to get your kid interested in dirt bikes. 
But is it actually a good starter bike for kids? Will it be safe to ride? How comfortable would it be for your young rider? Find the answers to these questions and more in this in-depth review.
What Is the Pulse Performance EM-1000?
The Pulse Performance EM-1000 is an entry-level kids electric dirt bike meant for children between ages 8 and 11. Pulse Performance made this kids electric dirt bike to be friendly to young riders with its responsive but gentle acceleration and simple mode of operation.
It is a basic, no-suspension electric dirt bike meant to be used as a training bike for young rider enthusiasts and possesses the simplest but most reliable components. At least that's what Pulse Performance claims.
Overview
Pulse Performance EM-1000 Kids Electric Dirt Bike Features
As a starter bike, the Pulse Performance EM-1000 kids electric dirt bike only features basic components that are easy to use and safe for kids inexperienced in motorcycles. The bike possesses a very low seat height for easier mounting and tiny offroad wheels to help familiarize kids with the offroad feel. To give you a detailed idea of the EM-1000's features, we'll go through each of them one by one.
Pulse Performance EM-1000 Display and Batteries
The Pulse Performance EM-1000 kids electric dirt bike unfortunately does not have a display — probably because it's a starter bike and we need to familiarize kids with basic controls first. The bike runs on 24V 15Ah lead acid rechargeable batteries which provides a short 40-minute runtime. The battery also comes with a matching 24V charger which provides a charging time of 1 hour. If in a slim chance the included charger breaks, this UpBright one is a great replacement.
Given its extremely short runtime, we don't recommend this bike for sharing between two or more kids (unless you want them fighting over it). Each kid is different though so let's run through the bike's features to make sure this fits your new rider.
EM-1000 Frame
The frame on the EM-1000 is comprised of heavy-duty steel for strong durability and easy repair. Everything from its handlebars to its swing arm is made of steel so you don't have to worry about too much wear and tear. Full plastic fairings that cover the metal frame and a plastic front mudguard give the bike its dirt bike figure and protect its components from the elements.
EM-1000 Motor and Transmission
An OEM 24V centrally placed electric motor fitted to the Pulse Performance EM-1000 kids electric dirt bike produces a peak power output of 100W. This allows the rider to top out at a speed of 10mph which is quite safe for young first time riders. That is assuming they're driving on an open field with no obstacles.
The Pulse Performance EM-1000 also runs on a single gear which gives it a simple twist & go mode of operation. This allows kids to easily familiarize themselves with the basic controls that come with operating a starter motorcycle. It also allows them to focus and therefore reduce the possibility of accidents.
EM-1000 Brakes and Suspension
Given that it's an entry-level bike, the Pulse Performance EM-1000 kids electric dirt bike only comprises a rear brake and no front brake. The rear brake comes in the form of a drum brake which provides more braking force than an equal diameter disc brake. It also lasts longer because drum brakes have increased friction contact area than a disc.
Unfortunately, the EM-1000 doesn't come with suspension. This makes it quite painful to ride on rough patches of dirt so we recommend riding the bike on near-flat surfaces with no rocks or pebbles.
EM-1000 Tires & Wheels
To make up for its lack of suspension, the EM-1000 features pneumatic — in other words "air-filled" — tires that help to slightly absorb shock and make it just a bit convenient to ride. As for the wheels, the front and rear come in unequal sizes with the rear smaller than the front. This allows better performance off road.
Pulse Performance EM-1000 Kids Electric Dirt Bike Tech Specifications
To show you what more about the Pulse Performance EM-1000 kids electric dirt bike, here are its tech specifications:
| | |
| --- | --- |
| Manufacturer Name | Pulse Performance Products |
| Model Name | EM-1000 |
| Model Year | 2020 |
| Motor Manufacturer | Pulse Performance Products |
| Motor Model | Pulse Performance 24V chain driven motor |
| Motor Power | 100W |
| Motor Placement | Mid-drive |
| Controller | N/A |
| Power Pack | 24V rechargeable batteries |
| Battery Capacity | 15Ah |
| Battery Removal | Easy slide out with seat as hatch |
| Range | 40 minutes |
| Ride Mode | 1 |
| Regenerative Braking | None |
| Throttle | Twist throttle |
| Gears | 1 |
| Top speed | 10mph |
| Weight | 37lbs |
| Materials | Steel |
| Seat height | 15 inches |
| Suspension | None |
| Display | None |
| Purpose | Kids electric dirt bike (training dirt bike) |
| Connectivity | None |
| Security | Button operated ignition with power switch |
Where Can I Buy a Pulse Performance EM-1000 Kids Electric Dirt Bike?
The best place to get the Pulse Performance EM-1000 kids electric dirt bike is from Amazon because you can always find great prices for the bike along with a warranty. Plus, every purchase you make helps support and inspire writers here at Mud Bike to provide you with more info on the best electric dirt bike to buy.
Pulse Performance After-Sales Support
They may not look like it but Pulse Performance maintains decent customer service. If you have any concerns or requests, you can call them through their number at 866-434-6067. You can also visit their main branch at Santa Fe Springs, California. If none of the above is possible for you, you can always email your concerns through [email protected].
Videos
If you're still not sure about how the EM-1000 performs or want to see the bike in action, here are a few videos to sate your curiosity:
Choice Commentaries
If you prefer deciding from the insights of other people who bought the bike, we've compiled some choice commentaries for you to base your judgement from.
"This bike does not go half as fast as it says it does. I was very disappointed in this item. My 5 year old looks like a giant on this dirt bike, and it was slower than expected. After having it for 3 days the kick stand fell off!!!! I had to weld it back on. I wouldnt reccomend this to anyone."

-Pete (Source: Amazon)
"It's a lot slower than I anticipated, no way does it go over 7 mph. My son is 10 and weighs 55 lbs. His neighbor's scooter goes faster than this. The only plus is that it does last about 30 mins riding it."

-Eve (Source: Amazon)
"Overall, it's nice and my kid loves it. It really doesn't go very fast, though. My son's friends zoom right past him on their Razor "motorbikes." I probably should have splurged on a Razor instead. Also, why is the back wheel so tiny? :S"

-geter (Source: Amazon)
"My 7 year old loves this!!! It is slow going up hill even after being charged But he loves and it goes just the right speed! He learned to ride this before a real bike so I think it helped with his balance. My 10 year rides it sometimes too but wouldn't recommend for that age.. he's really too big for it!"

-Mindy Clark (Source: Amazon)
"It was a bit of an ordeal to assemble, and the plastic elements are a little on cheap side, but overall for price and performance it's been amazing!
Our 7 yo daughter loves it (as do most of the kids in neighborhood) she's riden it for a year plus on weekends and battery etc still holding up well."

-Amazon Customer (Source: Amazon)
Image Gallery
Want to see the Pulse Performance EM-1000 Kids Electric Dirt Bike at different angles? Here are high quality images of the bike: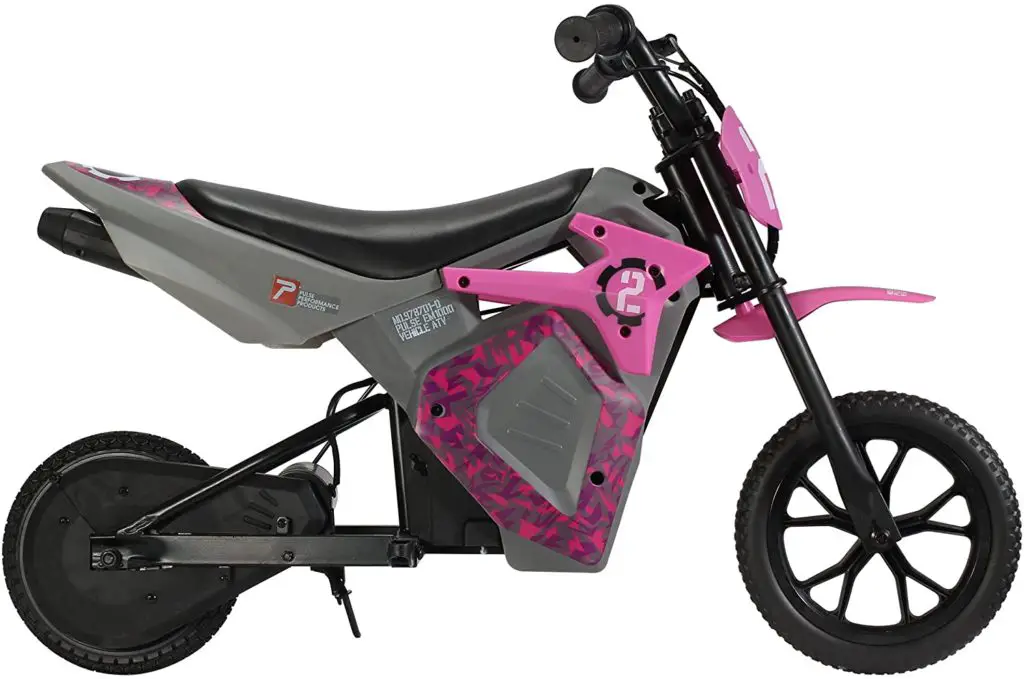 Also read: Kuberg Cross X-Force Pro 50 Kids Electric Dirt Bike Review