The Trevor FTR Stella electric flat-tracker motorcycle is what you get if you take a Ducati Scrambler and turn it into an electric motorcycle. 
There isn't much hype on this bike and that's exactly why this electric flat-tracker will blow people's hats off when you ride it on the dirt track. It'll be the first time anyone's seen such a sleek-looking flat-tracker blasting on dusty tracks.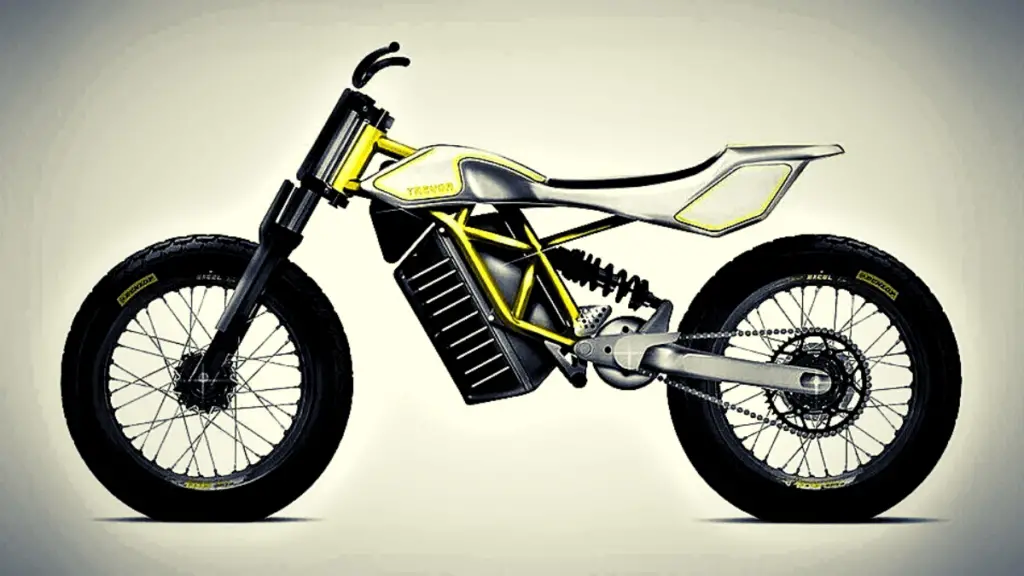 So what is the Trevor FTR Stella all about? Who designed this bike? How is the Trevor FTR Stella electric flat-tracker motorcycle any different from all the other incoming scrambler-esque electric bikes on the market? Read on to find out.
Recap: What's an Electric Flat-Tracker Motorcycle?
Flat-trackers are race motorcycles that stem from flat track racing which emerged in the 1920s. They were built for power, speed, and grip so they could fly around dirt ovals. The bikes adopted a specific style over the years: wide bars, a low profile sleek look, and duckbill rear fender.
Modern flat tracker race bikes still fly around tracks, but purpose built road bikes, such as Harley's XR1200R or Indian's FTR750, also play off of these classic styling cues. With the rise of electric motorcycles, we're now seeing a new breed of electric flat-trackers which should eventually promise even more speed, but without the noise.
Who is Trevor Motorcycles?
Trevor Motorcycles is a startup electric dirt bike company founded in 2018 by a couple of vintage dirt bike enthusiasts — Philippe Stella and Jeroen-Vincent Nagels. Their idea was to make 'clean' electric dirt bikes in both style and emission.
To make the first of their electric bikes — the FTR Stella, Trevor partnered up with Saroléa — a well known Belgian vintage e-street bike manufacturer who makes classic-style electric motorcycles — as their manufacturer. This means we can expect a great deal of build quality coming out of Trevor Motorcycles.
Trevor FTR Stella Overview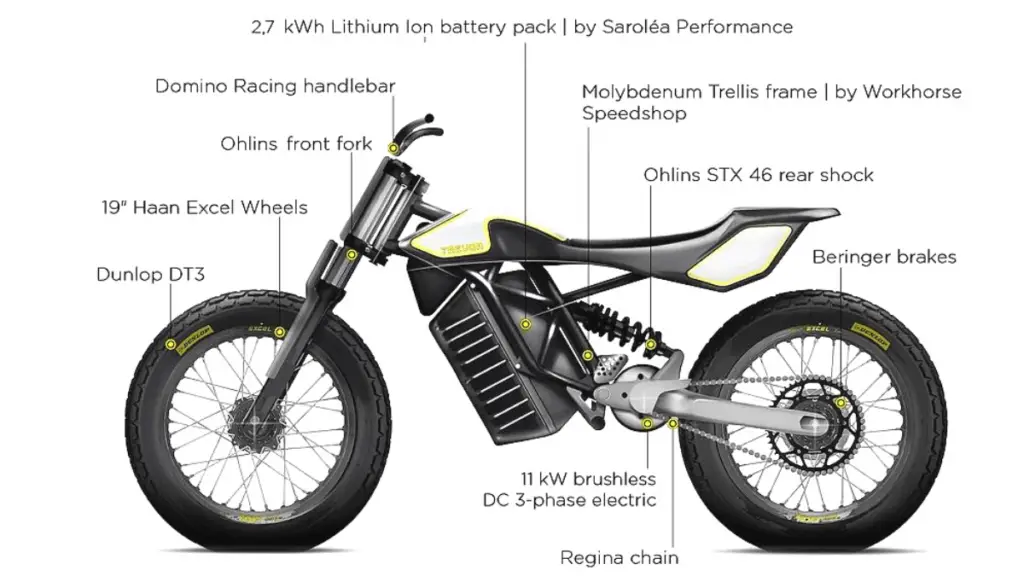 Trevor is leaning more towards the rare, rather than road, aspect with their new bike. The Trevor FTR Stella will be a large size electric flat-tracker motorcycle meant for racing around flat tracks. It will feature an 11kW brushless DC electric motor that will provide 192ft-lbs of torque and propel the bike up to 55 miles per hour. Sadly no horsepower number was provided at Trevor's official website.
Click to Read Our Pursand E-Track Electric Scrambler Preview
Trevor FTR Stella Battery 
A 2.7kWh li-Ion battery pack will power the FTR Stella and provide a range of 1.5 hours on the standard model. However you can upgrade this to 3 hours with Trevor's 5.4kWh battery option upon purchase. Pretty decent range when compared to similar bikes like the upcoming Switch eScrambler or Harley Davidson's Livewire. Trevor FTR Stella will also come with a 3kW charger that will provide a really short 1.3 hours of recharge time from empty to full. Now, assuming what Trevor Motorcycles claims is true, this recharge cycle is amazingly quick compared to even high end electric dirt bikes like Zero Motorcycles FX at 5.1 hours, let alone any upcoming electric flat-tracker.
Furthermore, the bike will come with some of the best components ever equipped on electric motorcycles. 
Trevor FTR Suspension 
These include an Öhlins suspension system. Öhlins is a well known brand of performance shocks and its shocks are usually found on high-end traditional motorcycles such as Kawasaki's Z1000R and Ducati's Streetfighter V4 S.
FTR Stella Tires & Brakes 
As if that isn't enough, the FTR Stella flat-tracker will also feature a set of thick Dunlop off road tires and Behringer brakes. Dunlop is a pretty high end tire brand, and speaking from experience, have really grippy tires that stick well even on wet terrain. Behringer is an automotive brakes brand that's well known for "one-finger brakes" or some of the most responsive and powerful brake sets on motorcycles. They make brakes for cars too.
Trevor FTR Flat-Tracker Frame 
Lastly, the FTR Stella electric flat-tracker motorcycle features a molybdenum trellis frame. This type of frame ensures better flexibility and durability than aluminum alloy or steel. It also keeps the weight pretty low at just 174lbs which is a plus for off road racing bikes since we want as much flickability as possible to handle the off road race track's mildly uneven terrain..
Where Would Trevor's FTR Stella Electric Flat-Tracker Motorcycle Fit in the Market?
Trevor's new FTR Stella Flat-Tracker obviously fits into the …flat-tracker segment of the market, but it's not a road bike. It's a race bike. That means that riders would have to customize the bike for road use. 
Build quality in mind, I have a lot of faith reserved for the Trevor FTR Stella. Let's hope it doesn't suddenly disappear after making such huge claims like the Fly Free Smart Desert electric scrambler.
Click to Read Our Fly Free Smart Desert Preview
When Will Trevor's FTR Stella Electric Flat-Tracker Motorcycle be released?
There is yet no statement from Trevor Motorcycles about the FTR Stella's actual release date. However, you can preorder the bike at Trevor Motorcycles' website for $14,495 USD and choose between two color variants — Ice White and Mighty Black. 
Watch out though, there are only a limited 250 preorder slots available. Although it's pretty exciting to be one of the first owners of a potentially wonderful bike, I myself would wait until the second batch — when people start talking about exactly how the bike performs. 
Mud Bike's Take on the Trevor FTR Stella Electric Flat-Tracker Motorcycle
We take back our statement on our Pursang e-Track Electric Scrambler Preview. There's no hiding it — THIS is the most exciting electric off road motorcycle to enter production so far in 2020. I just can't keep those features outta my head, though for $14,495 USD. 
Despite the price, I'd say the Trevor FTR Stella electric flat-tracker motorcycle would be well worth the gaping hole in your moneybag if it ever gets released. Fast forward 10 years and there will be all sorts of replacement batteries and tech to make this glorious bike new again.
We can only hope Trevor Motorcycles isn't blowing smoke out their ass and follow through with what they claim.
Also read: Pursang E-Track Electric Scrambler Preview