Want to go rock the streets and off road trails? Or do you just want to turn people's heads as you fly by? Now you can do it clean and green with Fly Free's Smart Desert electric scrambler.
Fly Free Smart Motorcycles is a startup company specialized in electric motorcycles founded on May 24, 2016. Since it is a fairly new entry to the industry, not much yet is known of their product quality, especially now that they're just offering pre-orders for their first bikes. But, hopefully the Smart Desert's six-grand price tag will reflect it's quality.
You can pre-order the Fly Free Smart Desert Electric Scrambler from Fly Free's website for $6,399 USD. Quite frankly, this is a very demanding price for an electric motorcycle from a young company that hasn't yet established its icon of quality.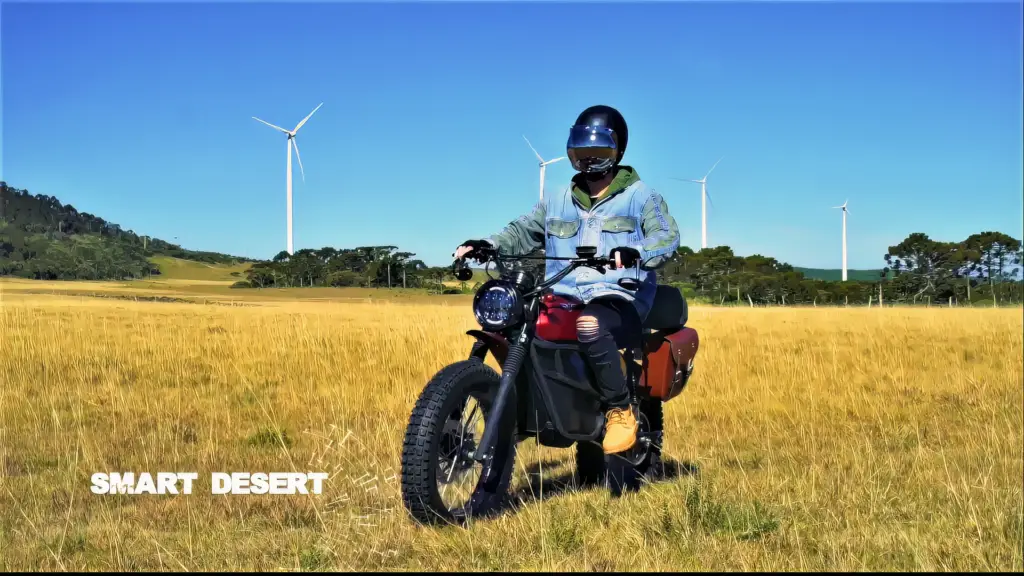 What is the Smart Desert?
The Smart Desert is a retro scrambler-esque electric motorcycle developed by Fly Free Smart Motorcycles as well as its first release. Fly Free advertises this bike as a hybrid able to traverse both on-road and off. 
It features extra touring components such as a surf rack and integrated utility boxes. The Smart Desert was also closely modeled after Steve McQueen's custom "Desert Sled" Triumph T120C build.
Overview
Features
Like the Scrambler models of the 1950s, Fly Free's Smart Desert sports classic off-road tires and extended crossbar handlebars. Its stripped-down structure means it's designed to easily traverse corners, climb mountains and cross muddy off-road terrain.
It also features optional utility containers as well as unique customization options which allow you to attach anything from a skateboard to a surfboard onto the Smart Desert electric scrambler. This makes it the perfect retro touring bike for any destination from the skatepark pavement to the sandy beaches.
It may look retro but it features a rare bluetooth smartphone connectivity which allows you to set your bike's performance. This connectivity also allows you to lock/unlock your bike for security purposes.
Display and Batteries
The Smart Desert electric scrambler features an old-style LED display which shows the speed, battery level, and distance traveled. It also displays extra indicators such as motor, controller, and battery temperature.
One of the Smart Desert's unique features is a built-in USB charger for your phone located on the handlebar. This feature allows you to relax and not worry about your phone's battery level running out and automatically switching the bike off.
On the standard purchase, one 72V lithium battery powers the Smart Desert, and is located under the bike's "gas tank" with an easy slide-out mechanism. This gives the bike a range of 50 miles on eco mode. However, there is an option available to use two batteries (for an extra $1,199 USD) which increases the bike's range to 100 miles.
The battery pack also comes with its own charger which gives the bike a charging time of just 5 hours. This is very convenient as there are smaller bikes than this which need a longer charging time. For example, Razor's electric dirt bikes for kids (6 – 12 hours).
Frame
Since Fly Free hasn't yet fully disclosed the Smart Desert's characteristics and tech specs, there isn't much known about the Smart Desert's frame materials besides the fact that it's made of steel. Though it may be durable, this Fly Free bike's steel frame material might also contribute to its weight, which may also affect its battery efficiency and speed.
Structure-wise, the Smart Desert electric scrambler features old-style wide handlebars with each side connected by a bar in the middle which remotely acts as a steering dampener. It also features a classic cafe-racer style geometry with a basic but stylish shape.
The Smart Desert's frame was built so as to accommodate various extra components such as a skate-board rack or even a surfboard rack. It even includes optional attachments such as leather saddlebags and steel side panniers (for some extra bucks of course).
Motor and Transmission
The Smart Desert electric scrambler runs using a Fly Free 3kW mid-drive, chain-driven motor capable of propelling the rider up to a speed of 50mph. There is also an option to double the batteries which also allows the motor to use more power and propel the rider up to 80mph.
Coupled with the motor comes a one-speed, clutchless transmission which allows the bike to attain full power very quickly from a standing start. Beginner riders will have to watch out though, as it can be difficult to control the power output due to the lack of gears and may lead to an accident if they're not careful.
Brakes and Suspension
Not much yet is known about the Smart Desert's braking system except for that it utilizes Fly Free front & rear hydraulic disc brakes. The same goes for it's suspension which as we only know uses Fly Free hydraulic front forks and dual hydraulic coilover shocks at the rear.
Wheels and Tires
The Fly Free Smart Desert sports steel spoked wheels with old-style pneumatic off-road tires. Pneumatic tires are similar to your bike or motorcycle tires, and are most commonly used outdoors. 
One of the biggest benefits of using pneumatic tires is their ability to absorb the unevenness of terrain. This allows for a smoother ride. They are also going to have a thicker tread, which provides traction to drive over loose and uneven surfaces. This gives it that authentic retro look while also catering to its purpose as an electric scrambler.
Smart Desert Tech Specifications
If you want an idea of what makes this Fly-Free electric motorcycle tick, take a look at the Smart Desert's specs below:
Manufacturer Name
Fly Free
Model Name
Smart Desert
Model Year
2020
Motor Manufacturer
Fly Free
Motor Model
Fly Free 3kW chain-driven motor
Motor Power
3000W continuous, 7000W peak
Motor Placement
Centrally-placed
Controller
N/A
Power Pack
72V LG brand lithium batteries (additional option to double the batteries for double range)
Battery Capacity
25.2Ah
Battery Removal
Easy slide out
Range
50 miles on 1 battery, 100 miles on 2 batteries
Ride Mode
Eco- Power saving modeCity- Balanced power-range ratioSpeed- High speed, low range
Regenerative Braking
N/A
Throttle
Twist throttle
Gears
1
Top speed
50mph (80km/h)
Weight
N/A
Materials
Steel
Seat height
N/A
Suspension
Fly Free integrated hydraulic front forks
Fly Free bolted-on hydraulic dual shock
Display
LED (speedometer, battery level, distance, engine/controller/battery temperature)
Purpose
Electric Scrambler/Tourer
Connectivity
Smartphone connectivity (through bluetooth)
Security
Smart Key operated (through a button which will only activate once the bike is connected to an authorized mobile phone)
After-Sales Support
Fly Free Motorcycles maintains a feature on their website that caters to customer concerns. All you have to do is select a category for your concern, then enter your details and problem. They also give you an option to contact them if you want to customize your bike. Better yet, you can visit their headquarters at Long Beach, California and talk with their representatives personally.
Where Can I Get a Fly-Free Smart Desert?
The best place to get the Fly Free Smart Desert electric scrambler (or pre-order it) would be at Fly Free Motorcycles' website. They also offer a lot of customization options for the bike you want to pre-order such as color changes, extra components such as surfboard racks and side boxes, and even an extra battery pack.
Smart Desert Videos
If you want to learn more about the Fly Free Smart Desert electric dirt bike or want to see the bike in action, make sure to also watch these videos:
Smart Desert Choice Commentary
The Fly Free Smart Desert electric scrambler hasn't yet been released to the public, so there are no user commentaries at this time. We've however found several comments from people looking out for the bike on YouTube. Check them out here:
"These are really beautiful bikes, and I really want one."

-AtrumNoxProductions (YouTube)
"They released this bike at the wrong time of year."

-Mr. Officer (YouTube)
"😎Daddy like ‼️👍"

-LA silversurfers (YouTube)
"This is so cool! Something like this would be great for our bus"

-The Bus Bums (YouTube)
Smart Desert Image Gallery
Here are a few Smart Desert images in all its color options that might give you a better idea about the bike: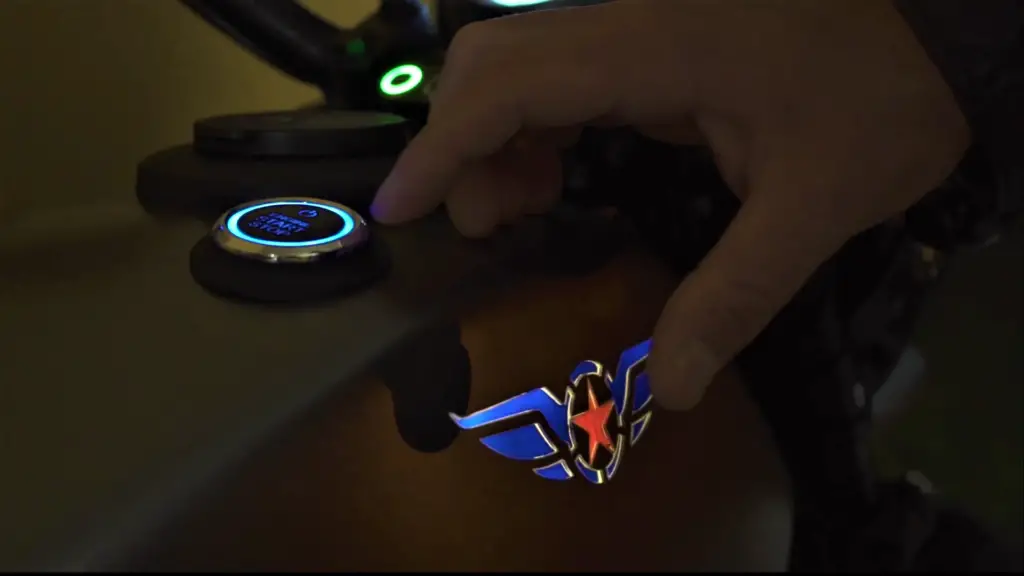 Also read: Trevor FTR Stella Electric Flat-Tracker Motorcycle Preview