The upcoming futuristic two-wheeled convertible — the Kuberg Ranger electric trials dirt bike — might just be the next step in the evolution of electric dirt bikes. Why convertible? Because apparently you can switch between 2 functions — trials mode and motocross mode — on the fly. The difference between the two? One runs with a retracted seat.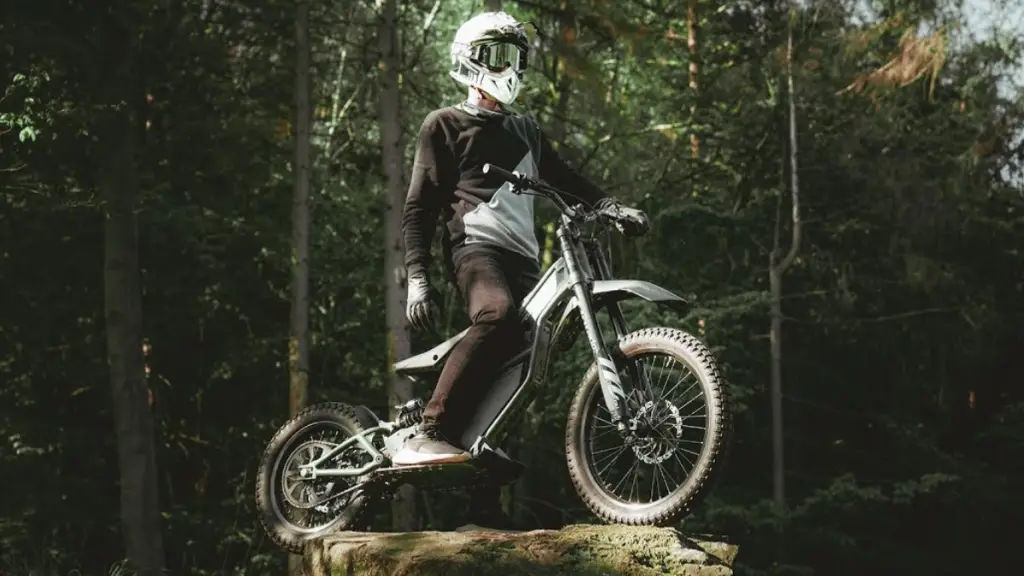 "Scooter, or dirt bike? you decide. The brand new Ranger from Kuberg. Sporting a unique standing position, a fully reclining seat, unbeatable power and unmatched riding versatility."

–Kuberg
This is cool and all but will it actually match up with other electric dirt bikes in the market in terms of performance? To give you an idea of what the bike will offer once it comes out, here's a quick overview of the Kuberg Ranger.
Recap: Who is Kuberg?
Kuberg is an off road electric motorcycle manufacturer and one of the biggest names in the electric dirt bike industry. One of their most popular bikes includes the Kuberg Freerider Street — a street legal conversion of the Kuberg Freerider — also one of their best-selling bikes.
Click to Read Our Kuberg Freerider Street Review
Aside from that, they also make cool electric dirt bikes for kids. And they've got a wide range of options for all ages, as well. One of their most popular kids dirt bikes include the Kuberg Trial Hero — another trials dirt bike, but for kids.
Kuberg Ranger Trials Bike Overview
The Kuberg Ranger electric trials dirt bike will be a high speed convertible dirt bike that can switch between with-seat and no-seat on the fly with a button-activated reclinable seat. 
"Our pneumatic seat rises by the press of a button to your preferred seat height."

–Kuberg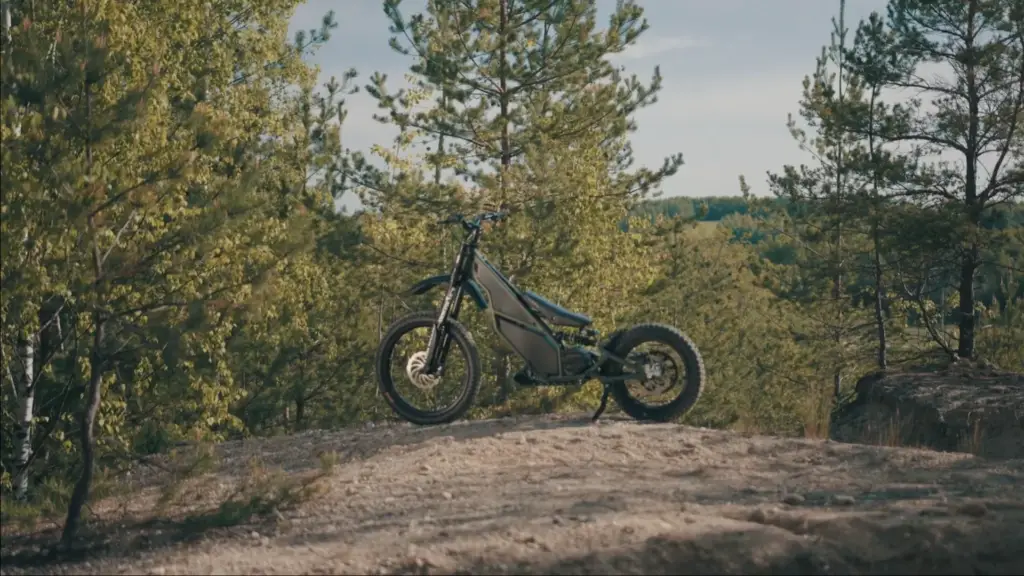 Visually akin to a trials dirt bike, Kuberg claims the Ranger to perform both the roles of an off road scooter and a dirt bike. The Ranger will feature an as yet unnamed mid drive motor which will give off a top speed of up to 50mph, paired with a 24Ah lithium ion power pack which gives 19 miles of range. You can however upgrade this to 38 miles using Kuberg's optional twin power pack.
"Swappable superpower. Handmade by us in our factory, using only the best cells on the market. Housed in a fireproof case and ladened with features to prevent overheating – it couldn't be any safer. What are you waiting for?"

–Kuberg
The bike would also feature regen braking which is quite useful for further extending the bike's range.
How does regenerative braking work? Is it any different from traditional brakes?
A traditional braking system works by friction between the brake pads and brake rotors. 
The slowed wheels create more friction with the road. Heat is created by that friction.
On the other hand, regenerative brakes let the vehicle's drive system do most of the braking. These types of brakes cause an electric or hybrid vehicle's motor to run in reverse, slowing the wheels when the driver uses the brakes. 
The motor generates electricity while it's running backwards, which gets pumped into the vehicle's batteries. This type of brake works best at certain speeds. The best way to use them is when you're in a stop-and-go situation.
To further help handle the bike's electronic features, the Ranger will come with Kuberg's 48V BDLC Pro controller that also comes with 4 optional power options — 4kW, 8kW, 12kW or 14kW. This controller will also feature 3 as yet unnamed power settings (most likely will be similar to economy, moderate, and high power settings). Let's just say that Kuberg is confident about the upcoming controller's quality:
"Our BLDC Controller is the brain behind the brawn. It translates battery power to immense riding power in seconds. With over 4 years of development behind it, it's nothing short of perfect."

–Kuberg
Considering all these features, the Kuberg Ranger electric trials dirt bike is truly one-of-a-kind and will probably make its mark in the electric dirt bike industry's hall of fame. We only hope the bike's actual performance is as good as Kuberg claims.
Kuberg Ranger Trials Bike Tech Specifications
To get a closer first view of the Kuberg Ranger's to-be specs, check this list out:
| | |
| --- | --- |
| Manufacturer Name | Kuberg |
| Model Name | Ranger |
| Model Year | 2020 |
| Motor Manufacturer | Kuberg |
| Motor Model | No info yet |
| Motor Power | No info yet |
| Motor Placement | Mid-drive |
| Controller | 48V Kuberg BDLC Pro with optional power options: 4, 8, 12 or 14kW |
| Power Pack | 48V LiOn |
| Battery Capacity | Single pack 24Ah or double pack 48Ah |
| Battery Removal | No info yet |
| Range | Full power mode 19 miles – 38 miles (double pack) |
| Ride Mode | 3 settings |
| Regenerative Braking | Yes |
| Throttle | Twist throttle |
| Gears | 1 |
| Top speed | 50mph |
| Weight | 110lbs |
| Materials | Powder-coated steel |
| Seat height | No info yet |
| Suspension | DNM Burner-RCP-3 |
| Display | No info yet |
| Purpose | Dirt trail, dirt track |
| Connectivity | No info yet |
| Security | No info yet |
Where Would the Kuberg Ranger Fit in the Market?
Judging from its look and features, and how Kuberg promotes the bike, the Kuberg Ranger would most likely fit in both the motocross and trials dirt bike scenes. This is actually Kuberg's — if not the world's — first electric dirt bike that can be used well on both kinds of off-road sports.
The advantage here is that you can switch between these two modes instantaneously with the press of a button. It's quite an ideal, practical and a versatile option for people who like to alternate between riding activities.
Given the redundancy of electric dirt bike types on the market, we'd say the Kuberg Ranger electric trials dirt bike would positively stick out like a sore thumb. This revolutionary bike may indeed be another earthshaker entry in the electric dirt bike scene.
When Will the Kuberg Ranger Electric Trials Dirt Bike Be Released?
Kuberg hasn't yet made any official announcements on the Kuberg Ranger's actual release date, but judging from Kuberg's marketing, it looks like we can get our hands on this awesome bike pretty soon.
If you want first dibs on the bike, you can watch out for it on Kuberg's website and maybe contact them for a pre-order or reservation. You can also get in touch with them directly through a contact feature on their website.
Mud Bike's Take on the Kuberg Ranger Trials Bike
The Kuberg Ranger seems like a great bike with all the features that would come with it. But only time will tell if it will be as good as the rest of Kuberg's bikes or even topple over other electric dirt bikes in the market.
Kuberg's choice of a convertible bike isn't without controversy in the Mud Bike offices, though. Chief Editor Evan Bleker seems to think that dedicated offerings make for the best bikes, while convertibility ultimately leads to compromise. Still, he may have to eat his words when the bike is released.
Here's hoping we get our hands on this bike soon so we can get first dibs on what "awesome" really feels like. So hurry it up Kuberg!
Kuberg Ranger Pictures
If you want a different view angle on the Ranger, don't hesitate to check out these pictures:
Also read: Segway X160 Electric Dirt Bike Review