Are you wondering when might a trunk-mount rack be the best choice? Or maybe you're wondering which is the best trunk mounted bike rack for your truck or SUV? We've done all the research about trunk-mounted bike racks, so read on to find out why a trunk-mount rack may be the best choice for you.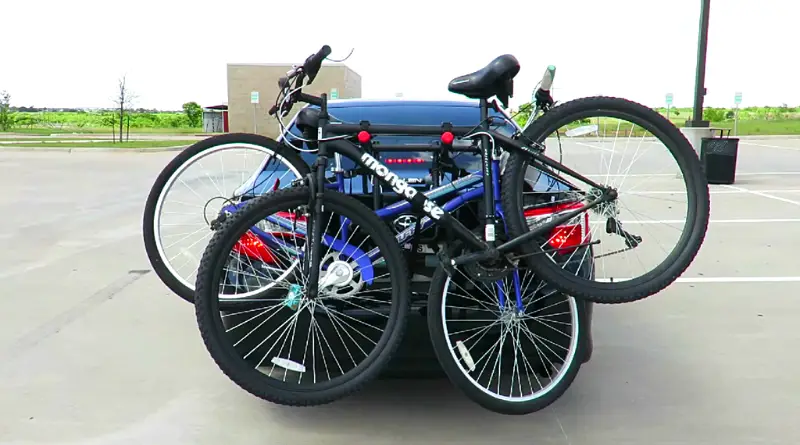 When Might A Trunk-Mount Rack Be The Best Choice? 
Trunk-mount bike racks are lightweight, inexpensive, reliable, and easy to use. But when might a trunk-mount rack be the best choice over other bike racks? We've put together the following reasons:
If you don't have a hitch on your vehicle and you don't want the extra expense of installing one
You don't want a bike rack permanently fitted to your car
You're not planning to use your bike rack too often
You don't want to lift your bike overhead to carry on a roof rack
You want an economical solution for transporting your bikes
What Is A Trunk Mounted Bike Rack?
Trunk mounted bike racks fit on the trunk or back of your car and can carry between 1 and 3 bikes. They attach to your vehicle using a strap system, and the bikes sit on supporting arms and are secured using more straps. Take a look at the image at the top of this article to get a sense of how they fit on your car.
Are Trunk Mounted Bike Racks Good?
Trunk mounted bike racks are good for transporting full-size adult bikes that have a straight crossbar. They are also good for anyone who doesn't have a hitch or if you don't want a rack permanently mounted on your car. A trunk-mount bike rack is easy to use and install, plus it's lightweight and easy to store away when not in use.
How Do You Use A Trunk Bike Rack?
A trunk bike rack attaches to the trunk of your car and is secured with paint-friendly hooks and/or straps. Using the arms to hang your bike and straps to secure it in place, you secure your bike by its frame (not the wheels).
With a little practice, you'll be able to use a trunk bike rack in no time. 
How Many Bikes Can A Trunk Rack Hold?
Trunk bike racks come in many different shapes and sizes, but they can typically carry between 1 – 3 bikes. As a result of their design, they can't handle heavy E-bikes, so there are better options.
Can I Use A Trunk Mount Bike Rack On An SUV?
The great thing about trunk bike racks is that they will fit just about any car, including your SUV. That's not to say that all trunk bike racks fit all cars, even if most bike racks can adapt to fit different vehicles. However, you can be certain that there is a model out there that you can use on the back of your SUV, truck, hatchback or even if your vehicle has a spoiler.
Also read: Are Trunk Mount Bike Racks Good?