There's no doubt that the Kuberg Freerider is an awesome electric dirt bike, but its battery won't get you to (and from) the middle of nowhere. Luckily, you can upgrade the Kuberg Freerider battery to extend its life. We've got the best Kuberg Freerider battery upgrade options (plus everything else you need to know).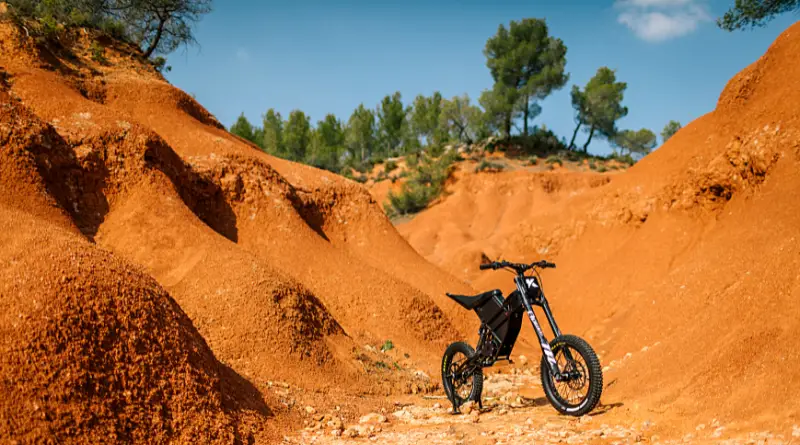 Can You Upgrade Your Kuberg Freerider Battery?
Kuberg Freerider batteries can be upgraded if you replace them with 48V models. 
A battery with a voltage of less than 48V will cause the Freerider to fail, according to the Kuberg user manual. It's pretty common knowledge, and Kuberg warns about it in all their manuals.
It's okay to use a battery of any Amp hour (Ah) as long as it doesn't have a higher voltage (V). The "Ah" rating reflects your battery capacity. Having a higher "Ah" rating means your bike's battery will last longer. 
Basically, you can change the amp hour of a battery, but not the voltage. However it always depends on the cell type and its maximal and continuous discharge currents. You can have a battery pack with higher Amp-hours, but it does not mean the cells will hold the output power required by ECU, otherwise, the ECU can switch the motorcycle off. 
The Kuberg Freerider battery can be upgraded by replacing its original 48V battery with another 48V battery with a higher "Ah" rating.
Kuberg Freerider Battery Specs
First, let's take a look at the main specs of the Kuberg Freerider battery.
| | |
| --- | --- |
| Type | Li-ion |
| Voltage  | 48 Volts |
| Amp Hours  | 20 / 30 Ah |
| Watt Hours  | 1065 Wh |
| Charge Time  | 2.5 Hours |
Kuberg's Freerider battery is a trapezoidal power pack that sits under the seat post.The electrical system peak power is 8, 12, or 14 kW, the motor is the same in all Freerider versions, except for the Street version. The same battery can supply all ECU versions.
Simply plug it into a 110V or 220V electric wall outlet in your garage to recharge the battery.
Kuberg Freerider batteries are easy to swap, and we like that. Swappable means replaceable… and upgradeable! Simply take the seat off and disconnect the battery from the frame.
How Long Does a Kuberg Freerider Battery Last?
In terms of battery life, the Kuberg Freerider isn't the champ you might expect (and there's a good reason for it, which we'll explain shortly). 
An adult weighing 75kg (165lbs) can ride for about an hour on the 48V 22.2Ah lithium battery and hit speeds as high as 70km/h (43mph) in average conditions. 
As with any off-road machine, the actual riding range and time depend a lot on the trail, so it's hard to give a universal number. However, most riders get at least an hour out of their Kuberg Freerider battery.
For those dirt adventures that don't last an hour, you can always upgrade the Kuberg Freerider's battery. Sounds interesting? Just hang in with us, we're getting there soon.
Kuberg Freerider Replacement Battery
There's one solid reason people will have to replace their Kuberg Freerider batteries at some point – they don't have a long service life. It's not because it's a bad battery, it's because it's great! 
In order to provide the Freerider's adrenaline-pumping ride, the Kuberg Lithium battery squeezes everything out of its cells.
Due to its high amp output, which is one of the highest on the market, it's totally natural for the Kuberg Freerider battery to have a shorter service life.
At some point though, the battery has to be changed.
How to Replace the Kuberg Freerider Battery?
It's not hard to replace the Kuberg Freerider battery. Changing the battery is a very clean job, and you don't have to get your hands dirty.
Here's what DIY fellas need to know:
Turn off the power.
Remove the two bolts located under the rear fender. 
Remove the seat by sliding it backward.
Take a photo of the position and direction of each wire terminal. It's important because you'll later have to reconnect each of the battery wires to the correct bike terminal while installing the new battery. Kuberg warns that incorrect connection of the battery wires to the terminals may cause irreparable damage to the electrical components.
Unplug the battery connectors one by one. 
Carefully lift the battery pack by clearing the positive and negative wires out of the way. You can push them to the front and sides of the bike.
That's it, you're done. The battery can now be reinstalled by reversing the above steps.
Kuberg Freerider Replacement Battery Options
Based on our thorough research, we've shortlisted two Kuberg Freerider replacement battery options.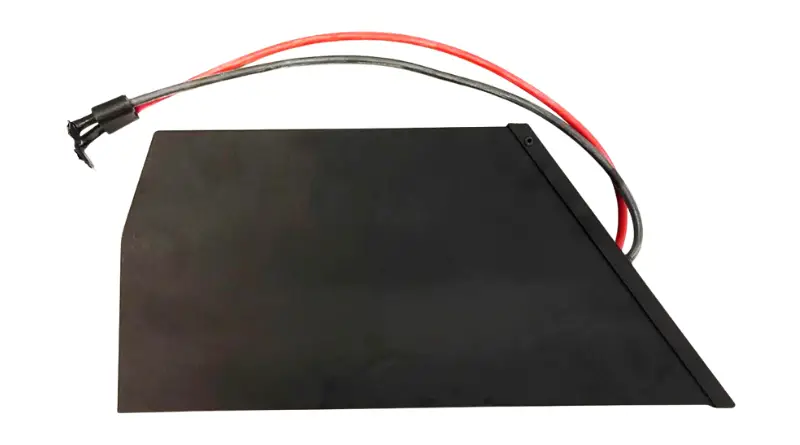 Specs
Brand: Kuberg 
Output: 48V 20Ah
Type: Lithium-ion
Pros 
Original Kuberg battery
Seamless fitting in frame
Reliable
Cons
If you want to replace the battery of your Kuberg Freerider with the original unit, you can always buy a new Kuberg replacement battery from their official store. 
Due to its trapezoidal shape, the Kuberg battery fits seamlessly beneath your seat without requiring any bike frame modifications.
You'd have to pay more than $2,100 for a 48V 20Ah replacement battery for the Kuberg Freerider. Depending on how often you use your bike, you'd have to spend this much every 2 to 3 years.
If you're looking for a budget replacement battery, see the next option below.
Unit Pack Power Replacement Battery
Specs
Brand: Unit Pack Power
Output: 48V 20Ah
Type: Lithium-ion
Pros
Versatile 
Budget option
Reliable, durable
Cons
Difficult to install
May feel a bit short on power
Unit Pack Power's 48V 20Ah lithium-ion battery is the best budget replacement battery for Kuberg Freerider. 
There's a lot of battery sizes and shapes available (rear rack, bottle, triangular, and rectangular), so replacing your Kuberg Freerider battery will be easier. 
You can mount the rectangular battery under the seat with a little modification to your bike frame. Even with the installation, the battery still costs 3 to 4 times less than the original Kuberg.
You won't feel any difference riding your bike with the UPP battery as it weighs the same as the original Kuberg Lithium battery at 11.6lbs (5.3kg).
With 800+ charge cycles, UPP says this battery will last 5 years. This is an exaggeration, but the battery would still last for about 3 to 4 years, so it's worth it.
Kuberg Freerider Battery Upgrades
Let's get real! Here are the best Kuberg Freerider battery upgrade options for making the most of your rides.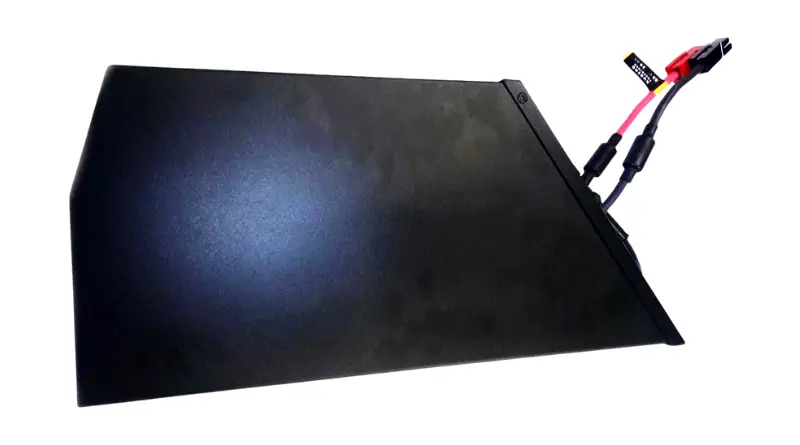 Specs
Brand: Kuberg 
Output: 48V 30Ah
Type: Lithium-ion
Pros 
Easy fitting
Original battery
Cons
The original Lithium battery used in the Freerider is also available in a 48V 30Ah version. In average conditions, it increases your riding time by 50% – to one and a half hours.
It's an original Kuberg Lithium battery, so there's no downside. Except it's insanely expensive and burns a hole in your pocket. Other than that, it's awesome!
Looks a tad steep, huh? Here's a budget option.
Unit Pack Power Upgrade Battery
Specs
Brand: Unit Pack Power
Output: 48V 28.8Ah
Type: Lithium-ion
Pros
Best value for money
Reliable and durable
Weighs just 14lbs (6.4kg) 
Cons
Difficult to fit
Long charging time
The cheapest way to upgrade your Kuberg Freerider battery is with this 48V 28.8Ah Lithium battery from UPP. 
Although it's lighter, this triangular battery has a comparable riding time to the original Kuberg Lithium battery with 30Ah.
The only drawback is that it takes 6 hours to charge with its 4A charger and will only fit if you modify your bike. These downsides are more than made up for by its bargain price and long service life.
Looking for something heavy-duty but affordable? Here's another option.
Shunbin High Power Upgrade Battery
Specs
Brand: Shunbin 
Output: 48V 40Ah
Type: Lithium-ion
Pros
Inexpensive
Perfect for heavy-duty use
Longest riding time
Cons
Difficult to fit
Adds a lot of weight
The Shunbin Kuberg Freerider upgrade option is incredibly awesome for all those enthusiasts who want to get the most out of their ride.
There are four sizes of heavy-duty Lithium batteries, ranging from 20 to 60Ah. The 40Ah unit is our favorite. It's not too big, but has enough juice for the wildest adventures. Also, you've got good protection mechanisms, and an incredible value for money!
It does have some downsides, though. The first thing you'll notice is that it's pretty bulky at 22lbs (10kg). Secondly, this rectangle battery wouldn't fit in Kuberg's trapezoidal space without the help of a crafty bike tech.
This concludes our Kuberg Freerider battery upgrade guide. Thanks for reading! I hope you found it helpful! Now let's find out Kuberg Freerider Battery Life: Is It Enough?