How much is a KTM electric dirt bike? If you've read a KTM Freeride E-XC dirt bike review, this is probably what you're thinking right now. The dirt bike is definitely a beauty, and every off-road rider is thinking of getting their hands on one.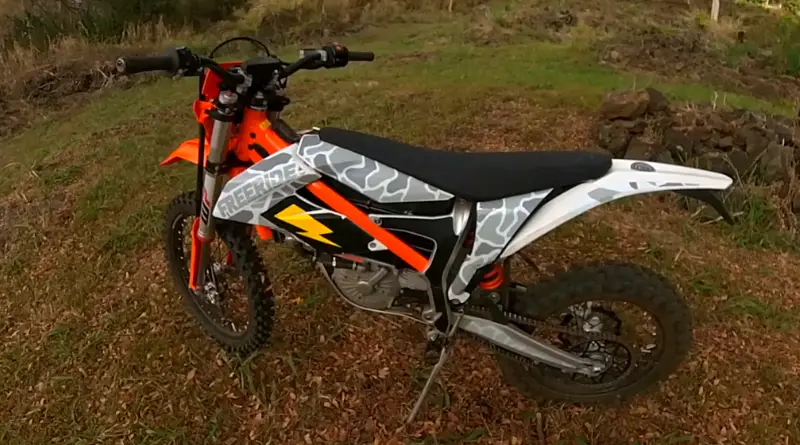 Even if it's not the E-XC though, other dirt bikes by KTM are great rides too. Scroll down to find out how much one might cost you. 
How Much Is a KTM Electric Dirt Bike?
This depends on what series and model you're after. Normally, KTM's bikes cost above $5000, with varying prices between models. One of the best bikes by the brand, the 2020 KTM Freeride E-XC retails at $8,299 USD. 
In the Enduro series, the 125 XC is the cheapest model and has a starting price of $8,249. The Enduro series has a ton of models, with the most expensive—the 500 EXC-F Six Days— going all the way up to $13,000+. 
The MX series starts at about $4,000 dollars and goes up to approximately $11,000. This is one of the most affordable series by the brand, with models on both the cheaper and more expensive ends of the spectrum. 
KTM's NAKED series also has a ton of bikes, and its most costly model, the 1290 SUPER DUKE R EVO has a starting price of $19,599. The SuperMoto also series stands firmly above the $10k ceiling and has only two models. 
Bikes by KTM are really expensive, there's simply no denying it. However, the brand is a leading producer of electric dirt bikes in the market. Their superior technology and performance live up to both the hype and the price tags. How much is a KTM electric dirt bike? For thrill-seekers, not much at all. 
Are KTM Enduro Bikes Street Legal?
KTM Enduro bikes are not street-legal straight from the manufacturer but can be made street-legal with the right parts and a proper license. 
The Enduro series comprises a lot of different models, and you can't judge them all together.  For a dirt bike or any other vehicle to be street-legal, it must have a few different parts. These are the turning or indicating lights, a tail light, and side mirrors, alongside a horn and a proper braking system. 
What Electric KTM Bike Is Best for Trail Riding?
The KTM Freeride E-XC is our pick for the best trail-riding bike. Excellent enduro riding bikes are difficult to find, but the E-XC is the best by KTM. The best part about the bike is its 5/8 x 1/4″ drive chain, which stabilizes your riding. 
A WP suspension ensures the bike is reliable on tough roads, and its advanced Formula brake system ensures you have complete control over the bike. When faced with rocky and muddy terrain on trails, this will definitely come in handy. Finally, the KTM E-XC weighs 92.5 kg, and the heavy weight keeps it grounded on bumpy roads. Overall, if you're going trail riding, the E-XC is your best bet. How much is a KTM electric dirt bike? When compared to its superior specifications, does it even matter?
Also read: KTM Freeride E price: Worth It?