Having your very own electric dirt bike track is something that lots of electric dirt bike riders dream of. 
All dirt bikers do, including me. Somewhere that we can freely ride and do a little alone time on the track, to improve our skills before we head to the public tracks and show off.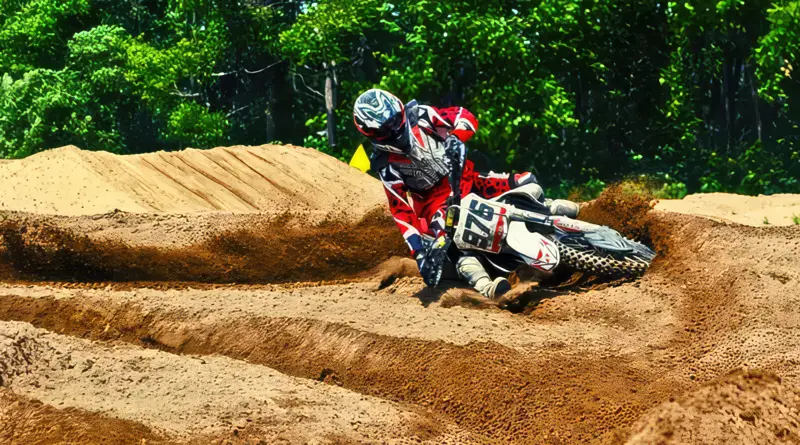 So how can you start building your very own mini Glen Helen? Read on to find out.
How to Build a Dirt Bike Track: Prep-work and Permissions
Before you build your dirt bike track, here are some things to consider:
Is there a noise restriction in your area?
Is it a requirement to obtain permits before building a track?
What will your neighbors think? Will it bother them?
Will the riders need insurance?
How do you keep unauthorized users out?
How are you going to get water for the track?
Is the area safe for dirt bike tracks? In this case, we're talking about no rocks or trees, which could block emergency access.
Before you think about how to design and build the track, you have to address a handful of issues. We'll go through each one in detail.
Picking a Location
While I'm sure you're eager to get building and raking dirt, you can actually save yourself a ton of time if you pick a good location for your dirt bike track, and stake it out first. 
Take a picture of the ground on google earth and draw out the different options before you start. This will give you an idea of where you can build berm turns, jumps, and rhythms.
Know the Local Regulations
Some states are very strict when it comes to dirty bikes (and loud ones). Before you put up a dirt bike track in your backyard, talk to the local government about noise regulations. You'll save a lot of money on penalties and fines this way.
How Much Space?
Motocross racers have trailers and other big machines that can take up a lot of space. So, reserve a portion of the land for parking, preferably a flat surface.
Will it be Accessible?
Even after the track is finished, you'll need access points for bulldozers, excavators, and water trucks. Don't forget to leave enough space around the track if you ever have to renovate it.
How to Build a Dirt Bike Track: Track Design
Design is the most important part of building your very own electric dirt bike track. This part will determine how long or how your track will evolve over time.
Pick a Type of Track
There are lots of electric dirt bike tracks, and they all affect how you ride and what bike you use. 
motocross and mini motocross (pit bike) tracks are the most common kinds of backyard tracks. They're the easiest to make and don't need a lot of equipment or heavy machinery. 
Ideally, you'll want a track that's about .75 acres wide or more.
Here are some other kinds of backyard dirt bike tracks you might like to build and play on:
Trial/Freestyle Track
An obstacle course with near-impossible obstacles that's short and difficult. This way, you can get creative and maybe find a use for the usual junk lying around your backyard, like boulders, rusted out cars, and old stoves. Just make sure you get your tetanus shot.
Endurocross Track
You might need a more natural backyard for this type of track. You might be able to build a track around natural obstacles like water, logs, sand, and rock gardens if you live out in the country.
Arenacross Track
You can probably shape an arenacross track if your backyard is big and hilly. You might also save some money with this type of track because you don't need custom obstacles.
Water Drainage
Unless you want your hard-built electric dirt bike track to look like a fish pond after a little rain, you might wanna invest in a water drainage system. 
You may want to do some research on erosion and drainage controls so you can learn how to get water where you want it without interfering with the track.
I'd also suggest keeping the track slightly raised so the water can run off. Also, if there's a gap between the lanes, the water can run through there and not on the track. Perhaps some culverts will be needed to drain water away from the main track.
Watch Out for Underground Utilities
It's always a good idea to check if there are underground utilities before digging for your jumps, such as sewer lines or phone cables. Unless you want to get electrocuted.
There are usually signs on these kinds of utilities, but you should always double check because some signs have fallen or rusted away. To make sure there's nothing underneath the intended area, call an underground locator in your state.
How to Build a Dirt Bike Track: Construction
Dirt will be the most important part of your track, so figure out how to get a steady supply of it. The best dirt is usually clay-based because it's easy to shape and doesn't dissolve easily.
You'll need about 3,000 cubic yards of clay to build an electric dirt bike track. Living in a sloppy or hilly area usually means you have dirt handy.
Machinery and Equipment
You'll need specialized equipment and machinery to build a good track. 
To build a motocross track you'll need stakes, a big tape measure, a bucket loader, a bulldozer, and a water truck. If you don't want to use a shovel, an excavator might be handy. Depending on the size and type of the track, equipment and machineries might also differ.
You can have the rental guy show you or explain the safety procedures if you're not sure or don't have the knowledge to operate the equipment. When renting a machine, figure out what you're gonna do with it in advance. Most rental places charge by the day, and you can't use it when it's raining.
For help deciding which tools and machinery to use for your track, here are a few essentials, as well as their pros and cons:
Backhoe
Loader and hoe make it a great machine for building dirt bike tracks. A backhoe is usually pretty big and might be hard to fit in tight spots. Rentals can be expensive, too.
I'd say a backhoe is better than a farm tractor, but not with all the pros and cons.
| | |
| --- | --- |
| Pros | Cons |
| Front loader and Hoe | May be too big for small tracks |
| Specialized for digging | Expensive to rent |
| Large, thus makes digging in large areas easier | Hard to turn because of its size |
Farm Tractor
Smaller than a backhoe, but it's easier to drive around tight spaces. Not as good at moving dirt though. It's best used to build smaller tracks and clear out the track grounds.
| | |
| --- | --- |
| Pros | Cons |
| Front loader | Can't dig hard dirt |
| Modifiable with a backhoe | Easier to maneuver in tight spaces depending on size |
| Could just borrow it from your Gramps | |
Excavator
Probably the best for if you need to really dig out the dirt. Being able to rotate 360 degrees and dig at any spot you want is also a HUGE plus. Also you can't get stuck as much because the machine comes with tracks.
Moreover, you can rent small excavators for a decent daily or weekly price. They're also quite easier to pull with your pickup truck.
| | |
| --- | --- |
| Pros | Cons |
| 360-degree rotation allows you to save more on fuel and time | Doesn't have a front loader |
| Best for digging holes | Running on tracks means it'll be slower than on wheels |
| Runs on tank tracks to keep you from getting stuck in a ditch | |
Bulldozer
Probably your best option at building jumps and tabletops. Its ability to push dirt in a pile is impressive. Sadly, dozers are pretty huge and slow and are also hard to haul around. It may also be challenging to get one to your property, especially if it's just a small backyard.
| | |
| --- | --- |
| Pros | Cons |
| You can spin the machine 360 because of its 4-wheel steering | Big size means it's gonna be slow |
| Best for pushing dirt around | A lot more expensive to rent than the rest of the tools in this list |
| Can work in tight spaces | |
Good 'Ole Shovel
Listen.
I've used a shovel plenty of times to build my dirt bike tracks at home. It's a pain in the ass to work with, and pretty hard on the hands and back, but it was the only option I had. I guess it's easily transportable? And you most probably have one lying somewhere.
| | |
| --- | --- |
| Pros | Cons |
| You most probably have one | DON'T use a shovel unless it's really the only option |
| Could carry it anywhere | |
| Gives you the Hugh Jackman body when your dirt track is done | |
Building Obstacles
Watch out for hills, sweeping motions, flowing motions, and jumps when building your electric dirt bike track. You'll slowly use up all your dirt if you jump a lot, so if you have access to logs or boulders, fill the jump with them.
Also, make sure you have a good transition between jumps and use enough dirt. Make sure they're neat and long so you don't get thrown around. Try to keep a 3:1 ratio (3 for length and 1 for height).
In other words, if you jump 5 feet high, you need to make the transition at least 15 feet long. Also, make your jumps wide so riders will have more lines to use and avoid tearing the same area up.
How to Build a Dirt Bike Track: Conclusion
So now that you know how to build a homemade electric dirt bike track, the most important thing to keep in mind is how you want to start the track and how to actually start.
I would pay attention to planning and design. This will greatly influence how your final track is gonna look. On top of that, try not to worry too much about building a big track. For starters, it's better to start off with smaller jumps on a smaller track.
When you finally get more experience building electric dirt bike tracks, you can always go back and edit according to preference.
Also read: TORP Light Electric Dirt Bike Preview