Are you considering buying an electric dirt bike for your teen? You can read more about the best options here—Top 5 Best Electric Dirt Bikes For Teens in 2020. Everybody looks for different things in a good bike, but speed is something everybody considers.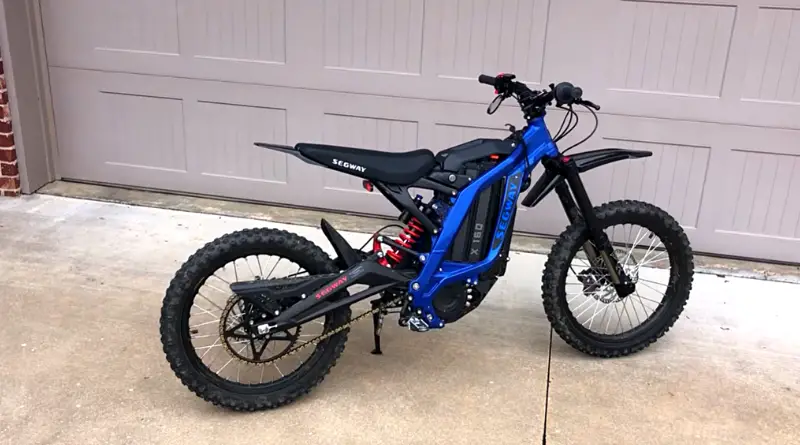 What are the best electric dirt bikes that go 30 mph? Keep reading, because we've mentioned them below. 
Electric Dirt Bikes That Go 30 Mph: Which Do We Recommend?
If you're looking for a good electric bike that goes over 30mph, the Segway X160 is the bike we recommend. Costing $3,499.99, the bike has a top speed of 31.1mph, and a range of 40.4 miles. It stands in a league of its own for not only being affordable but also reliable. 
Additionally, the bike has an adjustable seat making it perfect for people of all ages. It also comes with headlights for safe night-time riding, making it our first recommendation for potential buyers. 
The Kuberg Freerider Street is our second recommendation for people looking for electric dirt bikes that go 30 mph. The bike has a top speed of 34 mph and a 1-hour-long battery range, and it costs $5,499.99. A little more costly than the Segway X160, but the Kuberg free-rider has its benefits too. 
The bike has a recharge time of 2.5 hours, which is way less than the 4-5 hours electric dirt bikes normally take. Additionally, the bike's lightweight frame also makes it portable and perfect for stunts. 
Is 30 Mph Fast on an Electric Dirt Bike? 
Not really, electric dirt bikes can have top speeds even above 100mph, so 30mph an hour isn't too fast at all. Some might even consider electric dirt bikes that go 30 mph slow. The lowest top speed of electric dirt bikes is 17mph, and the best e-bike can go over 100mph. With a top speed of 102mph, the Zero DSR/BF is an excellent example here. 
However, the Zero DSR/BF isn't the only option you have. The Luna Cycle Sur-Ron X has a top speed of 50mph, and the Sur-Ron Storm Bee has a top speed of 68mph. Enduro eBikes 12000W bike can go up to 74.5mph. 
The KTM Freeride E-XC, the Segway X260, and the Stealth H-52 are some other great examples of bikes that can be driven at 50mph or above. 
Having a bike that can go over 50mph is not street safe, however, given that the lack of side mirrors, horns, and indicators make electric dirt bikes illegal on the streets, it doesn't really matter. Drive carefully on dirt roads, and you can test your vehicle's limits. 
What Speeds Are Electric Bikes Limited To? 
Most electric bikes are limited to the 100mph range. The only bike we have seen with a top speed higher than 100mph, is the Zero DSR/BF, and even that can only go up to 102mph. 
Gas-powered dirt bikes, on the other hand, have far higher top speeds because of their combustion engines. If you want a faster bike, a gas-powered one might be better for you, even though it would need more maintenance.