One of the most fun activities you can do with a dirt bike is riding it on the sand. But which is the best dirt bike for sand dunes and do you need special tires? In this article, we will take a look at the Best Dirt Bikes For Sand Dunes, while you can read more about the best tires in our article 'The Best Dirt Bike Paddle Tires: Your Essential 2022 Guide' here.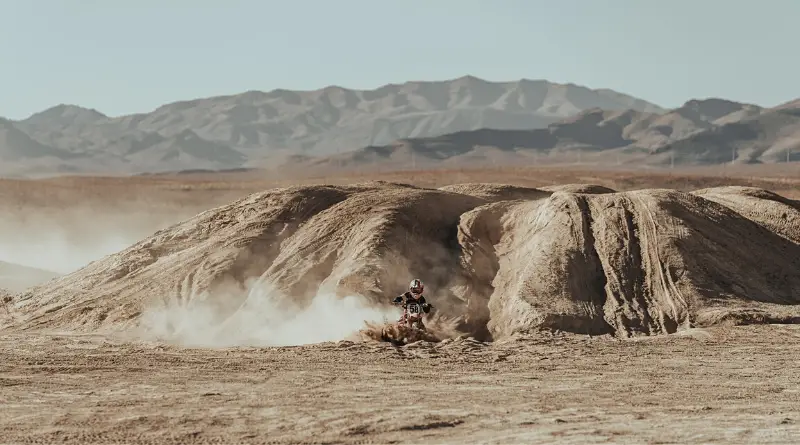 What Dirt Bike Is Best For The Dunes?
There is no such thing as a sand bike, so any dirt bike can be used for the dunes. However, some dirt bikes will perform better in sand than others.
While smaller horse-power dirt bikes can be used, you will end up getting frustrated as they don't have enough power to keep momentum. Remember, just like walking in thick sand is more difficult than walking a trail, so does your dirt bike have to work harder.
The best dirt bike to use in the dunes is a dirt bike that is a 2-stroke with a 250hp engine or higher. 
While there are advantages and disadvantages for both 2-stroke and 4-stroke dirt bike riding in the dunes, a 2-stroke has the advantage of being a simpler engine which is also lighter and easier to maneuver. This ease of handling is crucial when you are riding on soft sand, whether on a beach or on the dunes. However, a 4-stroke dirt bike is easier to ride for less experienced riders.
The following are our top 6 dirt bikes that we think are the best for riding in the dunes:
Brand
Model
Pros For Riding Sand Dunes
Cons
Yamaha
YZ250
Fast

Lightweight

Reliable

The Yamaha YZ250 is one of the longest serving models available, having been introduced in 1974 and still available as a new model today.


Not the best dirt bike for heavier riders.
Honda
CR250
Reliable

Affordable as a 2nd hand dirt bike

While no longer in production the Honda CR250 makes a great bike for the dunes with few modifications needed.


No longer in production.
Suzuki
DR-Z400SM
Lightweight for a 4-stroke

Superior control

Strong brakes

It's an uncomfortable bike for long rides.

The basic model needs plenty of modifications to get the best out of the bike.


Kawasaki
KX250F
One of the lightest dirt bikes in its class

Reliable

Fast


Expensive compared to other brands.

Not suitable for beginners.
KTM
300 XC-W
Top performance

High top-end gearing

Comfortable design

The KTM 300 XC-W packs a punch in the dunes.


The electric start is not 100% reliable.
Husqvarna
TC250
Provides overall high-end performance

Latest technology in 2-stroke engines


This model can fail to deliver power at top-end revs.
How Do You Ride Sand On A Dirt Bike? 
Riding sand on a dirt bike comes with its own set of challenges. However, the following are some top tips for riding:
When riding in sand you should stand on the pegs as much as possible. This will give you more overall control.
Keep your weight over the back wheel so that the front wheel is lighter.
Always keep the throttle open, and be a bit aggressive – you don't want to lose momentum which is why most people get stuck in the sand.
Make sure to grip the bike with your knees. This will provide you with greater stability and gives some relief to your upper body during the wild ride.
Consider adjusting your suspension and letting some air out of your tires.
Is It Hard To Ride A Dirt Bike On Sand Dunes? 
While riding a dirt bike on dunes may seem difficult, there are certain things to consider to make things easier.
Before riding in sand make sure you are comfortable with your dirt bike. Buying the right dirt bike means taking into consideration your height, your weight and your riding experience. You need to feel confident with controlling your dirt bike. Can you manage the weight of the bike, its power and acceleration?
In addition, the right tire can contribute to your overall ride. While investing in paddle tires is advisable if you plan to do a lot of dune riding, letting out some air from your knob tires will also provide extra stability for the more casual dune rider.
Finally, riding on sand dunes does mean taking extra care of your dirt bike – make sure your air filter is property sealed, watch for over-heating and always have extra fuel on-hand. But most importantly, don't forget to have fun and even push a little harder as sand provides a much softer landing!
Also read: Sand Flats, Moab Camping: Everything You Need to Know