If you have just picked up a pair of the best dirt bike paddle tires, and are thinking of hitting the Sand Flats in Moab for a combined camping and dirt bike trip, there's a few things to keep in mind.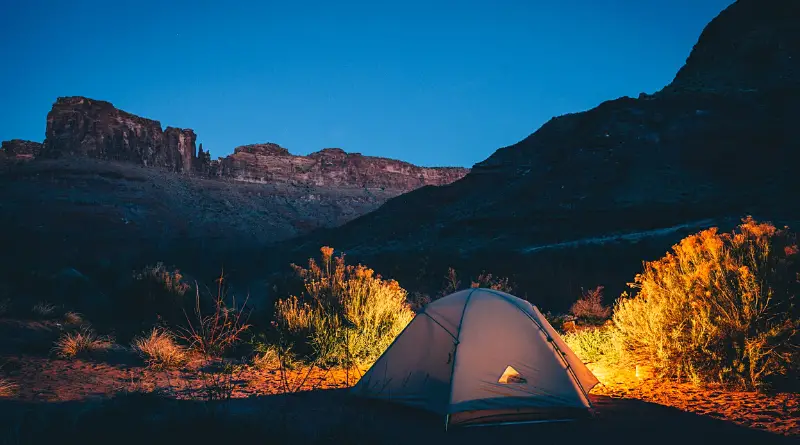 The Sand Flats Recreation Area, near Moab in Utah, is a center for off-road and 4×4 trails. The area is famous for the Slickrock and Porcupine Rim bike trails and almost 40 miles of off-road tracks. It's also world-renowned for the combination of challenging conditions and awesome, unique scenery. 
The terrain here mainly consists of petrified sand dunes, otherwise known as Navajo Sandstone. This sea of hard, rocky hills is the result of ancient sand dunes that have been turned into stone under layers of sediment. These dunes were then later exposed after years of erosion. It makes for an off-road heaven, but due to the steep terrain, it's not a place for beginners.
In addition, the Sand Flats are very popular for camping, with over 200,000 people visiting this 9,000-acre recreational park every year. However, for Sand Flats Moab camping there are a few rules you need to follow.
Can You Camp Anywhere In Moab?
Camping is available in Moab, but only in the designated camping areas. The campsites operate on a first come, first serve basis and there are 120 individual sites, plus 6 group campsites where it is possible to reserve a spot in advance.
The campsites offer limited amenities which include picnic tables, designated metal fire rings, and vault toilets. There is no water available within the Sand Flats Moab camping areas, so you will need to bring your own, and shower before and after your trip!
As wild camping is not allowed, the camp sites do get busy, especially over the weekends when the occupancy can reach 100%. However, even at peak times of the year (Spring and Autumn), there is always a turn-around of people, so if you're planning to camp it's best to arrive in the morning to find a spot.
The campsites have been divided between different loops or routes. Most of these loops contain magnificent views, however, the camping can be quite exposed. Some loops are RV accessible and do not require a 4×4 vehicle, but some of the campsites are only accessible with 4WD. So make sure you plan ahead and choose your loop and site that matches your vehicle's capabilities. 
Is Dispersed Camping Allowed In Moab?
Dispersed camping is not allowed within 20 miles of Moab. 
For the Sand Flats Moab camping, you must go to a designated campground.
However, dispersed camping can be found outside of Moab in Willow Springs and the Dalton Wells dispersed camping sites. But remember that the following rules apply to dispersed camping anywhere in the US:
All vehicles must stay on the tracks or roads;
All human waste must be removed (both trash and toilet waste to be removed);
'Pack it in – pack it out' – leave nothing behind;
Fires are only allowed in designated metal fire rings;
Bring your own wood – no gathering of firewood or chopping trees;
No graffiti or marking of rocks.
Can You Park Overnight In Moab?
Overnight parking in Moab is allowed in designated parking and camping areas only. As Moab gets roughly 3 million visitors a year this no camping/no parking rule is strictly enforced. 
So if you want to avoid a fine, make sure your overnight parking spot is an official one!
Sand Flats Recreation Area Camping Fee: How Much Will it Cost You?
Sand Flats Moab camping fees will set you back a mere $15 per night per vehicle with up to 5 people inside. Any more people will be charged an extra $2 per night. If you are pulling a trailer for your dirt bikes or camping gear, there will be an additional charge of $5 per trailer per night.
The Sand Flats Recreation Area is a protected area which is managed through a unique partnership between Grand County and the BLM (Bureau of Land Management). All fees collected go towards the management and upkeep of the park and its facilities.
The services offered include staff for the entrance gate, the campgrounds and backcountry patrols, educational displays, brochures, and maps. 
The general maintenance of the park includes the upkeep of the campgrounds, cleaning the toilet facilities, and maintaining all trails, fences, and signs.
All of these things cost money, so by paying your fees you are contributing to the support and upkeep of this beautiful area.