Are trunk bike Racks reliable? From experience, we can say that trunk bike racks offer one of the most cost-effective and reliable solutions for transporting your bikes (see our Best Trunk Mount Bike Racks here). However, most cyclists agree that hitch or roof mounted bike racks are the most sturdy. But if your budget doesn't stretch to a hitch or roof mounted bike rack, how do trunk mounted bike racks compare?
Keep reading to find out how reliable trunk bike racks are.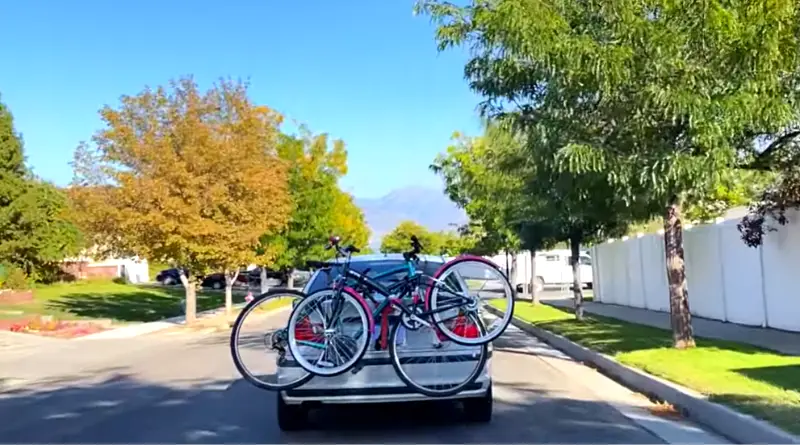 Are Trunk Bike Racks Reliable?
Are trunk bike racks reliable? Yes. Why? All the big brands like Thule, Swagman, Saris, and Yakima make and sell trunk bike racks. These brands are not going to sell a product that's going to be unreliable.
As the name suggests, a trunk bike rack sits on your trunk or hatchback and uses straps to keep it in place. But unlike a hitch or roof rack, it is not permanently installed. So for your trunk bike rack to be 100% reliable you need to make sure it is properly installed each and every time you use it.
Are Trunk Racks Secure?
Trunk bike racks are secure as long as they are properly attached to your vehicle. If you install it correctly, then there should be no movement in the rack. This will reduce any movement whilst carrying your bike.
You may find installing and securing your trunk bike rack a bit tricky at first, but with a little practice, they are quick and easy to fit securely.
How Do Trunk Mount Bike Racks Work?
Most trunk bike racks are adaptable and work with many different types of vehicles. The racks are held in place with a combination of straps and hooks that attach to your trunk, hatch, or bumper. 
It's very important that these straps are tightened securely, so there is no 'play' in the rack. A loose strap can spell disaster. No one wants to see the rack and your expensive bike fall off your car due to a strap that is not tightened properly.
Once the rack is securely installed, mounting your bike is a breeze. There are arms or cradles to support your bike, which generally support the bike frame and not the wheels. 
So, it's a good idea to invest in an extra pack of velcro straps to secure the moving parts. By securing any moving parts, like the wheels or pedals, and using scratch preventers on any hook attachments, you can minimize any scratches or damage to your bike's frame and your car.
Can I Get In Trouble For Driving With A Trunk Rack? 
Using a trunk bike rack is a legal way to carry your bike, so you won't get into any trouble for using one. However, always make sure that your rear lights and license plate are clearly visible. 
In addition, always check your state's laws about transporting bicycles. While a trunk rack is legal, some states will fine you for driving with an empty bike rack.
Also read: Do Trunk Mounted Bike Racks Work?