Yamaha has taken electric trials performance to a whole new level with the Yamaha TY-E 2.0 dirt bike. Boasting an all-new frame, upgraded suspension and powerful motor, is it truly one of the best electric dirt bikes? We'll find out.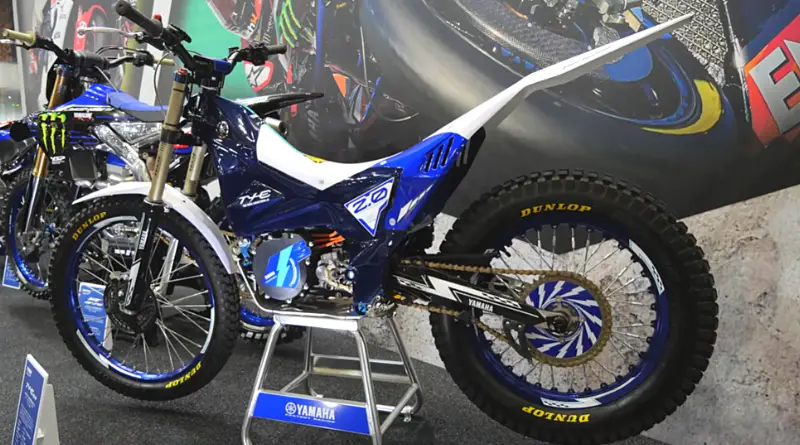 Unfortunately, as with the previous model, Yamaha didn't say whether they'd sell the new one. 
Instead, they raced it at select rounds of the 2022 FIM (Fédération Internationale de Motocyclisme) Trial World Championship to promote carbon neutrality in off road competitions.
It's a total bummer, I know. But in hopes that Yamaha finally decides to release it to the public, will it even be worth the wait? Will it stand out from the rest of the electric trials dirt bikes already out there? 
Read on to find out.
The Yamaha Ty-E 2.0 85 HP Electric Trials Bike: What's It All About?
The TY-E 2.0 is Yamaha's latest iteration of their highly successful electric trials bike, developed to help trials riders get the most out of their experience.
Featuring a powerful electric motor and an advanced suspension system for improved handling and stability, this bike is ready to take on any terrain. The Yamaha TY-E 2.0 is designed to be lightweight and agile, giving riders the confidence to tackle obstacles with ease. 
Just like its predecessor, Yamaha has also developed this bike to be extremely environmentally friendly, as it runs completely on electricity. 
Yamaha's combination of performance and sustainability is unmatched in the industry, making this a must-have bike for any serious trials rider.
With its ability to conquer difficult terrain and take on just about any challenge, the TY-E 2.0 is one of Yamaha's most impressive bikes yet. Whether you're looking for an extreme off road adventure or a quiet ride through the countryside, this bike can handle it all.
Yamaha has created something truly special with the TY-E 2.0 and it's sure to be a hit with riders everywhere when it gets released to the public.
Yamaha Ty-E 2.0 Features: What's It Made Of?
So how exactly does the Yamaha TY E 2.0 stand out? 
Let's take a look at its specifications and unique features so you can decide whether these components live up to the hype.
You may notice some specs are missing – Yamaha hasn't released official info about them yet.
| | |
| --- | --- |
| Manufacturer Name | Yamaha Motor Co., Ltd |
| Model Name, | TY-E 2.0 electric trials bike |
| Model Year | 2022 |
| Motor Manufacturer | Yamaha Motor Company |
| Motor Model | Yamaha prototype AC synchronous electric motor |
| Motor Power | No official information yet from Yamaha |
| Motor Placement | Mid drive |
| Controller | No official information yet from Yamaha |
| Battery  | Integrated Lithium-ion battery |
| Battery Capacity | No exact information yet from Yamaha, but it's officially stated to be 2.5 times greater than the previous model's |
| Battery Removal | No official information yet from Yamaha |
| Range | No official information yet from Yamaha |
| Ride Modes | No official information yet from Yamaha |
| Regenerative Braking | No official information yet from Yamaha |
| Throttle Type | Traditional twist throttle |
| Number of gears | No official information yet from Yamaha |
| Top speed | No official information yet from Yamaha |
| Weight | 154.3 pounds |
| Materials | Monocoque frame made of composite laminates to contribute to lighter weight and optimal rigidity.  |
| Seat height | No seat as this is a trials bike |
| Suspension | Yamaha original adjustable hydraulic suspension |
| Display Type | Minimalist LCD display |
| Purpose | Trials Dirt Bike |
| Connectivity | No official information yet from Yamaha |
| Security features | No official information yet from Yamaha |
Yamaha TY-E 2.0 Frame
The Yamaha TY-E 2.0 Frame is a light electric trial CFRP Monocoque frame composed of aluminum that is built to last. The frame can support wheels up to 24 inches in diameter and can accommodate riders weighing up to 80 kg. 
Yamaha TY-E 2.0 Motor 
The synchronous AC Motor found in the TYE Yamaha makes sure that the bike is responsive to extremely precise controls and ensures that riders have full control at all times.
Yamaha TY-E 2.0 Battery 
Yamaha hasn't yet released the exact specs for the TY-E 2.0's battery, but they have officially stated that it comes with 2.5x more range than the previous model, and is 20% lighter.
Yamaha TY-E 2.0 Brakes and Suspension
There's been officially no word from Yamaha of the TY-E 2.0's brakes and suspension specs, but judging from YouTube videos featuring the TY-E 2.0, it uses regular black disc brakes on both front and rear.

It can also be seen that the Yamaha TY-E 2.0 uses Tech Suspension telescopic front forks and an unknown coil spring rear suspension.
Yamaha TY-E 2.0 Wheels and Tires
There's also no official word from Yamaha about the TY-E 2.0's wheels and tires, but again judging from snapshots and YouTube videos of the electric trials dirt bike, it's seen to be using Dunlop K950 tires.

The Dunlop K950 is a trials dirt bike tire designed to perform in the most extreme conditions. 
Its thick tread and advanced rubber compound provide superior grip on any terrain, while its deep-lugged design offers enhanced self-cleaning capabilities and increased traction in wet, muddy or sandy environments.
Yamaha TY-E 2.0 Other Features
Compared to the previous model, the traction on this Yamaha electric motorcycle has been increased by combining mechanical components like the clutch and flywheel with precisely calibrated electronic motor control that can detect even minute variations in grip. The bike also sports a hydraulic clutch – which is quite a rare feature among electric dirt bikes.
How Much Is a Yamaha Ty-E 2.0 Trials Bike?
The price of the Yamaha electric trials bike has yet to be officially announced by the motor company since it is still in its developing stage. Prices may vary depending on your location, but there's no official quote released by Yamaha yet, which means you can't find the Yamaha TYE for sale anywhere for now.
When Will Yamaha Make the TY-E 2.0 Electric Motorcycle?
Although the Prototype for the Yamaha TY-E 2.0 was unveiled back in 2022, it is still under development, and there has been no news as of yet about when the new Yamaha trials bike will be commercially released.
Where to Get the Yamaha TY-E 2.0 Dirt Bike: And How Does it Get to Us?
The new Yamaha electric trials motorcycle will be available in Yamaha dealerships when it has officially been released commercially. No word yet on when that will be.
Also read: How Much Does A Dirt Bike Weigh?